2016 U.S. Olympic Team Marathon Trials
Galen Rupp Aces Debut To Win Trials Marathon, Meb & Ward Join Him On Team
Galen Rupp Aces Debut To Win Trials Marathon, Meb & Ward Join Him On Team
RESULTS29-year-old Galen Rupp can check off an absolutely incredible marathon debut. The 2012 10,000m Olympic silver medalist broke away from reigning champ
Feb 13, 2016
by Lincoln Shryack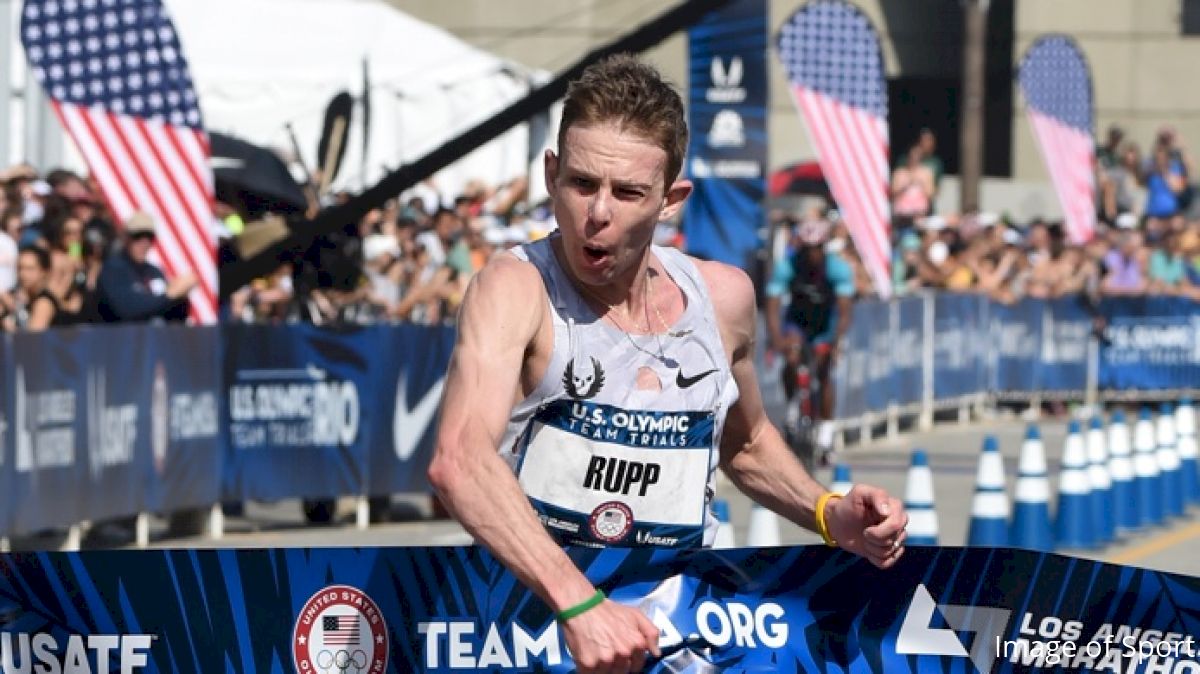 29-year-old Galen Rupp can check off an absolutely incredible marathon debut.
The 2012 10,000m Olympic silver medalist broke away from reigning champ and marathon veteran Meb Keflezighi at around 22 miles, and soloed the rest of the way in on Saturday in the Los Angeles heat to finish in 2:11:12.
With the win, Rupp becomes the first debutant to win the U.S. Trials marathon since George Young in 1968. It was a definitive victory in warm conditions by a solid margin-- 1:08-- that is just the start of what could be one of the greatest 26.2 careers in American history.
Rupp delivered on the promise of his 12:58/26:44 pedigree in victory by clicking off a 9:39 two-mile split from miles 21 to 23 to slam the door on 40-year-old Keflezighi.
#LA2016 pic.twitter.com/YqojiJO99d

— FloTrack (@FloTrack) February 13, 2016
After a conservative 66:32 first half, Rupp looked very smooth as he closed in 64:40, celebrating his victory with an emphatic fist pump.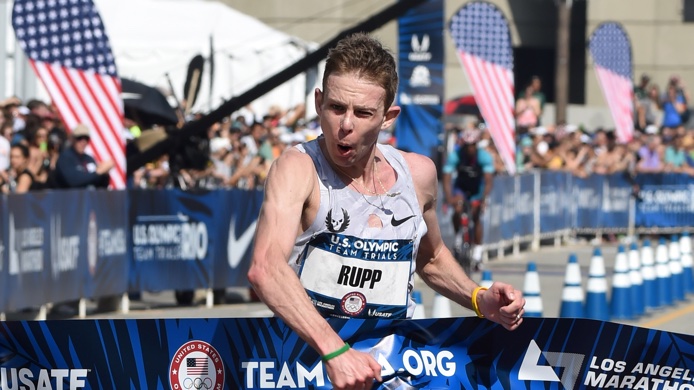 When asked post-race if the marathon and 10k double would be possible in Rio, Rupp said, "It's definitely possible." The events are separated by eight days this coming summer, with the men's marathon coming on the final day of competition.
Kefezighi, ever-steady some 12 years removed from his 2004 Olympic silver medal in Athens, was second in 2:12:20 to qualify for his fourth Olympic team and become the oldest U.S. Olympic marathoner in history.
27-year-old Jared Ward grabbed the last— and his first— Olympic spot with a third place finish in 2:13:00. The fastest marathoner of 2015, 26-year-old Luke Puskedra finished in the dreaded fourth spot in 2:14:12. He could still compete in Rio if Rupp elects to stick with his tried-and-true 10k/5k double.
You have to think Rupp will run the Olympic marathon after such an outstanding debut, however.
Rupp on going for the 10k-marathon double in Rio:

​
​
The race really got going from 16-17 miles when Tyler Pennel rocketed to the front, which only Rupp and Keflezighi covered. Once the pair left Pennel just before 19 miles, who would ultimately finish an impressive fifth in 2:14:57, the race was between two of the most decorated distance runners in U.S. history.
Rupp's push at 1:51— mile 22— left Meb in his wake, and from there it was the Rupp show to the finish.
Welcome to the Galen Rupp show. #LA2016 pic.twitter.com/ekHQzvqGe5

— FloTrack (@FloTrack) February 13, 2016
#LA2016 pic.twitter.com/vv6nmj8DvT

— FloTrack (@FloTrack) February 13, 2016
Notably, 2:07 marathoner Dathan Ritzenhein did not finish the race.
Here are the top-25 men's finishes today in LA:
| Place | Name | Time |
| --- | --- | --- |
| 1 | Galen Rupp | 2:11:12 |
| 2 | Meb Keflezighi | 2:12:20 |
| 3 | Jared Ward | 2:13:00 |
| 4 | Luke Puskedra | 2:14:12 |
| 5 | Tyler Pennel | 2:14:57 |
| 6 | Matthew Llano | 2:15:16 |
| 7 | Shadrack Biwott | 2:15:23 |
| 8 | Patrick Smyth | 2:15:26 |
| 9 | Sean Quigley | 2:15:52 |
| 10 | Nick Arciniaga | 2:16:25 |
| 11 | Timothy Young | 2:17:09 |
| 12 | Max King | 2:17:14 |
| 13 | Jeffrey Eggleston | 2:17:19 |
| 14 | Scott Smith | 2:17:33 |
| 15 | Jacob Riley | 2:18:31 |
| 16 | Augustus Maiyo | 2:18:33 |
| 17 | Benjamin Payne | 2:18:37 |
| 18 | Malcolm Richards | 2:18:40 |
| 19 | Elkanah Kibet | 2:20:10 |
| 20 | Brendan Martin | 2:20:41 |
| 21 | Ethan Shaw | 2:20:56 |
| 22 | Mike Morgan | 2:20:59 |
| 23 | Nathan Martin | 2:21:27 |
| 25 | Kieran O'Connor | 2:21:36 |
| 25 | Timothy Ritchie | 2:22:16 |