Kenyan Duo Clobber Mo Farah As Kamworor Repeats At World Half
Kenyan Duo Clobber Mo Farah As Kamworor Repeats At World Half
While Mo Farah remains the favorite to capture 10,000m gold in Rio (and 5,000m as well), Kenyan Geoffrey Kamworor has taken a healthy bite out of that narra
Mar 26, 2016
by Lincoln Shryack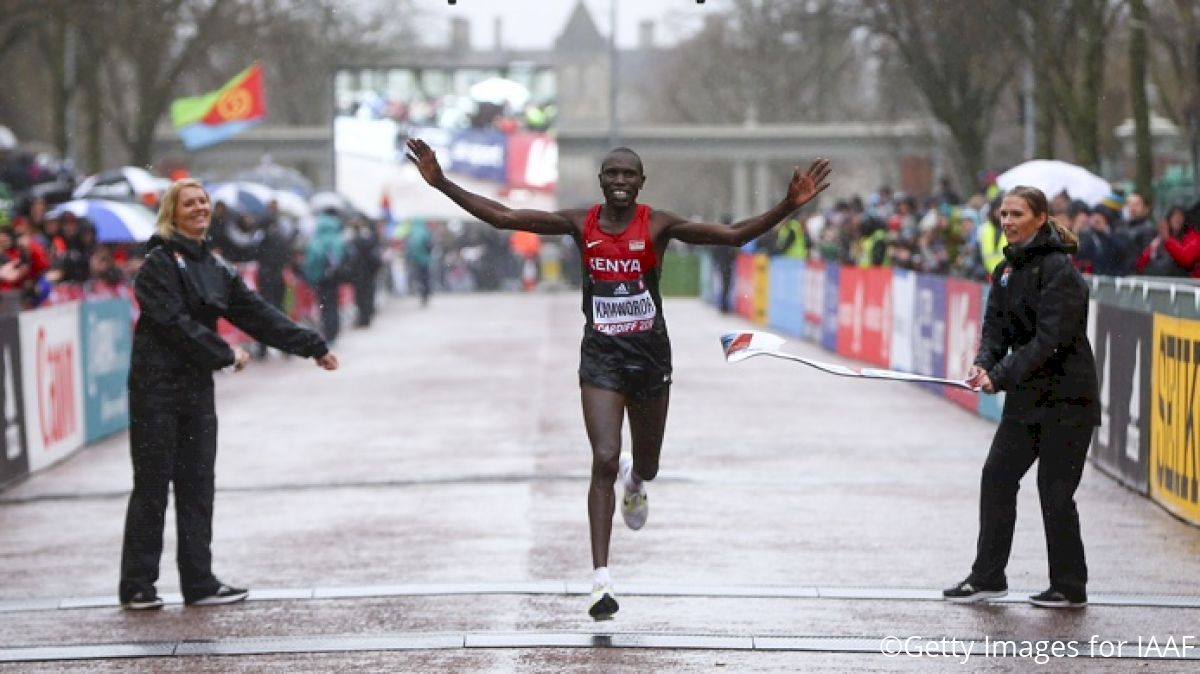 While Mo Farah remains the favorite to capture 10,000m gold in Rio (and 5,000m as well), Kenyan Geoffrey Kamworor has taken a healthy bite out of that narrative after his dominant victory at the IAAF World Half Marathon Championships in Cardiff, Wales.
Kamworor won his second straight title at this event on Saturday in 59:10 in brutal conditions, with this one undoubtedly the shiniest crown of his career as he trounced the bronze medalist Farah by a massive 49-seconds. The win makes the 23-year-old the first Kenyan man to go back-to-back since Paul Tergat in '99-'00, but more importantly, his thumping of the reigning double Olympic champion adds a thick layer of intrigue to their highly anticipated clash in Rio.
WATCH TASTY RACE: MEN'S IAAF WORLD HALF MARATHON CHAMPIONSHIPS
The half marathon and 10,000m are obviously vastly different races, but Kamworor— the silver medalist in last summer's World Championship 10,000m— made a statement today by running so quickly in the cold rain. Farah ran a solid race himself to secure bronze just ahead of Ethiopia's Abayneh Ayele— both men ran 59:59— but the 33-year-old Brit never even challenged the duo of Kamworor and eventual silver medalist Bedan Karoki, who blasted off at six miles and worked together to keep the world's most feared distance runner out of reach.
Whoa! Hard move by Kamworor has broken men's race open at 6 miles around 27 minutes...Farah in 8th #Cardiff2016 pic.twitter.com/svVRM4xK8a

— FloTrack (@FloTrack) March 26, 2016
The Kenyan duo made sure that no one would break up their 1-2 finish with a scintillating 13:41 5k split from 10k to 15k, which left Ethiopian Tamirat Tola— who tried to hang on for dear life— reeling in their wake. While Kamworor and Karoki were never in reach for Farah, he moved up steadily as the equally ambitious but less prepared East Africans fell by the wayside. In a frantic fight for the podium, Farah just gained the edge over Ayele in the final meters, earning him his first career bronze medal to go with his stockpile of gold.
Kamworor - GOLD
Karoki - SILVER
Farah - BRONZE #Cardiff2016 Farah sprints to nab a medal pic.twitter.com/LBmCgOQTrg

— FloTrack (@FloTrack) March 26, 2016
Men's RESULTS #Cardiff2016 pic.twitter.com/D997KjYfHk

— FloTrack (@FloTrack) March 26, 2016
But back to Kamworor. As the reigning World XC champ and a 2:06 marathoner, this distance is certainly an ideal race for him, and today's win over Farah is not a surprise. But the margin of victory— and the Kenyans' ability to take Farah out of the race so quickly— proves that the now two-time half marathon World champion is even better than we knew. Declaring this win a sign that Farah will be vulnerable to Kamworor's strength in the Rio 10k is, for the most part, comparing apples to oranges, but there is no question that Kamworor is a man to be feared across any surface.
Not even a fall moments after the gun went off could keep Kamworor from the front for long. However, he likely would have broken the 58:59 championship record if this fall/trampling hadn't kept him on the ground for several moments at the start.
It was a scary start, and Kamworor had bloody knee scars as souvenirs:
The knees of repeat champion Geoffrey Kamworor, who fell at the race's start #Cardiff2016 pic.twitter.com/MLawO0INRu

— FloTrack (@FloTrack) March 26, 2016
Shortly past 12 miles, after the pair had hammered away in unison for more than half the race, Kamworor wriggled free from Karoki and quickly put a wide gap on his teammate. The 25-year-old Karoki would fade and finish 26-seconds back in 59:36, but that was plenty good enough for silver.
Kamworor and Karoki replicated their 1-2 finish from last year's World XC Championships.
For Farah, anytime he takes a defeat the emergency siren tends to let off, but really this is no cause for concern in regards to Rio. The Games are still over four months away, and obviously, 13.1 miles is more than double the distance of his preferred 10,000m. This performance today showed that his strength (sub-60 in that weather was an epic task), while clearly no match for Kamworor's or Karoki's, is in a good spot, and if this summer's 25-lapper plays out like the one in Beijing, his speed edge should still be the difference maker.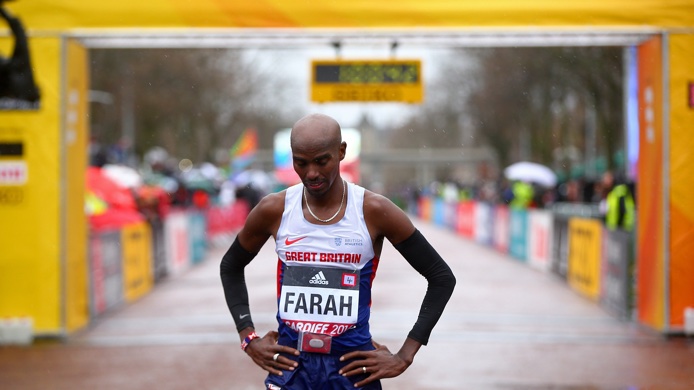 ©Getty Images for IAAF
But today isn't about projecting how the result shakes up things in Rio. Kamworor is on the verge of greatness, and his no doubter on Saturday suggests he's going to be a blast to watch for a long time to come.
Led by Kamworor and Karoki's 1-2 finish, the Kenyan men won their eighth World Half team gold. Simon Cheprot's sixth place 1:00:12 completed the scoring for Team Kenya, who regained their spot atop the 13.1 podium after a narrow defeat to the Eritreans in 2014.
Ethiopia grabbed the team silver with Eritrea settling for bronze.
The women's race was an all-Kenyan affair as expected, as the defending champs went 1-2-3 like they did two years ago in this event. But the surprise was the winner, as 22-year-old Peris Chepchirchir dropped Cynthia Limo— the sixth fastest half marathoner in history— in the closing meters to take the first big victory of her career.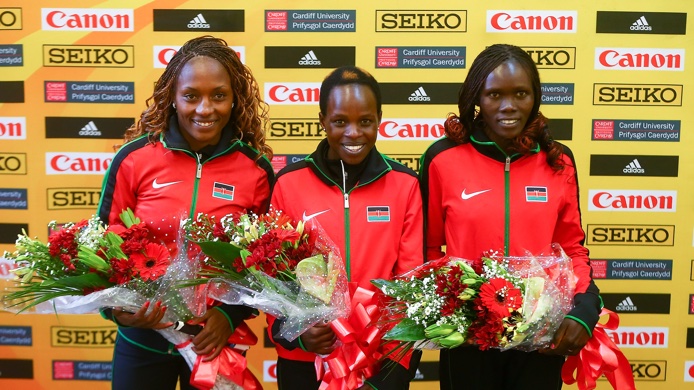 Mary Wacera, Peris Chepchirchir, Cynthia Limo (L-R); ©Getty Images for IAAF
The team podium ended up identical to the one from 2014, as Kenya, Ethiopia, and Japan earned gold, silver, and bronze, respectively.