By Giovanni Reyes

After making her debut in the marathon on Monday, Neely Spence Gracey gained a newfound appreciation and perspective on the event. Spence Gracey, 26, was the first American to cross the finish line in 2:35:00 for ninth overall at the Boston Marathon.
FloTrack caught up with the young marathoner to get her thoughts on her first 26.2-mile race.
You completed your first marathon on Monday. Talk about the decision to attempt the marathon and how you got to that point.

It's been a slow progression. In high school, I considered myself a miler. In college, I worked up to the 5K. It was only this past year that I started trying the longer distances. And I've loved it. I enjoy the preparation it takes, which is important because it was 16 weeks of focus for Boston. Even though 26.2 miles is long, it's only a few hours compared to the months it took to get me to the starting line fit and healthy.
Why Boston specifically?

I initially planned to do the Olympic Trials in February, but I felt my training was rushed and that I wouldn't be at my best on race day. I decided to give myself two more months to gain fitness and confidence before I attempted my first marathon. Boston holds a personal history for me—my dad raced it the day I was born—so it just seemed right that it should be my debut.
Describe how the race went for you.

The first 10K flew by. After that, the Africans broke away and the racing began. Miles 8-18 were scary for me, and I really had to talk myself through them. I was so grateful to have Sarah Crouch there, and we took turns leading to help break the wind. I wanted to get to the top of Heartbreak [Hill] with some gas in the tank. I think I saved a little too much, but it was better than blowing up because I was too aggressive. Now, I'm confident I can get through 26 miles and live to talk about it!
What was the most difficult point?

Being around that halfway point and trying not to think about how much there was still left to run. Sarah really encouraged me there.
What was the most exciting point?

Probably when Sarah and I found ourselves in the lead at mile six. We looked at each other in amazement and soaked in the moment knowing it would soon be over.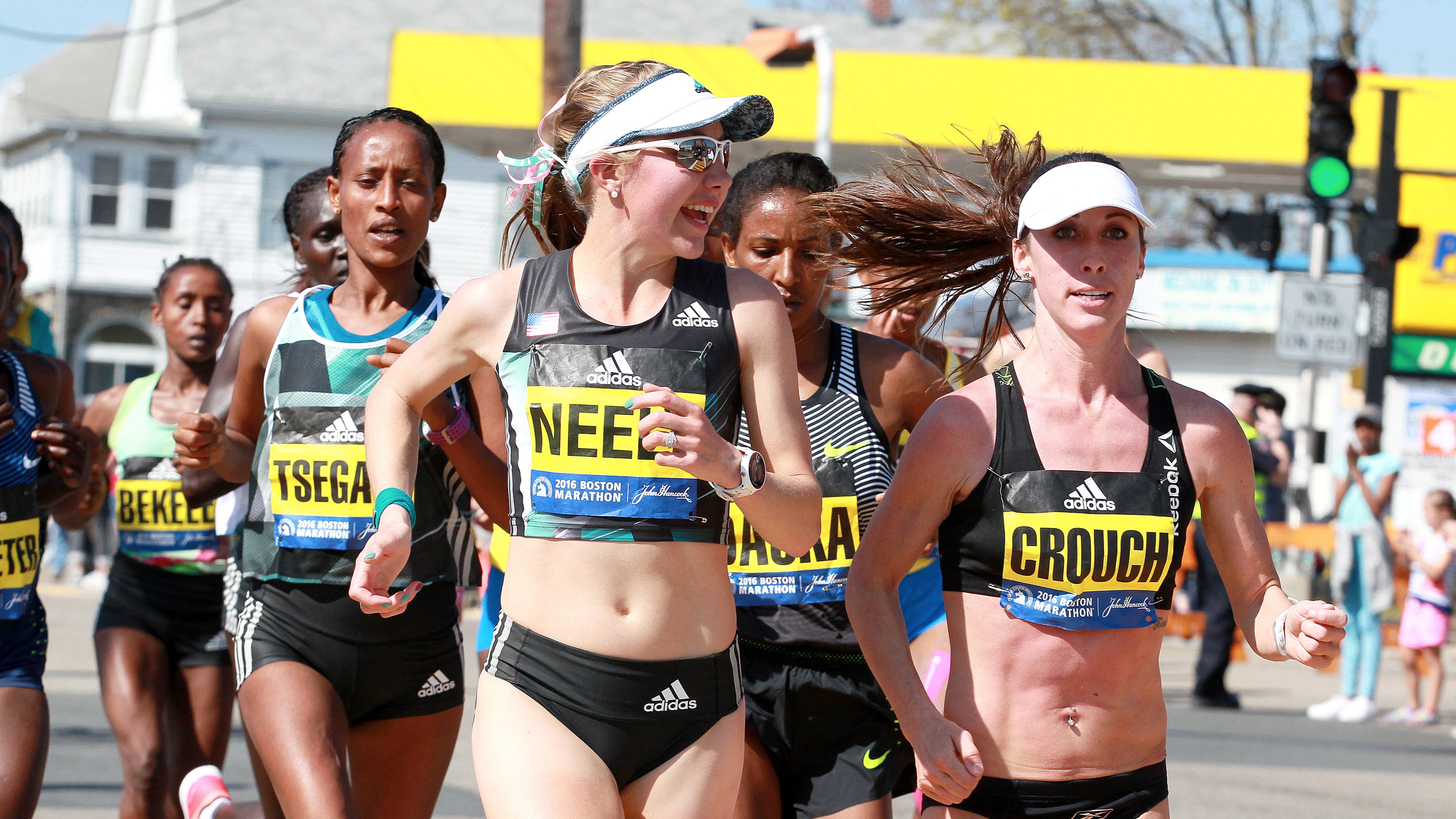 Were you happy with your performance?

Yes, I am very pleased and relieved. I was conservative with training and racing, and I know there is a lot more there now that I've experienced the distance.
What would you say to someone attempting to take on the marathon?

The thing I found the most interesting during my preparation and after the race, was that I was tired physically for sure, but I was exhausted emotionally. Training both the mind and body and understanding the toll it takes is really important.
How did it feel being the first American woman to come in on the 50th anniversary of the "Bobbi" Boston Marathon?

I am so grateful for the opportunity to make this my career thanks to Bobbi and the wonderful women pioneers of the sport.
RAPID-FIRE ROUND!
If you had a day off, how would you spend it?

That would be today! I spent it doing seven interviews, hiking with my dog, drinking iced mochas and munching on pastries. I'm trying to enjoy the time off from training (but my itch to run is already returning)!
What is your most memorable run (practice or race)?

Probably my first run after knee surgery. I took four months off—the longest I have ever gone without running—and I did a 10-minute jog with a 5-minute walk in between two times. I cried afterward because I was so relieved to not have any pain.
Describe your pre-race ritual.

I get up three to four hours before a morning race. I have coffee and a Honey Stinger waffle three hours before the start. I warm up 45-60 minutes before the race, and then take a gel with caffeine before I put on my adidas racing shoes, tuck my laces into my Lacelockers, take a sip of water, pop in gum, and pee for the hundredth time before I head to the starting line for drills and strides.
If you could give one piece of advice to any runner, what would it be?

Find ways to enjoy training. So many people get caught up on racing and while it's exciting to race, the journey of preparing for the race is what is most meaningful. Whether it's having a training partner, finding new places to run or mixing up your usual training routine, do what helps you get excited to lace up your shoes and get out the door.