2016 U.S. Olympic Team Trials
Why Donavan Brazier Needs To Run the Olympic Trials
Why Donavan Brazier Needs To Run the Olympic Trials
In the last nine years, I've only watched three NCAA Outdoor Championships from afar—including the most recent one. In a year filled with historic and Olymp
Jun 14, 2016
by Ryan From Flotrack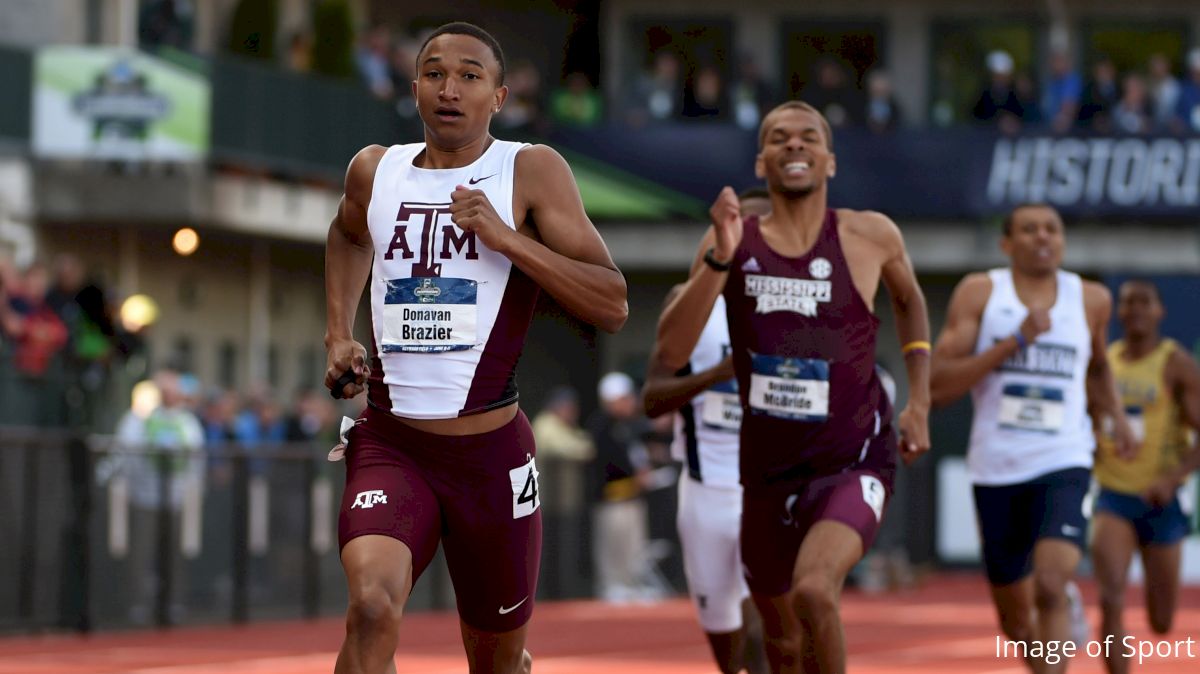 In the last nine years, I've only watched three NCAA Outdoor Championships from afar—including the most recent one. In a year filled with historic and Olympic-caliber efforts, one race made me especially regret not being in the stands at Hayward Field: the men's 800m.
Donovan Brazier, a 19-year-old freshman, looked smooth, calm and powerful as he won the title in 1:43.55—the fastest mark ever run by a collegiate 800m runner. But it's so much more:
It broke the NCAA record by nearly a second (Jim Ryun's 1:44.3h 50-year-old record; almost a full second if adjusted for hand time)
Hayward Field record (record is 1:43.5 but hand-timed, so Brazier's FAT mark is faster)
U.S. Junior record (also formerly Jim Ryun's 1:44.3h)
No. 7 all-time on the World Junior 800m list (age 19 and under)
No. 8 all-time on the U.S. 800m list (yes, eighth-fastest American EVER, at age 19)
Third-fastest time in the world so far in 2016
In the past 17 years (since 1999), Brazier's 1:43.55 would rank him in the top 10 in the world EVERY year. In six of those years, he would have been in the top five; in two of those years, he would have been No. 1 in the world (2005 and 2007)!
Donavan Brazier's record-setting run at the 2016 NCAA Championships:
During
his interview
after the semifinal, Brazier talked about foregoing the Olympic Trials to run U.S. Juniors. He said his first goal is making a U.S. team, and World Juniors would give him a better opportunity (and ultimately, a better shot to win a World title as a junior). Although he could run the Trials about a week later, he said he wouldn't want to race in back-to-back weeks.
The interview sounded familiar.
Rewind to 2012
As a freshman at Illinois, Ashley Spencer was taking the NCAA 400m scene by storm. She only lost once over the distance all year, and
won the NCAA 400m title
by a comfortable margin of .25 with her 50.95 effort. Every time she ran, she seemed to have more in the tank.
But in her post-race interview, she said she would not run the Olympic Trials.
I couldn't believe it. I thought, "What happens if you're not the same runner four years later? What if the opportunity to make the Olympic team is never this good again?"

Ashley Spencer talks about 2012 Olympic Trials after winning NCAA 400m title (2:55 into interview):
Spencer did not run at the 2012 Olympic Trials.
It took a time of at least 50.43 to make the U.S. Olympic 400m team. Diamond Dixon, who finished third in the NCAA final behind Spencer, took fourth at the Trials in 50.88.
Spencer went on to win the World Junior title unchallenged in 50.50—only .07 behind the mark that qualified for London. In 2013, Spencer defended her outdoor title in 50.28. The time ranked the No. 4 all-time in the NCAA—only .18 off the collegiate record—and was No. 5 in the world at the time.
IAAF Calls Ashley Spencer the "Future of U.S. Women's Track & Field"
That summer, she made the U.S. 400m World Championship team, qualified for the semifinals in Moscow, and won a silver medal with the 4x400m relay team.
Fast-forward to 2016
Since 2013, Spencer hasn't broken 51 seconds for 400m or made a U.S. Outdoor Championship 400m final. But this year, she showed flashes of her former self by making the Indoor World Championship team and winning silver in Portland.
Afterward, Spencer returned to focusing on the 400m hurdles, which she excelled in during high school. In her second time running the event since 2013, she posted a world-leading 54.70. Since then, she dropped her time to 54.51, which ranks No. 4 in the world and No. 3 in the U.S. It's her best opportunity to make a U.S. Outdoor team since 2013.
It took three years—and switching events—to get back to that point.
Back to Brazier
He's better than Spencer was in 2012. Brazier is the best ever at his event at the NCAA level; he's currently the best in the U.S.; he's ranked third in the world; and his time historically ALWAYS competes with the best in the world.
Brazier should take advantage of the opportunity to run at the Olympic Trials.
Here's why:
1. Strike While the Iron is Hot
During the course of an athletic career, there are up and down years. Athletes aren't always firing on all cylinders, but when they are, they should put themselves in position to see how good they can be. And if it happens during an Olympic year, they shouldn't think twice.
We've already talked about Spencer, so let's consider David Rudisha and Chris Solinsky.
Rudisha enjoyed his finest season and greatest race ever during the year of the 2012 Olympics, where his world record in the 800m final is widely considered one of the best races of all time. Prior to 2012, many questioned if Rudisha could shine on the biggest stage amid Olympic pressure. He gave the world an answer, and is now regarded as the G.O.A.T.
In 2010, Solinsky became the first non-African to break 27 minutes in the 10K, and was the highest-ranked American in the event since 1986.
But 2010 happened to be an "off year" that did not feature the Olympics or World Championships. In 2011, Solinsky got injured after making the World team, and was forced to pull out.
He was never the same again. He retired from professional running in 2016 with his 2010 Payton Jordan race as the strongest part of his legacy. You can't help but wonder: What if he was healthy in 2011 or 2012? How would that have changed his career?
Bottom line: When you're running hot during an Olympic year, don't take it for granted.
2. Brazier's chances, his time(s), and how they stack up
I compared Brazier's time historically in three ways:
Early Season:
Brazier's 1:43.55 is the fastest 800m ever by an American this early in the outdoor season (Rick Wohlhuter ran 1:43.5 on June 8, 1974, but it was hand-timed).
Duane Solomon's 1:43.27 on June 23, 2013, is next, then Johnny Gray's Olympic Trials record of 1:42.80 on June 24, 1992.
Before this year, only eight men had run faster than Brazier at an earlier time in the year. All of them, with the exception of one—Amine Laalou, who was busted for doping in 2012—have won Olympic gold, World Championship gold, Olympic silver or World silver in the 800m or 1500m.
All of these men have PRs of 1:41 or 1:42, with the exception of Asbel Kiprop and Laalou who have 1:43 PRs.
Olympic Trials:
In U.S. Olympic Trials history, only eight 800m performances have ever been sub-1:44, and all but one put an athlete on the Olympic team.
All these sub-1:44 times came from the 1984, 1988 and 1992 Trials, which featured Johnny Gray—the American record holder and the only American to break 1:43 for 800m. He was known to go out hard and essentially act as pacemaker for the field. Mark Everett, the former No. 2 all-time in the U.S., finished runner-up to Gray in '88 and '92.

Johnny Gray breaks the Olympic Trials 800m record:
Compared to the history of rounds at the Trials, Brazier's times look solid. Since 1976, the fastest qualifier out of the first round has been 1:46.02, and the average fastest first-round time is 1:47.02. The fastest qualifier out of the semifinals has been 1:44.90, and the average fastest time from the semifinals is 1:45.99.
Olympic Games:
At the Olympics, everyone's goal is to medal. To have a shot at a medal, it's all about making the final. Anything can happen once you're there.
But first, you have to get through the rounds. The Olympics typically host three rounds contested over four days with a rest day between semifinals and finals.
Brazier ran only two rounds over three days at this year's NCAA Outdoor Championships. But he also ran two 4x400m relay legs during that time. At NCAAs, he ran 1:45.07/45.75 on June 8, and 1:43.55/45.78 on June 10.
I looked to see how many men have run faster than Brazier's 1:45.07 in rounds at the Olympics:
Since 1976, there have been only five instances where men have run faster than Brazier in the opening rounds. All of those men made the final and three medaled; two won gold.
Since 1984, the average auto-qualifying time needed to advance from opening heats to the semifinals is 1:46.62. The average auto-qualifier to advance from the semis to the final is 1:45.09. For comparison, Brazier's 10 best 800m marks in 2016 average out to 1:46.28.
Between the semifinal and opening heats, only one man has run faster than 1:45.07 and NOT made the final (1996: Arthémon Hatungimana (BDI), 1:44.92 in semifinal).
If Brazier runs the way he did at NCAAs, he'll have a good shot to qualify for the final. But how good could he be in the finals?
Since 1976, the only years where the Olympics were won by times faster than Brazier's 1:43.55 were in races where the Olympic record and/or World record was lowered (1976 -1:43.50; 1984 -1:43.00; 1996 - 1:42.69; 2012 -1:40.91).
Brazier's time would have won all but four Olympic Games ever. His time would have missed medals in only 2012 (the fastest and deepest 800m race ever) and 1996 (the second-fastest and -deepest Olympic 800m final ever).
Brazier has the speed and the strength to compete with the best in the world through the rounds and the finals of not only the Olympic Trials, but also the Games.
3. Maximized media exposure once every four years
This major aspect of our sport is often overlooked. Track and field's audience peaks once every four years for the Trials and Games, and for some athletes, it may be their biggest opportunity to EVER be internationally recognized—even more so in Brazier's case.
Only once will Brazier be a 19-year-old NCAA champion that broke Jim Ryun's 50-year-old record. The story would resonate with the Olympic audience, and become a major narrative for the Trials, and potentially the Games.
The exposure he could receive now may never be greater later. Four years from now, when he's hopefully still running at a high level, he'll probably be a professional. At best, he'll be the favorite and American record-holder, but at that point, his precociousness won't be relevant anymore. That part of his story will be gone.
Remember the attention received by Mary Cain in 2013? Obea Moore in 1996?
Watch: What Happened to Obea Moore
This is a big opportunity for people outside of niche track and field fans to learn about Brazier. It's a chance for sponsors outside of shoe companies to be inspired by a 19-year-old (Proctor & Gamble, VISA, Ralph Lauren, United Airlines, and the rest of the big Olympic sponsors that show up every four years).
At World Juniors, media coverage primarily consists of niche track and field outlets. Skipping the Trials is a missed opportunity to get in front of the sport's biggest audience.
4. Financial implications
Whether Brazier wants to turn pro early or stay in college, running the Trials can only boost his earning potential.
Your stock is always high when you do something unprecedented. It's even higher when it comes around at the time of the Olympics, especially if you are world-class athlete with many potential competitive years ahead.
There is minimal pressure on Brazier to make the Olympic team this year. He has a "free pass" to do whatever he can—good or bad—which won't negative effect his earning potential. If he doesn't make the team, everyone will still view his amazing year as a success.
But if he does make it—or if he wins—then this teenager has some pretty special opportunities ahead of him.
In our sport, some believe if you consider potential financial gains when weighing the decision to go pro or choose races, you aren't in the sport for the right reasons.
I disagree. We all run because we love it, but if we want our sport and athletes' careers to be sustainable, the finances must be considered—especially for elite athletes. Shoe contracts are based on the Olympic cycle. Competing at an event that is part of the foundation of financial measurement in our sport, without external pressure to perform at a specific level, is a very exciting opportunity.
To recognize these potential gains, Brazier doesn't have to run out of his mind. He simply has continue doing what he's already done.
His reason to run doesn't have to be money, but he should understand how the difference between U.S. Juniors versus the Olympic Trials can affect him. In four years, the scenario will be much different. There will be more pressure and higher expectations.
This situation presents a unique circumstance that most athletes don't ever get, and even Brazier may never get again.
5. If he doesn't make the Olympic team, it's still worth it.
Brazier is only 19. If he doesn't make the Olympic team, no one will fault him. The experience alone he would gain by running at the Trials is invaluable, and something he'll have to wait at least four years to experience if he opts to not race in Eugene.
Some of the world's best athletes train their whole careers to run at the Trials and Games and never reach their goals—even World Junior champions.
When you consider Brazier running the World Junior Championships, the scenario changes a great deal. Brazier becomes the favorite to win the gold; he has run more than a full second faster than the next-closest competitor.
If Brazier goes to World Juniors, the only result that truly represents success is winning.
I believe he's better off gaining the experience at the Trials by running with pros, rather than attempting to become a World Junior champ by racing athletes he's expected to beat.
What you would value more: a chance to win a World Junior title, or the chance to run at the Olympics and potentially medal?
A life-changing decision
It's important to recognize Brazier and his coaches may be looking at things differently since he broke the NCAA record, as the people in his corner at Texas A&M have a wealth of knowledge in dealing with elite athletes. But this decision is more than simply choosing one meet over another, and deserves some discussion.
I believe this is a life-changing decision for Brazier. If he becomes an Olympian as a freshman, he changes the trajectory of his career athletically and financially.
If he doesn't run at the Trials, there's always a chance he will never have as good of an opportunity to compete at not only the biggest event in our sport, but one of the biggest events in the World.
I believe running the Trials can only lead to good things. If he doesn't make the team—or doesn't make the final at the Trials—then nothing really changes, and he gains invaluable experience.
But if he does make the team, then he will have truly changed his game. And he will give fans an exciting reason to tune in to the Rio Games.