Saucony Flo50 XC Countdown: #19 Syracuse Women
Saucony Flo50 XC Countdown: #19 Syracuse Women
Check out the Saucony Flo50 XC Countdown, where FloTrack ranks the top 31 cross country teams in the NCAA this season. The No. 19 spot goes to Syracuse this
Aug 6, 2016
by Allie Woodward Woodward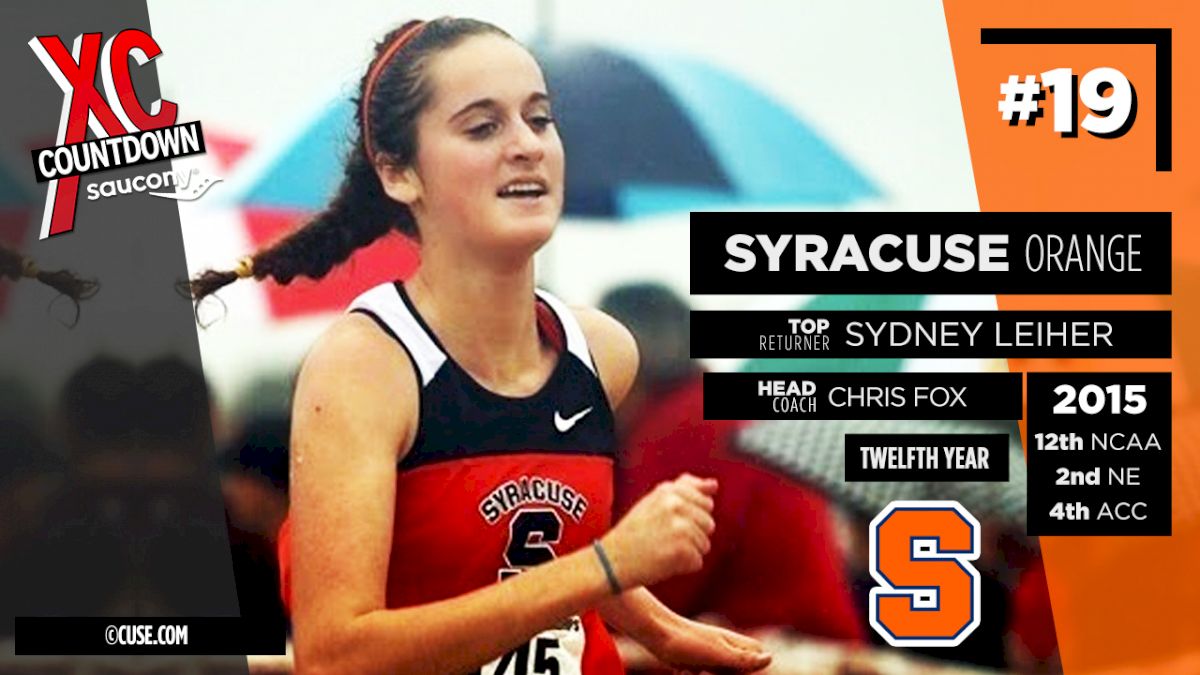 Check out the Saucony Flo50 XC Countdown, where FloTrack ranks the top 31 cross country teams in the NCAA this season. The No. 19 spot goes to Syracuse this year, and here's why:
Probable Top Five:
SR Sydney Leiher (4:39 Mile; 10:11 3K SC; 68th at '15 NCAA XC)
JR Paige Stoner (9:41 3K; 16:26 5K)
JR Mary Malone (16:56 5K; 230th at '15 NCAA XC)
SO Shannon Malone (35:28 10K)
FR Madeleine Davison (4:47 1600; 10:27 3200; 28th at '15 FL XC)
Impact Freshmen/Transfers:
Paige Stoner via Lipscomb University (9:41 3K; 16:26 5K)
McKenzie Altmayer via Geneva, IL (4:51 1600; 10:39 3200)
Rachel Bonner via Port Huron, MI (4:49 1600; 10:26 3200; '16 MI State Champion)
Madeleine Davison via Wexford, PA (4:47 1600; 10:27 3200; 28th at '15 FL XC)
Ryley Higgins via Avon, CT (5:29 1600; 11:47 3200)
Kayli Jones via Southlake TX (5:13 1600; 11:12 3200; 92nd at '15 NXN)
Kelsey Potts via Pittsburgh, PA (4:50 1600; 11:05 3200; 17th at '14 FL XC)
Maggie Toczko via Mehoopnay, PA (5:15 1600; 11:02 3200)
Emma Wilson via Romeo, MI (5:05 1600; 10:34 3200)
Analysis:
Last year's 12th place finish by the senior-stacked Syracuse women was the best in program history. Unfortunately 'Cuse graduated six women from the 2015 squad, most notably top runners Margo Malone and Shaylyn Tuite. 2016 will certainly be a rebuilding year for the women's program, but they should get an instant boost from a large group of talented incoming freshman and Lipscomb transfer Paige Stoner.
Moving up from her 2015 No. 3 spot to lead the Orange squad is Sydney Leiher. The senior ran at the front of the pack with the exiting veterans for most of the 2015 season and finished 68th at NCAA XC last year. She went on to notch a new PR of 10:11 in the steeplechase at the Stanford Invite during the outdoor season. Leiher and her squad will add transfer Paige Stoner to their top five. Stoner never made it to NCAA XC at Lipscomb but ran a 9:41 3K outdoors this spring. The junior should be an immediate contributor for 'Cuse this fall.
Following in the footsteps of their sister (former Syracuse star Margo Malone) are Mary and Shannon Malone. Mary finished 230th at '16 NCAA XC and comes off a solid outdoor track season where she set a new PR of 16:56 in the 5K. Joining her on the list of top 'Cuse returners is sophomore sister. Shannon didn't run XC last year, but placed sixth at ACC's in the 10K in a PR time of 35:28. Rounding out the Orange top five is another Pennsylvania native, freshman Madeleine Davison. She placed 28th last year at Footlocker and should be a strong new performer for a 2016 squad that hopes to forge ahead with a reloaded group of talent.
Previously:
#20 San Francisco
#21 Kansas
#22 Weber State
#23 Cal
#24 North Carolina
#25 BYU
#26 Virginia
#27 Villanova
#28 Vanderbilt
#29 Texas
#30 Florida
#31 Minnesota