2016 FloTrack Beer Mile World Championships
Lewis Kent Looks Back On Growth Of The Beer Mile
Lewis Kent Looks Back On Growth Of The Beer Mile
Defending champion Lewis Kent looks back on the growth of the beer mile and aims to repeat at this year's FloTrack Beer Mile World Championships.
Dec 2, 2016
by Taylor Dutch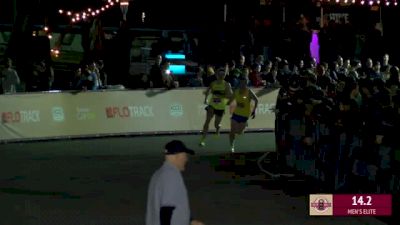 Two years ago, Lewis Kent was desperately trying to qualify to get into the inaugural FloTrack Beer Mile World Championships. In an attempt to earn his way into "a once in a lifetime opportunity," Kent ran three beer miles in three weeks during the five weeks leading up to the race. After finally running under the qualifying standard, Kent was invited to Austin, Texas, where he finished fifth in 5:32.
The following year, Kent shattered the then-world record by
winning the championship
in 4:47. He won the race while wearing a Brooks Running kit, representing the brand as the first beer miler under a professional contract.
"If you told me two years ago that this would be the situation two years later, I'd tell you you're lying," Kent told FloTrack in a phone interview ahead of this year's edition of the FloTrack Beer Mile World Championships on Dec. 17. "It's really come a long way."
Watch the FloTrack Beer Mile World Championships LIVE on Saturday, Dec. 17

Since signing the
shoe and apparel deal with Brooks
in November 2015, the University of Western Ontario graduate and his agent, Kris Mychasiw, have created a new market for an event that originated in the underground of college campuses. To Kent, the experience has been life-changing.
In the past year, Kent appeared on
"The Ellen Show,"
taking on a beer-chugging challenge one day before last year's championship. In addition to Brooks, Kent is working with SOS Rehydrate, Beau's Brewery, the National Beer Mile race circuit, and Run Gum. His contract with Brooks was renewed in November to a multi-year deal which will run until December 2018--the main difference being that Kent is signing with Brooks U.S. instead of Brooks Canada.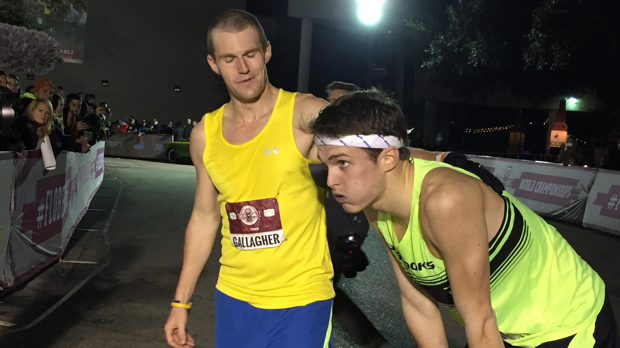 "I really like the feel of the company," Kent said. "It's very tight-knit, like a family. When I can text Jesse Williams (Brooks sports marketing manager) or any of the top guys at Brooks with any issue I have or just to see how they're doing, that's a pretty cool relationship."
The exact details of the contract remain unknown, but Kent told FloTrack that it "includes an extension of the old contract," and also echoed the details provided by Brooks representatives, who said it was "more than we would pay an amateur athlete and less than we would pay an Olympian."
The contract includes a bonus structure centered around major beer-mile events--the FloTrack Beer Mile World Championships and the Beer Mile World Classic.
Although Kent is the only known runner to be under a professional beer mile contract, he is no longer the world record-holder in the event. His college competitor and friend Corey Bellemore took the crown when he clocked a 4:39 on July 29 and bettered the mark just four days later at the world classic in London with a
stunning victory in 4:34
. Bellemore is also an accomplished track runner sans beer-chugging. In 2015, he claimed the Canadian national championship in the 800m and posted a personal best of 1:47.68.
4
4 400m laps@CoreyBellemore does the #BeerMile in 4:34 for a new WR

Details: https://t.co/dPQ6VRGdue pic.twitter.com/9OKVvpVyVC

— CanadianRunning (@CanadianRunning) July 31, 2016
Kent's personal best of 4:47 is currently No. 3 on the
BeerMile.com
all-time list behind Bellemore's 4:39 and 4:34 performances.
"I knew he would be a threat one day," Kent said. "It was just a matter of how fast he could get them [beers] down, but he's got the gift of the beer mile."
The two Canadian compatriots competed against each other at the world classic where Kent had a bad day and wound up finishing fourth in 5:11 due to burping issues. Four months later, Kent knows that the second matchup at Dec. 17's
FloTrack Beer Mile World Championships
will be "hard as hell," but maintains that the many factors of the beer mile can leave the race wide open to anyone.
"If you're not Jim Finlayson (former world record-holder), anyone can have a bad day in the beer mile," Kent said. "I really thought I couldn't have a bad day, and this summer in London my stomach was not on. I couldn't burp for the life of me. So while it may seem unlikely, anyone can have a bad day stomach-wise, and that's what makes the beer mile great.
"You have to be mentally there, physically there, but your stomach also needs to be having a good day. I'll stick to my race plan and run as hard as I can. If [Bellemore] happens to have an off day, maybe I can sneak in there."
FloTrack Beer Mile World Championships
WHEN:
Saturday, Dec. 17 (Noon-4:30 PM CST)
WHERE:
Austin American Statesman (Austin, Texas)
LIVE STREAM:
Begins at 1 PM CDT on FloTrack
For more information, visit
http://www.flotrackbeermile.com/
where you can register or sign up to volunteer. Admission is free!