2017 Boston Marathon & B.A.A. 5k/Mile
Jordan Hasay's Boston Marathon Debut Was For Her Mother
Jordan Hasay's Boston Marathon Debut Was For Her Mother
Jordan Hasay's mother passed away unexpectedly last November, and Hasay dedicated her record performance at the Boston Marathon to her.
Apr 17, 2017
by Taylor Dutch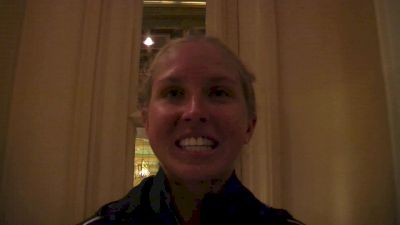 During the last few miles of her marathon debut in Boston, Jordan Hasay kept repeating two words: "shining star."
The mantra was a reminder that her mother, Teresa, was with her in spirit for every step on Monday. While she repeated those two words in the decisive final miles, Hasay's left hand was throbbing. It was the same hand upon which she wears her mother's engagement ring.
"It was just a reminder that she was there with me," Hasay told FloTrack after the race. "She just told me, 'All you need to be is my shining star,' so that's what I kept repeating to myself over those last couple miles."
Hasay's mother died unexpectedly this past November and was unable to see her daughter make her marathon debut, but she would have been proud.
It was a performance that made history as the fastest debut by an American woman. Hasay finished third in 2:23:00, two minutes and 53 seconds faster than Kara Goucher's debut in the distance at the 2008 New York City Marathon. In U.S. history, only Shalane Flanagan's 2:22:02 in 2014, Desi Linden's 2:22:38 in 2011, and Joan Benoit Samuelson's 2:22:43 in 1983 are the faster marks run by American women at the Boston Marathon.
Before the race, Hasay believed she was in 2:25 shape. When eventual race winner Edna Kiplagat threw down a 5:01 at mile 19, Hasay stayed back. She worried that she wouldn't finish the race if she matched a move that big, and the decision paid off immensely.
An emotional @JordanHasay after finishing 3rd at the @bostonmarathon #FOX25 #BostonMarathon #marathonmonday @fox25news pic.twitter.com/umSnnFOEFJ

— Jason Solowski (@JasonSolowski) April 17, 2017
Hasay has been in the spotlight since she was in middle school breaking age-group records. She won the Foot Locker Cross Country Championships as a ninth-grader and eventually went on to compete at the University of Oregon, where she had one of the most decorated college careers in history. But since graduating and joining the Nike Oregon Project as a professional, Hasay had yet to earn similar accolades. She suffered from her first injury, plantar fasciitis, and was sidelined for a portion of the 2015 season. She eventually returned in 2016 to finish ninth in the 10K and 13th in the 5K at the Olympic Trials.
The disappointment forced Hasay to rethink her running goals. It even made her question training with the Nike Oregon Project. Eventually her coach, Alberto Salazar, also the 1982 champion of the Boston Marathon, suggested the marathon as a new focus.
"We had some hard conversations this year after I didn't do well on the track and we even thought that maybe the Oregon Project isn't working for me, but thankfully I moved to the roads and it's working out," she said.
In the fall, Salazar also had the unfortunate task of informing Hasay of her mother's passing. Hasay was on her way to the EQT Pittsburgh 10 miler road race when he called to tell her the news. Teresa was found unresponsive in the family home in Arroyo Grande, CA, and pronounced dead at 56. The family is keeping the cause of death private.
Since her mother's death, Hasay has kept her memory as motivation in her racing. Before she passed, her mother knew Hasay's goal was Boston.
"She knew I would be moving up to the marathon… so it was hard not having her here on the day, but in a way I can't say it was better but she was able to run alongside me the whole way so that's what I tried to tell myself the whole time," Hasay said.
Hasay had a strong support system in Boston, which included her father, Joe, her aunt, Joanie, and her massage therapist, Michael Moore, who captured the emotional post-race moments on Facebook. Salazar was also at the finish line, ready to congratulate his athlete who's endured unimaginable loss and accomplished a lifelong dream. "He never gave up on me," Hasay said of her coach.
Crossing the finish line signified the end of a long ordeal and the beginning of a new chapter for Hasay.
She said, "Whenever I got nervous this week, I thought, 'There's nothing that the marathon can do to me that I haven't already been through emotionally.'"