2017 London Marathon
Abel Kirui Might Not Be Ready To Break 2:00, But He Could Win In London
Abel Kirui Might Not Be Ready To Break 2:00, But He Could Win In London
We break down Nike's sub-2:00 attempt, and Abel Kirui's chances at the London Marathon.
Apr 22, 2017
by Toni Reavis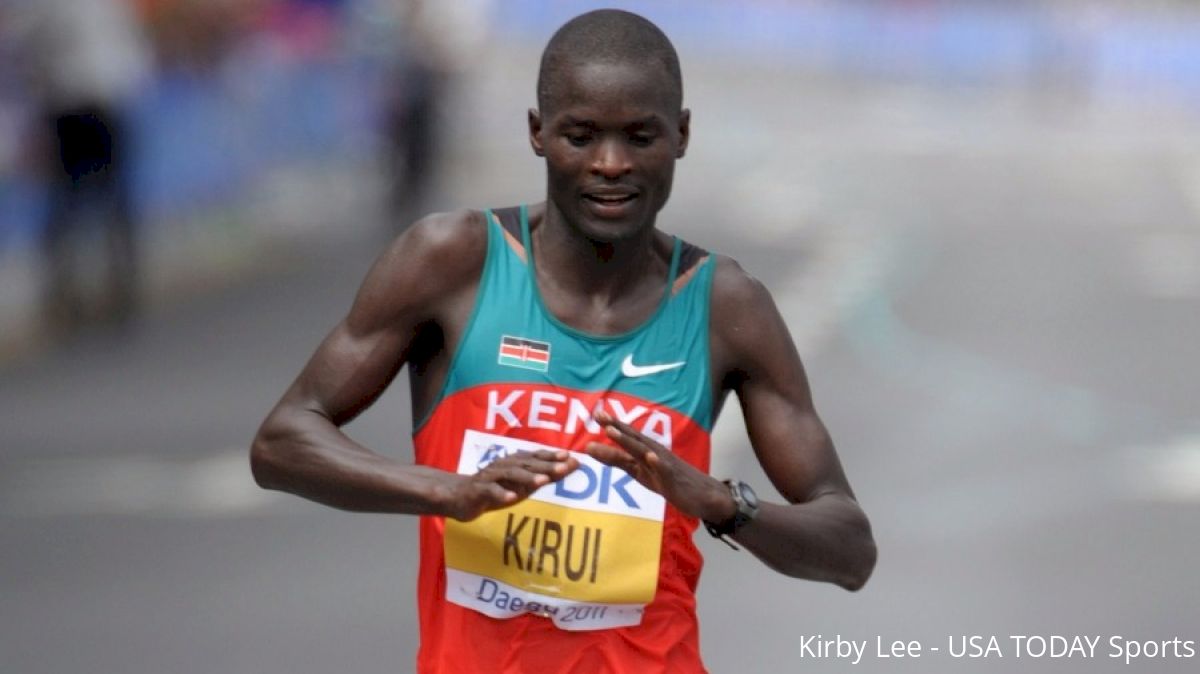 Say what else you will about the Nike Breaking2 Project, but you have to admit that as a brand promotion it has already been very successful. Even before one step has even been taken in the attempt to go sub-two hours over the marathon distance, a buzz has been created. Set to take off in early May on an 2.4K/lap oval race track in Monza, Italy, famous for hosting a Grand Prix and Formula One races, three men, one car, and two sets of four pacesetters will make the attempt. There are rumors that the car will be electronically controlled to go at 1:59:50 pace, 28:25/10km, and the three runners will be assisted by two sets of four pace runners going 5km on, 5km off.
WATCH THE LONDON MARATHON LIVE ON FLOTRACK IN CANADA ON SUNDAY

But by taking Olympic and defending London Marathon champion Eliud Kipchoge out of this year's London race this Sunday to lead the Breaking2 Project seems a bit of a thumb in the eye to London and the entire Abbott World Marathon Majors series.
Imagine if one of the top tennis racket companies took Rafa Nadal, Roger Federer, and Andy Murray out of the Wimbledon tournament to stage a promotion trying to hit the fastest tennis serve in history with a racquet that may, or may not, conform with accepted standards. How do you think the tennis world would react? I'd suggest it would not be embraced as helpful in the advancement of competitive sport.
But back to the actual London Marathon race. As always the field is stacked. But there's no doubt that if Eliud Kipchoge were there that he would be considered the favorite, as he is undoubtedly the current top man in the game coming off his Olympic gold medal in Rio this past summer. But beyond Berlin champ Keninise Bekele, Olympic silver medalist Feyisa Lelisa, New York City champ Ghirmay Ghebreslassie, and debuting stud (26:52/59:10) Bedan Karoki, I will be interested in how well 2012 Olympic silver medalist Abel Kirui goes this Sunday. (Another Kirui, the unrelated Geoffrey, won in Boston on Monday.)
Geoffrey Kirui torched a 14:34 split between 35 and 40 kilometers in Boston to put away from America's Olympic bronze medalist Galen Rupp. But in training back home in Kenya it was Abel Kirui who took Geoffrey under his wing in a final test run to show the youngster, 24 years old, how it's done.
While Europeans and Americans like to race a half marathon race four to six weeks out from their marathons, top-tier Kenyans often stay closer to home and run a test 40K as their final preparation in Nangili, a small town 45 minutes by car outside Eldoret. The road there is smooth, flat, and at a slightly lower elevation than Eldoret or Iten, the two main centers of Kenyan distance running.
The 20K out-and-back test loop begins at 2000 meters and turns back at 2180m, meaning the norm is a negative split. Over the years, only four men have ever broken 2:08 on the Nangili 40K, a time that equates to a 2:14 marathon at an altitude of 6,600 to 7,200 feet.
The first one to do so was Moses "Big Engine" Mosop, who posted a 2:07:05 in preparation for Boston 2011. There, he was runner-up by four seconds to Geoffrey Mutai's 2:03:02 course record. Next was 2009 and 2011 IAAF marathon world champion Abel Kirui, who ran the 40K in 2:04:57 in preparation for London 2012. Then Wilson Kipsang blitzed the route in 2:03:32 before his world record 2:03:23 in Berlin 2013. Now Geoffrey Kirui has added his name to the distinguished list with a 2:07:30 before Boston 2017. But Geoffrey ran the out-and-back test with Abel Kirui as Abel tuned up for London this Sunday, and Abel put 24 seconds on Geoffrey in the last 2K.
"Now you understand the difference between you and a real marathon runner," famed coach Renato Canova said to Geoffrey afterward.
Abel went through a two-year dry spell after his silver-medal performance at the London Games in 2012. But he righted things with a win in Chicago this past fall in a tactical, non-paced race. His Nangili performance and Geoffrey Kirui's win in Boston indicate Abel could be ready to challenge for the win, or at least the podium, this Sunday in London. Though sub-2:00 might be asking a tad much.
​Watch our interview with Abel from way back in 2011 in Daegu: