2017 USATF Outdoor Championships
Full List Of 2017 Team USA World Championships Qualifiers
Full List Of 2017 Team USA World Championships Qualifiers
List of Team USA members for the IAAF World Championships per top three finish at the USATF Championships.
Jun 25, 2017
by Johanna Gretschel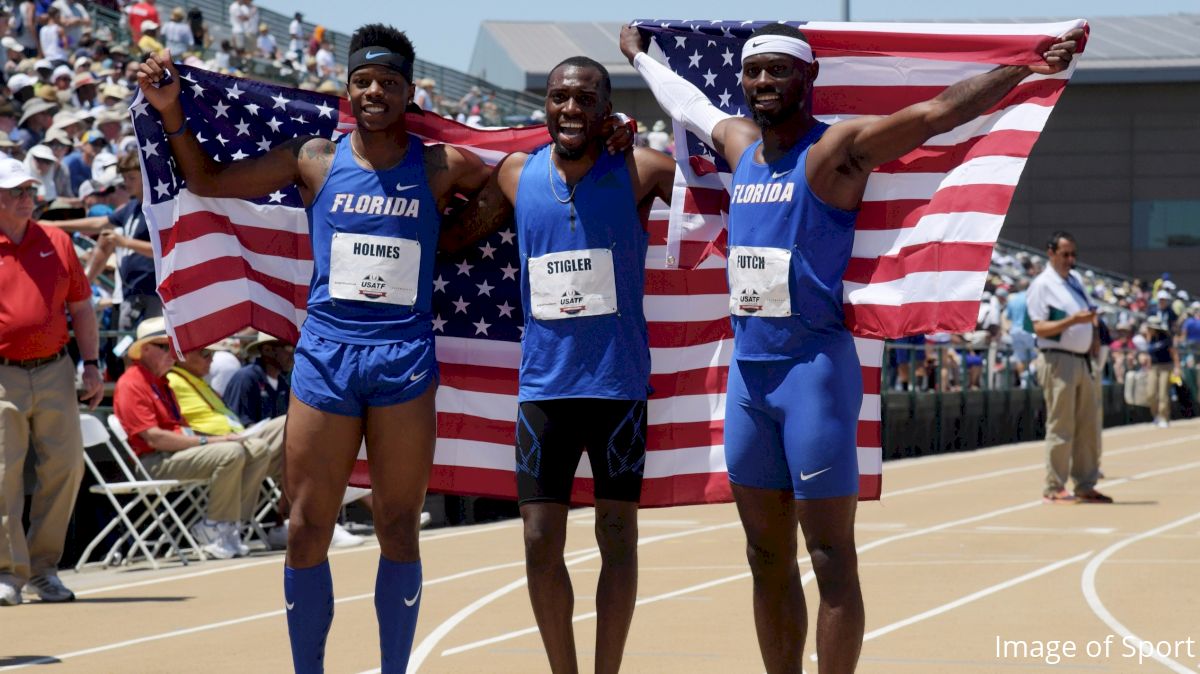 We'll keep a running list of the Team USA qualifiers for the IAAF World Championships this summer in this space. The top three finishers in each event at the USATF Outdoor Championships are eligible to represent Team USA if they have the
world standard
, indicated after each event in parentheses, though athletes have until July 23 to chase the qualifying mark.
In the event that a top three finisher does not achieve
the world standard
by the deadline, then the next finisher with the standard will represent Team USA. Athletes currently without the world standard are marked with an asterisk.
Sunday, June 25 - Day 4
Men's 100m Hurdles (13.48)
| | | | |
| --- | --- | --- | --- |
| PLACE | ATHLETE | SPONSOR | MARK |
| 1 | Aleec Harris | adidas | 13.24 |
| 2 | Aries Merritt | Nike | 13.31 |
| 3 | Devon Allen | Nike | 13.34 |
Women's 200m (23.10)
| | | | |
| --- | --- | --- | --- |
| PLACE | ATHLETE | SPONSOR | MARK |
| 1 | Deajah Stevens | Oregon | 22.30 |
| 2 | Kimberlyn Duncan | Nike | 22.59 |
| 3 | Tori Bowie | adidas | 22.60 |
Men's 200m (20.44)
| | | | |
| --- | --- | --- | --- |
| PLACE | ATHLETE | SPONSOR | MARK |
| 1 | Ameer Webb | Nike | 20.09 |
| 2 | Christian Coleman | Nike | 20.10 |
| 3 | Elijah Hall-Thompson | Houston | 20.21 |
Men's 3K Steeplechase (8:32.0)
| | | | |
| --- | --- | --- | --- |
| PLACE | ATHLETE | SPONSOR | MARK |
| 1 | Evan Jager | Nike Bowerman TC | 8:16.88 |
| 2 | Stanley Kebenei | Nike | 8:18.54 |
| 3 | Hillary Bor | U.S. Army | 8:18.83 |
Women's 800m (2:01.0)
| | | | |
| --- | --- | --- | --- |
| PLACE | ATHLETE | SPONSOR | MARK |
| 1 | Ajee Wilson | adidas | 1:57.78 |
| 2 | Charlene Lipsey | adidas | 1:58.01 |
| 3 | Brenda Martinez | New Balance | 1:58.46 |
Men's 400m Hurdles (49.35)
| | | | |
| --- | --- | --- | --- |
| PLACE | ATHLETE | SPONSOR | MARK |
| 1 | Eric Futch | Florida | 48.18 |
| 2 | Michael Stigler | adidas | 48.26 |
| 3 | T.J. Holmes | Florida | 48.44 |
Women's 400m Hurdles (56.10)
| | | | |
| --- | --- | --- | --- |
| PLACE | ATHLETE | SPONSOR | MARK |
| 1 | Dalilah Muhammad | Nike | 52.64 |
| 2 | Shamier Little | adidas | 52.75 |
| 3 | Kori Carter | Jordan | 52.95 |
Men's 800m (1:45.9)
| | | | |
| --- | --- | --- | --- |
| PLACE | ATHLETE | SPONSOR | MARK |
| 1 | Donavan Brazier | Nike | 1:44.14 |
| 2 | Isaiah Harris | Penn State | 1:44.53 |
| 3 | Drew Windle | Brooks | 1:44.95 |
Men's Long Jump (8.15m)
| | | | |
| --- | --- | --- | --- |
| PLACE | ATHLETE | SPONSOR | MARK |
| 1 | Jarrion Lawson | ASICS | 8.49m |
| 2 | Marquis Dendy | Nike | 8.39m |
| 3 | Damarcus Simpson* | Oregon | 8.36m |
Men's High Jump (2.30m)
| | | | |
| --- | --- | --- | --- |
| PLACE | ATHLETE | SPONSOR | MARK |
| 1 | Bryan McBride | Unattached | 2.30m |
| 2 | Ricky Robertson, Jr. | Unattached | 2.30m |
| 3 | Erik Kynard, Jr. | Jordan | 2.27m |
| 4 | Jeron Robinson* | Unattached | 2.27m |
Women's Pole Vault (4.55m)
| | | | |
| --- | --- | --- | --- |
| PLACE | ATHLETE | SPONSOR | MARK |
| 1 | Sandi Morris | Nike | 4.80m |
| 2 | Jenn Suhr | adidas | 4.65m |
| 3 | Emily Grove | South Dakota | 4.55m |
Men's Shot Put (20.50m)
| | | | |
| --- | --- | --- | --- |
| PLACE | ATHLETE | SPONSOR | MARK |
| 1 | Ryan Crouser | Nike | 22.65m |
| 2 | Joe Kovacs | Nike | 22.35m |
| 3 | Ryan Whiting | Nike | 21.54m |
| 4 | Darell Hill | Nike | 20.60m |
Women's Hammer Throw (71.00m)
| | | | |
| --- | --- | --- | --- |
| PLACE | ATHLETE | SPONSOR | MARK |
| 1 | Gwen Berry | Nike/NYAC | 74.77m |
| 2 | Maggie Ewen | Arizona State | 74.56m |
| 3 | Deanna Price | NYAC | 74.06m |
Women's 20K Racewalk (1:36:00)
| | | | |
| --- | --- | --- | --- |
| PLACE | ATHLETE | SPONSOR | MARK |
| 1 | Maria Michta-Coffery | Oiselle/Walk USA | 1:33.19.61 |
| 2 | Miranda Melville | Skechers Performance/NYAC | 1:36.59.09 |
| 3 | Robyn Stevens* | Skechers Performance/Wolfpack | 1:38.34.54 |
Men's 20K Racewalk (1:24:00)
| | | | |
| --- | --- | --- | --- |
| PLACE | ATHLETE | SPONSOR | MARK |
| 1 | Emmanuel Corvera* | NYAC | 1:26:43.04 |
| 2 | Nick Christie* | San Diego Pole Vault | 1:26:49.17 |
| 3 | John Nunn* | U.S. Army | 1:27:06.82 |
Saturday, June 24 - Day 3

Women's 400m (52.10)
| | | | |
| --- | --- | --- | --- |
| PLACE | ATHLETE | SPONSOR | MARK |
| 1 | Quanera Hayes | Nike | 49.72 |
| 2 | Phyllis Francis | Nike | 49.96 |
| 3 | Kendall Ellis | USC | 50.00 |
Men's 400m (45.50)
| | | | |
| --- | --- | --- | --- |
| PLACE | ATHLETE | SPONSOR | MARK |
| 1 | Fred Kerley | Texas A&M | 44.03 |
| 2 | Gil Roberts | Nike | 44.22 |
| 3 | Wil London | Baylor | 44.47 |
Women's 1500m (4:07.50)
| | | | |
| --- | --- | --- | --- |
| PLACE | ATHLETE | SPONSOR | MARK |
| 1 | Jenny Simpson | New Balance | 4:06.33 |
| 2 | Kate Grace | Nike/NorCal Distance | 4:06.95 |
| 3 | Sara Vaughn | Brooks/Boulder Track Club | 4:07.85 |
Women's 3K Steeplechase (9:42.00)
| | | | |
| --- | --- | --- | --- |
| PLACE | ATHLETE | SPONSOR | MARK |
| 1 | Emma Coburn | New Balance | 9:20.28 |
| 2 | Courtney Frerichs | Nike/Bowerman Track Club | 9:22.23 |
| 3 | Colleen Quigley | Nike/Bowerman Track Club | 9:25.40 |
Men's 1500m (3:36.00)
| | | | |
| --- | --- | --- | --- |
| PLACE | ATHLETE | SPONSOR | MARK |
| 1 | Robby Andrews* | adidas | 3:43.29 |
| 2 | Matt Centrowitz | Nike Oregon Project | 3:43.41 |
| 3 | John Gregorek | ASICS/NJ*NY | 3:43.99 |
Women's 100m Hurdles (12.98)
| | | | |
| --- | --- | --- | --- |
| PLACE | ATHLETE | SPONSOR | MARK |
| 1 | Keni Harrison | adidas | 12.60 |
| 2 | Nia Ali | Unattached | 12.68 |
| 3 | Christina Manning | adidas | 12.70 |
| 4 | Dawn Harper-Nelson | Nike | 12.78 |
Men's Discus Throw (65.00m)
| | | | |
| --- | --- | --- | --- |
| PLACE | ATHLETE | SPONSOR | MARK |
| 1 | Mason Finley | Nike | 63.03m |
| 2 | Andrew Evans | Nike | 62.57m |
| 3 | Rodney Brown | Nike | 60.87m |
Men's Javelin Throw (83.00m)
| | | | |
| --- | --- | --- | --- |
| PLACE | ATHLETE | SPONSOR | MARK |
| 1 | Riley Dolezal* | Nike | 81.77m |
| 2 | Cyrus Hostetler* | Nike | 79.71m |
| 3 | Michael Shuey* | Penn State | 77.94m |
Men's Pole Vault (5.70m)
| | | | |
| --- | --- | --- | --- |
| PLACE | ATHLETE | SPONSOR | MARK |
| 1 | Sam Kendricks | Nike | 6.00m |
| 2 | Andrew Irwin | Arkansas Vault Club | 5.75m |
| 3 | Chris Nilsen | South Dakota | 5.75m |
Women's Shot Put (17.75m)
| | | | |
| --- | --- | --- | --- |
| PLACE | ATHLETE | SPONSOR | MARK |
| 1 | Raven Saunders | Ole Miss | 19.76m |
| 2 | Dani Bunch | Nike | 19.64m |
| 3 | Michelle Carter | Nike | 19.34m |
Women's Long Jump (6.75m)
| | | | |
| --- | --- | --- | --- |
| PLACE | ATHLETE | SPONSOR | MARK |
| 1 | Tianna Bartoletta | Nike | 7.05m |
| 2 | Brittney Reese | Nike | 6.98m |
| 3 | Shakeela Saunders | Kentucky | 6.92m |
| 4 | Quanasha Burks | Alabama | 6.70m |
Friday, June 23 - Day 2

Men's 5K (13:22.60)
| | | | |
| --- | --- | --- | --- |
| PLACE | ATHLETE | SPONSOR | MARK |
| 1 | Paul Chelimo | U.S. Army | 13:08.62 |
| 2 | Eric Jenkins | Nike Oregon Project | 13:15.74 |
| 3 | Ryan Hill | Nike Bowerman TC | 13:16.99 |
Women's 5K (15:22.00)
| | | | |
| --- | --- | --- | --- |
| PLACE | ATHLETE | SPONSOR | MARK |
| 1 | Shelby Houlihan | Nike Bowerman TC | 15:13.87 |
| 2 | Shannon Rowbury | Nike Oregon Project | 15:14.08 |
| 3 | Molly Huddle | Saucony | 15:15.29 |
Men's 100m (10.12)
| | | | |
| --- | --- | --- | --- |
| PLACE | ATHLETE | SPONSOR | MARK |
| 1 | Justin Gatlin | Nike | 9.95 |
| 2 | Christian Coleman | Nike | 9.98 |
| 3 | Christopher Belcher | Nike | 10.06 |
Women's 100m (11.26)
| | | | |
| --- | --- | --- | --- |
| PLACE | ATHLETE | SPONSOR | MARK |
| 1 | Tori Bowie | adidas | 10.94 |
| 2 | Deajah Stevens | Oregon | 11.08 |
| 3 | Ariana Washington | Oregon | 11.10 |
Men's Triple Jump (16.80m)
| | | | |
| --- | --- | --- | --- |
| PLACE | ATHLETE | SPONSOR | MARK |
| 1 | Will Claye | Unattached | 17.91m |
| 2 | Chris Benard | Chula Vista Elite | 17.48m |
| 3 | Donald Scott | Unattached | 17.25m |
Men's Decathlon (8100 points)
| | | | |
| --- | --- | --- | --- |
| PLACE | ATHLETE | SPONSOR | MARK |
| 1 | Trey Hardee | Nike | 8225 |
| 2 | Zach Ziemek | adidas | 8155 |
| 3 | Devon Williams | Georgia | 8131 |
Women's High Jump (1.94m)
| | | | |
| --- | --- | --- | --- |
| PLACE | ATHLETE | SPONSOR | MARK |
| 1 | Vashti Cunningham | Nike | 1.99m |
| 2 | Liz Patterson | Santa Cruz TC | 1.91m |
| 3 | Inika McPherson | Unattached | 1.91m |

Thursday, June 22 - Day 1
Women's Javelin Throw (61.40m)
| | | | |
| --- | --- | --- | --- |
| PLACE | ATHLETE | SPONSOR | MARK |
| 1 | Kara Winger | Unattached | 62.80m |
| 2 | Ariana Ince* | Unattached | 58.32m |
| 3 | Rebekah Wales* | LSU | 55.28m |
Women's Triple Jump (14.10m)
| | | | |
| --- | --- | --- | --- |
| PLACE | ATHLETE | SPONSOR | MARK |
| 1 | Keturah Orji | Georgia | 14.26m |
| 2 | Tori Franklin* | Unattached | 13.80m |
| 3 | Andrea Geubelle* | Unattached | 13.62m |
Men's Hammer Throw (76.00m)
| | | | |
| --- | --- | --- | --- |
| PLACE | ATHLETE | SPONSOR | MARK |
| 1 | Alex Young* | Unattached | 73.75m |
| 2 | Johnnie Jackson* | LSU | 71.69m |
| 3 | Sean Donnelly* | Iron Wood TC | 71.45m |
Women's Discus Throw (61.20m)
| | | | |
| --- | --- | --- | --- |
| PLACE | ATHLETE | SPONSOR | MARK |
| 1 | Gia Lewis-Smallwood | Nike/NYAC | 62.65m |
| 2 | Whitney Ashley | Nike | 62.20m |
| 3 | Valarie Allman | Stanford | 57.93m |
Women's 10K (32:15.0)
| | | | |
| --- | --- | --- | --- |
| PLACE | ATHLETE | SPONSOR | MARK |
| 1 | Molly Huddle | Saucony | 31:19.86 |
| 2 | Emily Infeld | Nike/Bowerman Track Club | 31:22.67 |
| 3 | Emily Sisson | New Balance | 31:25.64 |
Men's 10K (27:45.0)
| | | | |
| --- | --- | --- | --- |
| PLACE | ATHLETE | SPONSOR | MARK |
| 1 | Hassan Mead | Nike Oregon TC | 29:01.44 |
| 2 | Shadrack Kipchirchir | U.S. Army | 29:01.68 |
| 3 | Leonard Korir | U.S. Army | 29:02.64 |
Wildcard Byes
| | | | |
| --- | --- | --- | --- |
| Athlete | Sponsor | Event | How |
| Christian Taylor | Nike | Triple Jump | Won '15 worlds and '16 DL |
| Allyson Felix | Nike | 400 | Won '15 worlds |
| Kerron Clement | Nike | 400H | Won '16 DL |
| Tianna Bartoletta | Nike | Long Jump | Won '15 worlds |
| Joe Kovacs | Nike | Shot Put | Won '15 worlds |
| LaShawn Merritt | Nike | 400 | Won '16 DL |
| Keni Harrison | adidas | 100H | Won '16 DL |
| Erik Kynard | Brand Jordan | High Jump | Won '16 DL |
| Cassandra Tate | adidas | 400H | Won '16 DL |