Simpson Sub-4:20, Thompson Sub-11 In Flats, Brit Walks 5:31 Mile At London
Simpson Sub-4:20, Thompson Sub-11 In Flats, Brit Walks 5:31 Mile At London
Jenny Simpson and Elaine Thompson ran fast while one Brit walked fast at the London DL.
Jul 9, 2017
by Harry Prevor .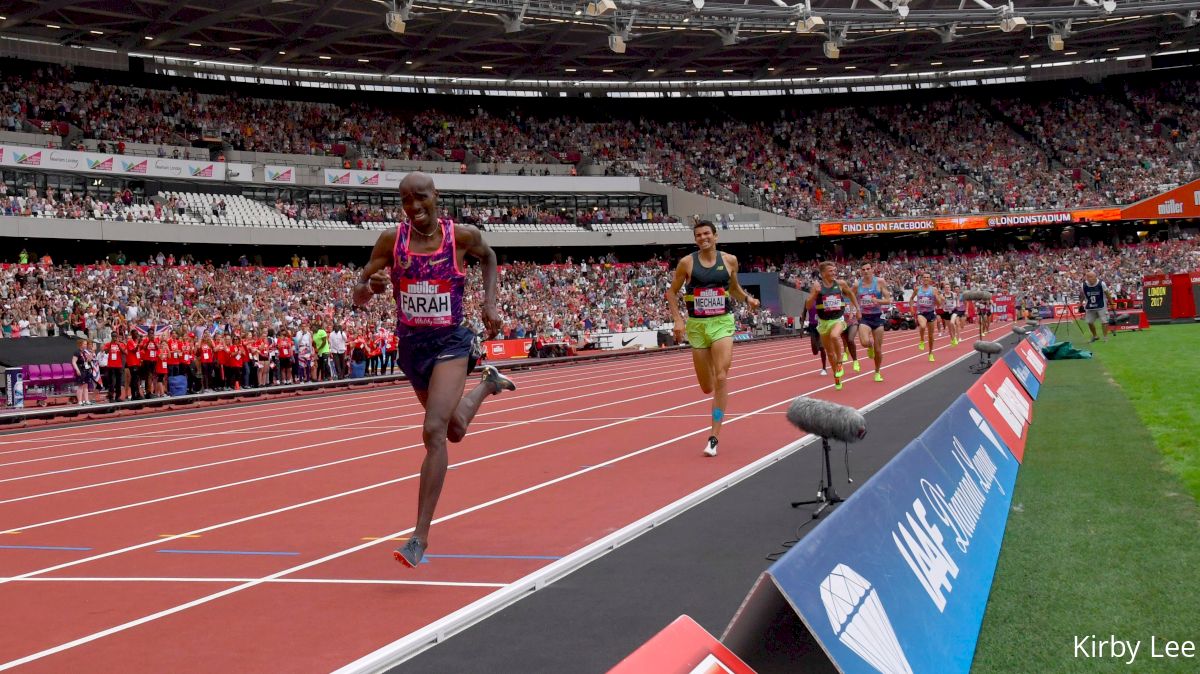 This morning's London Anniversary Games was probably the best Diamond League meet yet this season, as it saw several stacked fields with U.S. and NCAA champs of past and present squaring up against each other in what will be the same stadium hosting the World Championships later this summer. Here were some of the best highlights.
Women's 800m: Lipsey takes her win without any of the Big 3

​Charlene Lipsey walked in to this race as the 6th-fastest American ever thanks to her 1:57 in Lausanne, and she certainly lived up to that position in London as she took the early lead and fended off all challengers to the line to win in 1:59.43. The time wasn't spectacular due to none of the Rio Olympic medalists showing up to this one to push the pace, but another win certainly can't be bad for Lipsey, who will be extra confident at Worlds along with her training partner Ajee Wilson.
Men's 1500m: O'Hare beats the Kenyans to win on home soil

Britain's Chris O'Hare has been on fire this season, and though this wasn't a Diamond League event, it still had a formidable level of Kenyan talent in it in Bethwell Birgin and Vincent Kibet. The Kenyans took to the pace early, but ultimately faltered as Chris O'Hare took the win in 3:34.75, just tenths of a second off his PB set earlier in the year. Fillip Ingebrigtsen, brother of teen phenom​ Jakob Ingebrigtsen, was 3rd in 3:34.91, while Ben Blankenship and Brandon Kidder faded to 3:37.19 and 3:38.71 respectively.
Men's 400m Hurdles: McMaster takes it out quick but Clement reels him in

The Rio Olympic champ Kerron Clement, despite having a bad day at the U.S. champs, seems to be getting better with every race as he executed a well-paced race in London, winning over world leader Kyron McMaster who had the lead with 100m to go but faded on the final hurdles. This is his second consecutive DL win on the circuit this summer, which certainly bodes well for his chances at a title defense at Worlds.
Men's 200m: Americans go 1-2-3 as Webb wins, Kerley PRs in his pro debut

The race was in to a slight headwind, but that didn't stop the U.S. trio of Ameer Webb, Fred Kerley, and Isiah Young from going 1-2-3, highlighted by Fred Kerley's professional debut in an off-distance race. That choice seemed to pay off for Kerley as he'll be flying home with a 2nd-place finish and PR (even if only by a few tenths of a second). With no Coleman in the 200m at Worlds, Ameer Webb has got to like his chances now with a London DL win under his belt.
Women's 100m: Elaine Thompson runs 10.93, beats Schippers in Flats

Jamaica's Elaine Thompson showed why she's the best at this distance by running an impressive sub-11 clocking and beating rival Dafne Schippers to the line, as all of the top three (including Blessing Okagbare in third) broke 11 seconds despite a -1.4m/s headwind. But despite the wind and stiff competition, what made Thompson's run all the more impressive was that she did it in flats, remarking after the race that her feet were hurting in her usual spikes before the race.
Women's 400m: Allyson Felix demolishes the field with a world lead

Allyson Felix came into this race relatively untested at her Worlds wildcard distance this season, save a win in Jamaica earlier in the season. Today, she showed she is ready to run with the best of them as she totally demolished the field, running almost a half second better than the next-fastest competitor. Her time of 49.65 was good for a world lead, and compatriots Courtney Okolo (50.29) and Shamier Little (50.40) had to be happy with their second and third-place showings. Little's mark was good for a huge PR over the flat 400m distance, which should give her confidence in her primary event, the 400m hurdles, going into Worlds.
Men's 800m: Amos gets the WL as a brave Brazier goes 1:43

It looks like the fated Brazier-Korir matchup just wasn't meant to be in London, as Korir never appeared on the start lists. But that didn't stop this 800m from going fast as Nijel Amos led the field tucked behind the pacer for a sub-50 first lap, with Donavan Brazier sticking his nose in it not far behind. Amos ultimately followed up his Lausanne win with another here in Paris, and the time of 1:43.18 was a World Lead and very impressive. Brazier was rewarded for his bravery as he was the only other man in the field to break 1:44 with his 1:43.95 in second, which was also his first time ever breaking 1:44 since his legendary NCAA championship in 2016. Asbel Kiprop and Erik Sowinski took 3-4 in 1:44.43 and 1:44.82, both very good marks for the duo and a good sign for Kiprop as he'll run the 1500m at Worlds. Brit Jake Weightman may have won the last DL 1500m he attempted, but the magic didn't carry over today as he had to settle for eight in 1:45.42.
Women's 100m Hurdles: Keni clips the early hurdles but runs fast, and so does Sally Pearson

All eyes were on the six Americans in this final, but perhaps some should also have been on the Australian Sally Pearson, who shocked many by taking second behind the world record holder running her fastest time (12.48) since the 2012 Olympic final. Keni Harrison's attempt at breaker her own world record fell just short again with a 12.39 clocking, but she'll still certainly be the prohibitive favorite at Worlds and she'll have other attempts to chase the record later in the season. Two of the Americans, Jasmin Stowers and Kristi Castlin, were DNFs as Stowers took a hard fall in the final few meters of the race. There were concerns of injury but Stowers walked herself off looking OK.
Men's 110m Hurdles: Aries Merritt looks like a real contender for the win at Worlds

He may not have even won the U.S. championships, but in his international races this season, world record holder Aries Merritt has looked nothing short of supreme, following up her earlier DL win with another here in London in 13.09. His competition in Omar McLeod will be tough, but if there's one man who can muscle out a win against him it's got to be Merritt. Devon Allen was the next best American in fourth with a 13.30.
Women's Mile: Laura Muir drags the field to very fast times, Simpson breaks 4:20

Laura Muir has had the British mile record of 4:17.57 by Zola Budd on her mind for a while now, and though she came up just short again, her brave front-running style was rewarded as she came home in second with a new PB of 4:18.03. Muir wasn't hesitant to push the pace early, coming through 800m in 2:07, and though she was grinding hard on the final turn she simply couldn't match Hellen Obiri's kick, who took the win in 4:16.56. Unlike Genzebe Dibaba's mile world record attempt earlier in the season though, most of the field actually went with the hot pace from the gun, which resulted in a historically fast race -- it set all time marks-for-place (i.e., the fastest finisher ever with that place) for fourth, fifth, sixth, seventh, eighth, ninth, 10th, 11th, and 12th places! All of the top five runners broke 4:20, and on the tail end of that train was Jenny Simpson, who broke Shannon Rowbury's old mark with a 4:19.98 to become the second-fastest American of all time over one mile, behind just Mary Slaney.
Men's 3000m: Mo Farah runs (and most likely, wins) his last ever London DL

​​
This race went pretty much perfectly according to form for Farah, as he was content to sit on the early pace and kick it home in the last 100m to take a nice win in 7:35 in front of his home crowd in what will be his last ever London DL race. There was little chance of changing the script without any sub-7:30 talents in the field, but fellow Brit Andy Butchart made a valiant effort regardless pushing the pace, and he was rewarded with a big PB of 7:37. Mead, Bayer, and Jenkins all came home with small PRs of 7:38.51, 7:38.90, and 7:40.36 in seventh through ninth.​
​
Bonus: Tom Bosworth walks faster than most people can run
There isn't an official IAAF-certified world record in the race walk mile, but the Brit Tom Bosworth broke what we believe to be the world's best-ever mark with his 5:31.08 clocking to win this special event in London, before the TV window started. The previous world record was thought to be Algis Grigaliûnas's 5:36.9, from 1990.