2017 AAU Junior Olympic Games
Cha'iel Johnson, Ochocinco's Daughter, Is Nation's Fastest 12-Year-Old
Cha'iel Johnson, Ochocinco's Daughter, Is Nation's Fastest 12-Year-Old
Chad Johnson's daughter, Cha'iel, has already won two AAU Club Nationals titles and set a 12-year-old record this week in Orlando, with one more opportunity on Saturday.
Jul 14, 2017
by Johanna Gretschel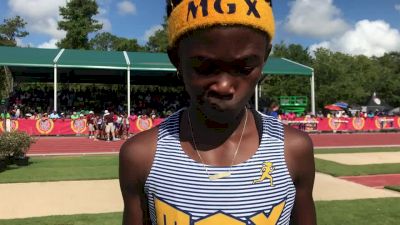 WATCH AAU JUNIOR OLYMPIC GAMES LIVE ON FLOTRACK
Cha'iel Johnson might have a famous dad
in former NFL wide receiver Chad Johnson, previously known as Ochocinco, but she's making headlines all on her own this week at the AAU National Club Championships in Orlando, Florida.
.@ochocinco daughter Cha'iel sets 800M national record at #Disney today. Best part is her reaction after the race! pic.twitter.com/5QwYvpfYBO

— Courtney Jasmin (@CourtneyWESH2) July 12, 2017
The 12-year-old has already won two events so far with still the 400m final left to go on Saturday. Her time of 2:14.80 in the 800m set a new AAU Club Nationals record and won the competition by almost a full second.
How you run 2 laps in 2 minutes & 14 seconds then walk off the track beating your chest like Denzel in Training Day

— Chad Johnson (@ochocinco) July 12, 2017
Johnson's 1500m win was more dominant as she clocked 4:47.92 (with a 71-second closing lap!) to distance the runner-up by 10 seconds. That was also her first-ever 1500m race.
Cha'lel Johnson runs 4:47.92 in the 1500m. First time running it, & now she's a national champion. @milesplit @AAUTrackNField @ochocinco pic.twitter.com/XdN2NVu3pT

— Florida Runners (@flrunners) July 13, 2017
The 400m will be her toughest race yet. She ran 59.38 in the preliminary round, the third-fastest qualifier behind Olicia Lucas, who ran 59.34, and Kylee Bernard, who ran 59.38--just milliseconds ahead of Johnson's time.
Smh at @BabyChaiel_85 400 meter semi-finals just now. pic.twitter.com/SkB3qLdbJb

— Chad Johnson (@ochocinco) July 13, 2017
However, Johnson's personal best of 56.48 is the fastest in the field and
leads the nation among 12-year-olds
. All three athletes won their respective heats.
A six-time Pro Bowler, Chad Johnson gave a quick interview to FLrunners after his daughter's 400m prelim:
Cha'lel Johnson finished her 400m prelim & her dad @ochocinco was right by her side the minute it was over. @milesplit #AAUClubChampionship pic.twitter.com/L9h2aEhlIc

— Florida Runners (@flrunners) July 13, 2017
Another AAU record is within reach for the mini speed demon. Ashton Lindley set the AAU Club Nationals 12-year-old 400m record at 55.76 in 2014.
There's plenty to look forward to after Saturday, as Chad revealed on Twitter that Cha'iel will also compete in Kansas at the USATF Junior Olympics and Michigan at the AAU Junior Olympic Games later this summer.
So she's just gonna show off & we haven't even gone to Junior Olympics in Detroit & Kansas yet https://t.co/TLjHIs002k

— Chad Johnson (@ochocinco) July 13, 2017
Cha'iel represents Miami Gardens Xpress (MGX) and is coached by Darius Lawshea, who also oversees the training and development of high school phenom
Tyrese Cooper
, the national high school record holder for 300m.
Peep my brother smoke and my sister jicyra pic.twitter.com/s6Ae892YnX

— Cha'iel Johnson (@BabyChaiel_85) July 14, 2016