2017 AAU Junior Olympic Games
How Tiarra Jackson Became The Race Walk Princess Of The Bronx
How Tiarra Jackson Became The Race Walk Princess Of The Bronx
Tiarra Jackson will compete in the race walk at the AAU Junior Olympic Games in Ypsilanti, Michigan, from July 29 to August 5. In this story, hear from the athlete herself about her journey on the track.
Jul 20, 2017
by Johanna Gretschel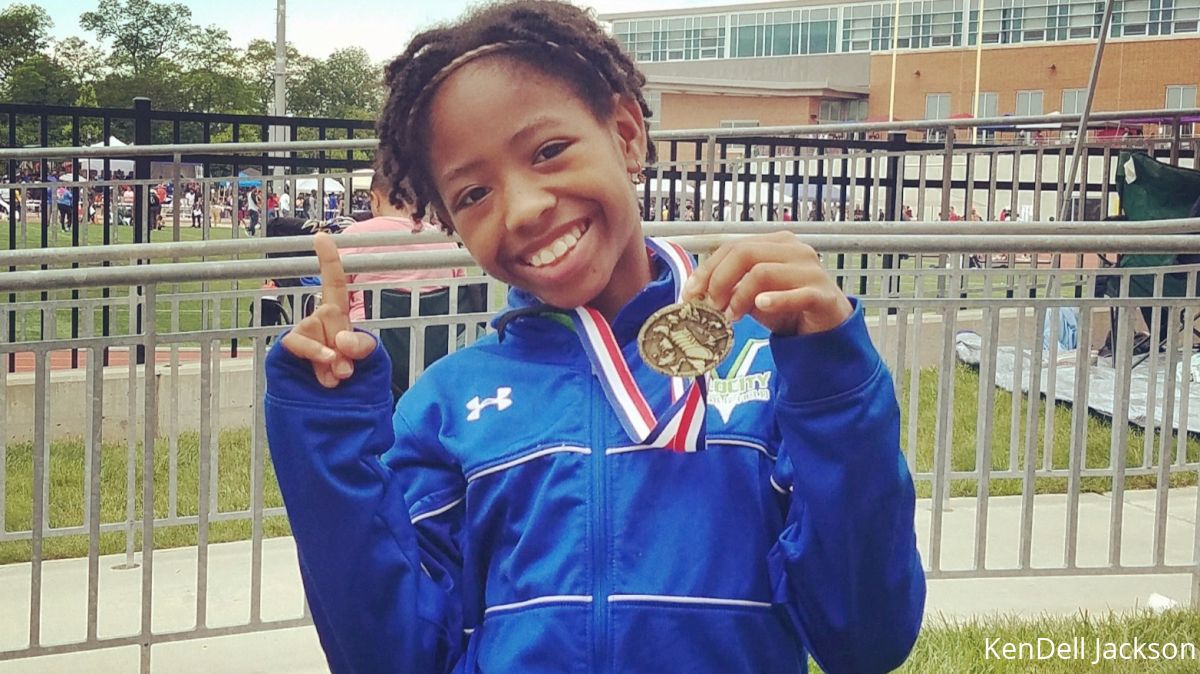 The world needs more Tiarra Jacksons.
The 10-year-old mini-athlete from the Bronx competes in perhaps track and field's least glamorous event -- the race walk -- but she hasn't let detractors stop her from winning gold.
Since starting the event as a 7-year-old in 2015, Jackson has steadily chopped a minute or more off her time in the 1500m race walk every year, and now she has finally secured a berth to the AAU Junior Olympic Games in Ypsilanti, Michigan, from July 29 to August 5. Jackson will race for gold against the nation's best.
WATCH AAU JUNIOR OLYMPIC GAMES LIVE ON FLOTRACK
"She went through a lot where other athletes were teasing her or other coaches were saying, 'You're not doing it right,'" KenDell Jackson says of his daughter's first foray into the event. "But she stuck with it and has been able to break through these barriers. She thinks about what the event is going to look like, the race, and just focuses on it. The older athletes were distracting her, saying, 'You're not gonna (do) well,' and she just uses it as motivation. It's amazing."
Most don't understand the complex rules of the race walk. Or they just find it boring, hence the jokes.
But Jackson enjoys teaching people about what has become her favorite event -- she also competes in the 800m, 1500m, discus, and high jump -- which she first took up because she and her parents grew fascinated by YouTube videos of the event.
Sometimes she even manages to convert her Velocity Track Club teammates -- such as Adonijah Washington, who will compete alongside Jackson in Ypsilanti.
Her very first race walk took nearly 16 minutes, according to KenDell, a former sprinter who now helps Velocity Track Club as an assistant coach.
"It was discouraging to her because no one was paying her any mind," he says, "or saying, 'Oh, this is boring...hurry up, get her off the track.'"
Now, her personal best is 9:25.80, which broke the USATF New York Association outdoor age group record for 11- to 12-year-old girls. She also holds the USATF New York Association indoor record in 9:32.51.
She says her favorite race memory was her outdoor record, which she set en route to winning the New York Relays Youth Challenge at the iconic Icahn Stadium on Randall's Island in April of this year.
"They called my name on the loudspeaker and said I came in first," she remembers now. "I felt special."
Jackson is constantly honing her form: at track practice, in circles around her mom in the kitchen of their home, even in the hallways of her elementary school. ("Sometimes I race walk around my school and people always say, 'What is that?' and I say, 'It's race walk!'")
Race walking is not exactly a natural movement.
USATF describes the event
as "[different] from running in that it requires the competitor to maintain contact with the ground at all times and requires the leading leg to be straightened as the foot makes contact with the ground." Athletes are disqualified if they violate either of those rules. The disqualification process is strictly subjective, as officials can only make calls on what they see with their own eyes. Review of an event with technology, whether a zoomed-in photograph or video replay, is strictly prohibited.
When she first started, Jackson completed her race walks very slowly to ensure she would not be disqualified. But eventually her dad told her, "You got to put a little speed on it. You don't want to go so slow that you're taking 16 minutes to do an event." As she started to gain more confidence and experience, her times improved.
Unfortunately, every race walker has a DQ story, and Jackson's happened at the biggest event of her track career to date: the 2016 USATF Hershey Junior Olympics.
The unheralded athlete crossed the line in first; she thought, of course, she had won her first national title. She was walking over to the podium to receive her gold medal when officials informed her she would not be receiving an award.
"It was heartbreaking," KenDell remembers. "We didn't get an explanation, which is pretty common with race walk. You don't know what they saw, maybe it was her knee, maybe it was her leg. It requires more of an explanation than they give. But you can utilize that as motivation.
"A lot of fellow athletes and parents came over and said, 'You didn't do anything wrong, you did it better than anybody. It's a very small community. We try to encourage each other's athletes because it doesn't get a lot of attention like long jump or sprints, but it's been an Olympic event for hundreds of years."
Jackson was fairly distraught after the disqualification and her dad says she even contemplated giving up the event. The other events in which she competes are pretty straightforward: if you're disqualified, you find out right away.
But she decided to stick with race walk and now, when asked about last year's disappointment, the 10-year-old sounds like a seasoned pro.
"I felt a little upset because I knew what I was doing," she says. "But [after the disqualification], I practiced doing it more so next time I wouldn't get disqualified."
Soon, she'll have a shot at redemption at the AAU Junior Olympic Games. Long-term, she hopes to attend the University of Oregon and compete in the Olympic Games.
She's already making an impact in the sport at the local level. KenDell notes that most of the area's track clubs did not enter any athletes in the race walk, but Tiarra's dominance has galvanized more girls to start competing. Her 5-year-old sister often practices with her around the house and "is lightning fast," according to KenDell.
She likes to inspire others, but, let's be real: she also likes to win.
"Tiarra has become really competitive now," her mother, Serena says. "All the different track meets we go to now, she's like, 'Okay, Mommy, I'm gonna come in first place.' She'll go out there and now she sees her competition and she's like, 'I'm gonna take this.' At all the different competitions now, they know Tiarra, they know her name."
After all, as her instagram bio reads: "Only a True Princess, walks with a Tiara."