There Are No Bad Races At The 2017 Monaco Diamond League Meeting
There Are No Bad Races At The 2017 Monaco Diamond League Meeting
The Monaco Diamond League has been the site of countless historically fast races, and this year's edition on Friday is taking on some added meaning due to the series' new format.
Jul 19, 2017
by Harry Prevor .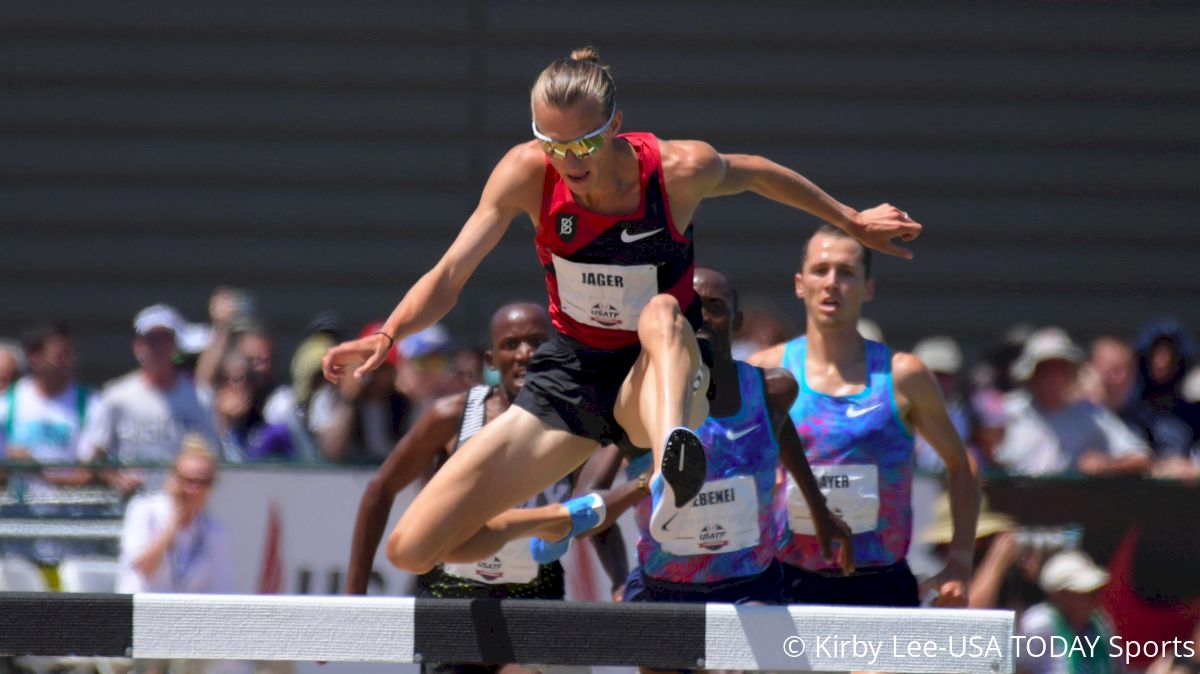 The Monaco Diamond League has been the site of countless
historically fast
races
, and this year's edition is taking on some added meaning due to the series' new format. Heading into Friday's meet--the last DL before Worlds--athletes in about half the events (the other half being contested in Birmingham, England, on August 20 after Worlds) will have to run well to finalize their top eight or 12 spots in the Diamond points standings and make the Diamond League finals in Zurich and Brussels. If there are any DL finals implications, we'll mention them. Here's what's about to go down in Monaco.
4x100m Relays: Team USA is sending its 'A' game in a final Worlds prep

Women's: 1:25 PM ET (7:25 PM local), Men's: 1:40 PM ET (7:40 PM local)
You would usually expect the non-DL relays at a Diamond League event to be watered down or set up to promote the host country's athletes, but in Monaco neither will be the case. Instead, it looks like Team USA will be sending its best in both an "A" and "B" relay for both genders to practice handoffs before Worlds. The teams are not specifically listed on the Monaco start lists, but with Chris Belcher (third at USAs) entered in the 100m and
Christian Coleman
(second),
Jaylen Bacon
(fourth), and
Mike Rodgers
(sixth) all hinting at competing on the men's side and
Aaliyah Brown
(fifth),
Tianna Bartoletta
(first, long jump), Allyson Felix (eighth; first, 400m), and English Gardner (sixth) doing so for the women, the teams we see in Monaco could very well be the exact same runners who carry the U.S. baton to gold at the World Championships come August.
Men's 1500m: Centro will be challenged to a time trial by all of the top-tier Kenyans


2:15 PM ET (8:15 PM local)
Multiple-time world champion Asbel Kiprop of Kenya may have had his ups and downs this season, but his compatriots Ronald Kwemoi and Elijah Manangoi seem to have only had their ups. Kwemoi is coming off an insane 3:30.89 clocking in Kenya's altitude that, according to the NCAA altitude-conversion charts, converts to a 3:24.90. With the pace typically very aggressive from the start, this race could possibly feature another year in which half the field breaks 3:30. Reigning Olympic champ Matt Centrowitz typically doesn't fare as well in fast races, but there's a distinct possibility of seeing him break the American record (3:29.30 by Bernard Lagat) if he's on the tail end of that train.
Nick Willis of New Zealand is coming into this race with a different goal in mind. Though he's broken 3:30 twice in Monaco and is the reigning Olympic bronze medalist, he currently holds a season best of just 3:36.95--the slowest in the field--and Monaco will be just his third race back from injury. He hasn't hit the 3:36.00 qualification standard for Worlds yet and and sits on the borderline of the descending-order list, so Willis will need to demonstrate his fitness and nail a sub-3:36 here to get the Q. There may be
another men's 1500 contested
in Birmingham, so athletes may have one last chance there to make up DL points for the final.
​Watch the historically fast 2014 Monaco 1500m here:

Men's 400m: Makwala backs up historic double as Van Niekerk will need some big-time DL points


2:25 PM ET ​(8:25 PM local)
Wayde Van Niekerk still seems to be in a class above the rest of the world, having broken the 400m and 300m world records in the past 12 months and being the only sub-44, sub-20, sub-10 man in history. But if anyone could be labeled as a challenger, it would be Botswana's Isaac Makwala, whose last race was an
"unreal" sub-44 400m and sub-20 200m double
, the first man in history to accomplish both marks on the same day. Perhaps more intriguing are the Diamond Race points up for grabs in this race, as Van Niekerk and Makwala currently sit tied for ninth (eight points) and 11th (six points), respectively, well outside the top eight placing required to make the final after this race's end.
Women's 800m: The podium from Rio is here, and it faces its strongest challenge since last summer

2:35 PM ET (8:35 PM local)
Caster Semenya, Francine Niyonsaba, Margaret Wambui. Get ready to hear those names, most likely in that order, for a while to come. After going 1-2-3 in the Olympics, neither of the three has lost to anyone in the world other than themselves in the 800m, and if all goes to plan it should remain that way in Monaco. But they will also be facing some of their toughest competition ever on Friday, headlined by training partners Charlene Lipsey and Ajee Wilson coming off a totally dominant display at USAs. Lipsey is coming off a better PB (1:57.3) than her training partner, but Wilson, who missed most of the season due to ingesting
tainted beef
and having won USAs against Lipsey, has yet to test herself against a historically fast field and may just have the better upside in this race. With Semenya showing a rare sign of weakness in her last race, a 400m in which she finished second to last, could this be Lipsey's and Wilson's greatest opportunity at breaking up the Big Three? Not to be forgotten, Brenda Martinez is coming off a big 1500m run of 4:02 in Rabat and may have a shot at her 1:58.46 PB.
The Diamond Race points are all over the place for everyone except the Big Three in this event: Lipsey (tied-seventh, 10 points) will need to score here to make the final and Wilson and Martinez (zero points each) will both have no chance even with a win as eighth place currently sits at 10 points.
Watch Lipsey challenge Niyonsaba on the home stretch at Lausanne here:

Women's 200m: NCAA-record holder Kyra Jefferson proves herself against double-Rio 4th-placer Ta Lou

2:45 PM ET (8:45 PM local)
At the NCAA championships, Kyra Jefferson shocked the world with her upset win and collegiate record of 22.02, and she's continued to roll since then, most recently running 22.34 into a headwind for third at Lausanne, Switzerland. But the woman with the better international pedigree in this field is Marie-Josee Ta Lou of Cote d'Ivoire, who was just out of the medals in both the 100m and 200m at last year's Olympic Games. With just five women in the race, both Jefferson and Ta Lou should be guaranteed a spot in the final if each finishes, as even last place will score four Diamond Race points.
Men's 800m: Emmanuel Korir is back and will face the strongest international field of his life as of yet


2:55 PM ET (8:55 PM local)


Though Emmanuel Korir's
late add in London
ended up being more of a "late-removal" situation after he didn't start, this time all signs show Korir is ready to rumble in his first-ever Diamond League race. Korir, who ran a ridiculous 1:43.7 negative split 800m earlier this season, has been on a total tear since then, demolishing the field at NCAAs and then winning the Kenyan Trials to qualify for the extremely deep Kenyan Worlds 800m team. Though he won't have Brazier or world leader Nijel Amos to run against here, Korir will have some quality international competition in Pierre-Ambroise Bosse, Amel Tuka, and USAs third-placer Drew Windle. This isn't a DL event, so no points are at stake for the final.
Women's 100m Hurdles: Four of the U.S. finalists and the WR holder will be challenged by Sally Pearson


3:05 PM ET (9:05 PM local)
Keni Harrison has become a staple of the Diamond League circuit the last two years, and she's always impressed with large winning margins and usually mind-numbingly fast times accompanying them. So when Australia's Sally Pearson made moves on Harrison in London to finish second with a 12.48, her best time since the 2012 Olympic final, it left many surprised and excited for what was to come. On Friday, Harrison and Pearson will face off in a rematch, and with such high stakes so close to the peak of Worlds, the world record will certainly be on the line. Pearson will need the points to make the DL final, as she currently sits in 10th with seven points but will need at least nine to push herself above eighth place.
Watch Harrison and Pearson's duel in London here:
Women's 3000m: Marathoners and half-milers will meet in the middle against a quality Kenyan field

3:15 PM ET (9:15 PM local)
This race will see speed against strength as the likes of Molly Huddle, who dropped a third-place finish in the New York Marathon last fall, will be pitted against Laura Muir, who is coming off an injury. However, that didn't stop Muir from splitting a 1:58.68 800m PB in Lausanne this season. But perhaps the favorite in this field is Hellen Obiri, the No. 4 performer (and No. 1 non-Chinese performer) all-time at this distance with her 8:20.68 PB. She is coming off a hot 4:16 mile in London where she out-kicked the hometown favorite Muir on the final stretch. With American 1500m and 5000m record-holder Shannon Rowbury on the line, the possibility of an al-time American mark (8:25.83 by Mary Slaney) exists if the field gets out just right. There will be
another women's 3000m in Birmingham
, so some of the athletes may put points aside and just worry about running fast for now.
Men's 100m: Usain Bolt will need a miracle to win this one

3:35 PM ET (9:35 PM local)
Usain Bolt is the hero of our sport, and his record times of 9.58 in the 100m and 19.19 in the 200m may stand for quite a while. And even though the field in Monaco lacks some of his strongest competition in Justin Gatlin, Christian Coleman, Andre De Grasse, and Mike Rodgers (who claimed he
"wished he was running"
the 100m but was not able to get in despite having a faster PR than everyone except Bolt in the field), it's still a Diamond League race and will likely have Bolt's toughest competition since the Rio Olympic Games. This would be all fine and dandy if Bolt was his usual self and running top times, but that isn't the case. Though Bolt has remained undefeated, he's been struggling hard in his recent races, not yet breaking 10 seconds this year and winning by only 0.03 seconds against a guy you've never heard of (Yunier Pérez of Cuba) in his most recent race at Ostrava.
Granted, Bolt is the best sprinter in history for a reason, and he has always found a way to win. If he somehow wins this race, it wouldn't have been the only time he's won against incredible odds, but as time goes on and Bolt gets closer to retirement, the odds get longer and longer. Perhaps his greatest challenger in Monaco will be the USA's Chris Belcher, who holds a 9.93 PB from just behind Coleman at NCAAs.
Despite Bolt not running any of the other Diamond League races this year, it looks like he just might barely make the final with a win here, so long as any two of Bingtian Su (tied-seventh, seven points), Yunier Perez (tied-13th, five points), or Isiah Young (tied-13th, five points) don't overtake Bolt points-wise (if only one of them overtakes Bolt, he should be fine).
​Bolt may have got the win against a B-class field in Ostrava, but it was a tough one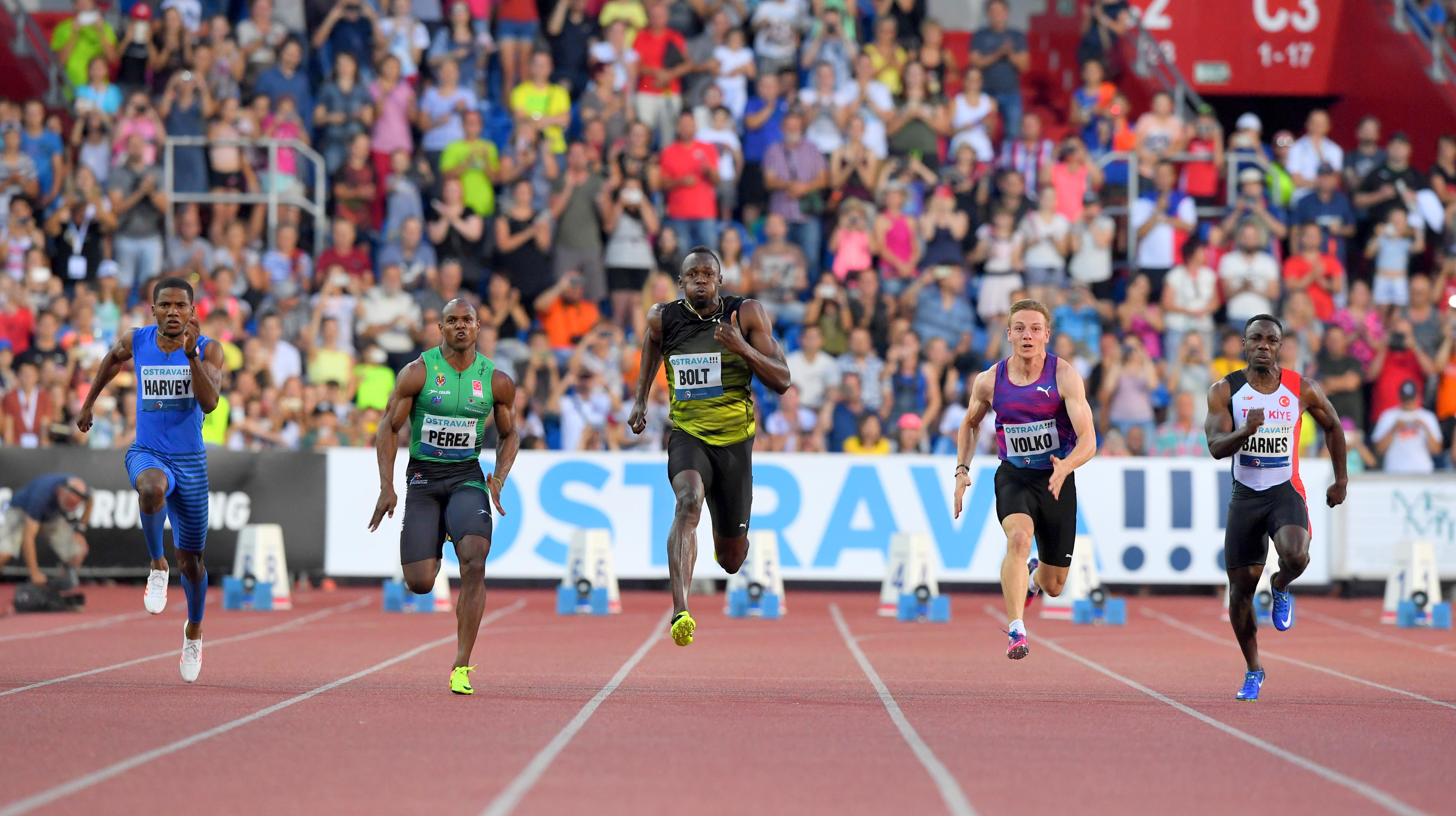 Men's 3000m Steeplechase: Jager and Kipruto are both on their knees begging for sub-8

3:45 PM ET (9:45 PM local)


This field is as deep as you could hope for, with all of the top Kenyans and Americans represented, including the entire top five at USAs. But all eyes will be on Evan Jager, who is running his first pre-Worlds Diamond League steeplechase since the 2015 Paris DL, when he was winning the race on pace to demolish the eight-minute barrier before an untimely fall cost him the win and the sub-eight clocking. Surely that barrier will be on Jager's mind, but it will likely also be on defending Olympic champ Conseslus Kipruto's mind, who has made countless attempts at the barrier over the last year only to come up just short with an 8:00.12 PB. When asked about his race strategy on Tuesday, Jager responded, "I'm looking to get up to the front and go for the win," indicating that he will take the hot pace requested. With two men capable of breaking it switching off the lead in the later miles, this may be that one once-in-a-lifetime opportunity to hit the mark for both athletes. Behind them, Andy Bayer, Hillary Bor, Stanley Kebenei, and Haron Lagat all have shots at running around 8:10 in pursuit of one of the top all-time American marks, and multiple-time world champ Ezekiel Kemboi will have one last chance to prove himself in his final season.
There are
no Diamond Race standings listed
on IAAF's website for the men's 3000m steeplechase, but this will be the last DL steeplechase before the finals and Jager's first this season.
Watch Jager's last pre-Worlds DL steeplechase and American Record at the Paris DL, which was selected as the Diamond League Moment of 2015:
In a meet in which none of the events are lacking excitement, we'd be remiss not to mention some of the field and non-DL competitions. Below are some quick notes on the rest of the events that have crucial Diamond Race points at stake:
Women's High Jump (2:20 PM ET, 8:20 PM local):
On the American side of things, Vashti Cunningham is coming off an American junior record of 1.99m, which netted her the win at USAs, and she has a good chance to set that AJR over 2.00m with this stacked field to compete against, including Olympic finalist and 2017 world team member
Inika McPherson
. If the DL sends eight to the final, reigning Olympic gold medalist Ruth Beita (tied-sixth, 11 points) might be in trouble, and it looks like Rio silver medalist Mirela Demireva (10th, 8 points) may be out for good as she won't compete in Monaco.
Women's 400m Hurdles (2:03 PM ET, 8:03 PM local):
It may not be a DL event, but this field is certainly DL quality, as the 2017 world No. 2, 3, and 4 performers Shamier Little, Kori Carter, and Ashley Spencer, respectively, will all be toeing the line, meaning another sub-53-second performance is definitely not off the table for these women.
Men's Pole Vault (1:30 PM ET, 7:30 PM local):
If the Diamond League will send 12 to the final, the USA's Sam Kendricks (first, 24 points) and Renaud Lavillenie (second, 24 points) look safe in the standings, but reigning Olympic gold medalist Thiago Braz (tied-10th, five points) will have to perform to his best in Monaco, as the field gaining just two points on him could knock him back to 13th. Mondo Duplantis currently sits in eighth with seven points and won't be competing in Monaco, so he'll have to pray the others don't knock him out on Friday.
Men's Javelin (1:55 PM ET, 7:55 PM local):
With all of your Olympic medalists on display plus the
world leader in Johannes Vetter
, this one will be a treat, and the possibility of another all-time great mark is real. If the DL sends eight to the final, reigning world champ Julius Yego of Kenya (tied-eighth, four points) will need a big one to secure his spot, but all the other major players should be safe.
Women's Triple Jump (2:45 PM ET, 8:45 PM local):
Caterine Ibarguen of Colombia has been one of the safest bets on the circuit for the win for years, having carried an incredible 34-time win streak until this year's Rome Diamond League, where she finished second. The woman who beat Ibarguen there, world leader Venezuela's Yulimar Rojas, is back and ready to challenge in the second-to-last DL women's triple jump before the finals.