2017 AAU Junior Olympic Games
Five Historical Performances At AAU Junior Olympic Games in Michigan
Five Historical Performances At AAU Junior Olympic Games in Michigan
Five Historical Performances At AAU Junior Olympics in Michigan
Jul 20, 2017
by Gordon Mack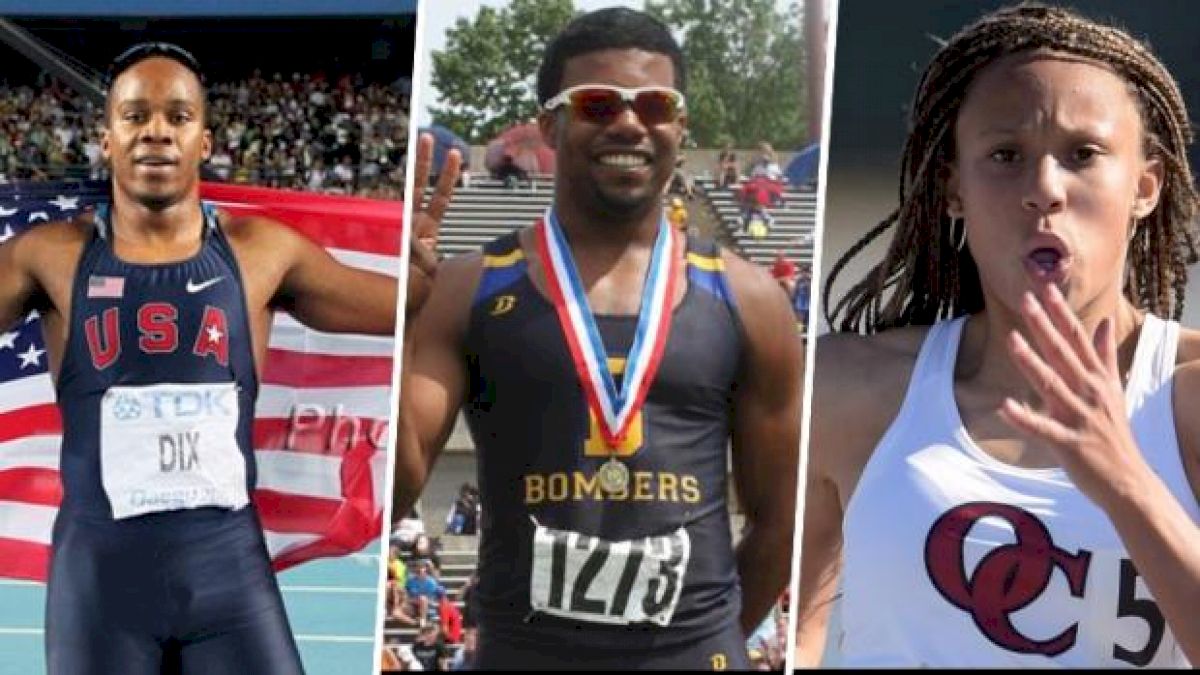 By: MileSplit's Cory Mull
Get ready, because we're less than a ten days away from the AAU Junior Olympic Games.
This year, the national meet is back in Ypsilanti, Michigan, and on the campus of Eastern Michigan University on July 29 to August 4.
WATCH AAU JUNIOR OLYMPIC GAMES LIVE ON FLOTRACK
The event is back in the state for the fourth time since 2001 and is ready to play host to over a thousand athletes. So to better prepare you for the next round of action, we're going to present a list of arguably the top five names who have competed at the AAU Junior Olympic Games at Eastern Michigan over that span.
You might be surprised with who's competed here in the past.
5. Tyrese Cooper Finishes Second In the 13-Year-Olds 400m Dash
Miami's
Tyrese Cooper
is a teenage track sensation now, but it all started somewhere. It was in 2013 when he began to blossom with Miami Gardens Xpress Track Club at the AAU Junior Olympic Games. The 400m runner finished second to Justin Long of Lilburn (GA) in 52.27 seconds. Long was first in 51.03.
4. Jamal Walton Flies For A Win In the 15-16-Year-Old Division In the 400m
Like Cooper, Miramar's
Jamal Walton
(FL) burst onto the track and field scene when he was barely a teenager. In 2013, he competed at his first CARIFTA Games competition -- an annual rite of passage for Caribbean-born athletes -- just months before he stepped to the line at the AAU Junior Olympic Games and won the 15-16 division in the 400m in a time of 48.18 seconds.
3. 9-Year-Old Lauren Williams Beats Syd The Kid And Symone Mason In 200m Dash
How about this race? California's
Lauren Williams
, who will move on to the University of Oregon this fall, took the 200m from a pretty impressive field in 2008, beating New Jersey's Sydney McLaughlin -- who would go on to become an Olympian at the age of 16 -- and Florida's Symone Mason. Williams raced a winning time of 28.49 seconds -- with a wind-legal 1.9 reading -- and took the top prize ahead of McLaughlin (29.21) and Mason (29.23).
Of course, all three continue to have bright futures. McLaughlin, one of the world's best in the 400m hurdles, is headed to the University of Kentucky, while Mason, a prolific sprinter from South Florida, will keep her talents locally at the University of Miami.
2. 17-Year-Old Walter Dix Records Runner-Up Bid In The 100m Against Demi Omole
Before Florida's
Walter Dix
was a bronze medalist in the Olympics, he was just a 17-year-old from Coral Springs competing at the AAU Junior Olympic Games. In 2003, Dix finished second in the AAU Junior Olympics' 100m to Wisconsin's Demi Omole -- who would win a silver medal at the 2004 World USA Junior Championships in the 100m -- in 10.63 seconds. Seven years later, he would score a personal best of 9.88 seconds.
He also owns a PB of 19.53 in the 200m. Michael Rodgers, who would go on to don the USA colors, was ousted in the semifinals in 10.81 seconds.
1. 13-Year-Old Ezekiel Elliott Finishes 8th In 100m Hurdles
Ezekiel Elliott
didn't go on to track and field glory, but he did continue his star path in football, becoming a highly coveted running back at John Burroughs High in St. Louis before lighting up the college football world at Ohio State University and then winning Rookie of the Year honors in the NFL for the Dallas Cowboys.
But before all that, he was a standout youth hurdler who qualified for the finals at the AAU Junior Olympic Games in 2008 and finished eighth in 16.48 seconds. Jordan Bracy won the field in 13.70 seconds.
How to Watch The 2017 AAU Junior Olympic Games
On TV:
Available on Roku and Apple TV 4 -- download the FloSports app now.
Streaming:
Only on FloTrack with a PRO subscription. A yearly PRO subscription provides access to ALL FloSports sites.
JOIN NOW

BONUS:
Yearly subscribers on any of our sites get access to all premium content throughout our network. On MileSplit.com,
Universal subscribers get premium access
to all sites. Existing monthly subscribers can upgrade to an annual subscription in their account settings.
MileSplit now offers Club Rankings, the definitive guide to the 2017 boys and girls outdoor leaders in every track and field event.