2018 AAU Junior Olympic Games
Here Are The AAU Records That Could Go Down This Year
Here Are The AAU Records That Could Go Down This Year
Here are some of the AAU Records that have a shot at being broken next year.
Jul 28, 2017
by Harry Prevor .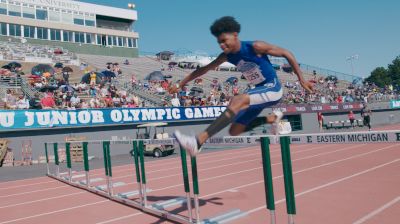 There are 286 AAU National Records, and with the level of competition rising every year it would be a safe bet to say a few of those might go down at the 2018 AAU Junior Olympic Games, which starts next weekend in Des Moines, Iowa. Here are some of the records we think could go down, and who could take them.
WATCH THE AAU JUNIOR OLYMPIC GAMES LIVE ON FLOTRACK

Current Records: 20.58, J-Mee Samuels, 2004 & 45.45, Aldrich Bailey, 2012
The Challenger: Tyrese Cooper
Two years ago, Cooper shocked the world by splitting a 45.2 400m at the 2016 AAU Junior Olympic Games. That mark was not only a boy's 15-16 record, but it also would have broken the current standing boy's 17-18 record of 45.45. Cooper hasn't improved upon that mark since then, but he's been close and a PR by any amount will also amount to a record for him. He also has a very good shot at the 20.58 200m record -- his 2016 mark in that event was just four-hundredths of a second off in 20.62.
Watch Cooper split his 45.2 at the 2016 AAU Junior Olympic Games:
15-16 Year Old Boy's 800m and 1500m
Current Records: 1:49.87, Brandon Miller 2017 & 3:59.2h, Jim Jennings, 1980
The Challenger: Brandon Miller
Brandon Miller is one of the most prepared AAU athletes in history. Miller already owns the 15-16 year old record from last year's AAU Junior Olympic Games, and he'll only need to chop three seconds from his 14-year-old 1500m mark to claim the longstanding 1500m record of 3:59.2 as well.
Watch the trailer for the PRODIGY: Brandon Miller FloFilm:
13 Year Old Girl's 1500m
Current Records: 4:36.79, Daesha Rogers, 2012
The Challenger: Cha'Iel Johnson
Cha'Iel Johnson has been lighting up the track the past two seasons and should give Rogers' 4:36 1500m record a strong challenge in Des Moines, Iowa.