Learn about the top storylines for the men's 10K and 5K at the
IAAF World Championships
-- which starts Friday in London -- in the event preview.
Men's 10,000m

When:
August 4, 3:20 PM CT (Final)
Top International Contenders:
Mo Farah, Geoffrey Kamworor, Paul Tanui, Joshua Cheptegei, Bedan Karoki, Abadi Hadis, Jemal Yimer
Team USA:
Hassan Mead, Shadrack Kipchirchir, Leonard Korir
2016 Olympic 10,000m Final: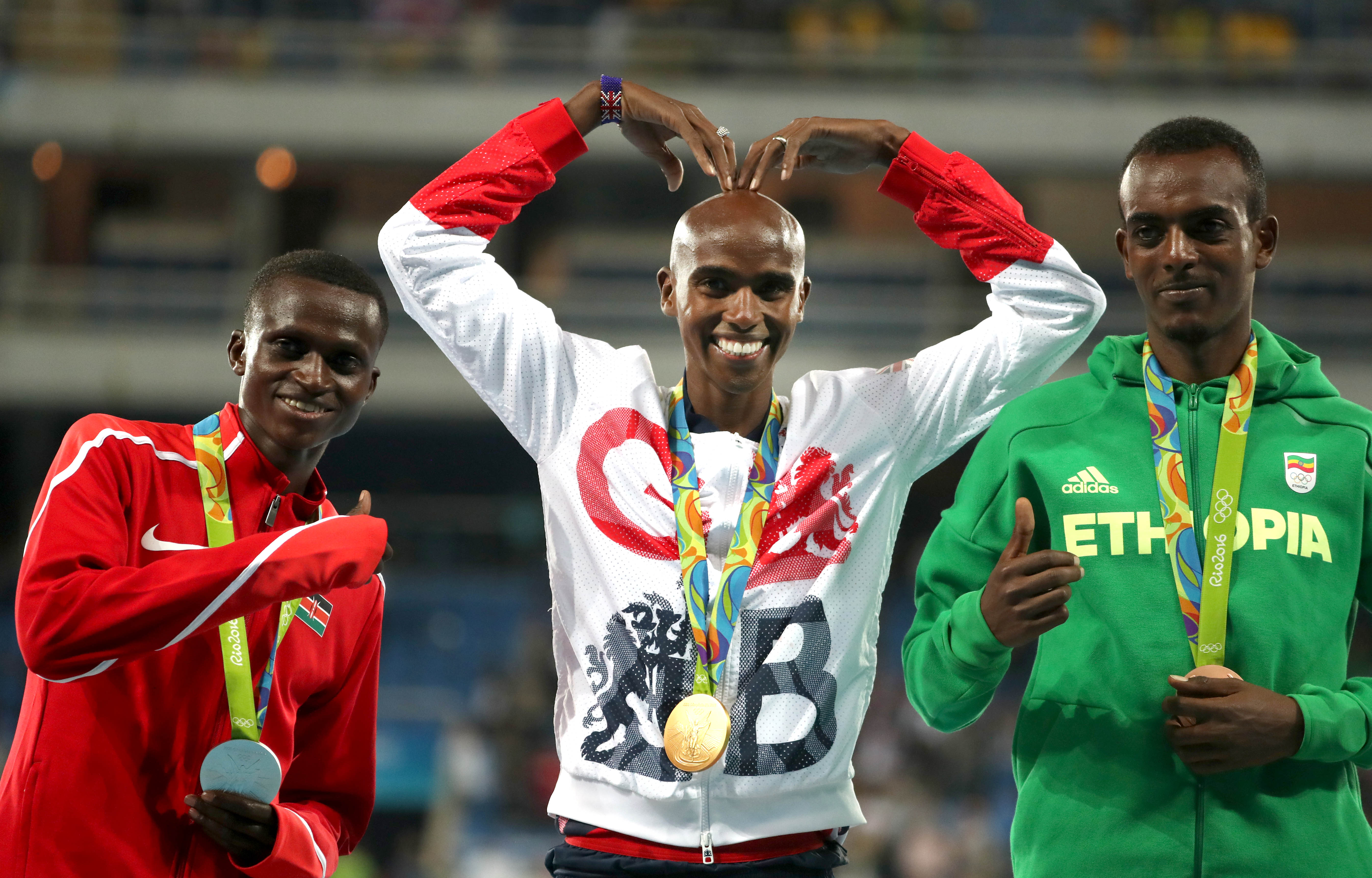 | | | | | |
| --- | --- | --- | --- | --- |
| PLACE | ATHLETE | COUNTRY | TIME | BACK IN 2017? |
| 1 | Mo Farah | GBR | 27:05.17 | YES |
| 2 | Paul Tanui | KEN | 27:05.64 | YES |
| 3 | Tamirat Tola | ETH | 27:06.26 | NO |
| 4 | Yigrem Demelash | ETH | 27:06.27 | NO |
| 5 | Galen Rupp | USA | 27:08.92 | NO |
| 6 | Joshua Cheptegei | UGA | 27:10.06 | YES |
| 7 | Bedan Karoki Muchiri | KEN | 27:22.93 | YES |
| 8 | Zersenay Tadese | ERI | 27:23.86 | NO |
Analysis:
Track fans have heard the same story dozens of times now about defending world and Olympic champ Mo Farah. It's almost like a broken record:
"Mo is just a sit-and-kicker!"
"He's too old to succeed on the track!"
"He can't sustain a
real
fast pace from the gun."
Or sometimes even my favorite:
"The Kenyans and Ethiopians will
work together
to sap the kick out of Farah!"
To be fair, they have a point. Mo Farah has defied all odds consistently to win his nine consecutive global titles on the track. The other recent 5K / 10K world-beaters -- the Gebreselassies and Bekeles of the world -- ran fast. We're talking sub-12:40, sub-26:20 fast. With his track retirement fast approaching, Farah hasn't gotten even close to those times. Yet -- fast or slow -- 5K or 10K, his championships runs have always ended in a devastating kick that puts the rest of the field to shame in the last 200 meters.
One of the biggest knocks against Farah this year is that he appears more vulnerable this year than in seasons past. Farah holds season bests of "just" 3:34, 13:00, and 27:12 -- all of those being races in which Farah said he was racing for time and not just for the win. Granted, Farah isn't the type of guy who boasts fast times, but typically he'll at least throw us a bone before Worlds -- his 26:53 in 2016, his 3:28s in 2015 and 2013, his 26:46 in 2011. In 2017, Farah has put down zero times of that sort of caliber. And further complicating things, he recently said he's
"not quite in the shape I'd like to be at this stage"
-- not an encouraging sign two weeks out from Worlds when he said that.
One of the biggest challengers to Farah will be Geoffrey Kamworor of Kenya. Kamworor made headlines at the 2015 World Cross Country Championships by brazenly getting out in first place, gapping all the best runners in the world less than 400 meters into the race. Anyone who has raced big cross country meets knows such a strategy would usually be suicidal, but Kamworor hung on to win convincingly, and did so again in this year's edition of the championships. He's also one of the only people to have beaten Farah in a long distance race in the last several years, having won the World Half Marathon Championships last year despite
getting trampled at the start
-- Farah was 3rd. Kamworor lost to Farah over 5000m this season, but as a strength-based runner who also holds a 2:06 marathon best, the 10,000m may suit him better.
Joshua Cheptegei of Uganda is another huge talent who first showed his stuff at World XC -- this year, in his home country of Uganda, he made a late move on Kamworor and was leading with 800m to go, only to completely collapse and jog the last quarter mile in over two minutes. Though Cheptegei has never medaled at a senior world championship, he is still just 20 years old and could emerge for a medal this year. Abadi Hadis is the world leader with his 27:08 clocking, but in the 10,000m -- where so few athletes race to their max before Worlds -- the yearly list doesn't mean as much as it does in other events.
But here's the thing: in 2017, a vulnerable, weakened Farah might still be better than anyone else in the world. The concept of a sub-26:30 talent like Paul Tergat being there to challenge simply doesn't exist -- or at the very least, hasn't emerged yet. How many of the other 10,000 guys have run 3:34, 13:00, and 27:12? Those times -- especially the 1500m -- are better than most of the field's personal bests, let alone season's bests.
Without Galen Rupp on the team, it will be a tough sell for any of the Americans to medal. That's not to say they're bad runners -- just that none of them have shown they can overcome the East African dominance in the 10,000m like Rupp did in 2012. No American man, not even Rupp, has ever won a medal in the 10,000m at Worlds, and it looks to remain that way this year.
Ultimately, the 10K is Farah's bread and butter event. And we'd have to see something truly incredible happen on Friday to get in the way Farah's fifth and final 10K title.
Men's 5000m


When:
August 9, 2:05 PM CT (Heats)
August 12, 2:20 PM CT (Final)
Top International Contenders:
Mo Farah, Muktar Edris, Selemon Barega, Joshua Cheptegei, Yomif Kejelcha, Hagos Gebrhiwet, Mo Ahmed
Team USA:
Paul Chelimo, Eric Jenkins, Ryan Hill
2016 Olympic 5000m Final: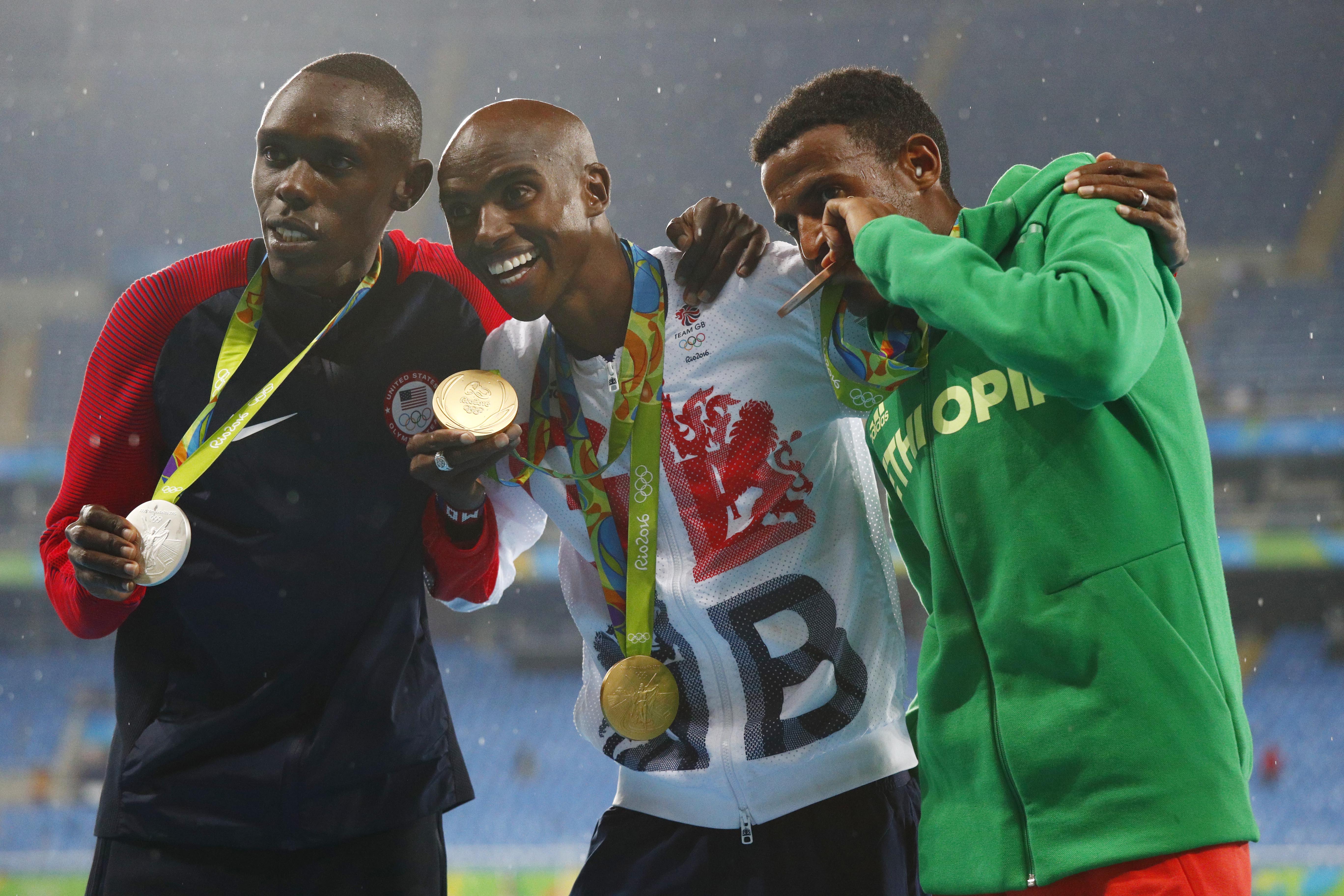 | | | | | |
| --- | --- | --- | --- | --- |
| PLACE | ATHLETE | COUNTRY | TIME | BACK IN 2017? |
| 1 | Mo Farah | GBR | 13:03.30 | YES |
| 2 | Paul Chelimo | USA | 13:03.90 | YES |
| 3 | Hagos Gebrhiwet | ETH | 13:04.35 | YES |
| 4 | Mo Ahmed | CAN | 13:05.94 | YES |
| 5 | Bernard Lagat | USA | 13:06.78 | NO |
| 6 | Andrew Butchart | GBR | 13:08.61 | YES |
| 7 | Albert Rop | BRN | 13:09.26 | YES |
| 8 | Joshua Cheptegei | UGA | 13:09.17 | YES |
| N/A | Muktar Edris | ETH | DQ (Originally 4th) | YES |
Analysis:
Farah is no doubt the overwhelming favorite to take home his sixth consecutive World 5K title. But if you had to choose, in 2017 his odds in the shorter distance might be considered a little less overwhelming than those of the 10K.
For one, Farah's speed might be lacking this year. We can only speculate what Farah might have ran in a Monaco-type 1500m this year, but we do know that he's run two 3:28s and one 3:31 there, and this year his season best is just 3:34 from way back at Oxy.
For another, you've got several young talents in who simply haven't shown themselves enough on the world stage to get a good read on their fitness, which could be a very good or very bad sign. Last year, Ethiopia's Selemon Barega was the only man in the World Junior 5K final to have been born in the 21st century, and he won convincingly. Going from the juniors to the seniors is a huge ask, but Barega really impressed with a 12:55 5K clocking in Lausanne, narrowly losing the world lead to Muktar Edris -- who was fourth last year before being DQed due to contact. You've also got some of the 10K guys like Joshua Cheptegei coming back to do some damage in the shorter event, though most of them tend to favor their chances in the longer event.
​Watch Edris and Barega pop 12:55 World Leads in Lausanne:
We do have one true American hope this year in Paul Chelimo. Chelimo shocked the nation last year with a huge PR to take silver in the Olympics. Though he's been on a roll since then, he hasn't shown enough on the international stage for most to favor him to repeat that performance. It's hard to say exactly what type of fitness his completely solo 13:08 U.S. Championship record in the heat of Sacramento converts to, but one thing is certain -- Chelimo is fit and unproven against the world's best this year. His only other 5000m this year -- a 13:10 at Pre -- was a subpar race by his own admission that we'll allow in the early season.
Eric Jenkins is still a relatively new member of the very same Nike Oregon Project that coached Farah from a seventh-place worlds runner to the multiple-time global champ he is today, so if
the allegations
haven't done him harm he could pull through and impress with a top-five finish. The second hometown favorite is Andy Butchart. He finished sixth at Rio last year and is coming off a 7:37 3K PB this season, but he'll need some help in the form of others not performing to their bests for the British dream of two medals in the 5K to come true.
The 5K will be Farah's toughest challenge at Worlds, but is that really saying much?