2017 IAAF World Championships
Top 10 Upsets Of IAAF World Championships
Top 10 Upsets Of IAAF World Championships
The IAAF World Championships in London were highlighted by 10 jaw-dropping upsets across a range of events.
Aug 15, 2017
by Taylor Dutch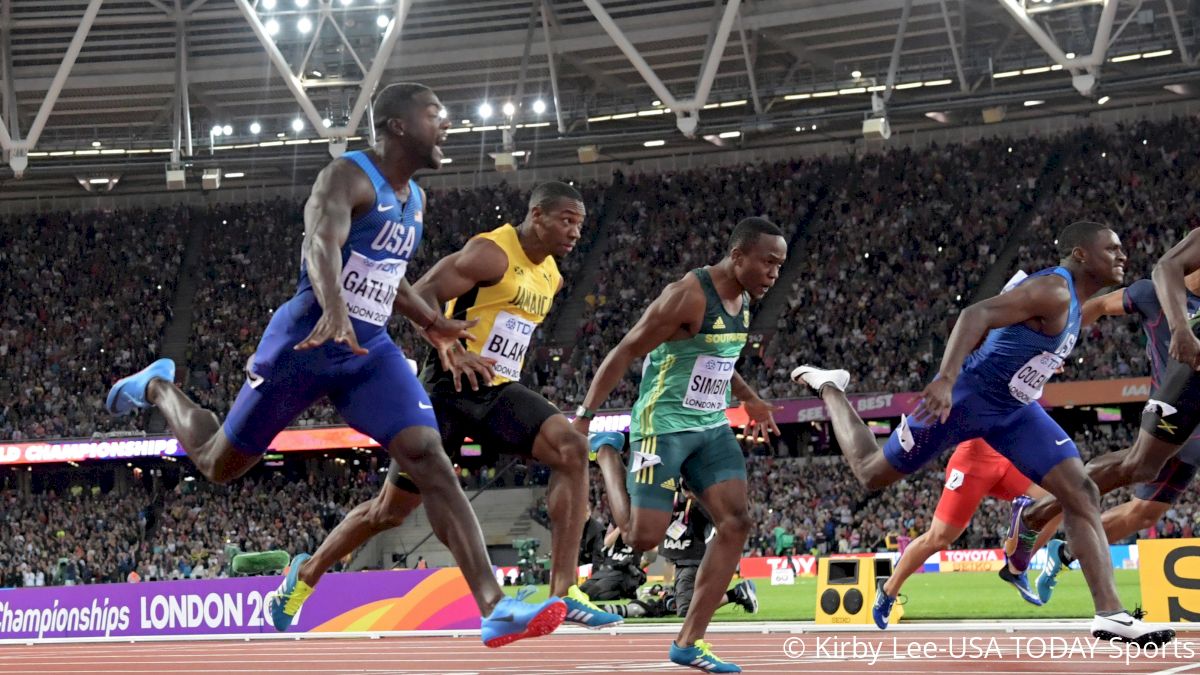 The IAAF World Championships wrapped up Sunday in London and were highlighted by 10 jaw-dropping upsets across a range of events.
Justin Gatlin, Christian Coleman Crash Usain Bolt's Retirement Party

The stage was set on August 5 for 11-time world champion Usain Bolt to win his final 100m championship. The track world expected to see the dominant Jamaican sprinter retire with a gold medal around his neck, but the race did not follow that script. Bolt's dreams of a 12th world title came to a halt with other-worldly performances by Justin Gatlin and Christian Coleman.
The American duo finished 1-2 to beat Bolt and leave him with the bronze in his signature event. At 35 years old, Gatlin became the oldest man ever to win the 100m. The performance also took place 12 years after he won his first championship. Coleman, 21, earned silver in his first individual event for Team USA at a global championship. He is also now 3-0 in races in which he has faced Bolt.
Crazy stat from @jessewashington: Christian Coleman has faced Usain Bolt 3 times in career (100 semis, 100 final, 4x100 final) and is 3-0.

— Jonathan Gault (@jgault13) August 12, 2017
Muktar Edris Ends Mo Farah's Winning Streak

With a stunning kick on the final homestretch, Muktar Edris pulled away from 10-time global champion Mo Farah to earn his first world championship in the men's 5K. Edris' run marked the first time since 2009 that Farah was beaten in the 5K at a global championship. After he crossed the finish line, Edris replicated Farah's signature "Mobot" pose, which he said was "out of respect" for his rival. The performance was also Farah's final race on the track at a global championship.
The Muktarbot

Muktar Edris became the first person in six years to break Mo Farah in a championships final: https://t.co/CaB5D3sSfM pic.twitter.com/ohLxkWhWyr

— SPIKES (@spikesmag) August 13, 2017
Great Britain Relay Beats Team USA For The First Time

The British 4x100m relay of CJ Ujah, Adam Gemili, Danny Talbot, and Nathaneel Mitchell-Blake put together a flawless race to take down the favored American team in the final. The performance marked the first time in history that Great Britain won gold at the IAAF World Championships.
The noise in the London Stadium went through the roof.@BritAthletics take #IAAFworlds 4x100m in front of ecstatic home crowd. pic.twitter.com/XjrPnWLVNZ

— IAAF (@iaaforg) August 12, 2017
Phyllis Francis Steals The Show Over Allyson Felix, Shaunae Miller-Uibo

The women's 400m was previewed to be the much-anticipated rematch of 10-time world champion Allyson Felix and Olympic champion Shaunae Miller-Uibo, but the script was flipped in a nail-biting finish. Miller-Uibo established a strong lead heading into the homestretch but lost her footing in the final meters and pulled up, giving a hard-charging Francis the perfect opportunity to strike.
Francis won the race in a personal best of 49.92 and left Salwa Eid Naser of Bahrain and Felix in her wake. Miller-Uibo had to settle for fourth place. Francis' performance marked her first individual world championship medal of her career.
Emma Coburn, Courtney Frerichs Make History In Steeplechase

The American duo of Emma Coburn and Courtney Frerichs were ranked No. 6 and No. 10, respectively, in the world heading into the IAAF World Championships in London. The competition was stacked against them with a formidable Kenyan trio (Celliphine Chespol, Hyvin Jepkemoi, and Beatrice Chepkoech), Olympic champion Ruth Jebet, and Ethiopian standout Sofia Assefa, who had all run 9:07 and under earlier in the season. But the stats didn't matter on the starting line of the steeple final when Coburn led an assault on the crown with Frerichs in tow on the last lap. Together, the two finished 1-2 to sweep the medal stand in London.
Coburn crossed the line in 9:02.58, and Frerichs followed in 9:03.77, both shattering the American record in the process. The jaw-dropping run marked the first time that the U.S. has gone 1-2 in global steeplechase competition. Coburn is the first U.S. woman to win the steeple at a global championship and the first American of either gender since Horace Ashenfelter's 1952 Olympic gold. Frerichs' breakthrough run also marked a massive 16-second improvement on her personal best.
Minutes ago @emmajcoburn received her steeplechase .

This was her family at home and in the stadium last night!#IAAFworlds pic.twitter.com/twcGTepRwX

— IAAF (@iaaforg) August 12, 2017
Kori Carter Beats Olympic Champion Dalilah Muhammad

One year after failing to make the Olympic team, Kori Carter returned with a vengeance to claim world championship gold over American teammate and Olympic champion Dalilah Muhammad. Carter's performance also took place two years after she crashed in the semifinal of the 2015 IAAF World Championships. Her winning performance combined with Muhammad's silver medal marked the first time since 1995 that the U.S. finished 1-2 in the event at the IAAF World Championships.
From the outside lane, @usatf's @TheKoriMonster bossed the 400m hurdles to take #IAAFworlds ahead of teammate @DalilahMuhammad. pic.twitter.com/Z2P9NVysc1

— IAAF (@iaaforg) August 11, 2017
Ramil Guliyev Ends Wayde Van Niekerk's Dreams Of Double Gold

Ramil Guliyev won the first gold medal for Turkey at the IAAF World Championships with a stunning performance in the men's 200m. The Turkish sprinter beat 400m world-record holder Wayde van Niekerk, who was attempting to become the first athlete since Michael Johnson to win the 200m and 400m sprints. He ended up winning the 400m but finishing second in the 200m to Guliyev.
For Guliyev, the performance was a vast improvement on his previous three global championship runs (seventh at 2009 World Championships, sixth at 2015 World Championships, eighth at 2016 Olympic Games).
Ramil Guliyev shows form as he takes 200m victory at #IAAFworlds pic.twitter.com/iLx6KcHBc1

— IAAF (@iaaforg) August 11, 2017
Karsten Warholm Upsets Olympic Champion Kerron Clement

Karsten Warholm upset Olympic champion Kerron Clement with a wire-to-wire finish in the men's 400m hurdles. Warholm, a 21-year-old Norwegian who just recently transitioned to a 400m hurdles focus after competing as a decathlete, won the race in 48.35 to beat Yasmani Copello of Turkey and Clement, who closed for bronze. Warholm also had a priceless reaction to the shocking victory.
He goes out hard and holds on for dear life.

Norway's @kwarholm the dominant force in #IAAFworlds men's 400m hurdles final. pic.twitter.com/WrKjbAbmj8

— IAAF (@iaaforg) August 9, 2017
Trinidad And Tobago Shocks Team USA In 4x400m

For the first time since 2003, the Americans were handed a loss in the 4x400m relay at the IAAF World Championships. The stellar Trinidad and Tobago quartet of Jarring Solomon, Jereem Richards, Machel Cedeno, and Lalonde Gordon took down Team USA with a world-leading time of 2:58.12. Even more incredibly, the Trinidad and Tobago team didn't have any men in the top 20 world-descending order list, while the United States had nine.
What makes Trinidad's win over USA in the 4x4 even more impressive?

400m Top 20 World Descending Order List:
USA: 9 men
T&T: 0 men

— FloTrack (@FloTrack) August 13, 2017
Pierre Ambroise Bosse Upsets 800m Crowd

For the first time in his career, Pierre-Ambroise Bosse earned a place on the podium, and he did it with a gold medal. The French middle distance standout unleashed a kick with 200 meters remaining in the men's 800m final to win the IAAF World Championship over Adam Kszczot and Kipyegon Bett. Bosse crossed the finish line in complete disbelief of what he had just done. Prior to London, Bosse earned seventh at the 2013 World Championships, fifth at the 2015 World Championships, and fourth at the 2016 Olympic Games.
"Wait. The chef that made this ratatouille was a rat?" - 800m world champ Pierre Ambroise Bosse pic.twitter.com/wyAOrgQOWL

— Liam Boylan-Pett (@liam_bp) August 8, 2017