Stars returned from Worlds for an encore at the Zurich Diamond League finals on Thursday, culminating in a new Diamond Race format that provided $100,000 of prize money per event, $50,000 of which went to the winners. Here were the track victors and their stories.
Men's 1500m: Cheruiyot takes down Manangoi as Kenyans sweep top six

Even with superstar Asbel Kiprop's career slowing down, the Kenyans showed that they have picked up the slack in the 1500m, as they went with the pacers to sweep the top six spots. Reigning world champion Elijah Manangoi didn't have it on the home stretch, ceding the victory to compatriot Timothy Cheruiyot -- a rare role reversal, as before the race Cheruiyot had only beaten Manangoi once in international competition. The top non-Kenyan was Brit Jake Wightman, who had won the Oslo Diamond League earlier this season but was unable to repeat his feat in the final.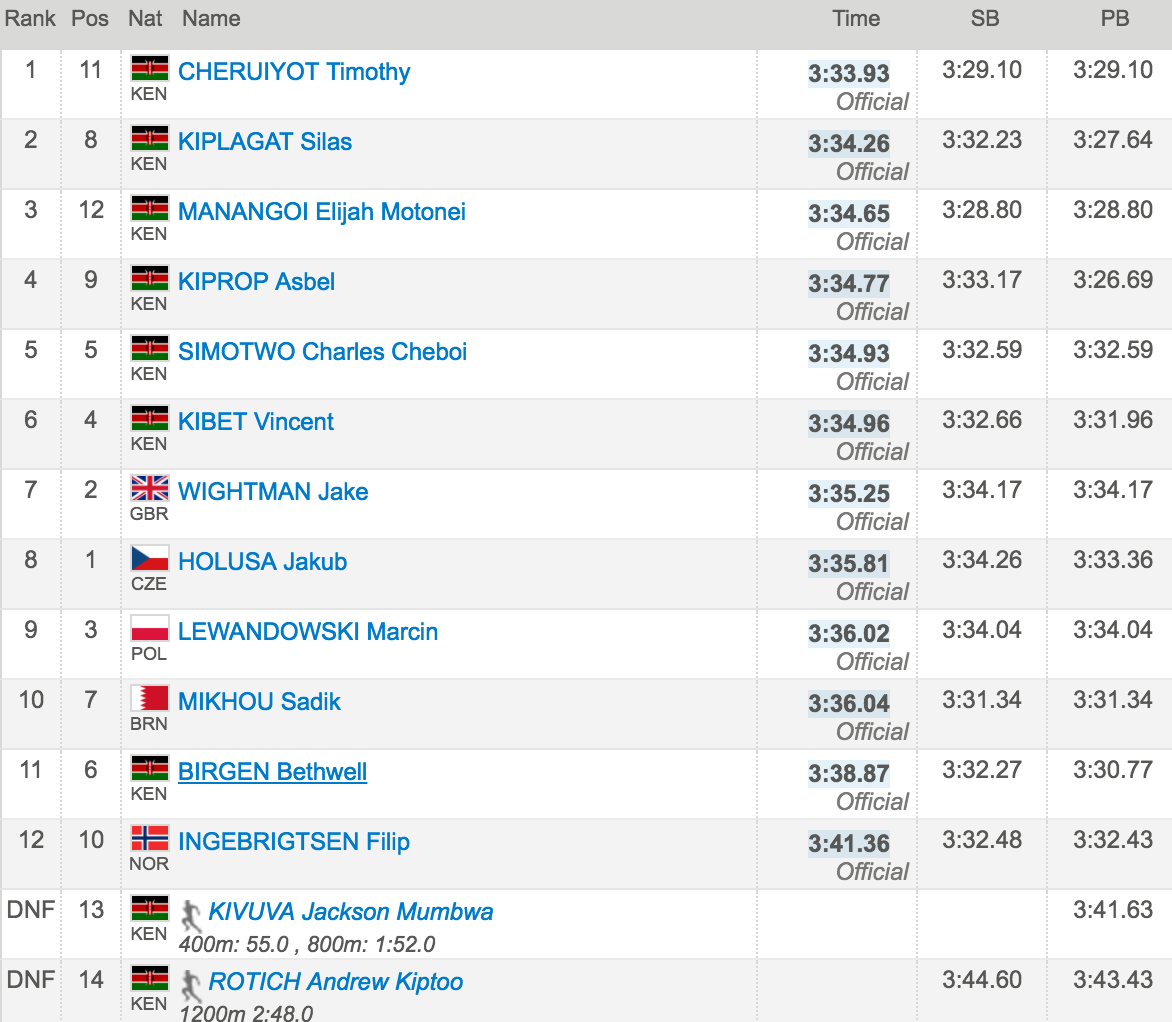 Women's 200m: Miller-Uibo shows her strength with a sub-22 win over Thompson and Schippers

Shaunae Miller-Uibo of the Bahamas showed that in a fast race her 400m strength would prevail. She avenged her worlds bronze with a big win in 21.88. That win came even over Olympic champ Elaine Thompson, who did not run the 200m at worlds but came back with a strong showing in second with a 22.00. Two-time world champ Dafne Schippers faded in the home stretch to fourth place, allowing world silver medalist Marie-Josee Ta Lou to nab third.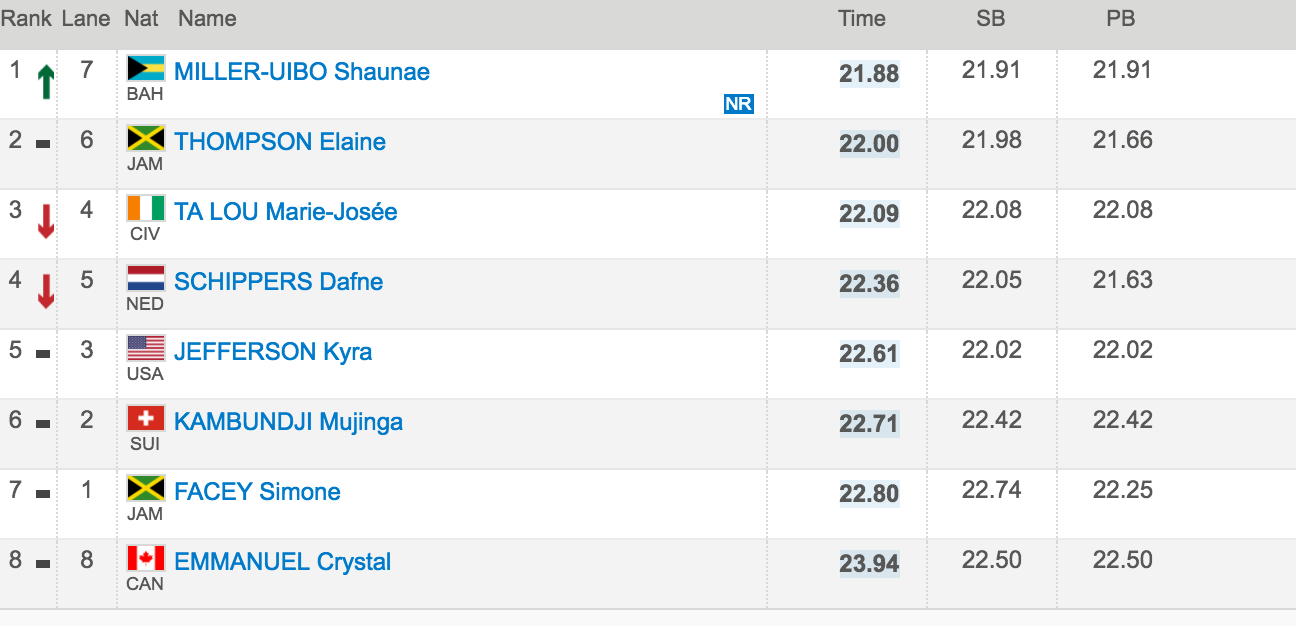 Women's Steeplechase: Jebet and Kenyan athletes restore the status quo with a No. 2 all-time performance

Nobody could ever forget Emma Coburn's 2017 World Championship run, but everything went a little bit back to normal in Zuirch as the Kenyan-born athletes -- led by world record-holder Ruth Jebet of Bahrain -- took the pace out hard and ran a strong middle kilometer to stave off Coburn and win in 8:55.29, the second-fastest mark of all time in the women's steeplechase. Kenyan Beatrice Chepkoech finally got her first sub-9 performance with a time of 8:59.84 for second place, and her countrywoman Norah Jeruto suprised for third. Coburn was well back in fourth with 9:14.81, though still ahead of worlds bronze medalist Hyvin Kiyeng in fifth.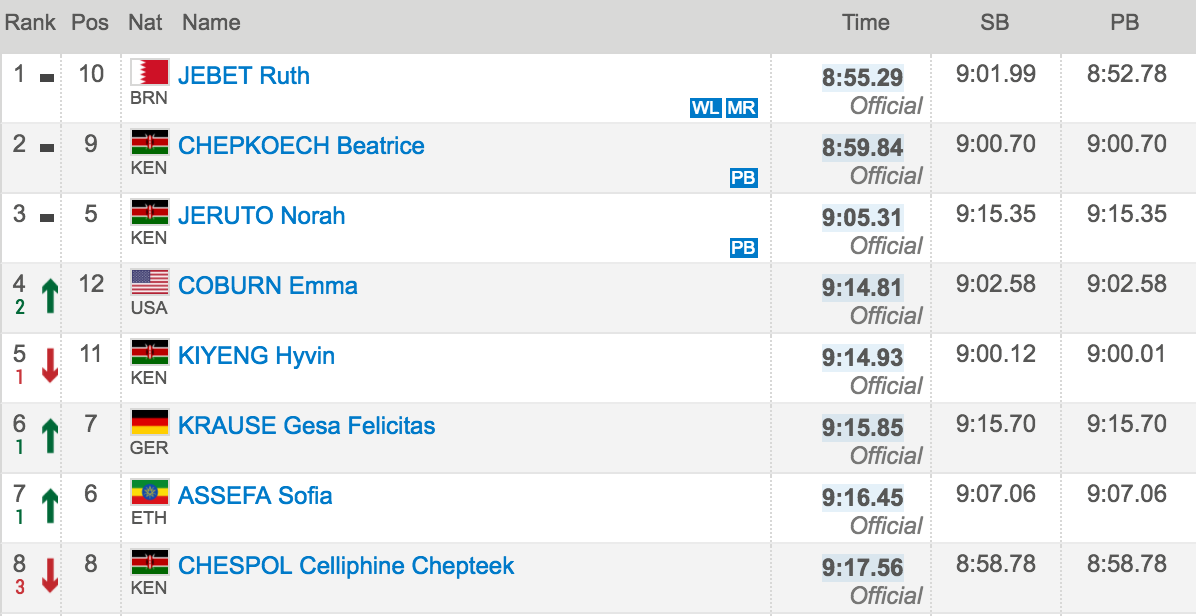 Men's 400m Hurdles: Warholm gets out hot and PBs but is caught by McMaster at the line

Karsten Warholm was on a quest to PB in Zurich after his 48.3 gold-medal run trudging through puddles and rain at the World Championships in London, and he showed it early, making up the stagger in the first 200 meters. But alas, he could not hold his lead in the home stretch as Kyron McMaster (who held a sub-48 PB of his own) used his strength to pass Warholm just before the line and win the $50,000 grand prize in 48.07.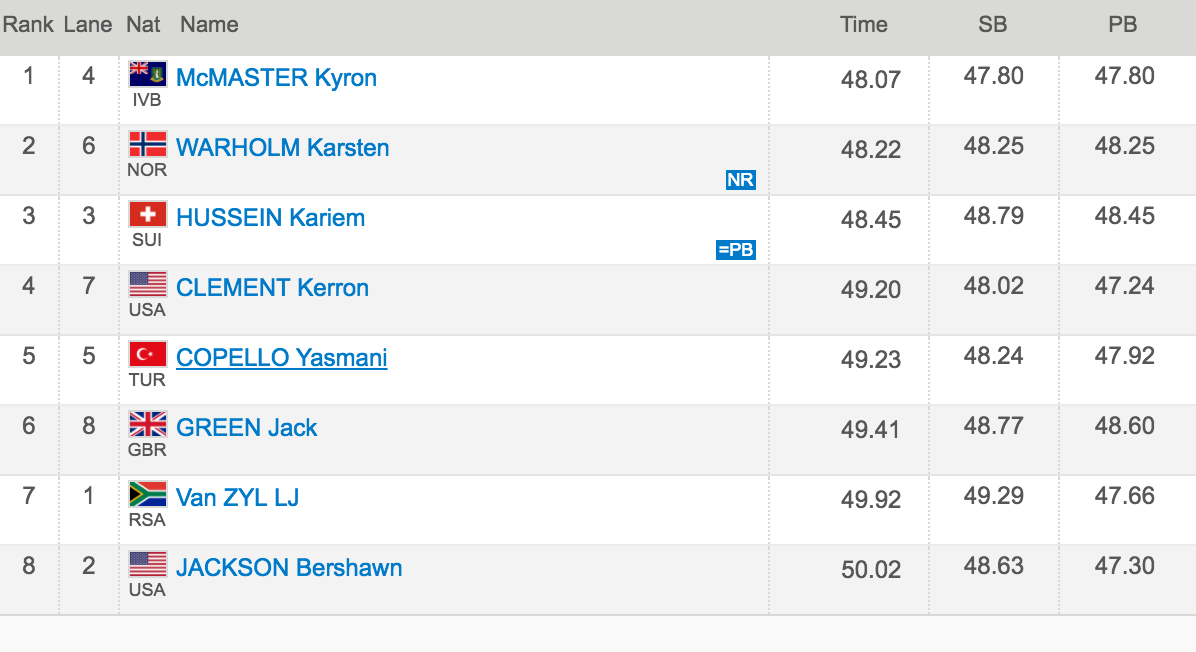 Women's 800m: The Big Three do their thing with another sweep as Semenya makes it 30 straight

After not losing a single 800m race to anyone but themselves over the last two years, the Big Three -- South Africa's Caster Semenya, Burundi's Francine Niyonsaba, and Kenya's Margaret Wambui -- experienced some break-ups earlier this season when Ajee Wilson beat Wambui to finish third in Monaco and then finally at worlds. But with Wilson out of the Zurich final, the trio returned to their dominance with a sweep in Zurich, led by Semenya's 1:55.84 clocking which marked her 30th-straight win over 800m. The U.S. hope in Charlene Lipsey, training partner of Wilson, came in sixth in a nice 1:57.99 run of her own.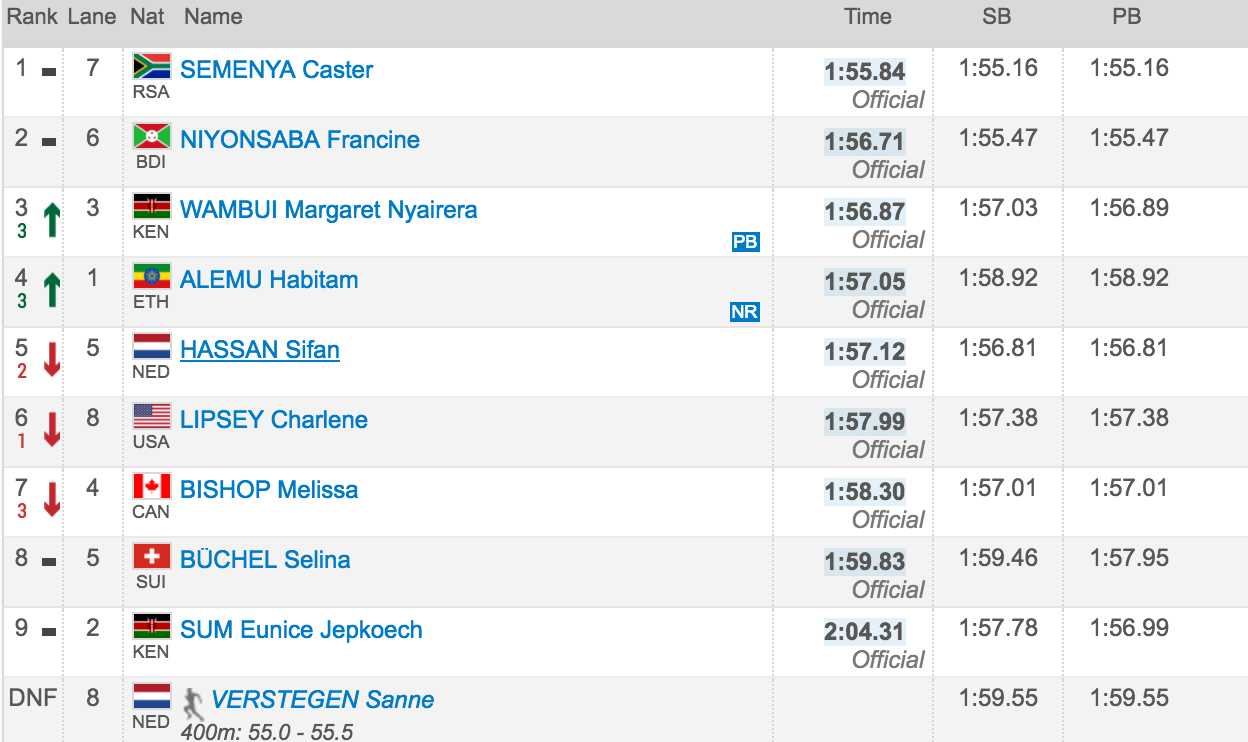 Men's 100m: CJ Ujah talks a big game and backs it up with the biggest win of his career

When Great Britain's CJ Ujah remarked earlier this season that he
could 'beat anyone' over 100m
, it certainly seemed like a far-fetched claim given that he had no prior global medals. But in Zurich, Ujah proved that maybe he knew what he was talking about all along, as he ran a smart race to beat reigning world champion Justin Gatlin at the line and earn possibly the biggest win in his career with a 9.97 clocking. In the end, consistency won as performers Ben Youssef Meite and Ronnie Baker took the next two spots leaving Gatlin to fade back to fourth in 10.01.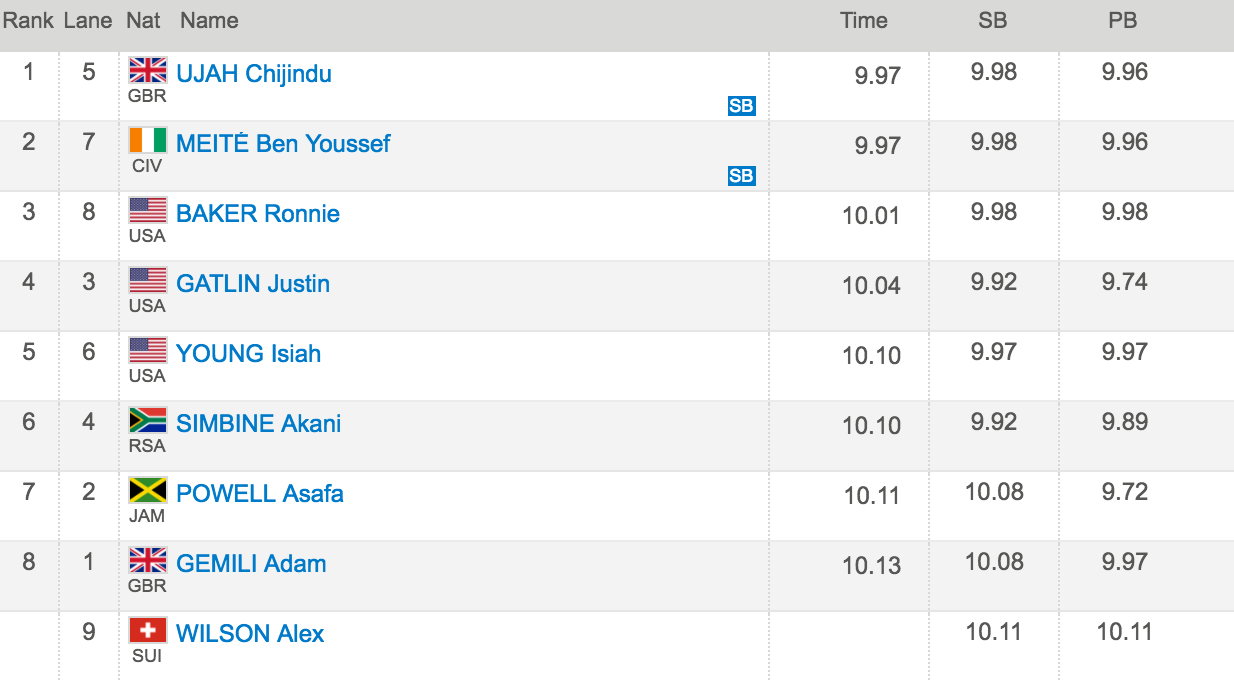 Men's 5K: Farah fights hard to end his track career with a win in crazy finish-line dive

One of the greatest matchups of the year was planned in Zurich, as the only man to ever beat Farah at a global 5K championship since 2009 -- Ethiopia's Muktar Edris -- was ready to face Mo Farah one final time in Farah's last ever professional race on the track. The race strung out quickly helped by pacemaker Collins Cheboi, but Farah and Edris knew better than to go with the early pace and hung back, with Edris keying off of Farah's every move just behind in the early kilometers.
The pace began to slow in the middle laps, leaving the race to what we knew would be a fast kick in the final 400m. Farah held the lead until the very end, but it wasn't without drama as Edris and USA's Paul Chelimo pushed close to him in the final stretch. As Edris performed his final dive, Chelimo appeared to push him to the right in his own bid for the win, which caused Edris to fall over, taking youngster Yomif Kejelcha with him.
​Update: Chelimo has been DQed for his obstruction in the last 100 meters.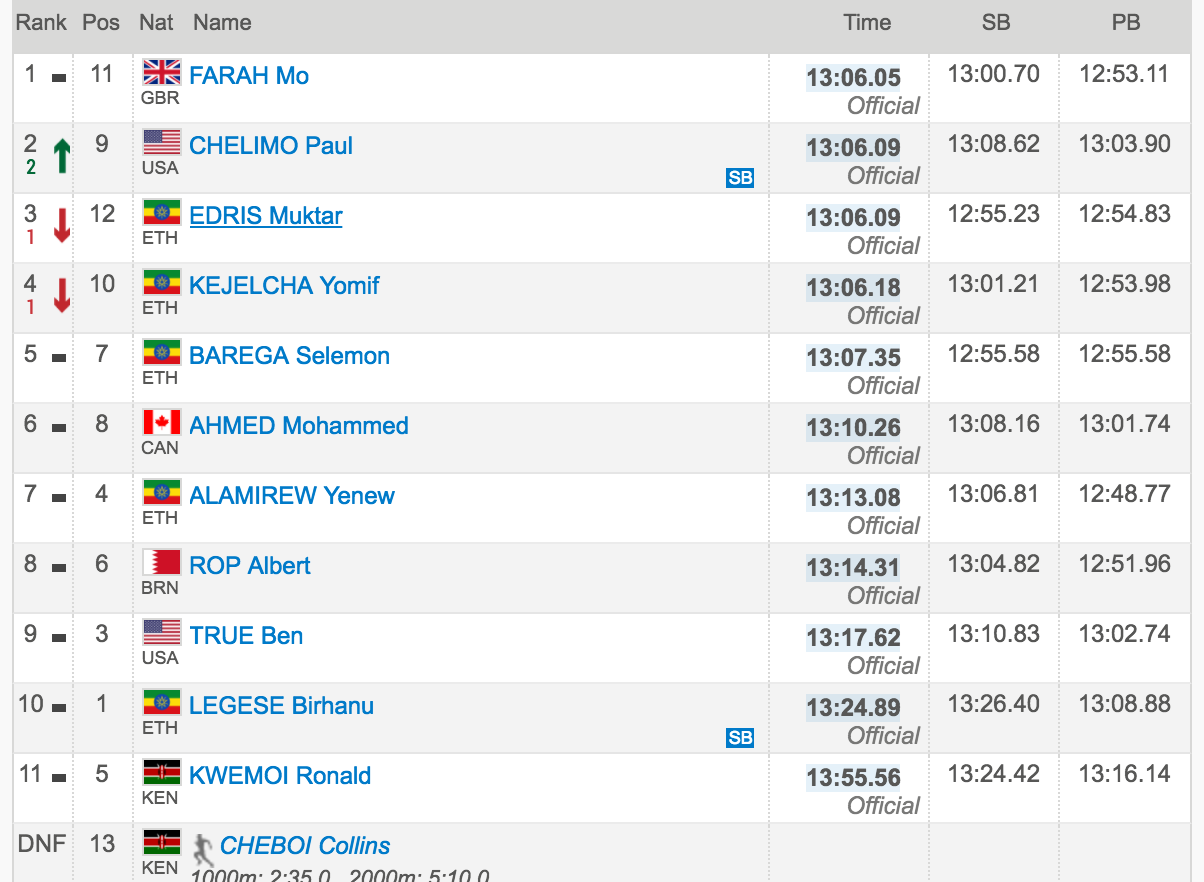 Women's 100m Hurdles: Pearson validates her World title with a close win over Nelvis

Without American and world record-holder Keni Harrison in the final after a sub-par worlds showing, Australian Sally Pearson ended her comeback 2017 season with another win at the Diamond League finals. Though Pearson got out strong, it looked like she might have been caught by American Sharika Nelvis at the line but ultimately the Australian had the better lean.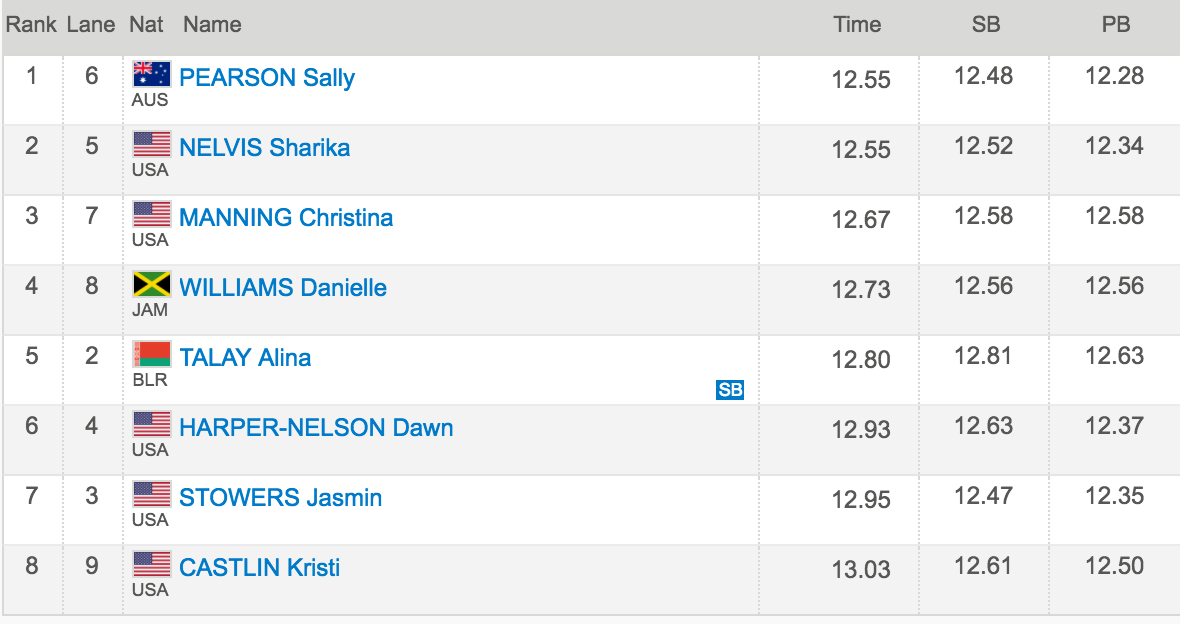 Men's 400m: Makwala gets his third sub-44 of the year, leaving us to question 'What if?'

Isaac Makwala of Botswana's
worlds saga
has been told time and time again, and while he got his chance in the men's 200m final in London we will never know how he could have done against world record-holder Wayde van Niekerk in Makwala's preferred distance over 400m. Ultimately that question still remains unanswered after Zurich, but the Botswana's 43.95 winning time was his third sub-44 of the year -- a feat that only van Niekerk has matched. USA's Gil Roberts was the best of the rest for second in 44.54, still nearly half a second better than third-place finisher and countryman Vernon Norwood.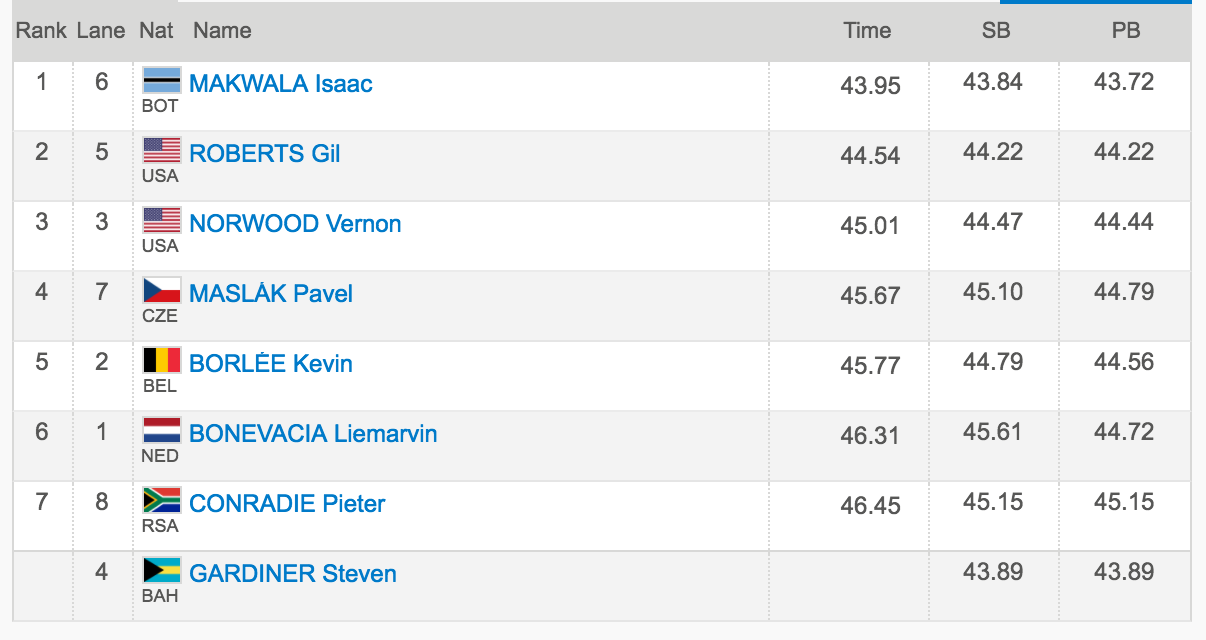 More to come!