2017 Berlin Marathon
Weather Impedes WR Attempt But Eliud Kipchoge Proves Indomitable In Berlin
Weather Impedes WR Attempt But Eliud Kipchoge Proves Indomitable In Berlin
Eliud Kipchoge won the 2017 Berlin Marathon in 2:03:32, well off the world record due to poor weather conditions.
Sep 24, 2017
by Johanna Gretschel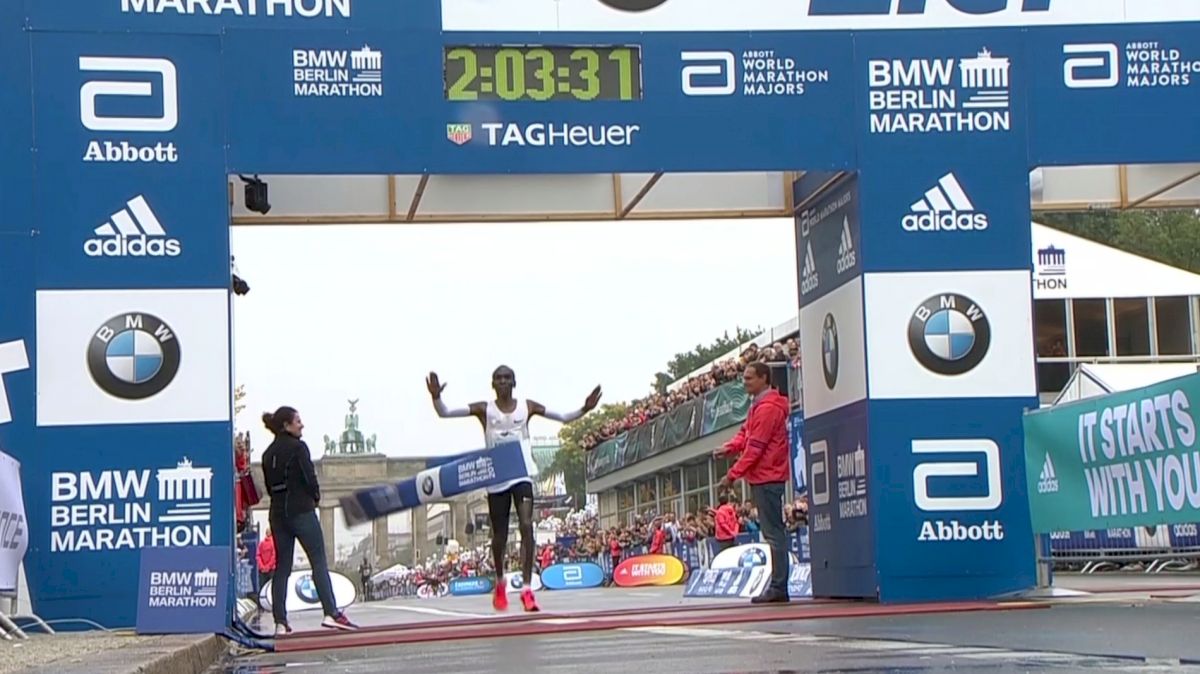 WATCH FULL RACE HERE
Eliud Kipchoge won the 2017 Berlin Marathon in 2:03:32, coming just short of his goal to break the world record of 2:02:57, set on the German capital course in 2014 by Dennis Kimetto, but outlasting one of the greatest marathon fields ever assembled to prove his status as the best in the world. Runner-up Guye Adola ran 2:03:46 in his debut marathon, the fastest time for a debutante and 10th-fastest time in world history, as top competitors Kenenisa Bekele and Wilson Kipsang dropped out and did not finish the race.
Because he hasn't run enough yet, @EliudKipchoge runs down the course and back again to thank the fans lining the streets at #berlinmarathon pic.twitter.com/CDngmZwPK6

— SPIKES (@spikesmag) September 24, 2017
The 32-year-old Kenyan was the crowd favorite for the win and the world record after
clocking 2:00:25 at the Nike Breaking2
event in May. That time does not count for record-keeping purposes due to use of rotating pacemakers throughout the race, but even so, armed with the knowledge that his body could sustain a nearly sub-2:00 hour effort, Kipchoge was aggressive in his goals and approach for Berlin.
Earlier this week, Kipchoge said he wanted
pacemakers to take the field through halfway in 60:45
, which would produce a final time of 2:01:30. Kipsang and Bekele, former Berlin champions and all-time greats,
were not sold on the torrid pace
, but it would turn out not to matter, as heavy rains and humidity lingering around 90 percent significantly slowed the projected pace.
Instead of 60:45, the top group passed through 13.1 miles in 61:29; an even split race from there would have exactly tied Kimetto's world record of 2:02:57. However, the pace slowed from there and the marathon produced its carnage, as Bekele -- the 5K and 10K world record holder -- fell off pace around 22.5K and would not be able to recover. Kipsang, who set a world record in winning the Berlin Marathon in 2013 -- and, thus, handing Kipchoge the only loss of his career in the marathon -- crossed the 30K timing mat in 1:27:26 and, with freshly grabbed water bottle in his hand, stopped and walked off the course.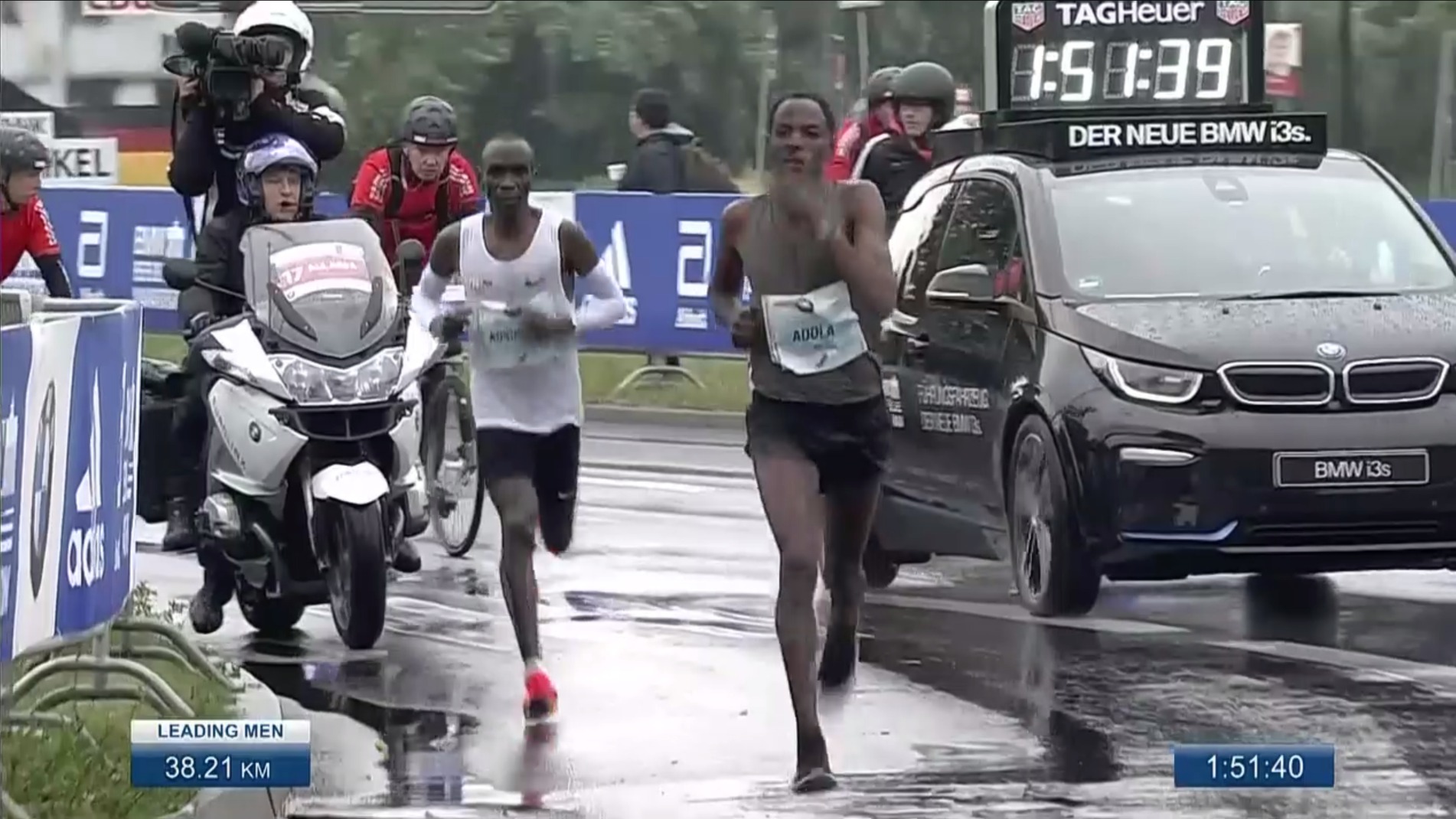 The race, then, was down to just one of the Big Three -- Kipchoge -- but, luckily, no one told Adola that he wasn't supposed to be a factor here. The 26-year-old Ethiopian had never run a marathon in his life, and owned a half marathon PB of 59:06, hardly more than two minutes slower than their halfway split this morning.
Adola ran with gusto, making the brave decision to pass Kipchoge at about 36.8K. But the elder marathoner, who has won eight of nine career marathons, never lost his composure and slowly reined the youngster in. Just before 40K, Kipchoge caught and passed his competitor (1:57:08); by 41K, Adola was done.
Kipchoge is all smiles! Wins #BerlinMarathon in 2:03:34! #AbbottWMM #wherechampionsrun @WMMajors @berlinmarathonE @AbbottGlobal pic.twitter.com/vhLzy8WSVI

— Tim Hadzima (@Timmyhad) September 24, 2017
Kipchoge won the race in 2:03:32 and Adola crossed the line in second in 2:03:46, the fastest debut in world history. He is the seventh-fastest performer ever.
The women's race lacked the drama of a world record attempt but the field included Gladys Cherono of Kenya, an all-time great in her own right thanks to a No. 8 A-T run of 2:19:25 in winning the 2015 Berlin Marathon.
Cherono stuck in the top pack with Valary Aiyabei, Ruti Aga, and Amane Beriso for most of the race, passing through halfway in 69:40, before finally taking the lead at 35K (1:55:39 split). Then it was a two-woman contest between Cherono and Aiyabei, but the elder Kenyan's experience won out and she earned her second Berlin title with a final time of 2:20:23. Aga made a late surge to take runner-up honors in 2:20:41, a four-minute PB, while Aiyabei settled for third in 2:20:53, a personal best by one minute.
Victory for Gladys Cherono in the women's race in 2:20:21 #berlinmarathon pic.twitter.com/2JCQjrfgGD

— SPIKES (@spikesmag) September 24, 2017
Get all the hype!
Sign up for the FloTrack newsletter for instant access to: Breaking News, Results, Rankings, Archived Race Footage, Live Broadcasts and more!