Create a free account to unlock this article!
Get Started
Already a subscriber? Log In
With just 26 days to go until the New York City Marathon, American distance running legends Meb Keflezighi and Shalane Flanagan spoke to members of the media to discuss their training and goals for the race.
In a teleconference on Tuesday, which took place two days after
Galen Rupp and Jordan Hasay recorded historic finishes at the Chicago Marathon
, both Keflezighi and Flanagan admitted they were unsure about the Nike Oregon Project athletes' performances. Rupp and Hasay's coach, Alberto Salazar,
remains under investigation
by the U.S. Anti-Doping Agency (USADA) regarding allegations that he may have violated anti-doping rules.
On Sunday morning, Rupp became the first American to win the event in 15 years when he broke the tape in 2:09:20. His teammate Hasay finished third in the women's race with a final time of 2:20:57. Her performance broke Joan Benoit Samuelson's Chicago Marathon U.S. course record and makes her the second-fastest American woman in history.
When asked what they thought of the Chicago performances, Keflezighi and Flanagan answered honestly.
"I did watch the race….I'm happy for Galen and Alberto, but there are things that are still going on so it's hard to comprehend," Keflezighi said. "I know that [Hasay] ran well also. 2:20:57 is amazing for her, especially in her second marathon. They achieved a lot."
Jon Gault of LetsRun.com asked Keflezighi if he could explain what he meant by "things that are still going on," and Keflezighi elaborated.
"Well that's the same thing you know. I'm pretty sure you've done your homework. There's a lot of speculation going on and I would love to know what's going on and how far it's gotten. There's allegations going on, so that's what it is," he said, referring to the USADA investigation.
Earlier this year, the
New York Times published details of a leaked interim report
by USADA to the Texas Medical Board about Houston-based endocrinologist Dr. Jeffrey Brown. The report stated that Salazar "almost certainly broke anti-doping rules" in relation to infusions of supplements his athletes received from Dr. Brown. The leaked report followed the initial investigative piece published by ProPublica in 2015, in which former team members accused Salazar of breaking anti-doping rules. Salazar and Rupp have consistently denied the allegations.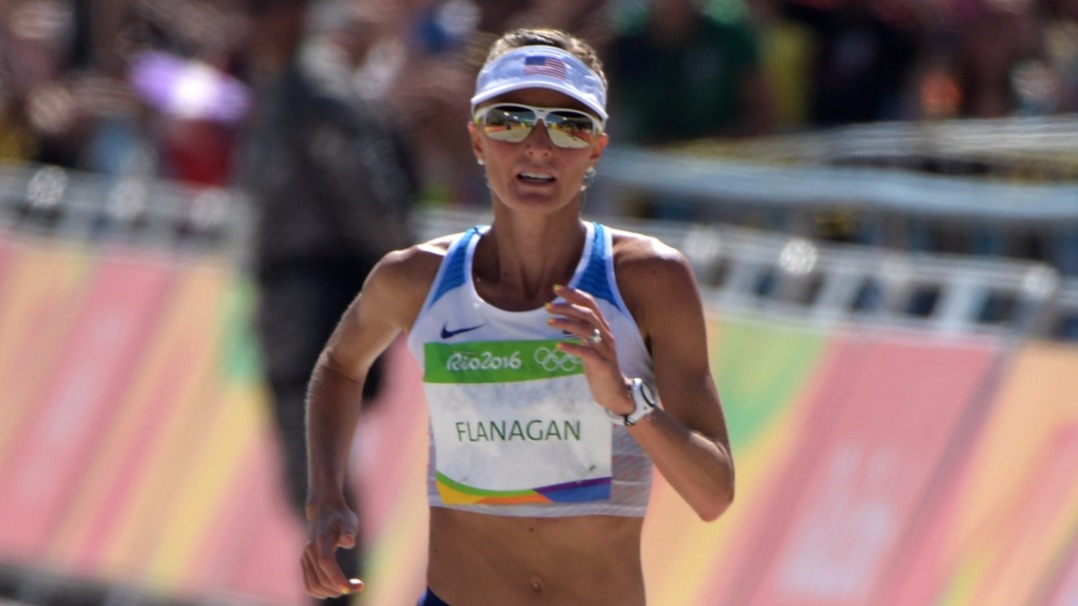 Flanagan admitted she was unable to get excited for the athletes' performances knowing that the investigation is still ongoing.
"I also got up early and watched the race," she said. "I am a student of the sport. I love to watch great athletes compete and learn from them and I feel like you can always learn by watching other people race. Like Meb said, that program, the NOP has been under investigation for the last two years. As a fan of my own sport, it's hard to have full excitement and faith when you don't know all of the facts yet. There's still an investigation going on so its hard to truly and genuinely get excited about the performances that I'm watching.
"I think it's really important to consider who you associate yourself with. We don't get to choose our parents but we certainly get to choose our friends and our coaches and who we want to include in our circle and put our trust in. I think that who you choose to allow in says a lot about you. That's where I stand," she said.
Flanagan will be competing in her first marathon in over a year after suffering from a back injury last winter which prevented her from running for 10 weeks. Her last marathon took place at the 2016 Rio Olympics, where she recorded a sixth-place finish for Team USA. Flanagan said the injury actually proved to be a "blessing" because she was able to take her first vacation in seven years and spend time with her husband and two foster daughters. After a healthy altitude stint, Flanagan says she feels "very refreshed" heading into New York.
Keflezighi's New York performance will mark his 26th marathon and the final race of a storied professional career. It's a career which includes the memorable 2014 Boston Marathon victory that took place one year after the bombings, and an Olympic silver medal in 2004, among many other accolades that span over two decades. Keflezighi will end his professional career in New York, the same place where he debuted in the marathon distance in 2002.
In the same teleconference, the New York Road Runners announced that former champion Wilson Kipsang and runner-up Buzunesh Deba have joined the field. Kipsang enters the race after dropping out of the Berlin Marathon in September.