2017 TCS New York City Marathon
Meb Keflezighi's Legacy Is The Power Of Perseverance
Meb Keflezighi's Legacy Is The Power Of Perseverance
With the curtain closed on his career , Meb Keflezighi should stand as a symbol of the power of perseverance, his resume bearing witness to what can be achieved through hard work and belief in one's self against all odds.
Nov 5, 2017
by Joe Battaglia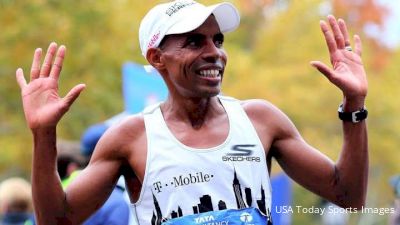 In December of 2011,
Track & Field News
asked me to participate in an expert panel, predicting the order of the top four finishers for the forthcoming Olympic Trials Marathon in Houston.
It was an interesting time in American distance running. Ryan Hall was everyone's favorite to repeat as Trials champion. In April of 2011, he clocked the fastest time ever by an American in the marathon, 2:04:58, in Boston, and followed that up with a 2:08:04 in Chicago in October.
I was already
quite outspoken
in my skepticism around Ryan's decision to split with Terrance Mahon, the man who coached him to victory in the 2007 Trials race here, the previous October. There was something about the way Ryan ran in Chicago that left me unconvinced.
And then there was Meb Keflezighi.
He had just finished sixth in the New York City Marathon in 2:09:13. On his way from Manhattan to Staten Island for the start, he placed his Breathe Right strip in his shoe for safekeeping, but forgot it was in there. Running the race with this in his shoe wore a nasty blister on the bottom of his foot.
Anyone who watched him limp up to the dais for his post-race press conference and back down that day, and then factored in his advancing age, would have logically excluded Meb from their list of contenders. And that would have been even before knowing that the blister would become infected and keep him sidelined for nearly half of the 48 days between New York and the Trials.
I picked Meb to win the race, and was the only one on the panel who did.
In Houston, Meb crossed first in 2:09:08. After the race, I followed the herd of media making their way down the hall from the working press room to one of the many auditorium's at the Houston Convention Center. As Merhawi Keflezighi, Meb's brother and manager, escorted Meb in, he made eye contact with me and joyously embraced me while yelling, "You were the only one who believed!"
Truthfully, I don't know how much of it was belief. If you asked me that day why I predicted Meb, my answer would have been "gut feeling."
Today, with the benefit of five more years of serving witness to Meb's remarkable running, the competitive portion of which concluded with an 11th-place finish in 2:15:29 the TCS New York City Marathon, my answer is more definitive.
Simply put: perhaps no American marathoner in history has been more resilient, and come up bigger when written off by the masses than Meb.
When Meb qualified for his second Olympic Team in 2004, American distance running was in a pretty dismal place. Results in the 1990s were bleak. Other than Khalid Khannouchi, a Moroccan-born distance runner that spent most of career running for his native country before switching allegiances in 2000, there wasn't much hope for the U.S. in the marathon.
Meb qualified for Sydney in both the 10,000m and the marathon and faced a decision. His long-time coach, Bob Larsen, knew he wasn't going to contend for gold with Haile Gebrselassie and Paul Tergat in the 10K, and felt his opportunity would be in the marathon.
"Steve Ortiz had run 2:13 in the marathon at UCLA in his junior year and he was just doing five and 10 training, so I knew that Meb's similar ability could certainly do it and none of the Americans were running 2:10 in those days," Larsen said. "I just felt that it was a great opening and possibility for him."
Running in just his fourth marathon, in sweltering heat, on the biggest stage in sport, Meb stuck his nose in with the best in the world. Brazil's Vanderlei de Lima opened a 45 second lead on Meb and Italy's Stefano Baldini. Running side by side, Meb told Baldini in Italian, "Let's go get one."
Eventually, they were able to close the gap (aided by de Lima being nearly tackled by a defrocked priest in one of the most bizarre race incidents ever). Baldini made a huge move with 5K left to win the gold, but Meb pushed to win the silver, America's first Olympic marathon medal since Frank Shorter's silver at the Montreal Games in 1976.
When he came to the New York City Marathon in 2009, he was embraced as always but not considered among the favorites. Just two years prior, he suffered a pelvic stress fracture in the Olympic Trials Marathon in Central Park. In his rush to try and qualify for Beijing in the 10,000m on the track, he did further damage to his hip.
"I wouldn't want anybody to go through what I went through in 2008 with the pelvic stress fracture," Meb said. "It was so painful I couldn't stand up or even walk. I was crawling around on my elbows and knees in my hotel room. If I wanted to go and pack my luggage or go to the restroom, I had to crawl and use the wall to get up and go one centimeter, one inch at a time."
Save for three track races, the injury knocked him out of commission for most of 2008. He opened 2009 with two strong road races, winning the U.S. Half Marathon Championship in Houston in a PB 61:25 and finishing eighth at the London Marathon in 2:09:21.
He believed that 2009 was going to be his year, even if all of us marathon "experts" were thinking the winner would come from a group that included Hall, Kenyans Robert K. Cheruiyot, Patrick Makau and James Kwambai, Morocco's Jaouad Gharib, or South Africa's Hendrick Ramaala.
But it was Meb, out-sprinting Cheruiyot, the great four-time Boston Marathon champion, in Central Park, pumping his fists and pointing to the U-S-A emblazoned on his kit over the final 200 meters to win the race in 2:09:15, becoming the first American champion in New York since Alberto Salazar in 1982.
Even after that monumental victory, Meb was essentially tossed to the scrapheap by running industry standards. His long-time sponsor, Nike, declined to renew his contract after a pair of fifth-place finishes in Boston and New York in 2010. He went without a sponsor for eight months before signing a deal with Skechers Performance, hardly one of the more visible shoe brands in elite marathoning at the time, in August of 2011.
Meb admits that his Trials win "meant a lot because of what happened business-wise."
He is far too humble to ever admit this, but how could the human side of him not take pleasure in telling all in the post-race press conference at the Trials, a Nike-sponsored event, all about how they did not believe in him. But that didn't matter. Meb still believed.
Meb was once again slighted in London. Despite having won the U.S. Trials and the fact that he was the only Olympic medalist in the field, Meb was not among the half dozen athletes introduced to the crowd at the start of the race.
"Whatever," he thought. "I've got to prove something."
In 21st place at the half, he was basically given up on again. But Meb continued to fight and methodically began picking off runners. With 5K to go, he made eye contact with Larsen, who held up six fingers indicating he had climbed all the way back to sixth place. He caught two more runners over that span and finished fourth in 2:11:06.
After the race, he was in tears recalling the pre-race slight that fueled his fire.
"To not get introduced really hurt," he said. "You don't know who chose those decisions but here's a guy who's a medalist and eight years later he makes an Olympic team. He at least deserves a recognition because everybody else was trying to do what I've already done, win an Olympic medal. None of those guys were medalists. Of course you get pissed off."
Injured and unable to enter the race in 2013, Meb was near the finish line in Boston when the bombs went off. He vowed to return to Boston in 2014 and run the race.
"I sent out a text to Ryan Hall and said, 'We can do this,' meaning that next year we can win it," Meb said. "He said, 'We'll get after it.' Obviously, you have to believe that you can do it also."
With the names of those killed in the bombing written in tiny letters on his race bib, Meb joined Hall among the American at the start line in Hopkinton the following April. The plan hatched with Larsen was no big moves before the final three miles. But with each "Boston Strong" sign he saw along the course, the more Meb was stirred.
Before anyone, himself included, knew it and he was all alone in the lead. All sensibilities pointed to it being a reckless move, but by the time his competitors decided to respond, he was far too in front to be caught. With a final sprint up Boylston Street, Meb crossed the tape to thunderous applause in 2:08:37.
"The emotions after the finish line in Boston 2014, I couldn't hold it in," Meb said. "There were tears of joy. I was able to take it in, the moment but at the same time you can't because it was what I've been dreaming of for a long time. I was two weeks shy of my 39th birthday and many people had written me off but, I really believed in my heart that it was possible if I did the right things."
On Thursday, Meb was presented with the prestigious Abebe Bikila Award by New York Road Runners for his contributions to the sport of distance running. In his acceptance speech, Meb paid tribute to the determination of his father, Russom, who left behind his wife, Awetash, and six kids (Meb included) to make a death-defying, seven-day, 225-mile walk from Eritrea to Sudan, setting in motion an escape from strife that immigrated the family through Italy and eventually to San Diego.
As Tim Layden so eloquently
wrote in
Sports Illustrated
this week, Meb's story epitomizes the realization of the American dream.
But Meb's legacy should transcend the fact that as an Eritrean immigrant he rose to become the only person ever to win an Olympic marathon medal, the New York City Marathon and the Boston Marathon.
With the curtain closed, Meb should stand as a symbol of the power of perseverance, his resume bearing witness to what can be achieved through hard work and belief in one's self against all odds.
It is a testament that should last the test of time.