2017 TCS New York City Marathon
Shalane Flanagan Wins The New York City Marathon
Shalane Flanagan Wins The New York City Marathon
For the first time in her storied career, Shalane Flanagan became an Abbott World Marathon Majors champion. The four-time Olympian accomplished her longtime goal when she won the TCS New York City Marathon in 2:26:53 on Sunday morning in Central Park.
Nov 5, 2017
by Taylor Dutch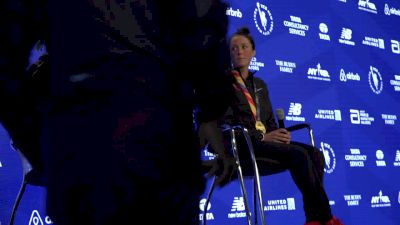 For the first time in her storied career, Shalane Flanagan became an Abbott World Marathon Majors champion. The four-time Olympian accomplished her long-time goal when she won the TCS New York City Marathon in 2:26:53 on Sunday morning in Central Park.
Flanagan became the first American woman to win the New York City Marathon since 1977, and she did it by beating three-time event champion Mary Keitany. Keitany, the women's-only marathon record-holder, crossed the finish line in 2:27:54, and Mamitu Daska followed for third place in 2:28:08. After the race, Keitany told reporters that she experienced a "problem" the day before the race, but would not elaborate on the issue.
40 years later, we have an American women champion at the #TCSNYCMarathon. Understandably, @ShalaneFlanagan just overwhelmed with joy. pic.twitter.com/PSnAcz63GR

— TCS NYC Marathon (@nycmarathon) November 5, 2017
After being forced to withdraw from the Boston Marathon in April due to a back injury, Flanagan's performance marked the triumphant end to a challenging year.
"About nine months ago, I was heartbroken over the fact that I wouldn't be able to race the Boston Marathon. But I just told myself that there would be delayed gratification and a moment that would make up for it," Flanagan told reporters after the race. "I've dreamed of a moment like this since I was a little girl. It means a lot to me and my family and hopefully inspires the next generation of American women to be patient."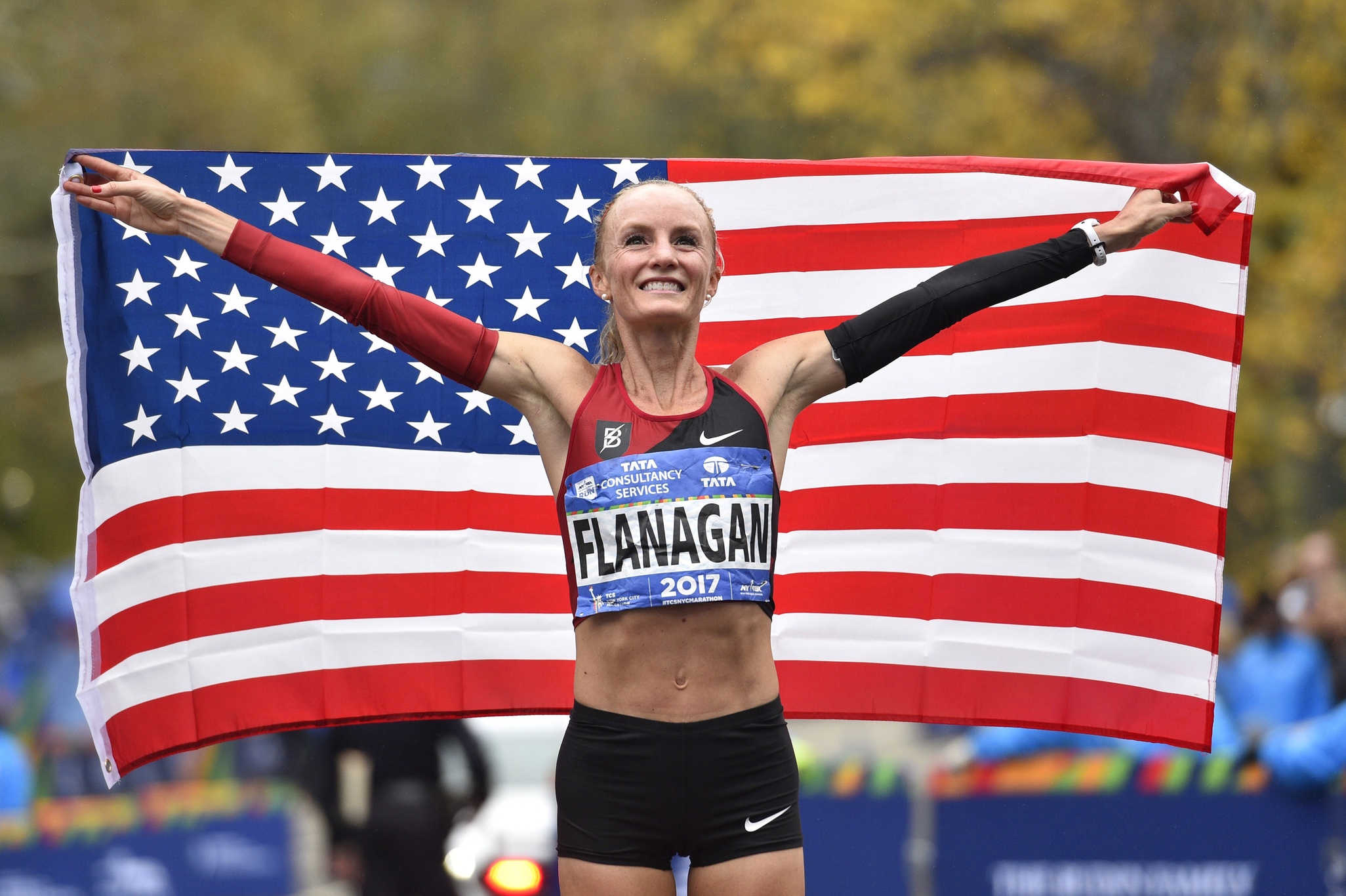 During the difficult points in the race, Flanagan said that she tried to remember another runner who has inspired her and many others throughout his career. In the men's race, Meb Keflezighi completed his 26th and final career marathon.
"I was thinking of Meb and I was thinking of how I wanted to make him proud today and I think I did," she said.
Flanagan led a group of four Americans to top-10 finishes, including Allie Kieffer, who ran a massive personal best of 2:29:39 for fifth, Kellyn Taylor who finished eighth, and Stephanie Bruce who closed for 10th overall.
Prior to this race, Flanagan said that she was approaching New York as if it were her last marathon.
"It's becoming more present in my mind how I want my story to end, and I can think of no better way to end a career and my story than with a major win," Flanagan told FloTrack on Thursday.
"I don't think I could top that so if I were in the unbelievable, ridiculously amazing position of winning on Sunday, that would possibly be my last marathon because that's how I would want things to end for me."
At 36 years old, and with four Olympic Games, two international championship medals, and several American records to her name, Flanagan finally found herself in the "amazing position" on Sunday by running a brilliant tactical race to defeat the world record holder.
When asked if the victory would indeed mark her last marathon, Flanagan said that she would have to meet with her Bowerman Track Club coaches Jerry Schumacher and Pascal Dobert to discuss the possibility.
"I think we'll have some decisions to make," she said.
Watch Schumacher react to Flanagan's victory:

LIVE UPDATES: New York City Marathon
The race began at a conservative pace with an initial first mile of 6:43 and several sub-six minute miles which continued for the first 5K. While Sara Dossena of Italy assumed the early lead in her marathon debut, the favorites remained comfortable running in the middle of the lead pack.
Bronx native Buzunesh Deba periodically surged to the front as the lead pack approached the fluid stations. One by one, Deba started to clock off 5:37-5:38 paces between miles five and seven. Her surge started to separate the pack slightly.
Through the following miles, the pace maintained as Keitany, Boston Marathon champion Edna Kiplagat, and Deba controlled the front end of the race. Between miles 10 and 13, the pace saw some dramatic shifts as the leaders cranked it down from 5:35 to 5:50 and back to 5:36. By the time the group arrived at the halfway point, the pack remained intact with a split of 1:15:37.
At miles 16-18, Daska helped pull the top group through in a brisk tempo, which would set up the perfect move for the eventual race-winner.
Flanagan, who had been running patiently and calmly for the entire race, emerged up front with Keitany at mile 19. For the next three miles, Flanagan controlled the following splits - -5:31 (mile 19), 5:37 (mile 20), 5:26 (mile 21). By mile 22, the decisive move had been made to break the pack of women with a blistering 5:09 split, leaving the top three to fight for podium positions.
Daska attempted to pull away from Flanagan and Keitany, who appeared to be laboring more than her competitors. But Flanagan would not allow her to extend any distance from her. Before the 23rd mile, Flanagan asserted herself over Daska and Keitany and established a lead with a previous 5:08 mile split, the fastest mile of the day.
From that point on, the lead kept growing for Flanagan, who maintained an impressive level of composure throughout the hills of Central Park.
To the delight of the New York City crowd, Flanagan arrived on West Drive as the dominant leader, and crossed the finish line over a minute faster than Keitany. Her performance marks the first time an American woman has won the New York City Marathon since Miki Gorman claimed the title in 1977.
Keitany's performance follows a victory at the 2017 London Marathon where she broke the women's-only marathon record with a winning time of 2:17:01. Daska's performance marks her highest Abbott World Marathon Majors finish since 2014.