2017 TCS New York City Marathon
Geoffrey Kamworor Wins Tactical NYC Marathon
Geoffrey Kamworor Wins Tactical NYC Marathon
Geoffrey Kamworwor of Kenya wins the TCS New York City Marathon.
Nov 5, 2017
by Joe Battaglia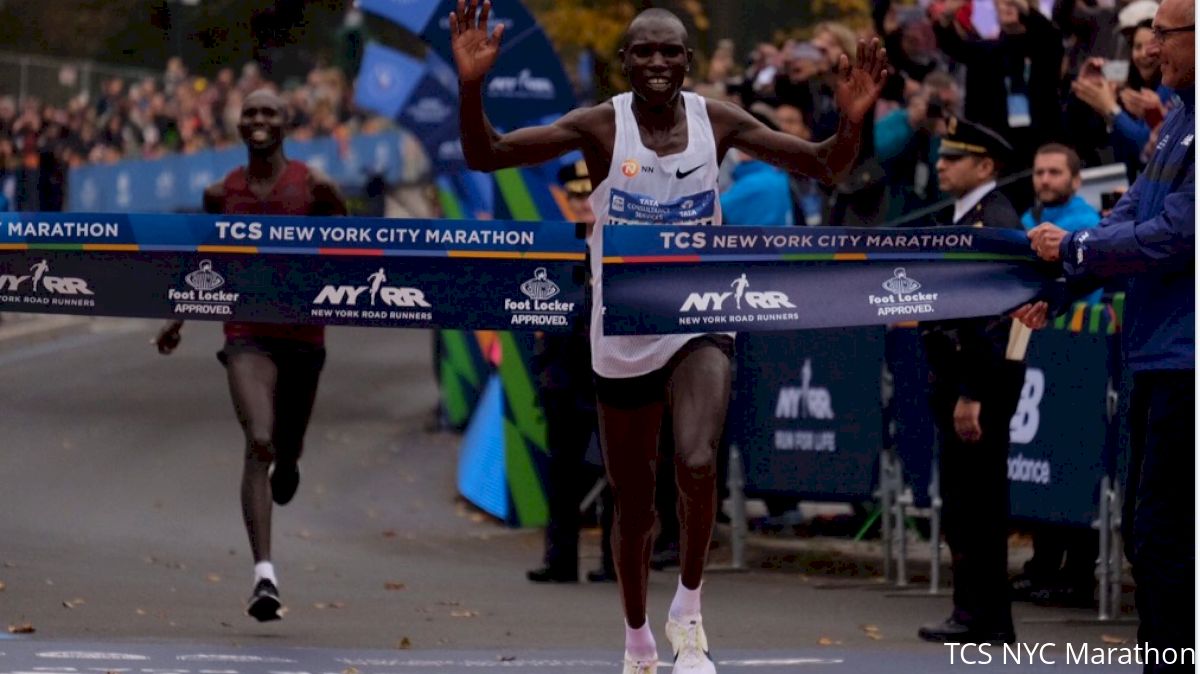 As he made his way up West Drive shrouded in a steady mist, Geoffrey Kamworor of Kenya had his gaze locked straight ahead focused on the finish, arms pumping and legs turning over as quickly as possible despite a burn that begged him to stop.
The deeper into Central Park that he progressed, the more he seemed to forget the whereabouts of three of the men with whom he inexplicably ran the majority of 24 miles.
With the finish and grandstands finally in sight, Kamworor suddenly realized that he hadn't checked on his competitors and gave a somewhat panicked glance over his right shoulder.
What he saw was a hard-charging Wilson Kipsang.
Fortunately, the finish line was coming up faster.
In a race that saw the first 22 or so miles contested at an almost inexplicably tactical pace, Kamworor finally turned the screws on his final three competitors in Central Park and then held on to win his first TCS New York City Marathon title in 2:10:53.
"For me, I knew that I had made a decisive move, and I was focusing on the finish line," Kamworor said. "But when I looked at the (jumbotron), I saw someone was coming, which was Wilson. I had to believe in myself because I was holding out for the finish. I had to do my best to make sure that I won. I really thank God that I won."
It was a breakthrough performance for Kamworor in the marathon. The 24-year-old is a two-time world champion in the half marathon and in cross-country but had yet to win in any of his six prior attempts at 26.2 miles. He was runner-up in this race in 2015.
Kipsang, who dropped out of September's Berlin Marathon after 30K, crossed a few steps behind Kamworwor in 2:10:56. Lilesa Desisa of Ethiopia was third in 2:11:32.
One year after finishing on the podium, Abdi Abdirahman, 40, finished in seventh place in 2:12:48, breaking Meb Keflezighi's masters course record of 2:13:32 set in 2015. In the 26th and final competitive marathon of his illustrious career, the 42-year-old Keflezighi finished in 11th place in 2:15:29.
"I know that I can say that I gave it all that I had today," Keflezighi, who collapsed to the road after crossing the finish, said. "When you are 42 years old and competing against the best in the world, your body is not right."
The early stages of the race more closely resembled a group fartlek run than a major marathon. Everyone seemed to take a turn at the front. Coming off the Verrazano Narrows Bridge, it was Tadesse Ray of Ethiopia. Following a five-minute fourth mile, it was Keflezighi in the lead. After getting tripped up and falling at the first watering station, Abdirahman worked his way back to the lead at mile five.
"When I got up, my ankle was so painful and my hip was bothering me," Abdirahman said. "I thought about all the training I've been through they past few months, and I said, 'I can't stop at the 5K mark.'"
The two Americans traded the lead over the ensuing two miles before defending champion Ghirmay Ghebreslassie of Eritrea began to take a more assertive role during the eighth mile, which he covered in 4:53. But then he would trade off leading with Tadesse Abraham of Switzerland and the pace see-sawed through Williamsburg, from 4:48 in mile 10 to 5:19 in mile 11, back to 4:57 in mile 12. As such, the lead and chase packs would split and merge, leaving more than a dozen runners in contention.
"In any race you find that the only thing we really want so much is, if we want to go for a fast time, we really request one another to support each other during the race to make sure that go for the fast time," Kipsang said. "And towards the end, whoever is strong will automatically win. But it's not my discussion of how we should do it because each and every one has his own strategy of racing."
Added Kamworwor: "We hadn't planned any strategies because it was a competition."
Just before halfway, Ghebreslassie threw in what appeared to be a serious surge, and tested the top group. The move put some distance between himself and the top pack and strung things out to where only Kipsang, Lemi Berhanu of Ethiopia, Kamworor, Desisa, and Abdraham were in contact.
But when he slowed to 5:09 pace over mile 15 up the Ed Koch Queensboro Bridge chasers had rejoined leaders, and a ridiculously slow downhill 5:12 16th mile brought unheralded 28-year-old Belgian Koen Naert, who ran his PB of 2:10:16 in a 10th-place finish in Rotterdam in April, to the fore as the race spilled onto First Avenue in Manhattan.
As the top 12 men climbed the Willis Avenue Bridge, they ran the same mile split (5:09) as women's race winner Shalane Flanagan did at mile 22. Kamworwor dropped things to 4:48 through the Mott Haven section of the Bronx at mile 20, finally stringing out the logjam -- the pack of 12 was trimmed to seven -- but the next two miles, including the Madison Avenue bridge crossing, were covered in just 10:18.
At this point, all of the see-sawing took its toll on Ghebreslassie, who faded to 13th place before eventually being forced to drop out of the race on the Upper East Side.
"Ghirmay was very strong and he was in control of a lot of the race just to be in the lead," Keflezighi said. "He was confident, and I was surprised that he dropped out. I saw him, and I stopped a couple times, and I encouraged him to go to the finish line. He said he was injured. I just stopped and gave him a hug and kind of kept going."
Kamworor got things down to a four-man race between himself, Kipsang, Berhanu, and Desisa with a 4:44 23rd mile. The foursome continued on together into Central Park before Kamworor threw down his decisive move just passed Columbus Circle, opening a seven-second lead on Desisa and Kipsang while Berhanu faded. Kipsang gave chase over the final mile, but simply ran out of real estate to catch Kamworor.
"I've got to say that I started my kick a little bit late," Kipsang said. "I still felt like I was very strong. I think if I could really be a bit closer, I could have really out-sprinted him in the last finish."