Triathlon Olympic Champion Gwen Jorgensen Switches To The Marathon For 2020
Triathlon Olympic Champion Gwen Jorgensen Switches To The Marathon For 2020
Reigning Olympic triathlon champion Gwen Jorgensen has announced her intent to train for the marathon for the 2020 Olympic Games in Tokyo.
Nov 7, 2017
by Johanna Gretschel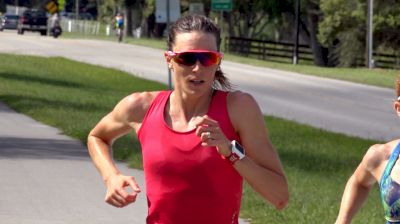 Unlock this video, live events, and more with a subscription!
Get Started
Already a subscriber? Log In
Just two days after
Shalane Flanagan became the first American woman in 40 years
to win the
New York City Marathon
, future prospects for the event got even more exciting as reigning Olympic triathlon champion Gwen Jorgensen officially announced her intent to focus on the 26.2-mile race for the next Olympic cycle.
"My next goal is to qualify in the marathon for Tokyo 2020 and win gold," she said in an exclusive phone interview with FloTrack on Monday afternoon. "I won't be doing the triathlon."
World Champion in Triathlon
Olympic gold in Triathlon
Become a mom
Olympic gold in Marathon pic.twitter.com/ap466BOw06

— gwen jorgensen (@gwenjorgensen) November 7, 2017
Jorgensen was the first American woman in history to win an Olympic gold medal in the triathlon with her victory in Rio. If she were to accomplish her goal of gold in the marathon, she would be the first male or female athlete of any nationality to win the Olympics in the two disciplines. She's actually run exactly one marathon before, a 2:41:01, 14th-place finish last year in New York City -- a time she admits is about twenty minutes slower than she'll need to run in order to capture an Abbott World Marathon Major title.
"(It's) a huge deficit," she said, "but I'm excited for the challenge."
​Gwen Jorgensen talks to the press after her 2:41:01 marathon debut in New York City:
"I've accomplished everything I wanted to in triathlon," she said. "I was a two-time world champion and Olympic champion. I wanted a new challenge to have motivation. . . . I know people think, 'Why leave when you're at the top of the sport, you can make money, be successful,' but my motivation was not going to be there and if I didn't have the right motivation, it just wouldn't be a good fit."
Don't misread the situation: Jorgensen is no newbie jogger. The one-time walk-on athlete at the University of Wisconsin quickly became an All-American cross country and distance runner, clocking PBs of 15:52.19 for 5K and 33:38.38 for 10K as a Badger. As a pre-NYC tune-up, she casually clocked
53:13 to place third at the USATF 10 Mile Championships
.
But before she lines up for another race, Jorgensen's first challenge is to return to fitness after giving birth to her first child just 11 weeks ago. She says her son, Stanley, has given her a new kind of motivation.
One year later and my top accomplishment has been topped! So glad to have Stanley home with us pic.twitter.com/AmfdrivLIj

— gwen jorgensen (@gwenjorgensen) August 21, 2017
"I have to feed my baby now," Jorgensen said with a laugh. "I think he's really forced me into focused training. I don't waste any time at the gym or on my runs; I take two-minute showers. I want to get home and see my baby boy, make every second count.
"I feel really empowered by the women before me -- Deena Kastor, Kara Goucher, (2012 Olympic triathlon champion) Nicola Spirig -- all these women who encouraged and gave me hope and just excitement to have me a family and be a working mom. It is possible to be a working mom and get back into sport. It's not easy when you're breast-feeding and you have to go out for a workout and you don't know if your baby is going to be really hungry. I'm really excited to share my story and show other moms it's possible."
Jorgensen logged back-to-back 100-mile weeks and even an 18-mile long run (her longest run ever outside of the marathon race) while five months pregnant, but tapered down soon after that to a longest run of seven miles at seven months pregnant. For the first two weeks after Stanley's birth, she says she could barely walk. Now, she's running just 30 miles per week with plenty of swimming and biking as supplement -- not ideal, but necessary while she rebuilds her core strength and base fitness.
The plan is ultimately to join a training group in Portland, where she and her husband, Patrick Lemieux, recently purchased their first home.
"I do need a daily performance environment, I need people around me who are better me," she said. "We came out to Portland because it's a mecca for running and we need to do more research about what (group) would be the best fit."
Jorgensen is mum on potential training partners for now, though she heaps the praise on fellow Portlander Flanagan for her historic win this weekend in Manhattan, as well as Flanagan's Bowerman TC teammate
Amy Cragg for her world bronze
, and even 26-year-old Jordan Hasay for her
brilliant third-place finishes at the Boston and Chicago Marathons
this year.
"It was amazing," she gushed. "[Shalane] definitely earned that race. I know Shalane, I've had dinner with her and done some runs with her. I've always looked up to her. She's definitely a pioneer in the sport and she might not agree necessarily, but she is a huge role model in American distance running. I watched her yesterday and I don't know if anyone
wasn't
crying."
"Shalane, Jordan, Amy -- there's been a lot of American distance running women who are performing [well] now [in the marathon] and it's really inspiring. I've always had this thought in the back of my mind that I want to do a marathon and see how good I could be -- and I want to be great. My goal in the triathlon was never 'I want to be the best American,' it was, 'I want to be the best in the world.' Shalane, Jordan, Amy really show how American running can be."