2017 TCS New York City Marathon
Let The Four-Letter Word Fly: Shalane Flanagan Won The NYC Marathon
Let The Four-Letter Word Fly: Shalane Flanagan Won The NYC Marathon
There is so much behind Shalane Flanagan's New York City Marathon victory that we have to let the four-letter word fly.
Nov 8, 2017
by Taylor Dutch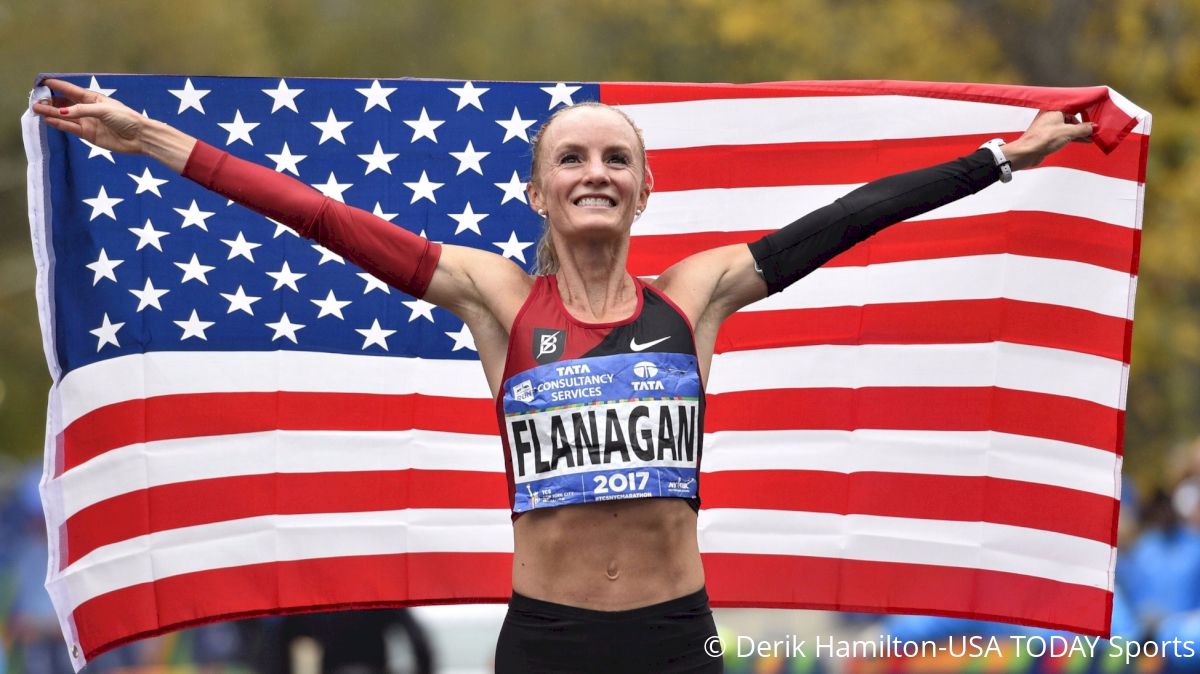 Editor's note: The following article contains profanity, as both the writer and the athlete believed the only adequate expression of the awesomeness of the moment was a certain four-letter word. If this word offends you, you know where to find the "Back" button.
Shalane Flanagan won the New York City Marathon. Fuck yeah!
That feels so good to say. I normally don't curse when I write, but this is a completely appropriate time to use that word. And Flanagan herself said it best as she approached the finish line with a loud "fuck yeah!" -- echoing so many fans' thoughts in that moment.
There is so much behind Flanagan's victory. She's the first American woman to win the race since Miki Gorman did it in 1977. Before New York, Flanagan said publicly that if she won the race -- which would be her first Abbott World Marathon Majors win -- it could potentially be the last of her storied career. The performance punctuated a challenging year which included a comeback from a stress fracture. And to top it off, Flanagan won by beating the women's-only marathon world record holder and three-time race champion Mary Keitany.
ESPN's Darren Rovell commented on the moment with this tweet: "Shalane Flanagan waited long enough for this. We'll let her say whatever she wants."
Shalane Flanagan waited long enough for this. Well let her say whatever she wants (H/T @JimmyDonofrio) pic.twitter.com/GeTLpawyLP

— Darren Rovell (@darrenrovell) November 5, 2017
I'm glad he was watching the race and celebrating Flanagan's accomplishment, but I think it's important to point something out: "We" don't have to give her the permission to say that word. She can express herself freely, and she made history by accomplishing her goal. She can say whatever the fuck she wants. She's the New York City Marathon champion, and no one can take that away from her.
The same woman who shouted celebratory f-bombs at the finish line also understandably broke down in tears during the post-race press conference. The same strength that the four-time Olympian has displayed in her running for her entire career could be seen in her genuine reaction to what she had just accomplished. Flanagan was overwhelmed with joy at her dream realized. She was grateful for those that helped her along the way, and she was not afraid to let the world know how she felt.
That is strength in so many forms.
"About nine months ago, I was heartbroken over the fact that I wouldn't be able to race the Boston Marathon," Flanagan said after the race. "But I just told myself that there would be delayed gratification and a moment that would make up for it. I've dreamed of a moment like this since I was a little girl. It means a lot to me and my family and hopefully inspires the next generation of American women to be patient."
Even before her New York performance, Flanagan had already inspired the next generation many times over. As her coach
Jerry Schumacher affectionately said after her race
, "It's Shalane's fault," that the Bowerman Track Club started to grow the women's contingent of the group. On a team that was dominated by men with the exception of Flanagan and Emily Infeld for several years, Flanagan encouraged Schumacher to bring on more female runners. As a result of Flanagan's perseverance, the group added six powerhouse women in the past three years and six of them competed on Olympic and world championship teams.
Flanagan's New York race will inspire the next generation just as she was inspired from those that preceded her. And, fittingly, her victory took place in a race that has historically championed women's running. As Rich Sands pointed out in his Race Results Weekly feature,
"Fifteen Years Ago, The TCS NYC Marathon Put Women First,"
New York race organizers were the first to give the elite women a 35-minute head start on the field.
"Through 2001, New York featured a mixed mass start, sending off the elite women simultaneous with the top men and the hordes of rank and file runners. While that format frequently helped the leading women clock impressive times, it often came at the expense of visibility and even fair play. 'What was happening is that we couldn't see the women in the TV show because inevitably fast guys who weren't going to win the race would be running all around them and it was easy for them to get lost,' says Mary Wittenberg, who was executive vice president of New York Road Runners, the race organizers, at the time," Sands wrote.
"So in keeping with its long history of women's empowerment, NYRR made the bold move in 2002 of giving the top women a 35-minute head start on the field. 'Instead of having all runners start together, the professional women began earlier in order to ensure they received their fair share of the spotlight and to promote fair head-to-head competition,' says Peter Ciaccia, NYRR's president for events and race director for the marathon.
"Fifteen years later, the concept has become familiar. But it was revolutionary at the time," Sands wrote.
The NYRR also staged the first women's-only road race with the 1972 Crazylegs Mini Marathon, a six-mile run in Central Park. Miki Gorman, the last American woman to win New York City Marathon in 1977, was a pioneer in women's distance running and helped encourage women to participate in the marathon. The Japanese-American distance phenom accomplished a difficult triple crown by winning the Boston and New York City marathons in 1976-1977, and at one point held the world record in the half marathon. According to this beautiful tribute from
Runner's World
, the Avon Women's Running Circuit sent Gorman and her baby to Japan as an ambassador and role model for Japanese women runners.
Gorman passed away in 2015 after a five-year battle with cancer. She wasn't alive to see Flanagan win, but I'm sure she would have been proud to see an American finally win the race 40 years after she accomplished the feat.
One small sadness today: Miki Gorman didn't live to see @ShalaneFlanagan win #TCSNYCMarathon. She died in 2015 at age 80. pic.twitter.com/p7LyCc9FdU

— David Monti (@d9monti) November 5, 2017
Knowing the history of women's running at the New York City Marathon, and the women who have and will continue to run, it's so fitting that this year's champion is Shalane Flanagan.
Her patience while overcoming injury, her faith in herself and her training group, her support of fellow female runners, and her fearless tactics to win a race that has always championed women -- these are all evidence that while Flanagan is New York's champion, she is also a women's running champion.
So, fuck yes! Let us run, let us celebrate, and let us savor this moment.