2017 DI NCAA XC Championships
Furman Started From The Bottom, Now They're Here
Furman Started From The Bottom, Now They're Here
The pieces are finally coming together for Robert Gary's Furman squad
Nov 10, 2017
by Johanna Gretschel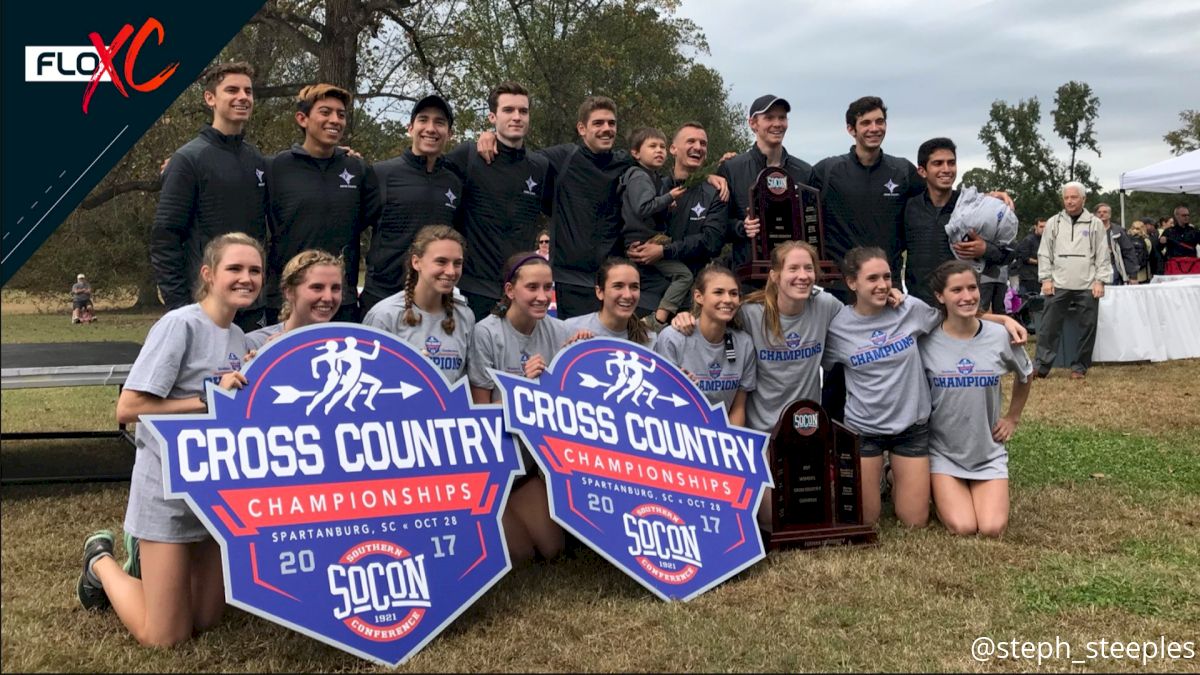 Picture the scene: it's 2013, one year after Oklahoma State put 72 points on the board in Louisville to win the NCAA XC championships ahead of Wisconsin and Colorado.
OK State is hosting their annual season opener, the Cowboy Jamboree, in Stillwater. At mile one, amidst the familiar neon orange singlets, a sea of purple jerseys bearing a Furman logo floods the lead spots. For now, anyway. When the leaders emerge from the woods, there's no purple in sight. And that moment is both one of the most important lessons and funniest coaching moments of Robert Gary's career, who is now in his fifth year as head coach of the Paladins.
"We were standing out at the mile marker and these clowns come flying around the corner and we're one through nine, one-stepping the heck out of Oklahoma State, who had won the national championship the year before," Gary remembers. "I think we ended up fifth or sixth*, (and) we lost to a couple of double directional schools that I don't care to remember. It took some mending on the way back; even their parents were shell-shocked because they're so used to their sons winning all the time."
Watch the Furman Paladins get out hard at the 2013 Cowboy Jamboree:
Assistant coach Chris Neal, who worked alongside Gary as the women's distance coach at Ohio State before they moved to Furman together in 2012, says the men's team -- a group of highly touted true freshmen -- was a bit overconfident after beating a Duke team that had made NCAAs the year before.
"Our guys thought they were five days away from winning the national meet," Neal says. "We went to Cowboy Jamboree and the gun goes off and our guys are one-stepping OK State; they go in the woods at mile two and we were waiting for them forever to come back out again... I think we ended up 15th in a race where they only had two teams who we even knew who they were* . . . in one day it went from, 'Are we gonna win nationals?' to, 'Oh my god, are we bad?'"
The anecdote is funny now, of course, because of how well the Paladins have progressed from that slightly disastrous first season.
"I think that season was one of the poorest coaching jobs we've ever been a part of," Gary admits now. "We were just so gung-ho, we had all these great high school athletes [as true freshmen] -- nine-flat guys, Foot Locker finalists -- all these successful people together and, I think, some overly aggressive coaches."
.@FurmanXC Wins Fifth-Straight SoCon Championships https://t.co/Sdjr61oP8u pic.twitter.com/krkSZin7dx

— Furman Paladins (@FurmanPaladins) October 28, 2017
The pieces are finally coming together for the Greenville, South Carolina, school, which hopes to qualify both its men's and women's cross country teams to the NCAA Division I XC championships for the first time in program history with a solid showing at the NCAA DI Southeast Regional today in Charlottesville, Virginia. The men made their first two appearances at NCAAs in the past three years, while the women have never qualified an entire team to the championship, but fifth-year senior Allie Buchalski became the first individual All-American in 2015.
Watch the KOLAS LIVE Selection Show today starting at 9 AM CT to follow the DI regionals and see who makes NCAAs
The squads need a top-two finish in the team standings at regionals to automatically qualify for nationals, though the FloXC No. 7-ranked men and FloXC No. 9-ranked women stand a good chance of earning at-large bids after gaining much-needed points from placing fifth and sixth, respectively, at the loaded Nuttycombe Wisconsin Invitational. The men ran aggressively from the beginning and finished just two points behind Stanford and six points behind Syracuse, the second- and third-place teams at NCAAs last year.
Watch the men's championship 8K at the 2017 Nuttycombe Wisconsin Invitational:


"We treated it almost like going to the national meet," Neal says of Nuttycombe. "It was our last chance to have a real blowout prior to regionals and nationals since we don't have a hard conference. There were some mistakes we made that cost us finishing third instead of fifth. But I thought it was good to walk out disappointed; at first, they were a little down but by the next day, they realized it wouldn't be hard to fix some things to be with Syracuse and Portland. It's not a pipe dream.
"We want to be a top-10 team (at NCAAs) and I'd be lying if I didn't say we want to have a great day and walk out with some hardware, a trophy (for top four)," Neal says.
All-American Allie Buchalski talks about leading the young Furman women at Nuttycombe:


Five years ago, when Neal, Gary, and Gary's wife, Rita, who coaches the women's team at Furman, first arrived on campus, even making the national meet sounded like a pipe dream.
In 2011, the women's team placed 15th in the NCAA DI Southeast Region championship. The men failed to tally a team score at all, as only three athletes competed in the race. Things weren't much better in 2012 -- the Garys and Neals' first year on campus -- as the women placed 17th and the men placed 18th. But check out the progression since then in the charts below.
Furman Men's Championship Season Results Since '09
| YEAR | NCAA SE Regional | Southern Conference |
| --- | --- | --- |
| 2017 | ? | 1 |
| 2016 | 3 | 1 |
| 2015 | 4 | 1 |
| 2014 | 2 | 1 |
| 2013 | 15 | 1 |
| 2012 | 18 | 5 |
| 2011 | DNF | 3 |
| 2010 | 18 | 5 |
| 2009 | 23 | 6 |
Furman Women's Championship Season Results Since '09
| YEAR | NCAA SE Regional | Southern Conference |
| --- | --- | --- |
| 2017 | ? | 1 |
| 2016 | 4 | 1 |
| 2015 | DNF | 1 |
| 2014 | 6 | 1 |
| 2013 | 8 | 1 |
| 2012 | 17 | 4 |
| 2011 | 15 | 2 |
| 2010 | 30 | 6 |
| 2009 | 23 | 4 |
"We certainly thought in five years, we'd be rockin' and rollin'," Gary says. "Though we had a lot of highlights a little bit earlier than I anticipated. We really crushed recruiting our first year and that got the ball rolling."
One thing that helped recruit kids to take a chance on a school they'd never heard of was the fact that the Garys and Neals were doing the same thing themselves. Robert had been an Ohio State Buckeye since he was an 18-year-old student-athlete. He stayed with the program as a coach while continuing to train (making two Olympic teams as a steeplechaser) and was head coach of the men's cross country team for 16 years, and head coach of the track and field program for six years.
Furman, a powerhouse academic school in South Carolina more than 500 miles away from Ohio, enticed Gary away from his Power Five alma mater thanks in part to a generous endowment from Chris Borch that allowed for the creation of a post-collegiate professional training group, Furman Elite. The 1978 alumnus and his wife Andrea have donated more than $4 million to the operating budget of the Paladins' running programs since 2005, including undergraduate scholarships, coaching endowment, and the development of Furman Elite. This September, the couple pledged another $1 million to build locker room facilities at the track.
Their first big class of recruits included Tanner Hinkle, a Michigan high school state champion who ran 14:34 for 5K as a prep, and Troy Reeder, a 4:07 miler and Ohio state champion, both of whom are currently fifth-year seniors. Their sophomore year in 2014 was the first year in school history that the team qualified for nationals. It was also the first year that Buchalski qualified to NCAAs individually.
The men placed 30th out of 31 teams with a top-five of entirely freshmen and sophomores. Buchalski, a sophomore, was 156th in the women's championship.
The next year was better. Buchalski finished seventh overall to earn her first All-American honors. The men again qualified as a team and improved from 30th to 13th, subtracting 324 points from the previous year's score as true sophomore Aaron Templeton finished just outside of All-American status.
We filmed this Workout Wednesday with the Furman men doing two-mile repeats in 2015:
It was on the bus ride home from the 2015 NCAA XC Championship that Gary first floated the idea of redshirting their top guys the following year, Neal says, to give the 'Dins a chance at a killer 2017.
But even without the services of Templeton, Hinkle, and Reeder last year, the Paladins came within one point of qualifying to the NCAA XC Championship -- Virginia beat them out for the No. 2 spot in the Southeast, 105 to 106 points. Junior Frank Lara earned an individual trip to nationals thanks to a sixth-place finish. What was more of a shock was how close the women came to making NCAAs; even without Buchalski, who was redshirting along with the top men, the freshman-heavy squad placed fourth in the Southeast with 168 points, a heartbreaking five points behind Louisville, the runners-up and auto qualifiers.
Find a better family than a Furman family - impossible!!!

They came from CA to MI to FL and everywhere in between to cheer!

TY all pic.twitter.com/Uou2MYzlFq

— FurmanXC (@FurmanXC) October 28, 2017
The unprecedented success of the women's team doesn't surprise Rita Gary at all, even when competing without Buchalski last year. Georgia standouts Savannah Carnahan and Emma Grace Hurley as well as 44-time Louisiana state champion Gabby Jennings took the reigns in Buchalski's absence.
Related: Father's Memory Drives Furman Cross Country Star Allie Buchalski

"A top-10 recruiting class is supposed to eventually become a top-10 program if we're doing our job," Rita says."And that's the natural pathway for this team. If we're a top-10 program, you're gonna get your asses to the national meet! We don't use youth as a handicap. There's some women who, when the lights come on, they shrink under pressure but these women -- they really come on and perform. To come within five points of (NCAAs last year), it was a bitter pill to swallow, for sure, but those moments of disappointment are just as important moments for the program in terms of growth. You don't want it to come easy."
I like these women. pic.twitter.com/YQ913nRpa8

— Rita Gary (@RGary2) October 10, 2017
Before the women's distance job at Furman, Rita had actually been out of the coaching game for three years after giving birth to her and Robert's son, Percy. Before that, she coached at Michigan State and Miami University. She motivates her young squad by comparing their workouts to her notes from previous teams.
"I'm trying really hard to keep them focused on the regional," she says. "I told them, 'I want you guys to know I've been looking back at this training and I've never had a team working out better,' and we're doing a lot of the same workouts from MSU. From this point forward, anything is possible. Oregon was ranked ninth heading in [to NCAAs last year and won], so anything is possible -- but also not making it is possible. So we have to stay focused."