'Let Your Mind Run': Olympian Deena Kastor Talks Mental Strength
'Let Your Mind Run': Olympian Deena Kastor Talks Mental Strength
Olympian Deena Kastor opens up about her new book, her career, and mental strength in this exclusive FloTrack interview.
Dec 23, 2017
by Hunter Sharpless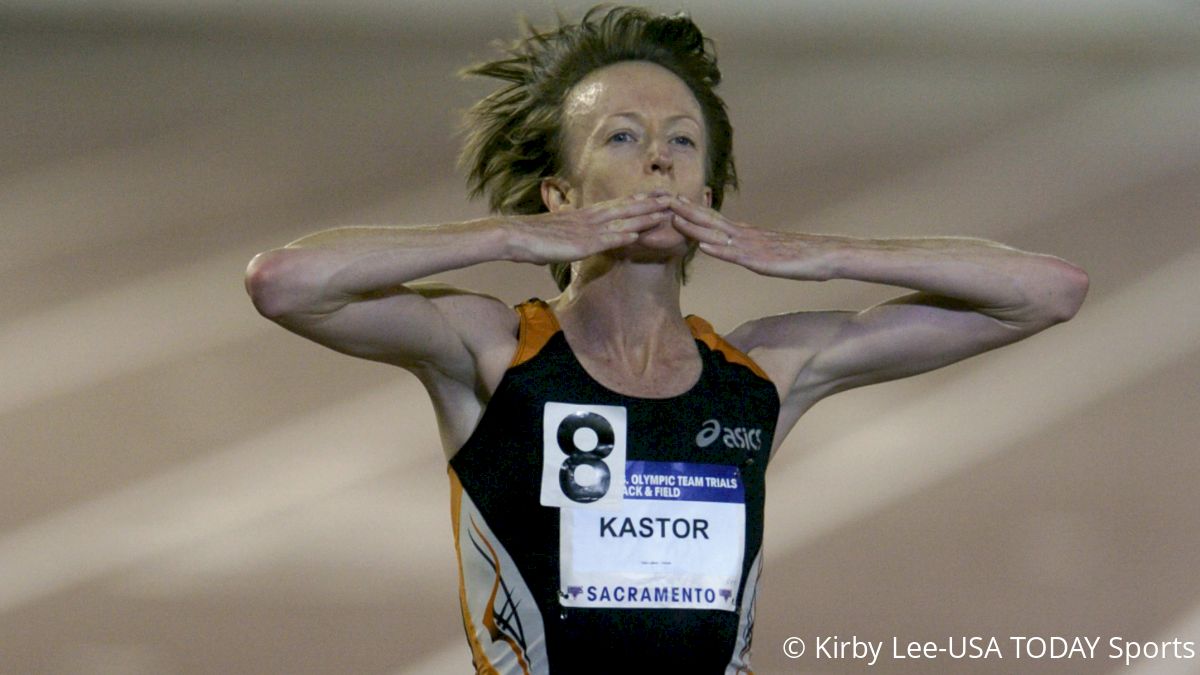 By Taylor Dutch
Olympic medalist and American record holder Deena Kastor just had one of the toughest and most rewarding years of her life — and it didn't involve that much running.
After a year spent completing her memoir, the distance standout has a newfound perspective on her mental capabilities not only as a marathoner, but as a human being.
"Let Your Mind Run: A Memoir of Thinking My Way to Victory" is set to publish on April 10, 2018, six days before Kastor is scheduled to run the Boston Marathon. The book captures the highs and lows of her 33 years of running, which have amounted to a storied career: several American records, including the full and half marathon, two world championship silver medals, and an Olympic bronze medal at the 2004 Games in Athens, to name a few.
But what makes the book particularly fascinating is the fact that Kastor details her experiences in running through a different lens: how harnessing the power of the mind helped her succeed.
"To step back and reflect on some of those bigger things that running has given me has been really rewarding and makes me go into Boston with a cherished attitude for the sport and getting to the place of struggle and pushing past it," Kastor told FloTrack. "I'm excited to honor running in a different way than I ever have in Boston after writing this."
If the Boston Marathon lineup doesn't jazz up your #MotivationMonday, I don't know what will. From the hot pace up front to the masses that follow, this marathon brings together the best of the best. #TogetherForward pic.twitter.com/AXV9DDle3E

— Deena Kastor (@DeenaKastor) December 11, 2017
As it turns out, writing the book proved to be a tougher mental exercise for Kastor than completing any of her jaw-dropping accomplishments on the roads.
"It was the hardest thing I've ever done in my life," she said. "If running helped at all, it was to teach me more endurance. I needed more of every tool that I have for running to write this book. I needed more positivity and optimism even though the book is based on that."
By recounting some of the monumental moments in her running career and the mental conditioning that helped get her there, Kastor hopes that the takeaways from her experiences can embolden readers. She was ultimately inspired to share her knowledge after learning from one of the best distance coaches in the world.
"My first professional coach, Joe Vigil, doesn't know that I dedicated the book to him yet," Kastor said. "But I did — because what he taught me over the years is the exact reason why I wrote the book, because he believed that anything that you have, whether it be time or knowledge or money or food on the table, that its true value increases the moment it's shared.
"If over the years I've learned some things through experimenting with my mentality, then the best thing that I can do with that knowledge is to share it with others so that they can also use it."
'It All Starts With Belief'
At 44 years old, Kastor has experienced nearly every level of the sport, competed on practically every international championship stage, and seen the rise of women's distance running in the United States. Thanks to numerous Americans occupying the podium at the IAAF World Championships and major marathons, 2017 was an especially groundbreaking year.
Emma Coburn and Courtney Frerichs finished one-two in the steeplechase, Amy Cragg earned a bronze medal in the marathon, Jenny Simpson took home silver in the 1500m at the world championships, Shalane Flanagan became the first American woman to win the New York City Marathon in 40 years, and Jordan Hasay made her marathon debut with a third-place finish in Boston.
In these athletes, Kastor recognizes a similar mindset to her own.
"It's been an incredible year for U.S. women's distance running, but we've seen it on the climb for awhile and it's been so exciting," she said. "So to me the fact that the U.S. female distance runners are landing on the podium at all of these championships is a testament to our depth, but it really comes back to that belief.
"They first had to believe that they belonged up there, and I think that's the beauty in it. You don't see women racing timidly anymore. They're aggressive and they're leaders at any distance and, to me, racing with that type of authority is really beautiful and inspiring to watch."
Kastor watched Flanagan's New York City victory from her hotel room, and remembered the exact moment when she knew that her friend had the victory within her grasp. She recognized that moment as yet another example of expert mental strength developed with years of practice.
"I knew she had it," Kastor said. "She looked so smooth and strong, and [Mary] Keitany actually looked like she was suffering pretty early on in the race. . . . but I think at that point once you break the field, your momentum carries you even if internally you might be struggling a little bit, and that's the whole mentality over your physical ability."
Get ordering, get inspired & practice what you learn. Pre-order your copy today from @amazon or @BNBuzz! #ReadABookDay #WednesdayWisdom pic.twitter.com/pgJQPgFW1F

— Deena Kastor (@DeenaKastor) September 6, 2017
Records Are For Chasing
According to the Boston Athletic Association, next year's Boston Marathon features the strongest U.S. elite team since the race's principal sponsorship began in 1986. The women's field includes fellow Olympians Flanagan, Desi Linden, and Molly Huddle, as well as marathon newcomer Hasay. While the Boston course may not be fast enough to break records, Kastor thinks that someone in the field could break her American record someday. The record was set when Kastor ran 2:19:36 to win the 2006 London Marathon.
When asked who she thinks could be the one to end the record's 11-year run, Kastor picked two strong candidates.
"Well Molly has already broken several of my American records so I wouldn't be surprised if it was her," she said. "I would say Jordan or Molly would be at the top of my list of people to break it. And to be honest, I don't feel like I own the record. It was Joan Benoit's [Samuelson] record that I was chasing and it was the numbers that I was chasing in the time of my life that brought out the best in me. . . . and now I hope it can draw out the best in someone else."
It's been over a decade since Kastor's record-breaking performance, and she continues to speak with the enthusiasm of an athlete who is still very much in love with the sport while also carrying the valuable perspective of someone who has not only made sense of her career but also made peace with it all.
"I think Boston is just luring me to get in really good shape," Kastor said. "I'm really excited for that. I have a huge book tour going around the country after Boston, but I think I'll probably throw in a half marathon or two later in the season just to keep my mind and body fit and sharp. That's, to me, why I continue running and why retirement has never resonated with me. Running is how I've challenged myself and even challenged my mentality to stay positive so that in life; it's easier to be positive.
"If this is my avenue to do it, then I don't ever want to give up on that," she said. "To me, this is something I'm in for life. And if challenging myself means running 2:30 in Boston or 2:26 or 2:25, and it still hasn't revealed itself yet, but you better believe that anytime I step on that starting line, I'm giving 100 percent of what I have because that's how I love to challenge my mind."