2018 Aramco Houston Half Marathon
LIVE UPDATES: 2018 Houston Half Marathon
LIVE UPDATES: 2018 Houston Half Marathon
LIVE UPDATES: 2018 Houston Half Marathon
Jan 14, 2018
by Gordon Mack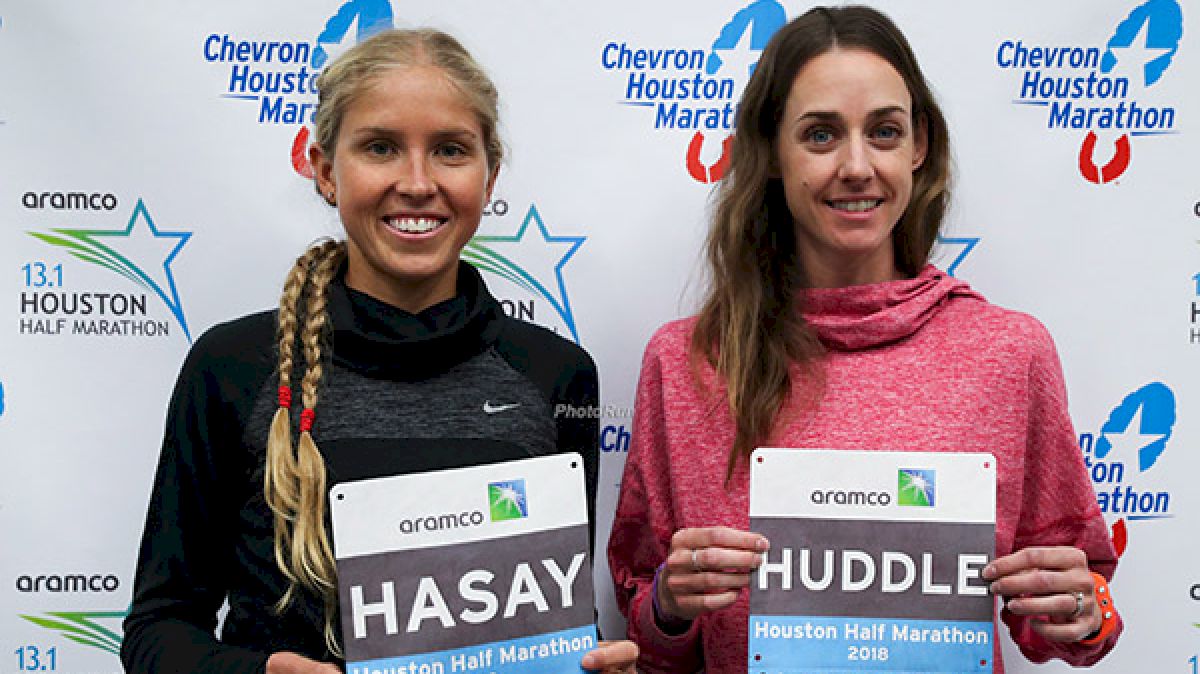 Follow along with us for mile by mile play-by-play for the 2018 Houston Half Marathon
LIVE RESULTS | FULL WOMEN'S PREVIEW | FULL MEN'S PREVIEW
The biggest storyline of the day is in the women's race, as Molly Huddle and Jordan Hasay will chase Deena Kastor's American record of 67:34.
Women's Half Marathon
The pace car for the women's half marathon will not provide splits until after Mile 3.
MILE
SPLIT
NOTES
5K
15:48.0

Huddle runs with the main pack; Hasay is 12 seconds back in 15:59; field is 4 seconds under course record pace

5
25:30.0
last mile 5:07.
10K
31:33.0
Edith Chelimo leads a pack of eight, including Huddle, who is currently on pace for 1:06:35 - which would shatter Kastor's record.
Hasay is currently in 10th, running her own race as she said she would, and on pace for 1:07:40 (32:05 split).
15K
47:28.0
Chelimo still leads a pack of seven, with Huddle tucked into sixth place and on pace for 1:06:46. Mile 19 slowed to 5:15.
Hasay has moved up to eighth with a split of 48:20/1:07:59 pace.
20K
1:03:13
Ruti Aga leads Caroline Chepkoech by three seconds.
Huddle and Hasay are in seventh (1:03:48) and eighth (1:05:02). Can Molly hang on??
FINISH
1:06:39
Aga wins in 1:06:39, 10 seconds over Chepkoech. Pre-race favorite Mary Wacera takes third in 1:06:50. Aga's winning time is just 10 seconds off the U.S. All-Comers Record, also set in Houston.
Huddle breaks the American record!!!! 1:07.25!
It appears that Huddle has also broken the American record for 20K.
Hasay places eighth in 1:08:38, two seconds faster than she ran here last year and 43 seconds off her PB.

Men's Half Marathon
MILE
SPLIT
NOTES
1
4:38
34 degrees, wind 6mph
2
4:40
1:58 projected pace
5K
14:23.0

Alex Korio and Adola Guye lead a pack of about 10-12 men.Guye's run here is particularly interesting to follow as he ran 2:03:46 at the 2017 Berlin Marathon to challenge Eliud Kipchoge and record the fastest marathon debut in world history.

10K
28:32.0

Korio and Guye continue to lead pack of 13, including Americans Sam Chelanga, Haron Lagat. Bernard Lagat, Elkanah Kibet and Diego Estrada are 16 seconds back. 43-year-old Lagat is on pace for 1:00:34, which would break Haile Gebrselassie's master's world record of 1:01:09.

15K
42:50.0
Korio and Guye lead pack of 12. H. Lagat and Chelanga are right in the thick of things in sixth and seventh and on pace for 1:00:16.
Estrada and B. Lagat are 42 seconds back with a 43:32 split/on pace for 1:01:13.
The storyline thus far has been all about the women's chances to break an American record, but the men have the potential to do some real damage today to the all-time list -- H. Lagat and Chelanga are close to Dathan Ritzenhein's U.S. No. 2 all-time mark of 1:00:00. Ryan Hall's American record is 59:43.

10
45:57
4:50 split. Jake Robertson of New Zealand moves into the lead with company only from Adola. This would be a big upset! He just recently moved up to the half marathon distance in 2017, with a PB of 60:01.
20K
56:58
The Kiwi Robertson has blown this thing open! He now leads Adola by 10 seconds and is on pace for 1:00:06.
The top American is Sam Chelanga in sixth (57:22 pace).

FINISH


Jake Robertson hangs on for the win in 1:00:01, just off his PB!
Adola takes second in 1:00:15, while course record holder and Olympic silver medalist Feyisa Lelisa places third in 1:00:20.
Chelanga finishes as the top American in sixth with a time of 1:00:37, the fourth-fastest U.S. mark of all-time.
H. Lagat breaks into the top ten in 1:01:01, the seventh-fastest U.S. mark of all-time.