BIRMINGHAM, ENGLAND (3-March) — The debate surrounding who our "next Usain Bolt" will be has clearly settled on Christian Coleman, the Georgia native who left the University of Tennessee a year early to sign a pro contract, beat the aforementioned 100m world record holder at the world championships last summer, shattered a 20-year-old world record in the 60m mere weeks ago, and turns a youthful 22 years old on March 6, three days after tonight's 60m world indoor final.
And though the comparisons will doubtless continue on for some time — the sport may never stop grieving the departure of such an outsize talent and personality as Jamaica's aptly named Bolt — Coleman is quick to shut down overly prodigious expectations or talk of ascending the throne.
"I think [there will] always be those kinds of talks just because, man, he's an icon," Coleman said of the comparisons between himself and the 100m world record holder at a press conference on Friday afternoon.
Watch the full press conference interview with Christian Coleman here.
"He's done so many things for the sport and really pushed the sport forward and, of course, he has world records. There will always be those comparisons but I want to step out.
"I don't want to be the next Usain Bolt; I want to be Christian Coleman. In a few years from now, maybe have people saying, 'Who's going to be the next Christian Coleman?'"
Bolt, too, was a green 21 years old when he broke his first world record in 2008 — that mesmerizing 9.72 at New York's Icahn Stadium.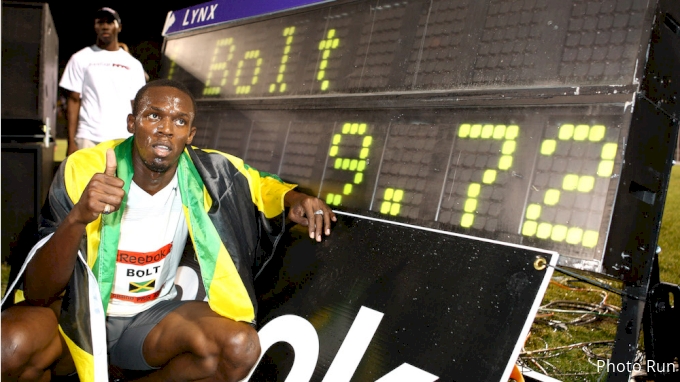 But most everything else between the two sprinters differs greatly.
Bolt was an anomaly amongst the swift-footed: a lanky mass of muscle with a 6-foot-4, 205-pound frame that gobbled up the track; Coleman, about 5-8 and 159, has the stocky, well-muscled build more typical of short sprinters.
Off the track, Coleman is thoughtful and reserved where Bolt is over-the-top and flamboyant.
In later years, Bolt was more likely to be written about in the press for his partying antics than any record-setting, while Coleman, who is still finishing his undergraduate degree at Tennessee, keeps his personal life private.
Even the 60m dash — which is as of now the young Coleman's calling card as world record holder — is a null point of reference as Bolt never competed indoors in his entire career. The winter circuit should thus provide a welcome relief from the Bolt comparisons.
But track fans and journalists just can't help themselves.
After Coleman easily won his 60m prelim this morning in 6.71, the discussion in the mixed zone quickly turned to the 100m.
"Right now, I'm just focusing on this championship and getting through the 60m," Coleman insisted, refusing to name a goal time for this outdoor season.
"Yeah, but you can understand our curiosity whether you've got any ambitions in the summer season as well to break this very formidable world record," one reporter pressed.
"I think you can understand that I'm focused on this championship," Coleman replied. "I've got a lot of people, a lot of pressure on me, so I'm gonna focus on [the] right now."
Christian Coleman assures reporters in the mixed zone that he's more interested in winning the world indoor 60m than chasing the 100m world record: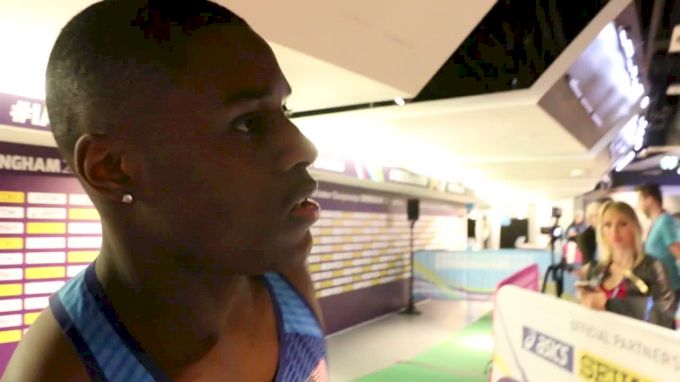 At the Friday press conference, Coleman revealed he has no daydreams of besting Bolt's 9.58 record. Or, we suppose, his 19.19 record in the 200m — though everyone always forgets to ask about that one (this reporter included).
"I think [the 100m world record is] something that's a huge reach, so I don't really focus on it," he said. "If it happens, it happens and I'll be prepared for the moment if that opportunity presents itself and I have the perfect conditions."
The thing is, there's a huge gulf between setting a world record and winning a major global championship. Most people who win world and Olympic titles do not set world records, and there are many world record holders who have struggled to win gold or even make the podium at major events.
Coleman earned his world silver last summer behind countryman Justin Gatlin and ahead of Bolt, but the prospect of a gold medal is the carrot currently dangling in his line of vision.
Follow that train of thought and it makes sense why Coleman is reticent to declare intent on breaking his own record in the 60m again tonight in Birmingham during the semifinal or final.
"I felt pretty good in practice just now," he said at Friday's press conference. "I'm really excited, it'll be the fastest race of the year, the most competition. If the world record comes, I'll take it but I'm just going out there trying to win."
Why worry about time when you already own the world record?
#USATFindoors ends with @__Coleman's 6.34 🌎 record! #MoveOverMo pic.twitter.com/iiNbrgfQl3

— USATF (@usatf) February 19, 2018
The other notable element at play in Birmingham is elevation, or lack thereof; the USATF championships, where Coleman set his 6.34 record and runner-up Ronnie Baker became the No. 3 all-time performer with a 6.40 PB, were held in Albuquerque, New Mexico, which sits at 5,312 feet above altitude.
There's no question that altitude aids sprint performances just as it hinders distance performances; the NCAA even penalizes sprint times run at altitude, though both Coleman and Baker felt they have a chance to run just as fast in the British city tonight.
"I haven't really thought about it much," Coleman said of how racing at sea level in Birmingham might affect times. "I just want to make sure at the end of the day I come out with a victory."
World record in hand, a gold medal is the next thing that Coleman needs to cement his status in the global sprint standings. Bolt be damned.
"I want to leave my own legacy and make my own trail," Coleman said. "I guess that's what my journey is about right now. It's off to a pretty good start."