2018 Stanford Invitational
Stanford Preview: Gwen Jorgensen vs. Karissa Schweizer In The 10K & More!
Stanford Preview: Gwen Jorgensen vs. Karissa Schweizer In The 10K & More!
Big name debuts in the women's 10K highlight the Stanford Invitational.
Mar 27, 2018
by Johanna Gretschel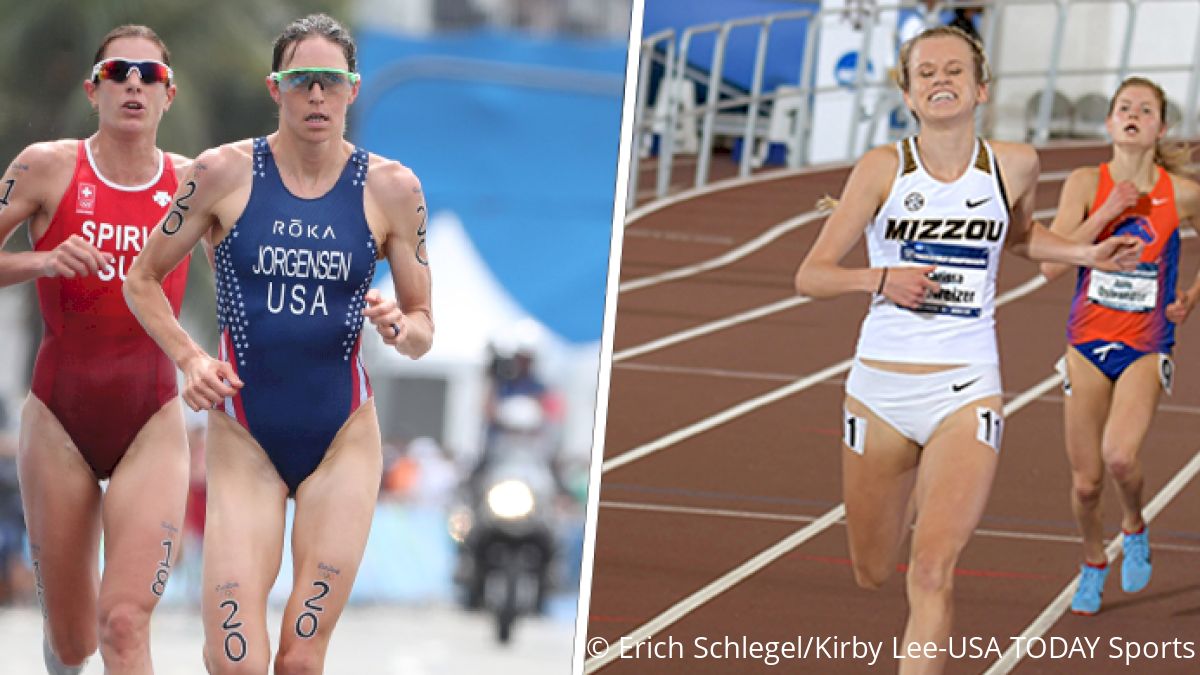 This weekend's Stanford Invitational is one of the traditional meets for NCAA athletes to earn an early NCAA preliminary round qualifier, as well as a rust-buster for those on the pro circuit. Check out the entry list here, the tentative time schedule here (subject to change), and read on for insight on top events to watch.
Watch the Stanford Invitational LIVE on FloTrack this Friday and Saturday!
Women's 10K
When: Friday, 8:50 PM PT
Who: Gwen Jorgensen, Karissa Schweizer, Katie Rainsberger, Sharon Lokedi, Alice Wright
Analysis: The Stanford women's 10K comes with plenty of intrigue, as three of the sport's most promising stars are making their official debut in the distance: Gwen Jorgensen, the Rio Olympic triathlon champion who ran 15:15 for 5K six months after giving birth to her first child; Karissa Schweizer, the five-time NCAA champion for Missouri and current collegiate queen of distance running; and Katie Rainsberger, Oregon's All-American star sophomore who redshirted the indoor season.
There are also two experienced 10K runners at the NCAA level in the mix, with Alice Wright of New Mexico and Sharon Lokedi of Kansas, who placed second and third, respectively, in this event at the 2017 NCAA Outdoor Championships.
Jorgensen, who has spent the past few months training with marathoner Shalane Flanagan and the rest of the Bowerman Babes, is taking the next big step up in distance in her ultimate goal to represent the U.S. on the 2020 Olympic marathon squad. It will definitely be interesting to see how the former triathlete's endurance matches against the younger, speedier women in this group. The 31-year-old has raced a 10K on the track just once, a 33:38.38 in 2009.
Watch Gwen Jorgensen's 15:15 5K at the Husky Classic: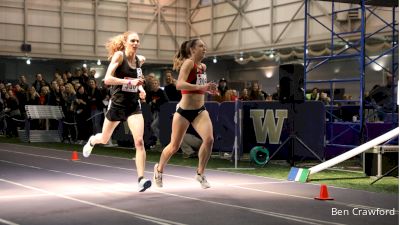 Unlock this video, live events, and more with a subscription!
Get Started
Already a subscriber? Log In
Schweizer's choice to race the 10K here is interesting; depending on how things go, might she consider the 5K/10K double at NCAAs? A double-double—she pulled off the 3K/5K win indoors—would certainly cement her legacy as one of the best-ever in NCAA history.
Rainsberger's appearance here is also intriguing, given her success in the 1500m last year. As a true freshman, she placed fourth at NCAAs, made the U.S. final, and set a PB of 4:09.08. Her last race was a 16th-place run at NCAA XC, and while it's entirely possible that she's just here to help pace, an Oregon press release made it seem like she'll be in Palo Alto to race.
Men's 10K
When: Friday, 9:28 PM PT
Who: Justyn Knight, Lopez Lomong, Gilbert Kigen, Vincent Kiprop, Alfred Chelanga, Hassan Abdi, Peter Lomong, Dillon Maggard, Emmanuel Roudolff-Levisse
Analysis: Syracuse's reigning NCAA XC and indoor 5K champion Justyn Knight is racing the second track 10K of his life this weekend in Palo Alto. The first was a third-place, 29:46.41 finish at the 2016 ACC Championships, his sophomore year.
Knight will be facing several of the top long-distance runners in the NCAA, including Alabama's trio Alfred Chelanga (28:04 PB), Vincent Kiprop (28:19 PB/seventh at NCAA XC), and Gilbert Kigen (29:33 PB/fourth at NCAA XC). There's also Hassan Abdi of Oklahoma State, who boasts a 28:54 PB and Portland's secret weapon, Emmanuel Roudolff Lévisse, who has run 29:08 and placed 11th at NCAA XC.
Dillon Maggard of Utah State, one of the most versatile guys in the collegiate system, is making his debut over 10K after placing fifth in the 3K and DMR at NCAA Indoors, the latter of which he boasted the race's fastest anchor leg (3:56.53).
Brothers Lopez and Peter Lomong are both making their career debuts in the 10K. The elder Lomong, Olympic finalist and two-time NCAA individual champion Lopez, has run 13:07 for 5K (at the time, an American indoor record). Peter, whose surprise top-10 finish helped NAU win their second straight NCAA XC team title, has run 14:09 for 5K.
Men's 5K
When: Friday, 8:34 PM PT
Who: Craig Lutz, Tyler Day, Edwin Kurgat, Luis Grijalva, Cooper Teare, Carlos Villarreal, Shota Onizuka, Hayato Seki, Yared Nuguse, Alex Monroe
Analysis: Northern Arizona's Tyler Day, third at NCAA XC, returns to the track in uniform after redshirting the indoor season, during which he placed ninth in the USATF Indoor 3K and then ate a lot of pizza.
"If I can crush a 3K after falling down in the middle, then I can damn well crush this whole pizza" - @xcdayman42 verbatim, basically #USATFindoors pic.twitter.com/EQRHmdAHtU

— FloTrack (@FloTrack) February 18, 2018
He'll contend with a slew of mid-13:30s pros like Craig Lutz of HOKA ONE ONE, Alex Monroe of Boulder TC, and David Elliot. Japanese duo Shota Onizuka and Hayato Seki of Tokai University have also run 13:35 in the past calendar year.
Notable collegiates in the race include Notre Dame's walk-on freshman Yared Nuguse, who shocked the NCAA with an absurd 3:56 split to anchor the Fighting Irish DMR squad to runner-up honors. True freshmen Luis Grijalva of NAU and Cooper Teare of Oregon will also be making their collegiate debuts in the 5K.
Women's 5K
When: Friday, 8:15 PM PT
Who: Allie Ostrander, Sharon Lokedi, Lilli Burdon, Jessica Hull, Aisling Cuffe, Nikki Hiltz, Hannah Debalsi, Katherine Receveur, Brie Oakley, Alice Wright, Taylor Werner, Lauren LaRocco, Grayson Murphy
Analysis: After fighting Karissa Schweizer all the way to the line in the NCAA Indoor 3K, Boise State's Allie Ostrander said she looked forward to chasing a fast time in the 5K this spring. Her PBs in the event date back to 2016, when she ran 15:21 indoors and 15:24 outdoors at the Olympic Trials as a true freshman. Ostrander, the reigning NCAA champion in the steeplechase, is entered in both the steeple and 5K.
The competition here includes a who's who of the collegiate scene, including the event debut for Arkansas's 1500m-specialist Nikki Hiltz, who, interestingly enough, said after an indoor 3K at UW that she hoped never to race that long again.
Sharon Lokedi of Kansas is entered in both the 5K at 8:15 PM and the 10K at 8:50 PM and is likely pacing one, or planning to choose one event closer to race day.
Women's 3K Steeplechase
When: Friday, 5:22 PM PT
Who: Allie Ostrander, Grayson Murphy, Lizzie Bird, Ella Donaghu
Analysis: The Stanford Invitational steeplechase was Allie Ostrander's event debut last year, and her 9:55 win boded well for the rest of the season as she lowered her PB to 9:41 to earn her first NCAA title in the event in June. This weekend, she's entered in both the steeple (5:22 PM) and the 5K (8:15 PM), which is a possible (but tough) double to pull off. She may choose one race and help rabbit the other.
Watch Allie Ostrander's steeplechase debut at the 2017 Stanford Invitational: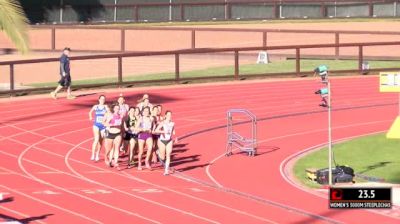 Grayson Murphy of Utah, fifth in the 2017 NCAA steeplechase final and eighth at NCAA XC, is also scheduled for the steeple/5K double. Her respective PBs are 9:53 and 15:44.
Women's 1500m
When: Friday, 6:31 PM PT
Who: Amy-Eloise Neale, Erin Teschuk, Lindsey Butterworth, Jenna Hinkle
Analysis: Washington All-American Amy-Eloise Neale, whose stunning kick at the end of the 2017 NCAA XC Championships netted her runner-up honors and her best-ever NCAA finish, headlines the 1500m with her 4:11 PB. With pros like Canada's Erin Teschuk and Lindsey Butterworth in the mix, both of whom have run 4:14, as well as UC Santa Barbara's Jenna Hinkle, who enjoyed a breakout race here last year with a 4:16 heat victory, the fast section here should be unpredictable and likely quick.
Men's 1500m
When: Friday, 6:50 PM PT
Who: Drew Hunter, Sean McGorty, David Ribich, Reed Brown, Sam Prakel, D.J. Principe
Analysis: This race is incredibly tough to call. Top entrants include young adidas pro Drew Hunter, who returns to the track for the first time since winning the 2017 Sir Walter Miler in 3:57.32; Sean McGorty, Stanford's fifth-year senior who raced just once in 2017 and most recently ran on the Cardinal's fourth-place DMR at NCAAs; Oregon duo Sam Prakel and Reed Brown, who were third and eighth, respectively, in the NCAA indoor mile final; prep four-flat miler D.J. Principe, who is making his collegiate debut for Stanford; and the fearless David Ribich, the reigning NCAA DII 1500m champion who might just win the whole thing.
Men's 800m
When: Saturday, 2:51 PM PT
Who: Harun Abda, Nijel Amos, Drew Hunter, Abraham Alvarado, David Ribich, Chris Low
Analysis: Nijel Amos, the 2012 Olympic silver medalist and world junior record holder for 800m (1:41.73!), is on the up-and-up according to a nice Register-Guard profile published last week. He and his Oregon TC Elite teammate, Harun Abda, enter this weekend with wins from the Aztec Invite, where Amos won the 400m in 45.94 and Abda won the 800m in 1:49.36, more than a second ahead of the field.
Drew Hunter of adidas and David Ribich of Western Oregon are scheduled to double back from Friday night's 1500m.
Chris Low of Brooks, also entered, won this race last year in 1:47.11, the first of a string of personal bests in 2017 that saw him run 1:46.4 by season's end. This race will be his debut in 2018.