Is This The Year Of The 200? Another Top 5 Half Marathon Performance
Is This The Year Of The 200? Another Top 5 Half Marathon Performance
Steven Gardiner's 19.75 in the 200m over the weekend signals that we may be in for a banner year in the event.
Apr 9, 2018
by Kevin Sully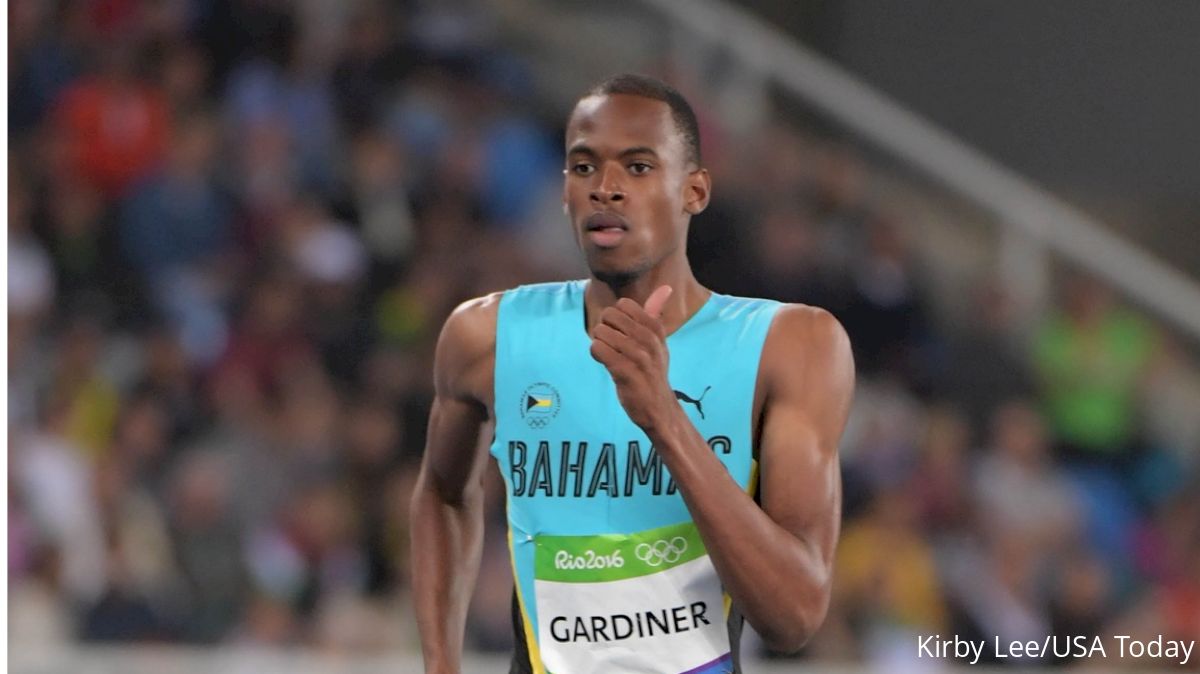 The combination of the busy schedule last weekend and the in-progress Commonwealth Games meant it was a light week for the pros. The most impressive result of the weekend on the track came from Steven Gardiner of the Bahamas. The 400m specialist raced a 200m in Miami and turned in a time of 19.75. That knocked 0.45 seconds off his prior PB (from last weekend) and set a Bahamian national record.
Gardiner hasn't run many 200s in his career, and his 400m personal best of 43.89 certainly indicated he was capable of something quick. But a time this fast this early is a real surprise. It also drives home the point that the 200m in 2018 is already better than it was in all of 2017. Gardiner's 19.75 and Clarence Munyai's 19.69 are both faster than the best time from 2017, Isaac Makwala's 19.77.
Is this an aberration, or are we going to see a 200m renaissance this year? It could be both.
Last year was a particularly slow year. The times at the world championships weren't quick in most events, and some of the best 200m runners in the world didn't seriously contest the event late in the season.
Actually, most of the best runners—Andre De Grasse, Usain Bolt, Christian Coleman, LaShawn Merritt, Noah Lyles, and Justin Gatlin—were all absent from the 200m at the world championships for a variety of reasons. Throw in the fact that in the Bolt era most of the attention throughout the season went to the 100m, and you get a year where the best time is only 19.77.
That said, 2018 looks promising even if you look beyond 2017. Munyai and Gardiner aren't mainstays in the event, so the fact that they are going well under 20 seconds early in the season is a good sign for the event. A look at the last 10 years of results shows how strange it is for two men to run 19.75 or faster at the beginning of April.
| | |
| --- | --- |
| Year | # of athletes 19.75 or faster |
| 2018 | 2 |
| 2017 | 0 |
| 2016 | 2 |
| 2015 | 2 |
| 2014 | 1 |
| 2013 | 1 |
| 2012 | 2 |
| 2011 | 3 |
| 2010 | 3 |
| 2009 | 2 |
| 2008 | 1 |
We won't know how good the event will be until we get into the Diamond League season and see how many of the runners listed above (Bolt not included) decide to run a 200m. Its placement between sprinting events means that it often gets overlooked by both the 100m specialists and the 400m runners. Wayde Van Niekerk paid attention to the event last year with good results, and Gardiner's race on Saturday shows that 400m runners are equipped with enough speed to put up a top time. Perhaps that will drive more 400m runners to race it with regularity.
The brilliance of Bolt in the event won't be matched, at least not this year. But in his absence, the 200m can counter with depth—multiple men racing the distance consistently.
In other sprinting results, Akani Simbine won the Commonwealth Games 100m on Monday morning in a time of 10.03. His South African teammate Henricho Bruintjies took second in 10.17, and Yohan Blake placed third in 10.19. In the women's race, Michelle-Lee Ahye of Trinidad & Tobago ran 11.14 for gold, while Jamaicans Christania Williams and Gayon Evans ran 11.21 and 11.22 for second and third.
The men's 5000m was the highlight of the distance races thus far in Australia. On Sunday, Joshua Cheptegei of Uganda won a tactical men's 5000m, running the last mile under four minutes and taking gold in 13:50.83. Mohammed Ahmed of Canada (and the Bowerman Track Club) was second in 13:52.78. Edward Zakayo of Kenya rounded out the medals, while University of Wisconsin's Morgan McDonald took eighth for Australia.
Uganda's Joshua Kipriu Cheptegei is the 5,000m Commonwealth Games champion.

? https://t.co/IYoHOO0JSQ#GC2018 #bbcgoldcoast pic.twitter.com/9DdGh6I9fp

— BBC Sport (@BBCSport) April 8, 2018
On The Roads
At the Cherry Blossom 10-Miler in Washington, D.C., Jemal Yimer and Buze Diriba won the men's and women's races. Chris Derrick and Emma Bates turned in the best American performances with Derrick running 46:52 for fifth and Bates putting up a 54:44 in seventh. In his first race back from Australia, Matthew Centrowitz ran 50:38.
In Prague, Joan Melly Chelimo of Kenya gave the half marathon world record a serious scare before ultimately finishing in 1:05:04. That is the fifth-fastest time ever in the event. But check out these splits:
Joan Melly sizzled to 1:05:04 victory at today's #PragueHalf. She was off on a tear, hitting 5k in 14:51(!) and 10k in 30:14. Benard Kimeli was the men's winner in 59:47 Report: https://t.co/94F7zKP5av pic.twitter.com/Gohe25uUQo

— IAAF (@iaaforg) April 7, 2018
That is 1:02:45 pace for the first 5K and 1:03:52 pace through 10K. Chelimo's time means the six fastest performances ever in the event have all come from 2017 and 2018.
At the Paris Marathon, Iowa State grad (and former Bowerman Track Club member) Betsy Saina won the women's race in 2:22:55. Saina did not finish in her two previous attempts at the distance, but on Sunday she beat Ruth Chepngetich by four seconds to take the victory.
After NYC Half, @bcsaina said:- "I hope Paris will be my breakthrough."

Today after #Parismarathon victory clocking 2:22:56 @bcsaina said:- "Marathon! Finally figured out how we can be buddies. Great feeling to cross the finish line . I am humbled."

Pongezi dada!! ??? pic.twitter.com/Up1GllV6p5

— Katami Michelle (@MichKatami) April 8, 2018
In the men's race, Paul Lonyangata ran 2:06:25 to best Matthew Kisorio's 2:06:36. Kisorio failed a doping test in 2012 and was suspended from competition for two years.