2018 Boston Marathon & B.A.A. 5k/Mile
Desi Linden Wins The Boston Marathon, Ends 33-Year American Title Drought
Desi Linden Wins The Boston Marathon, Ends 33-Year American Title Drought
Desi Linden ran 2:39.54 to win the Boston Marathon, the first American woman to do so since 1985.
Apr 16, 2018
by Johanna Gretschel
Desi Linden won the Boston Marathon today in 2:39.54, effectively ending the 33-year title drought for American women. The last U.S. woman to win the country's oldest marathon was Lisa Rainsberger, who claimed the Boston crown in 1985.
The conditions in Boston were among the worst in race history—the temperature at race time was 38 degrees (31 degrees with the windchill) with heavy rain and 10mph gusts.
"I don't have the right words," Linden said immediately after the race on the television broadcast. "I'm thrilled; it's supposed to be hard and I just want to thank John Hancock and the B.A.A. for giving me a chance year after year and believing in me when I didn't believe in myself."
DESI!!!!!!!!! pic.twitter.com/1inPQqjsi8

— FloTrack (@FloTrack) April 16, 2018
The Michigan native, who represents the Hansons-Brooks Distance Project, is known as a gritty runner and was favored by some when the weather forecast turned south. But still, she was far from the favorite in a deep field that included Shalane Flanagan, the 2017 New York City Marathon champion; Jordan Hasay, the second-fastest women's marathoner in U.S. history who withdrew from the race last night; Molly Huddle, a 26-time U.S. champion and American record holder in the half marathon; as well as an international field led by defending champion Edna Kiplagat of Kenya and including course record holder Buzunesh Deba of Ethiopia.
Linden did not take the lead until mile 22, but from there it was no contest as she ultimately won by five minutes over Sarah Sellers of the United States and Krista Duchene of Canada, who ran 2:44:04 and 2:44:20, respectively, for second and third.
The first half of the race saw various lead changes as the athletes actively did not want to lead and tried to draft off each other. The women did not run under six minutes for a mile split until the fourth mile when Mamitu Daska of Ethiopia led the group through in 5:51, unofficially.
Fellow Ethiopians Deba and Aselefech Mergia also spent significant time at the front during the first half of the race.
Click here for mile-by-mile play-by-play of the 2018 Boston Marathon.
Linden said that around Mile 6, she had thoughts of dropping out of the race and communicated this to Flanagan, saying also that she would help her fellow American out if needed.
Linden talks about when she told Shalane Flanagan she might drop out: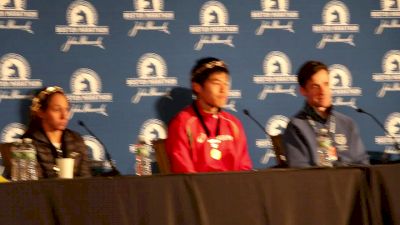 Flanagan took her up on that a few miles later, when she pulled off the course during Mile 11 to use the port-a-potty.
Shalane Flanagan communicates with fellow Americans Serena Burla, Desi Linden, then pulls off the course to use the porta potty just after Mile 11 #BostonMarathon pic.twitter.com/gR0MAYXeQl

— FloTrack (@FloTrack) April 16, 2018
Linden and another American, Serena Burla, slowed their pace and dropped back from the leaders; when Flanagan reappeared from the bathroom, Linden ran with the reigning NYC Marathon champion to make their way back up to the front. Burla--the only athlete in the front to wear a crop top and racing buns (most everyone else wore jackets)--stopped at an aid station, grabbed a plastic bag and wrapped it around her body as a makeshift poncho.
The lagging pace up front made it possible for Linden and Flanagan to rejoin the scrum fairly easily; Kiplagat led the group through mile 12 in 1:13:11 with a 12th-mile split of 6:13.
But the half marathon mark is where Daska chose to make her move: She split 1:19:41 and, within the next mile, put a 14-second gap on the field. She lengthened the lead to an excess of 20 seconds over the next few miles, as Gladys Chesir of Kenya, Kiplagat, and Linden formed a chase pack and the other top Americans, Huddle and Flanagan, fell back.
By mile 17, Chesir and Linden dropped Kiplagat and held steady in their quest to cut into Daska's 20-second lead.
It was Heartbreak Hill just after 20 miles where Daska's reign would end. Before the hill, Daska led Chesir by 17 seconds; Linden was another eight seconds behind Chesir.
The dramatic scene on Heartbreak Hill.

Daska is just six seconds up on Gladys Chesir, with Desi Linden trailing #BostonMarathon pic.twitter.com/r69NSSS0AQ

— FloTrack (@FloTrack) April 16, 2018
In a matter of moments just before 35K, Chesir passed a now visibly fatigued Daska but was almost immediately surpassed by a surging Linden.
DESI LIDEN IS LEADING THE RACE!!!!! #BOSTONMARATHON pic.twitter.com/B1NZRquq40

— FloTrack (@FloTrack) April 16, 2018
Linden did not run under six minutes again for the rest of the race—her finish time was the slowest winning time in 40 years—but it didn't matter, as Chesir and Daska had no answer to the surge and, in fact, neither woman would finish the race.
By the time she rounded the curve to Boyleston Street, it was clear that on her sixth try, Linden had won the Boston Marathon.
Desi Linden (@des_linden) at the Boston Marathon

2007: 18th, 2:44:56
2011: 2nd, 2:22:38
2014: 8th, 2:23:54
2015: 4th, 2:25:39
2017: 4th, 2:25:06
2018: 1st, 2:39:54#BostonMarathon pic.twitter.com/qUmFoWRl9L

— FloTrack (@FloTrack) April 16, 2018
Flanagan finished seventh in 2:46:31, Kiplagat was ninth in 2:47:14, and Huddle placed 14th in 2:50:28.