2018 Boston Marathon & B.A.A. 5k/Mile
After Winning The Boston Marathon, Yuki Kawauchi Heads Back To The Office
After Winning The Boston Marathon, Yuki Kawauchi Heads Back To The Office
Yuki Kawauchi's unconventional approach to the sport was exactly what was needed to take victory in Monday's 2018 Boston Marathon.
Apr 19, 2018
by Kevin Sully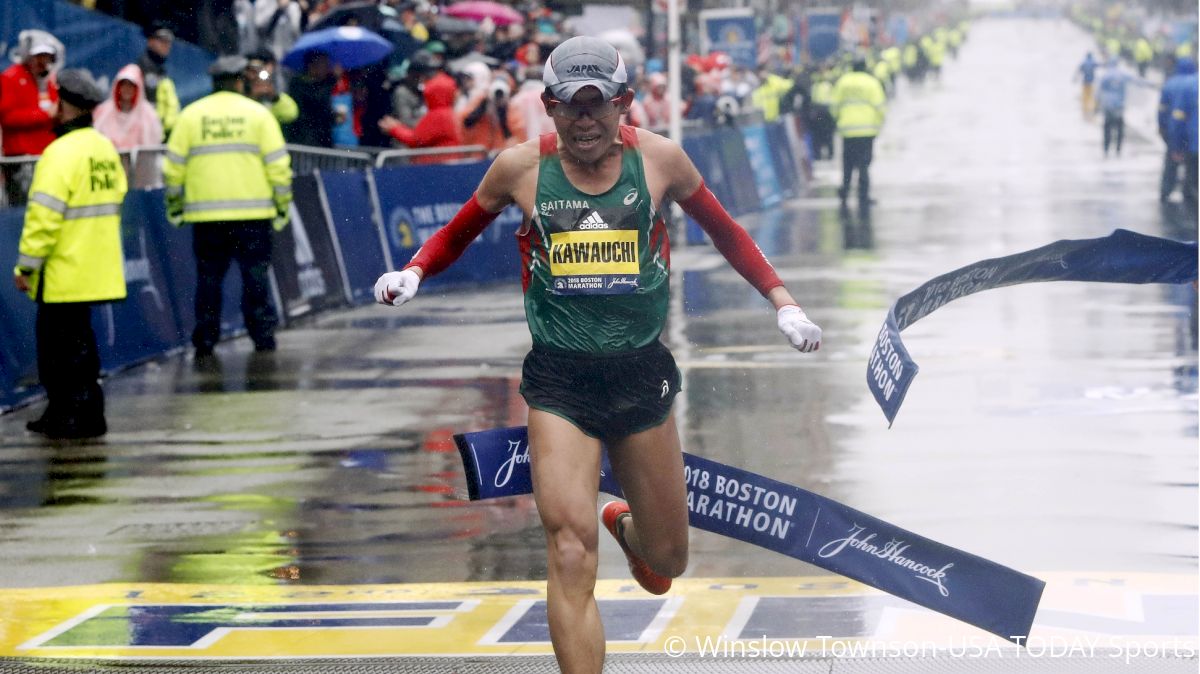 In the midst of the post-race parties on Monday night, Yuki Kawauchi had a call to make. The surprise winner from Japan had been Boston Marathon champion for less than 12 hours but was concerned about work obligations back home. Kawauchi's victory meant that he was scheduled to attend the Tuesday-morning press conference in Boston, delaying his travel back to Japan.
So, like anyone with a job and a boss, he had to ask permission for the extra day off.
Kawauchi stepped into the bathroom at the Red Lantern restaurant in downtown Boston and phoned the principal of the high school where he works in the administrative office. It was Tuesday morning in Tokyo, with news still spreading that Kawauchi had pulled a massive upset in the men's race, becoming the first Japanese man to win the Boston Marathon since 1987. The principal said that, yes, Kawauchi could stay for the press conference the next morning.
That settled, he went back to the party.
"I know it doesn't sound true, but it is," said Brett Larner, Kawauchi's manager.
Much of what Kawauchi does fits that description.
Think about it for a second—because government employees in Japan aren't allowed to take sponsorship money, Kawauchi, who just won the Boston Marathon against a field of the world's best, hasn't seen a dollar of professional support.
Not until he returned to Japan after Boston did Kawauchi announce his plans to retire from his job at the end of the fiscal year, freeing up his schedule and his ability to earn sponsorship money.
And, like everything else he's done throughout his career, Kawauchi is dictating the professional turn of his career on his own eccentric terms. This is still the man who has raced in a panda costume, in a three-piece suit, the same guy who logs about 10 marathons per year—a schedule that defies human physiology.
In the end, the reason for running for the Japanese star remains the same.
"I run a lot of races because I love to run races," Kawauchi said through Larner's translation.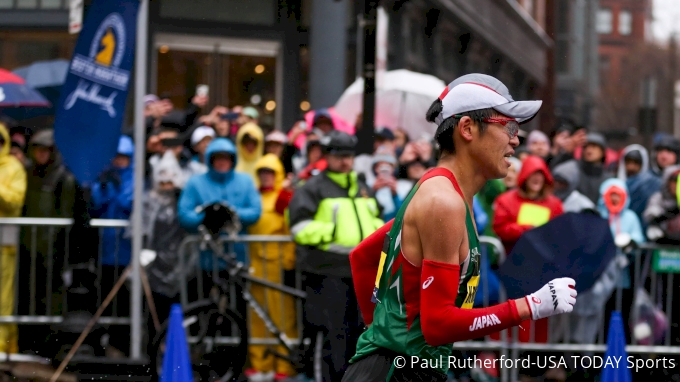 According to Larner, sponsorship wouldn't have been a good fit for Kawauchi in the past anyway, with teams in Japan placing stringent demands on when and where athletes compete. But Kawauchi, of course, relishes running a lot—in 2018 Kawauchi had already run three marathons and three half-marathons. He does this in part because he trains alone, and racing allows him to run with others.
Instead of training as a sponsored pro, then, Kawauchi goes to work from noon to nine at the high school five days a week.
In the past, all of these facts—the day job, the endless racing schedule, the panda suit—made him a fascinating part of elite running culture, a novelty of sorts. But they also seemed to disqualify him from any serious discussion of winning a major marathon.
"I think there was not a single person in Boston who thought I'd win this today," Kawauchi said.
That's not hyperbole.
This was not an athlete trying to play the role of underdog to build a narrative. Though Kawauchi has placed in the top 10 in major marathons before, the quantity of his racing always made him stand out. Any mention of him in pre-race previews was accompanied with the obligatory, "who competed in _____ marathons last year." In every metric—personal bests, major marathon finishes—Kawauchi was far behind the favorites heading into Boston.
But when the weather devolved, he was the perfect candidate to take advantage.
In the worst conditions on record in Boston—so cold and wet that many elite runners were treated for hypothermia—the race demanded someone who was calloused for the preposterous onslaught of rain, wind, and cold. This race demanded someone who loved competing enough to endure the pain for 26 miles. Kawauchi's experience may not have made him a candidate to win on a crisp day in London or Berlin, but on Monday in Boston, the conditions were exactly what was needed.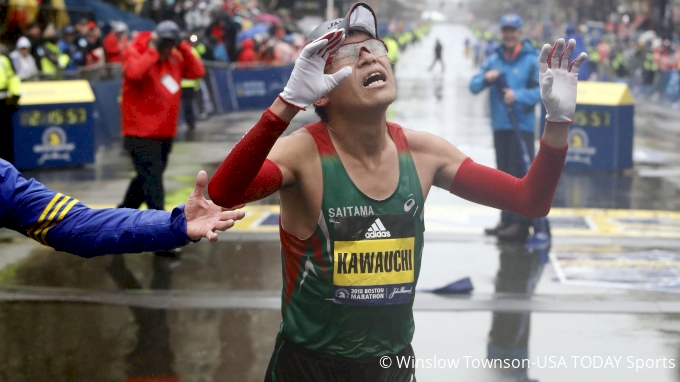 On January 1 of this year, Kawauchi competed in the Marshfield New Year's Day Marathon in Marshfield, Massachusetts, in an attempt to break the record for most sub 2:20 marathon performers. It was 1 degree Fahrenheit at the start. Three runners started the race—literally three runners total— Kawauchi finished in 2:18:59, his 76th time under 2:20.
But what looked to be a gimmick (what elite runner spends their time racing against nobody in the dead of winter?) was the perfect preparation for Monday. It was exactly the type of race that an unsponsored, passion-fueled Kawauchi gets to run.
"That (racing in Marshfield) gave me a little bit more experience to be ready for this," Kawauchi said. "I think the conditions were instrumental in being able to win."
Monday's race looked to be a rematch between Geoffrey Kirui and Galen Rupp, the two runners who finished first and second last year. If not them, then someone from the group of Kenyans or Ethiopians would surely emerge. But when the forecast showed no signs of mercy, Kawauchi knew he had his chance.
"This is the day you were born for," Larner told Kawauchi on Monday morning.
Kawauchi's approach to the race on Monday was as unconventional as the rest of his running. The conditions begged for a conservative early pace into the headwind. Instead, Kawauchi exploded to the front, running the first mile in 4:37.
"I knew it was going to be cold so the race would probably be quite slow, and I didn't want there to be too many people so I wouldn't know who was in the lead group," Kawauchi said
"It wasn't to get on TV," Larner said of the strategy to get out fast. "It was by design."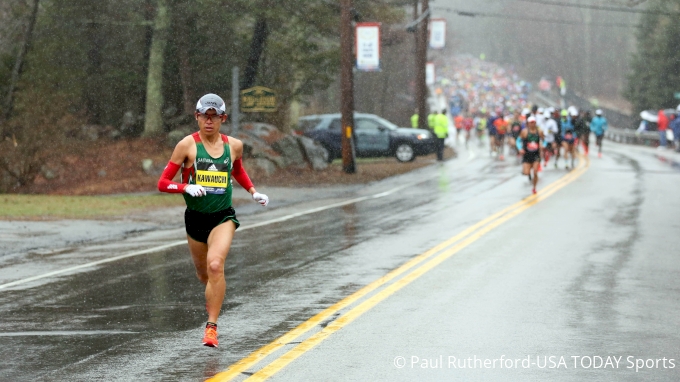 After five kilometers the pack had caught up, but Kawauchi wasn't done. He made surges again at miles 12 and 15, neither time able to break free. Kawauchi looked to be inviting a DNF.
At mile 17, Kirui pushed to the front and broke up the pack. He ran the 19th mile in 4:50, increasing his lead to 200 meters. By mile 21, Kawauchi had moved into second place, but he was more than 80 seconds behind Kirui.
"I tried to keeping moving until Kirui came back into sight," Kawauchi said.
The Kenyan came more into focus after a 24th mile of 5:31. It was clear that Kirui was vulnerable. With just over one mile remaining, Kawauchi flew past Kirui and into the lead. In the chaos of the finish, Kawauchi didn't notice he was in first.
"When I came to the home straight I wasn't sure, but at the technical meeting they had told us the volunteers would wave the winners to the right and everybody else to the left and they all started flagging me to the right so I was like, 'OK I've got it,'" Kawauchi said.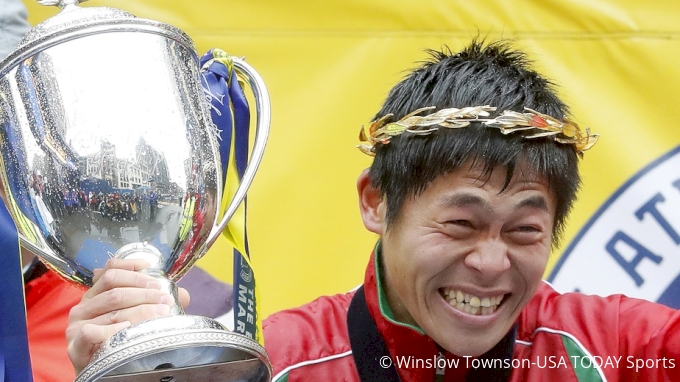 After the race, Kawauchi shined. His self-effacing answers to the media brought laughs. When he arrived at the post-race party he showed his ticket for admission, unaware that everyone involved with the race already knew his face.
As a whole, Monday will be remembered as a day the weather turned the Boston Marathon on its head. Kawauchi's winning time of 2:15:58 was the slowest time in the last 42 years. In the men's and women's fields only three East African elites finished. Regular runners beat national champions. Spanish teachers and nurses finished ahead of athletes sponsored by major shoe companies. And a man whose career has been characterized by defying logic outdid himself entirely.
After his announcement on Thursday about his decision to leave his job, Kawauchi went to work at Kuki High School in Tokyo $150,000 richer—but back at the office nonetheless. He will work full days on Thursday and Friday before traveling to race in Sunday's Gifu Seiryu Half Marathon. Six days after winning the most brutal major marathon on record, because he loves to run races, Kawauchi will return to another start line.
As if nothing had changed.