Rhonex Kipruto Breaks U.S. All-Comers 10K Record In 27:08 At Healthy Kidney
Rhonex Kipruto Breaks U.S. All-Comers 10K Record In 27:08 At Healthy Kidney
The 18-year-old Rhonex Kipruto broke the U.S. all-comers record for 10K today with a blazing 27:08 winning time at the UAE Healthy Kidney 10K.
Apr 29, 2018
by Johanna Gretschel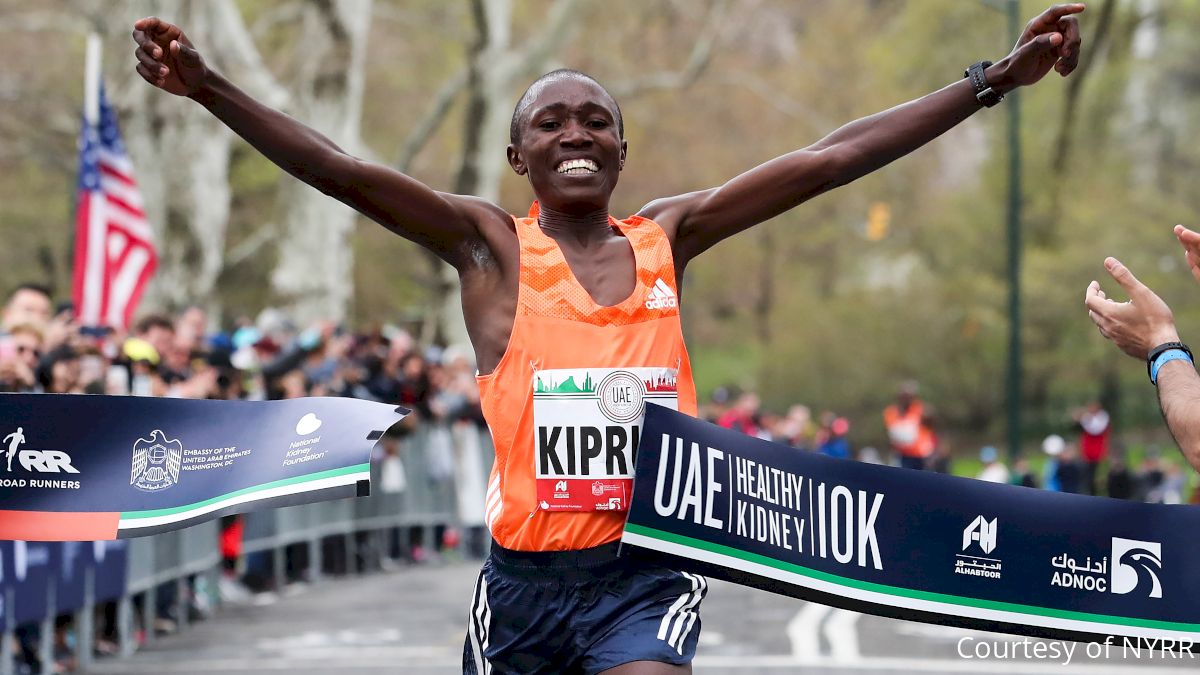 By Rich Sands, @sands
(c) 2018 Race Results Weekly, all rights reserved
NEW YORK (29-Apr) -- Rhonex Kipruto and Mathew Kimeli came into today's UAE Healthy Kidney 10-K here with one thing on their minds: taking down the Central Park record for 10-K, the 27:35 standard set by Leonard Patrick Komon at the same race in 2011. Kipruto, an 18-year-old Kenyan, out-dueled his training partner and best friend, smashing the record with a 27:08, the fastest 10-K ever on a record-eligible course on U.S. soil. He also obliterated the world best for 8-K en route, splitting 21:45 (certified split). Buze Diriba of Ethiopia, the recent United Airlines NYC Half champion, won the women's race in 32:04, two seconds ahead of countrywoman Aselefech Mergia.
With a USD $30,000 bonus on the line for the record (to go with USD $10,000 for first place) in the New York Road Runners-sponsored event, there was more than enough incentive, so the two young Kenyans bolted off the line and set a searing pace in cool, comfortable temperatures (9C/49F). By the time they ran the mostly uphill first mile in 4:31, there was just one other runner on their heels, unseeded Fikadu Girma Teferi, an Ethiopian attached to a local running club. Teshome Mekonen of Ethiopia trailed about 10 meters back, followed by Kenyan Edwin Soi, the 2008 Olympic bronze medalist in the 5000 meters.
Kipruto and Kimeli pressed the pace up the East Drive of the park, with Kipruto frequently running ahead as they cut the tangents on the roadway with laser-like focus. The pair, who train in Iten, Kenya, under famed coach Brother Colm O'Connell, passed two miles in 8:46 (thanks to a blazing 4:15 split) and continued to push up Harlem Hill to hit 3-miles in 13:09 (4:23 split). By the 5-K mark (13:39) the course record was in serious jeopardy.
Approaching 6-K, Kipruto, who came into the race with a personal best of 27:13 from the Birell Grand Prix in Prague last September, began to open up a gap on Kimeli. Despite a series of rolling hills during this segment of the race, he reached 4-miles in 17:37 (4:28) and had built a 15-meter lead. "The hills were tough," Kipruto said after the race, making a waving motion with his arm to simulate the relentlessly undulating portion of the course. "It was a real challenge out there."
As the road started to descend into the lower portion of the park, Kipruto kept his foot on the gas, blowing through the 8-K mark in 21:45, well under the 22:02 world best set by Stephen Sambu in Boston in 2014. Passing 5-miles in 21:51 off a 4:14 split, the world record (Komon's 26:44 from 2010) seemed in reach. Alas, Kipruto, now almost 50 meters clear of Kimeli, lost ground on that standard, clocking 26:18 at 6-miles (4:27). The course record, however, was clearly about to become history.
Kipruto broke the tape in 27:08, superior to both the USATF (27:11) and ARRS (27:19) ratified U.S. all-comers records. "I didn't think I was going to win," the soft-spoken teenager said. "I thought it would be Mathew, but at 6-K I knew I was running alone and I wanted the record, so I continued to run hard."
Kimeli (27:19) finished strong to also break the Central Park record, while Mekonen (28:10) was a distant third. Teferi (28:36) finished fourth, with Soi (29:07) fifth. Brendan Martin of the New York Athletic Club was the top American, 10th in 30:39.
In the women's race, Laura Thweatt of the United States led a pack of five runners through 5K in 16:12, including Diriba, Mergia, Monicah Ngige of Kenya and unseeded Ethiopian Sinke Dessie Biyadgilgn (along with assorted sub-elite men as part of the event's mass-start format). "I'm a cross country girl at heart, so I loved the hills," said the Boulder, Colorado, resident, the 2015 USATF cross country champion. "I knew the other women weren't going to go out on record pace and the hills would help me stay in it a little bit longer."
Thweatt continued to set the pace through 8-K (25:52) before Diriba, Mergia and Ngige pulled away. Diriba, who won the United Airlines NYC Half in March with a strong kick in Central Park, did the same on Sunday to secure the title. Ngige was third in 32:15, followed Thweatt (setting a road personal best of 32:22) and Biyadgilgn (32:56). "As we were running, I knew I had better speed than them, so I knew I could win," Diriba said through an interpreter. She said she hardly noticed the men running around the leading women, and felt the pace was well within her comfort zone. "We went a little bit slower on the uphills, but it was fine."
For Thweatt, the race marked a big step on her comeback from injury following the 2017 Virgin Money London Marathon. She finished sixth in that race with a personal best 2:25:58, but subsequently had to take six months off from running while suffering from osteitis pubis, an inflammation of the tendons in the pelvic bone. "I felt like I gave it everything today," she said. "It's all part of a progression to a fall marathon."
Read the FloTrack feature on Laura Thweatt's comeback from osteitis pubis.