U.S. Men's 100m Depth, Hurdle Parity, The Year Of The 200m; Pro Recap
U.S. Men's 100m Depth, Hurdle Parity, The Year Of The 200m; Pro Recap
The success of Ronnie Baker, the dominance of Abderrahman Samba, and women's high hurdle parity are a few key takeaways from the pro season thus far.
Jun 4, 2018
by Kevin Sully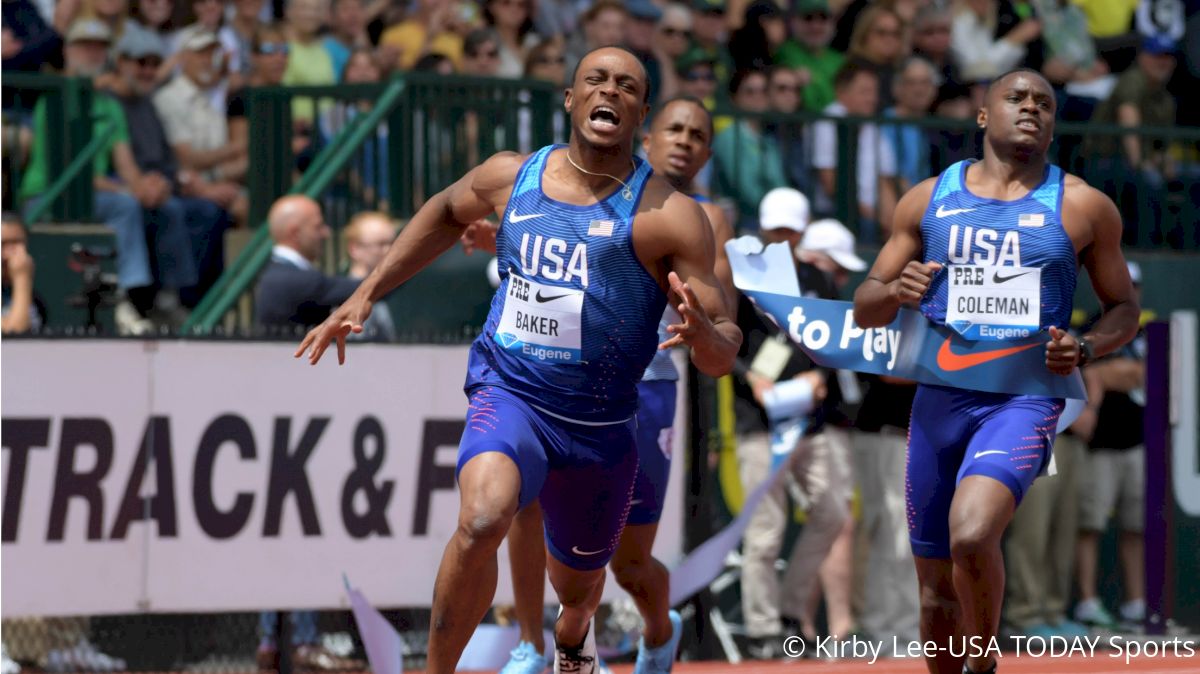 In the midst of a preposterously fast collegiate season, the professionals keep chugging along. Last week's Golden Gala meet in Rome was the fourth of the 14 stops on this year's pro circuit. While there hasn't been a signature moment or revelatory race as of yet, we are finally beginning to see a few trends develop. Here are four of the biggest takeaways from the pro season thus far.
The U.S. Men's 100m Goes Beyond Christian Coleman
Rightfully so, Christian Coleman commanded the majority of attention this winter. He upended the 60m record book and did so in a way that hinted we were just seeing the beginning of what would become the world's next great sprint star.
Somewhat obscured during that time was the rise of Ronnie Baker. Baker, only 24 years old, recorded stellar performances in the 60m as well. They weren't as quick as Coleman, though, and didn't get their proper due. But as Coleman has dealt with injury issues that will force him out of the next two Diamond League meetings, Baker has kept coming.
?WATCH: @ronnie_baker14 proved that his race in Eugene was no fluke with 100m #RomeDL victory#RoadToTheFinal #DiamondLeague https://t.co/dI8vvBeZEu

— IAAF Diamond League (@Diamond_League) May 31, 2018
He's four-for-four on the season, including victories in both his matchups with Coleman. His 9.93 in Rome is the second-fastest time of the year (Mike Rogers ran 9.92 on Monday) and a personal best. The week prior at the Pre Classic, he won the race in a windy 9.78. There's no indication that won't be back this season. And in a non-championship year, erring on the side of cautious is the smart move. But when he does return to action, expect Baker to be right alongside.
The Year Of The 200m Continues
I've been keeping tabs on the men's 200m this year, in part because of the accumulation of talent at the distance, but also because it's an event that often confounds me because it never seems to reach its potential. At least not in recent years.
2018 continues to be different. It started off well for the 200m, with two men running 19.75 or faster by the beginning of April. After Noah Lyles' 19.69 from the Pre Classic, 2018 has equaled the most men at or under 19.75 since the Bolt era.
| | |
| --- | --- |
| Year | # of athletes 19.75 or faster |
| 2018 | 3 |
| 2017 | 0 |
| 2016 | 2 |
| 2015 | 2 |
| 2014 | 1 |
| 2013 | 1 |
| 2012 | 2 |
| 2011 | 3 |
| 2010 | 3 |
| 2009 | 2 |
| 2008 | 1 |
It's worth noting that both Isaac Makwala and Jereem Richards have broken 20 seconds this year. And this doesn't include some of the best in the world: Andre De Grasse, Christian Coleman, and Wayde Van Niekerk. None of them are in top form now, but by the end of the year, they're capable of running in the 19.7 range.
Lyles is so good that he's capable of taking command of this event for the next four to five years. And that still may happen. But it looks like he might have some company in the years to come.
All Kinds of Parity In Women's High Hurdles
The season is still early, but five different women have marks in the top 10 of the season. It's possible that by year's end, one woman will have a tremendous string of races and occupy a good chunk of the best marks.
Right now, however, it's pretty balanced. Collegian Jasmine Camacho-Quinn and Belarus' Alina Talay have run 12.40 and 12.41, respectively; Keni Harrison has run a wind-aided 12.37 and 12.40. After that, Brianna McNeal and Sharika Nelvis both have marks of 12.52 or faster.
The head-to-head matchups have yielded vastly different results as well—three Diamond League meets and three different victors. Harrison won in Doha, McNeal in Shanghai, and Nelvis in Rome.
2 for 2 in Rome! Thank you for having me and having another opportunity to be great!! #blessingshttps://t.co/EWx0wLNMYF#RomeDL #DiamondLeague #RoadToTheFinal pic.twitter.com/jSVGqPK757

— Sharika R. Nelvis (@Hurdle_Holic) May 31, 2018
High hurdle seasons of late have become characterized by dominance. Aries Merritt's 2012, Brianna McNeal's 2015, and Kendra Harrison's 2016 (save for the Olympic Trials). All of them ran historically fast and when you run historically fast there aren't many who can keep up. So far in 2018, there looks to be a bit more balance.
Dominance Comes From Surprising Places
On the flip side of parity, let's look at some events where there's some consistency at the top. In 2018, there are seven running events where the top two marks are held by the same person:
Men's 400m Hurdles
Abderrahman Samba
Men's 110m Hurdles
Grant Holloway
Men's 400m
Steven Gardiner
Men's 1500m
Timothy Cheruiyot
Women's 100m
Marie-Josee Ta-Lou
Women's 800m
Caster Semenya
Women's 400m Hurdles
Sydney McLaughlin
Though they share a strong start to the 2018 season, this is a diverse group. McLaughlin and Holloway are collegians (three men have run faster than Holloway, including Omar McLeod, but the marks were not wind-legal), while Semenya, Cheruiyot, Gardiner, and Ta-Lou are global medalists.
That leaves Samba, who is perhaps the most interesting name of this list. The 22-year-old was seventh at the World Championships last year for Qatar and had a best mark of 48.31 entering the season. This year, he's run under that mark three times. In fact, he's run under 48 seconds three times, a remarkable improvement in less than a year.
WOW. Abderrahman Samba takes the win in the men's 400m hurdles with a 47.48 WL, AR & DLR ?? @kwarholm takes second with 47.82 (4 tenths off his own NR)?? #RomeDL pic.twitter.com/rIdfu7SPED

— IAAF (@iaaforg) May 31, 2018
His last two runs—a 47.57 in Doha and a 47.48 in Rome—were both personal bests, national records, and Diamond League records.
Since he's so young, he has a chance to take the event where it hasn't been in a very long time. His 47.48 was the fastest time recorded since 2010. Only 13 men have ever run a faster time. Not bad for someone most people in the track world weren't familiar with a year ago.