Create a free account to unlock this article!
Get Started
Already a subscriber? Log In
LIVE RESULTS | FLOTRACK'S PICKS | POST RACE INTERVIEWS
PREVIOUS DAYS
DAY ONE RECAP | TOP 12 MOMENTS FROM DAY ONE | DAY ONE PODCAST
DAY TWO PLAY-BY-PLAY
3:15 PM Men's 3k Steeplechase Semifinals
-Heat one is off, 2:13 thru 800m. Still no change early on with Travis Mahoney and Andy Bayer leading the pack after three laps. A little over 4:30 thru the first mile. Two laps to go it's Bayer, Stanley Kebenei and MJ Erb 1-2-3. 7:22 on the clock at the bell. Isaac Updike pulls away late and wins it in 8:25.
- Heat two is off with two collegians Brian Barraza (Houston) and Andrew Gardner (Washington) up front early. Evan Jager now moves near the front of the pack with Hillary Bor, five laps to go. Barraza and Tripp Hurt now lead with four laps to go. And just like that Bor and Jager back to the front 4:40 thru the opening mile (10 seconds slower than the first heat). 11 men still in it with two laps to go. Jager and Bor starting to pull away one lap to go. Jager's teammate Josh Thompson starting to move into the top five, 200m to go! Thompson hits final barrier goes down! Jager and Bor go 1-2.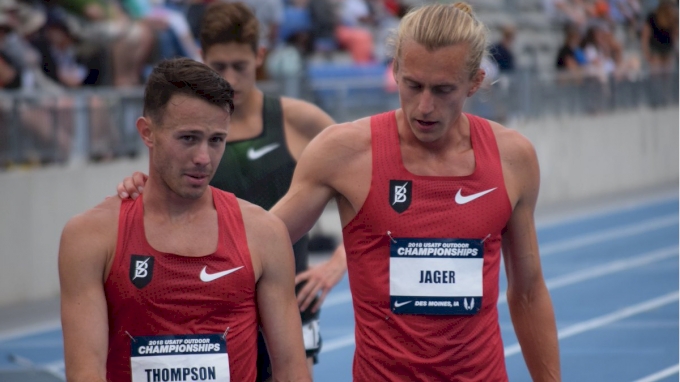 Auto Qualifiers:
H1 8:25 Isaac Updike
H1 8:28 Andy Bayer
H1 8:28 Stanley Kebenei
H1 8:28 MJ Erb
H1 8:28 Travis Mahoney
H2 8:31 Evan Jager
H2 8:32 Hillary Bor
H2 8:33 Tripp Hurt
H2 8:33 Dylan Blankenbaker
H2 8:33 Jordan Mann
Time Qualifiers:
8:30 Aidan Tooker
8:31 Donn Cabral
8:33 Brandon Doughty
8:33 Haron Lagat
3:50 PM Women's 100m Hurdles Prelims
- Woah! Keni Harrison runs 12.46 (+0.8 m/s) in heat one.
- Sharika Nelvis and Dawn Harper Nelson go 1-2 in heat two.
- Kori Carter wins heat three.
- Turns out these prelims eliminated a grand total of two women.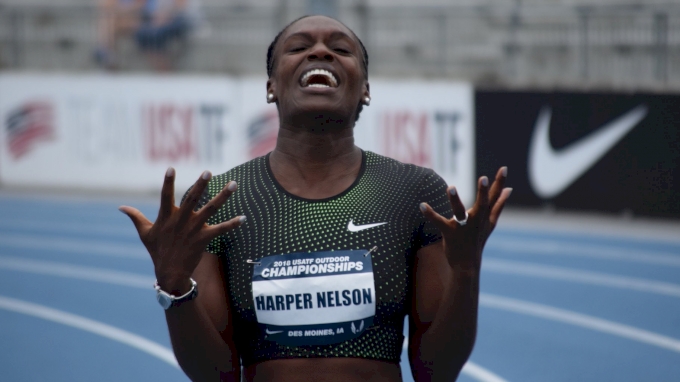 Auto Qualifiers:
H1 12.46 Keni Harrison
H1 12.66 Queen Harrison
H1 12.68 Christina Manning
H2 12.81 Sharika Nelvis
H2 12.83 Dawn Harper Nelson
H2 12.96 Jade Barber
H3 12.78 Kori Carter
H3 12.89 Jasmin Stowers
H3 12.96 Brianna McGhee
Time Qualifiers:
12.99 Evonne Britton
13.01 Taliyah Brooks
13.02 Alaysha Johnson
13.09 Ebony Morrison
13.16 MacKenzie Hill
13.25 Jessica Duckett
13.32 Mecca McGlaston
5:10 PM Men's 400m Hurdles Semifinals
- Heat one on the track, top four auto qualify meaning no time qualifiers. Khallifah Rosser wins it in 49.12. 2017 world team members Eric Futch (6th) and Michael Stigler (DNS) failed to qualify to the final.
- Heat two is won by TJ Holmes and despite Quincy Downing running the 7th fastest time of the day he goes home early since he finished 5th in his heat.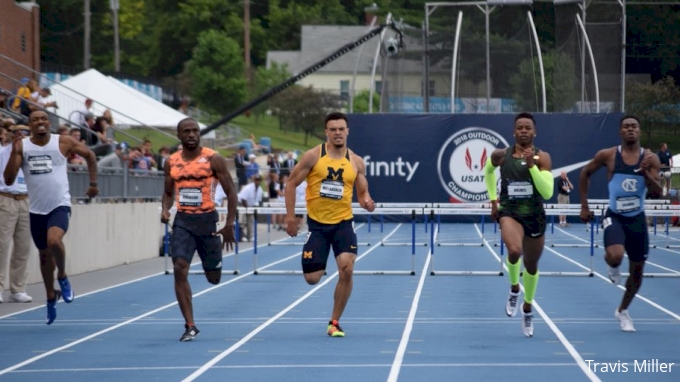 Auto Qualifiers:
H1 49.12 Khallifah Rosser
H1 49.15 David Kendziera
H1 49.47 Bershawn Jackson
H1 49.71 Craig Allen
H2 49.00 TJ Holmes
H2 49.04 Byron Robinson
H2 49.10 Taylor McLaughlin
H2 49.30 Kenny Selmon
5:30 PM Women's 100m Semifinals
- Jenna Prandini wins heat one in 11.00 wind-legal.
- Woah! Aleia Hobbs runs 10.89 almost wind-legal (+2.2 m/s)
- Five collegians made the final!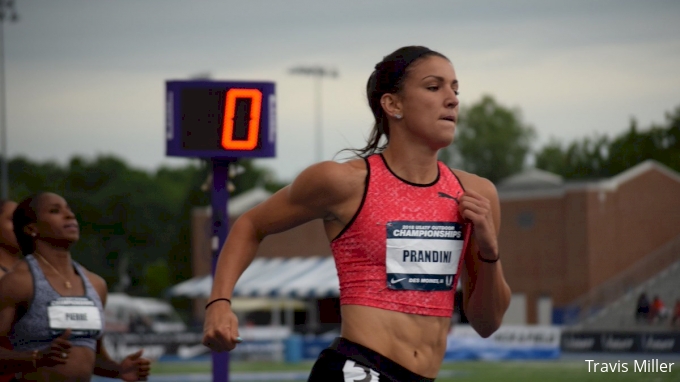 Auto Qualifiers:
H1 11.00 Jenna Prandini
H1 11.03 Ashley Henderson
H1 11.15 Aaliyah Brown
H1 11.17 Kiara Parker
H2 10.89 Aleia Hobbs
H2 11.04 Mikiah Brisco
H2 11.07 Dezerea Bryant
H2 11.09 Shania Collins
5:50 PM Men's 100m Semifinals
- World leader Mike Rodgers is a late scratch from heat one, Ronnie Baker wins the heat in 9.94.
- Noah Lyles ties Mike Rodgers' world lead, running 9.89 wins heat two!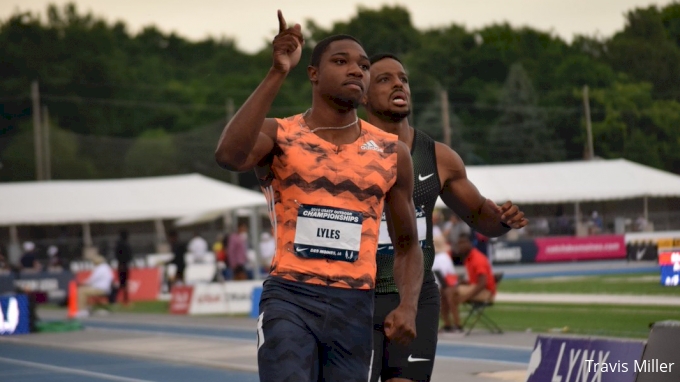 Auto Qualifiers:
H1 9.94 Ronnie Baker
H1 10.00 Cameron Burrell
H1 10.10 Bryce Robinson
H1 10.12 Jaylen Bacon
H2 9.89 Noah Lyles
H2 10.01 Isiah Young
H2 10.02 Kendal Williams
H2 10.04 Jeff Demps
6:05 PM Women's 400m Semifinals
- Shakima Wimbley wins heat one over Kendall Ellis
- Jessica Beard wins heat two over Courtney Okolo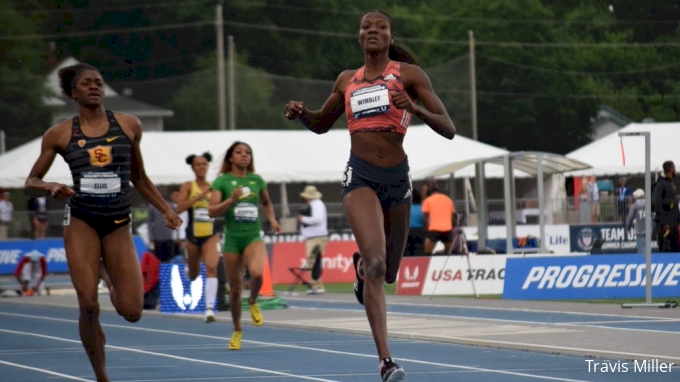 Auto Qualifiers:
H1 50.57 Shakima Wimbley
H1 50.80 Kendall Ellis
H1 51.46 Jasmine Blocker
H1 51.81 Brionna Thomas
H2 50.65 Jessica Beard
H2 50.80 Courtney Okolo
H2 51.99 Briana Guillory
H2 52.48 Kiana Horton
6:20 PM Men's 400m Semifinals
- Paul Dedewo wins heat one in 45.03, Vernon Norwood was DQd resulting in Josephus Lyles making the final.
- Michael Cherry runs the fastest time of the day in 44.87!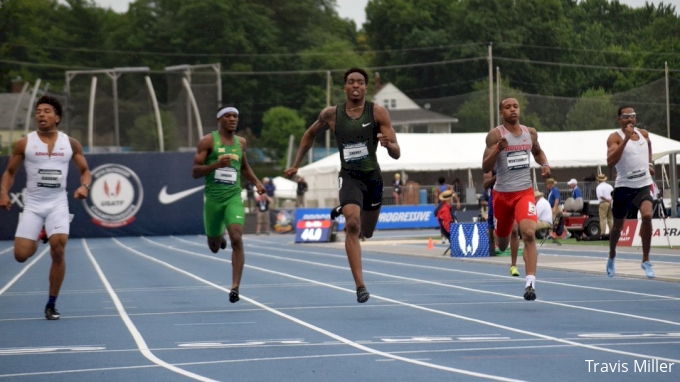 Auto Qualifiers:
H1 45.03 Paul Dedewo
H1 45.10 Nathan Strother
H1 45.38 Myles Pringle
H1 45.99 Josephus Lyles
H2 44.87 Michael Cherry
H2 45.11 Kahmari Montgomery
H2 45.21 Obi Igbokwe
H2 45.35 Wil London
6:50 PM Women's 800m Semifinals
- Ajee Wilson takes out heat one in 59.1. Both Wilson and Ce'Aira Brown run away with it in sub-2. Sabrina Southerland and Kaela Edwards get the remaining two auto spots.
- Charlene Lipsey takes it out hot in 58.8. Raevyn Rogers and Lipsey go 1-2 in 2-flat. Laura Roesler runs the 7th fastest time overall but fails to make final due to her being 5th in her heat.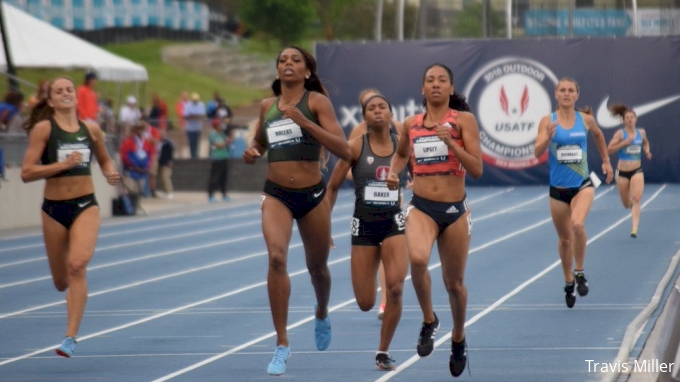 Auto Qualifiers:
H1 1:49 Ajee Wilson
H1 1:59 Ce'Aira Brown
H1 2:01 Sabrina Southerland
H1 2:01 Kaela Edwards
H2 2:00 Raevyn Rogers
H2 2:00 Charlene Lipsey
H2 2:00 Olivia Baker
H2 2:00 Hanna Green
7:05 PM Men's 800m Semifinals
- Daniel Kuhn is a late scratch, heat one is off and Erik Sowinksi leads the field thru 400m in 51.71. Sam Ellison makes a move on the back stretch to second. And wow! Sowinski wins it but Brandon Lasater goes from last to second in the final 80m, he can kick!
- Harun Abda takes the 400m out in 52-mid, Clayton Murphy in second. Isaiah Harris makes a big move with 200m to go and wins it in 1:47, Murphy second.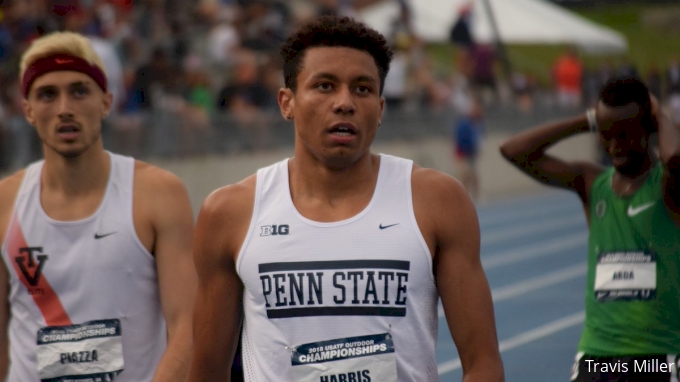 Auto Qualifiers:
H1 1:46 Erik Sowinski
H1 1:46 Brandon Lasater
H1 1:46 Robert Ford
H1 1:46 Jesse Garn
H2 1:47 Isaiah Harris
H2 1:47 Clayton Murphy
H2 1:47 Abraham Alvarado
H2 1:47 Drew Piazza
7:22 PM Women's 100m Final
- Aleia Hobbs 'still rocking the LSU gear' wins her first national title in 10.91! In second is fellow collegian Ashley Henderson in 10.96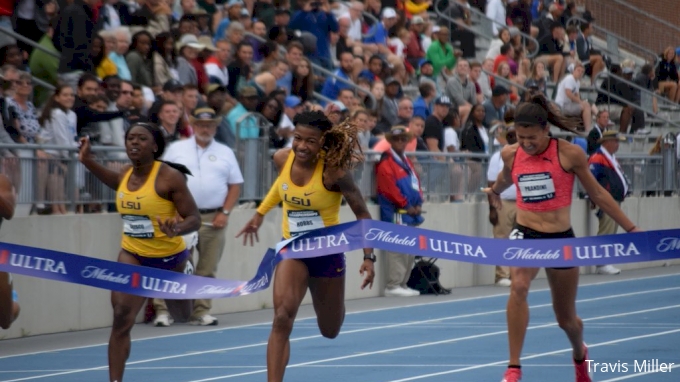 Results:
1) 10.91 Aleia Hobbs
2) 10.96 Ashley Henderson
3) 10.98 Jenna Prandini
4) 11.10 Mikiah Brisco
5) 11.13 Aaliyah Brown
6) 11.17 Dezerea Bryant
7) 11.21 Shania Collins
8) 11.22 Kiara Parker
7:30 PM Men's 100m Final
- Wow! Noah Lyles catches Ronnie Baker in the final 10 meters to win his first national title and lower the 100m world lead to 10.88!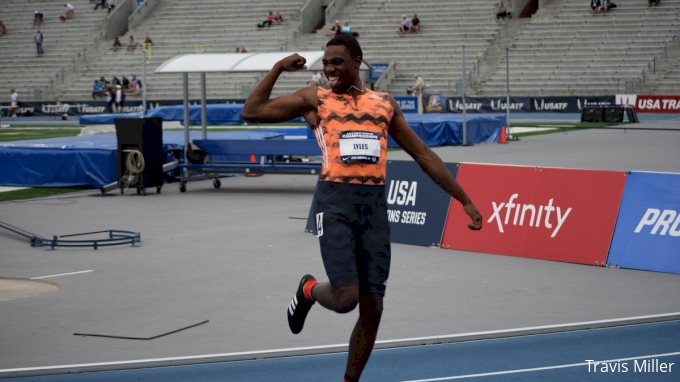 Results:
1) 9.88 Noah Lyles
2) 9.90 Ronnie Baker
3) 10.00 Kendal Williams
4) 10.00 Isiah Young
5) 10.04 Cameron Burrell
6) 10.13 Jeff Demps
7) 10.55 Bryce Robinson
DNS) Jaylen Bacon