LIVE RESULTS | FLOTRACK'S PICKS | POST RACE INTERVIEWS
RACE PREVIEWS
MEN'S DISTANCE | WOMEN'S DISTANCE
MEN'S SPRINTS | WOMEN'S SPRINTS
DAY ONE PLAY-BY-PLAY
1:50 PM Women's 3k Steeplechase Semifinals
- The women's steeplechase went to form with the heavy favorites Emma Coburn and Courtney Frerichs both winning their heats by over three seconds.
- Coburn spoke to FloTrack about Ruth Jebet's positive test and Oslo's steeple mishap after her race.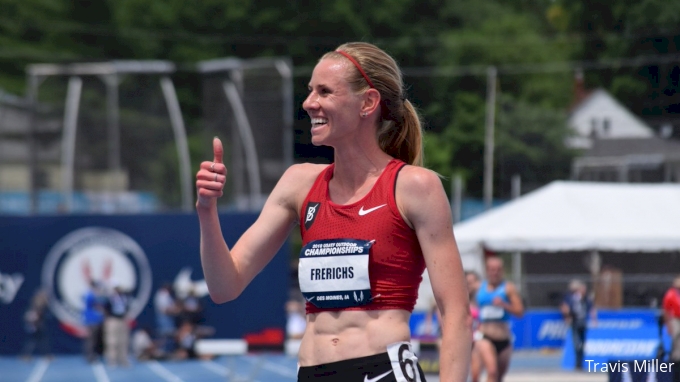 Auto Qualifiers:
H1 9:48 Emma Coburn
H1 9:54 Megan Rolland
H1 9:55 Shalaya Kipp
H1 9:59 Sarah Pease
H1 10:00 Rebekah Topham
H2 9:42 Courtney Frerichs
H2 9:45 Mel Lawrence
H2 9:48 Alexina Wilson
H2 9:48 Emily Oren
H2 9:48 Tori Gerlach
Time Qualifiers:
9:50 Jessica Kamilos
9:55 Katy Kunc
10:00 Sarah Scott
10:01 Grayson Murphy
2:20 PM Women's 800m Prelims
- NCAA Champion Sammy Watson was a DNS after qualifying for World Juniors last week.
- Charlene Lipsey, Ce'Aira Brown, Ajee' Wilson, and Raevyn Rogers all win their respective heats with ease running sub-2:03
- 2016 Olympian Chrishuna Williams was the last one in on time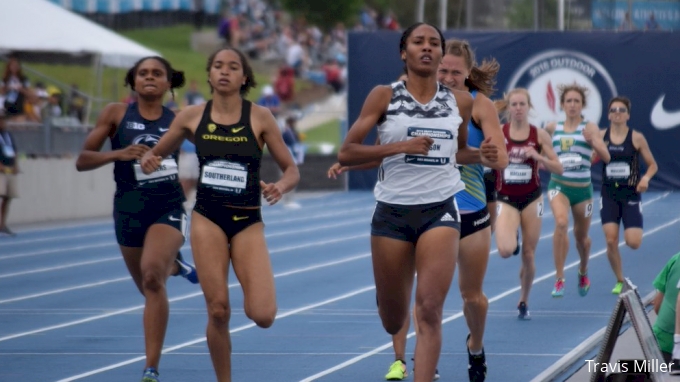 Auto Qualifiers:
H1 2:02 Charlene Lipsey
H1 2:02 Dana Mecke
H1 2:03 Skylyn Webb
H2 2:01 Ce'Aira Brown
H2 2:02 Kaela Edwards
H2 2:02 Oliva Baker
H3 2:02 Ajee' Wilson
H3 2:03 Sabrina Southerland
H3 2:03 Danae Rivers
H4 2:02 Raevyn Rogers
H4 2:02 Laura Roesler
H4 2:03 Hanna Green
Time Qualifiers:
2:02 Meghan Manley
2:03 Emily Richards
2:03 Cecilia Barowski
2:04 Chrishuna Williams
2:40 PM Men's 800m Prelims
- Heat one, Isaiah Harris takes it out in 53 sec, with Harris, Harun Abda and Drew Piazza cruising with the top-3 auto spots in 1:48 highs.
- Heat two up next. Drew Windle is a DNS! Jesse Garn, Avery Bartlett and Ryan Martin close hard to get the top-3 auto spots in 1:49.
- Heat three on the track, Donavan Brazier is a scratch. Boris Berian takes it out in 52-high, Clayton Murphy wins it in 1:47.17, Brandon Lasater goes from last to second in the final 100m, and BYU's Abraham Alvarado grabs third.
- Heat four, Erik Sowinski takes it out hot in 51 and wins it in 1:46.37, the fastest time of the day.
- Boris Berian was the first one out on time.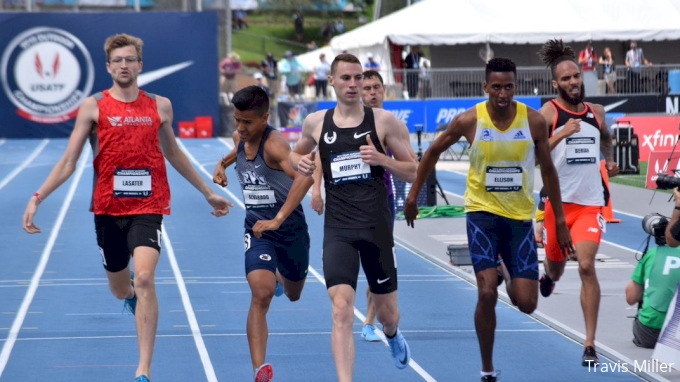 Auto Qualifiers:
H1 1:48 Isaiah Harris
H1 1:48 Harun Abda
H1 1:49 Drew Piazza
H2 1:49 Jesse Garn
H2 1:49 Avery Bartlett
H2 1:49 Ryan Martin
H3 1:47 Clayton Murphy
H3 1:47 Brandon Lasater
H3 1:47 Abraham Alvarado
H4 1:46 Erik Sowinski
H4 1:46 Robert Ford
H4 1:46 Quamel Prince
Time Qualifiers:
1:46 Daniel Kuhn
1:47 Derek Thomas
1:47 Carter Lilly
1:47 Samuel Ellison
3:05 PM Men's 400m Hurdles Prelims
- Heat one, Bershawn Jackson who 'retired' last year wins the heat in 50.07.
- Heat two on the track, Khallifah Rosser runs sub-50 to win the heat.
- Former Florida Gator TJ Holmes wins heat three.
- Heat four goes to form as Kenny Selmon and Byron Robinson go 1-2.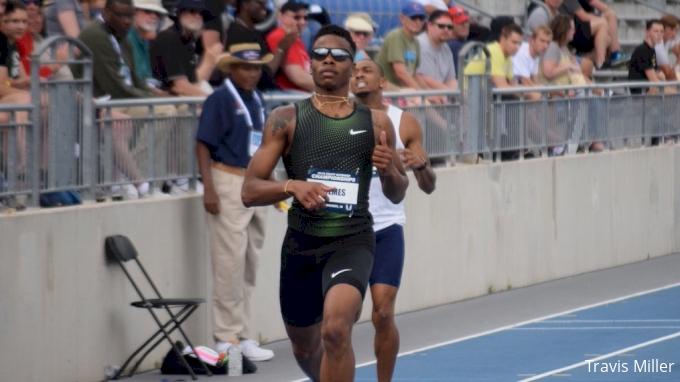 Auto Qualifiers:
H1 50.07 Bershawn Jackson
H1 50.09 David Kendziera
H1 50.21 Eric Futch
H2 49.55 Khallifah Rosser
H2 50.24 Craig Allen
H2 50.33 Michael Stigler
H3 49.10 TJ Holmes
H3 49.26 Taylor McLaughlin
H3 50.19 Quincy Downing
H4 50.23 Kenny Selmon
H4 50.66 Byron Robinson
H4 50.81 Norman Grimes
Time Qualifiers:
50.39 Peter Girardi
50.51 Kalmon Stokes
50.85 Infinite Tucker
51.09 William Wynne
3:35 PM Women's 1500m Semifinals
- Heat one, Dani Jones and Jenny Simpson are 1-2 through the opening 400m. Jenny takes over the lead at 600m. Sara Vaughn takes over with a lap to go, 3:04 at the bell. Simpson wins it in 4:07, 62 sec last 400. Last year's World Team Member Sara Vaughn doesn't qualify to the final.
- Heat two, Sara Sutherland leads the group 2:18 thru 800m. Rachel Schneider now leads at the bell with 3:08 on the clock. Brenda Martinez, Schneider and Shannon Osika pull away late to go 1-2-3.
- Heat three, field goes through 800m slow in 2:22. Everyone still in it at the bell, 3:15 on the clock. It's starting to rain! Bowerman's Shelby Houlihan and Kate Grace go 1-2 and Nikki Hiltz grabs the coveted third spot.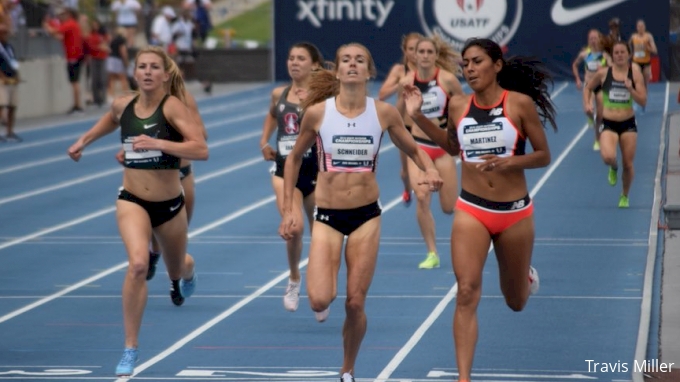 Auto Qualifiers:
H1 4:07 Jenny Simpson
H1 4:08 Lauren Johnson
H1 4:08 Elinor Purrier
H2 4:10 Brenda Martinez
H2 4:10 Rachel Schneider
H2 4:11 Shannon Osika
H3 4:14 Shelby Houlihan
H3 4:14 Kate Grace
H3 4:15 Nikki Hiltz
Time Qualifiers:
4:08 Helen Schlachtenhaufen
4:08 Dana Giordano
4:08 Dani Jones
3:55 PM Men's 1500m Semifinals
- Rain has stopped, heat one, early on Matt Centrowitz is chilling in the back of the pack. 2:05 thru 800m, it's going to be a fast last lap. Centrowitz to the front at the bell. David Ribich and Eric Avila fall with 200m to go. Centrowitz, Robert Domanic, and Colby Alexander go 1-2-3 all closing in 54 seconds.
- Heat two, Ford Palmer wants to keep the pace honest takes it thru 700m in 1:46. Eric Jenkins moves to the lead with 600m to go. Sean McGorty now up front with Jenkins 300m to go. Wow photo finish. Jenkins, Drew Hunter, Craig Engels and Johnny Gregorek go 1-2-3-4 all with 0.16 sec.
- Heat three, the entire pack goes though 800m in 2:01, then they put on the brakes. Woah! Robby Andrews doesn't qualify gets 6th! Pat Casey, Sam Prakel and Izaic Yorks go 1-2-3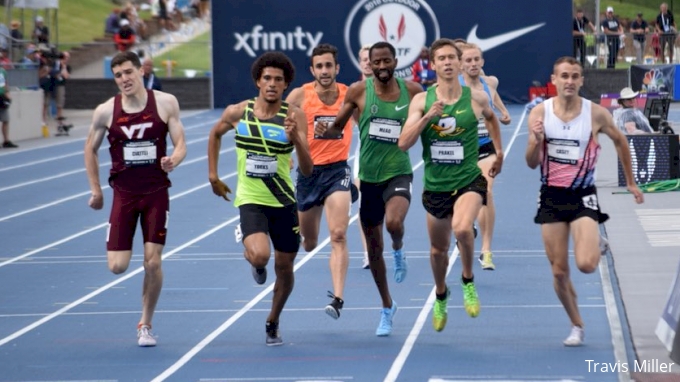 Auto Qualifiers:
H1 3:46 Matthew Centrowitz
H1 3:46 Robert Domanic
H1 3:46 Colby Alexander
H2 3:40 Eric Jenkins
H2 3:40 Drew Hunter
H2 3:40 Craig Engels
H3 3:43 Pat Casey
H3 3:43 Sam Prakel
H3 3:43 Izaic Yorks
Time Qualifiers:
3:40 Johnny Gregorek
3:41 Cristian Soratos
3:41 Sean McGorty
4:40 PM Women's 400m Prelims
- Sydney McLaughlin is a late scratch. However, all of the other big guns Shakima Wimbley, Kendall Ellis and Courtney Okolo easily qualify.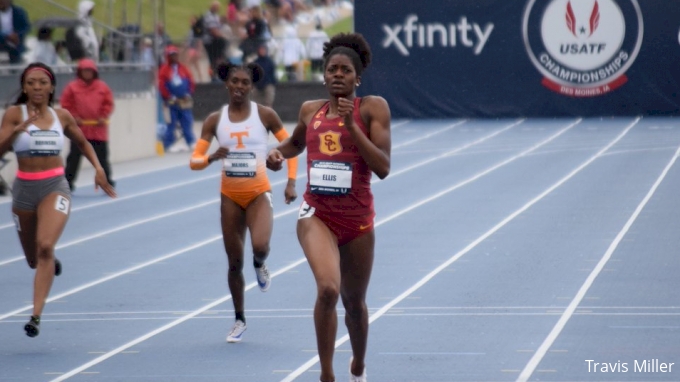 Auto Qualifiers:
H1 52.23 Briana Guillory
H1 52.88 Jordan Lavender
H1 53.08 Kiana Horton
H2 51.89 Shakima Wimbley
H2 52.55 Jasmine Blocker
H2 53.23 Brionna Thomas
H3 51.91 Kendall Ellis
H3 53.39 Naasha Robinson
H3 53.63 Felecia Majors
H4 51.39 Courtney Okolo
H4 51.97 Jessica Beard
H4 53.38 Briyahna DesRosiers
Time Qualifiers:
53.33 Jolie Carbo
53.86 Jasmine Malone
53.91 Ayana Walker
53.98 Tatum Waggoner
5:05 PM Men's 400m Prelims
- Heat one, Paul Dedewo takes the victory in 45.40, triple jump champion Christian Taylor takes fifth in 45.74.
- Heat two, double amputee Blake Leeper is a late scratch as well as top seed Gil Roberts.
- Heat three, Houston's Kahmari Montgomery takes the victory in 45.71.
- Heat four, the top three all run sub-46.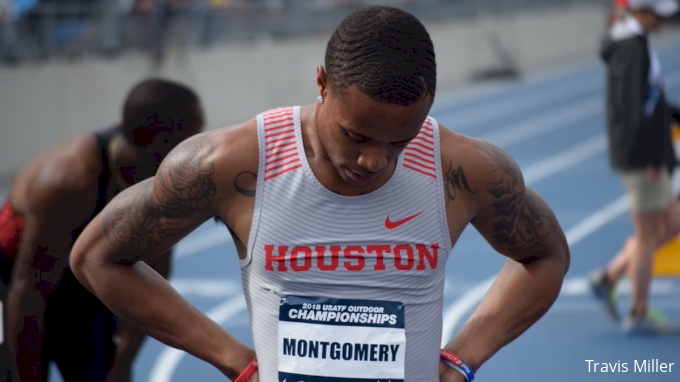 Auto Qualifiers:
H1 45.40 Paul Dedewo
H1 45.47 Vernon Norwood
H1 45.54 Rashard Clark
H2 45.82 Myles Pringle
H2 45.95 Obi Igbokwe
H2 46.28 Nathan Strother
H3 45.71 Kahmari Montgomery
H3 46.03 Michael Berry
H3 46.04 Quintaveon Poole
H4 45.77 Michael Cherry
H4 45.82 Wil London
H4 45.93 Marcus Chambers
Time Qualifiers:
45.71 Josephus Lyles
45.74 Christian Taylor
46.26 Dontavius Wright
46.49 Calvin Smith
5:45 PM Women's 100m Prelims
- All of the notable stars qualified led by LSU's Aleia Hobbs and San Diego State's Ashley Henderson.
Auto Qualifiers:
H1 10.97 Aleia Hobbs
H1 11.13 Mikiah Brisco
H1 11.19 Lekeisha Lawson
H2 10.99 Dezerea Bryant
H2 11.10 Shania Collins
H2 11.18 Deajah Stevens
H3 11.20 Aaliyah Brown
H3 11.21 Ariana Washington
H3 11.28 Barbara Pierre
H4 10.91 Ashley Henderson
H4 10.95 Jenna Prandini
H4 11.16 Kiara Parker
Time Qualifiers:
11.21 Gabriele Cunningham
11.21 Candyce McGrone
11.27 Tawanna Meadows
11.33 Destinee Brown
6:10 PM Men's 100m Prelims
- Mike Rodgers runs a new world leading time of 9.89 (+1.4 m/s).
- Noah Lyles run as wind-aided 9.92.
- Isiah Young and Cameron Burrell run 9.93.
- Ronnie Baker runs 10-flat.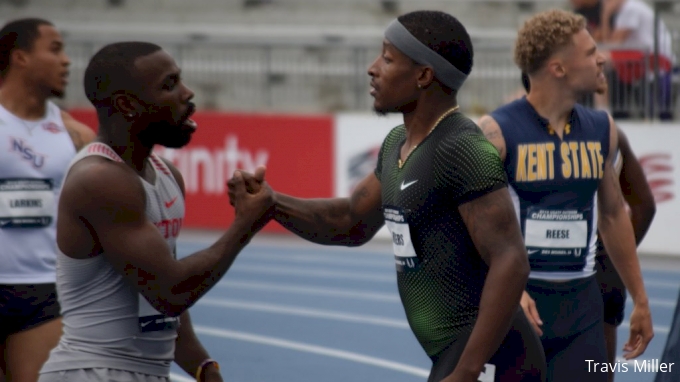 Auto Qualifiers:
H1 10.00 Ronnie Baker
H1 10.09 Jaylen Bacon
H1 10.12 Chris Jefferson
H2 9.93 Isiah Young
H2 10.02 Jeff Demps
H2 10.13 Cravon Gillespie
H3 9.89 Mike Rodgers
H3 9.93 Cameron Burrell
H3 10.13 Kenzo Cotton
H4 9.92 Noah Lyles
H4 10.03 Kendal Williams
H4 10.07 Bryce Robinson
Time Qualifiers:
10.13 Cordeo Gray
10.13 Remontay McClain
10.14 Riak Reese
10.18 Ryan Clark
7:00 PM Women's 10k Final
- Women's 10k is off as the group takes it out in 1:21 for the opening 400m.
- Molly Huddle and Stephanie Bruce are side-by-side leading the group thru 800m, 2:40 on the clock.
- Now it's Huddle and Marielle Hall 3:58 thru 1200m
- 5:15 thru 1600m for Huddle, 32:48 pace.
- Gwen Jorgensen has moved up to the front of the pack during the 5th lap.
- 3k split is 9:46 with 15 women still in it.
- Emily Sisson now moving into the top three with 16 laps to go
- Huddle still leading 12:59 thru 4k, 32:27 pace.
- 16:14 thru 5k, 32:28 pace
- 25:55 thru 8k, 10 women still in it
- Huddle still leads with one mile to go.
- Huddle pushing the pace, throws down a 1:13 last lap, only 3 others within reach of her now.
- Down to two, Hall and Huddle with 800m to go.
- 1:08.99 last lap for Huddle and she now is pulling away from Hall!
- Molly Huddle wins it in 31:52!
- Huddle's last four laps 1:13/1:11/1:08/1:04 (4:38 last 1600m)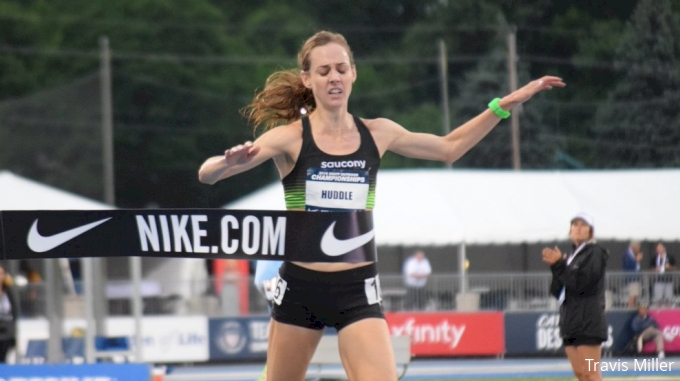 Results:
1) 31:52 Molly Huddle
2) 31:56 Marielle Hall
3) 32:05 Stephanie Bruce
4) 32:06 Emily Sisson
5) 32:13 Sarah Pagano
6) 32:19 Rochelle Kanuho
7) 32:24 Gwen Jorgensen
8) 32:24 Molly Seidel
7:40 PM Men's 10k Final
- Ben Bruce leads thru 1600m, 4:50
- 9:01 thru 3k the whole field still in it.
- Tyler Mueller takes the field 11:57 thru 4k, 29:52 pace.
- New leader is Elkanah Kibet 14:51 thru 5k
- Pace has picked up! 64 sec last lap, Shadrack Kipchirchir now in the lead with Lopez Lomong. Garrett Heath and Kibet giving chase.
- And just like that the pace slows down looks like Kipchirchir wanted to thin out the field, nine laps to go.
- Shadrack in the lead with six laps to go, six men in the front pack.
- Reed Fischer the Drake alum now in the lead with less than three laps to go.
- Two laps to go 26:56 on the clock, Fischer still leads.
- Shaddy back to the front at the bell.
- Lopez Lomong wins it with a 54.1 sec last lap! His first U.S. title since 2010.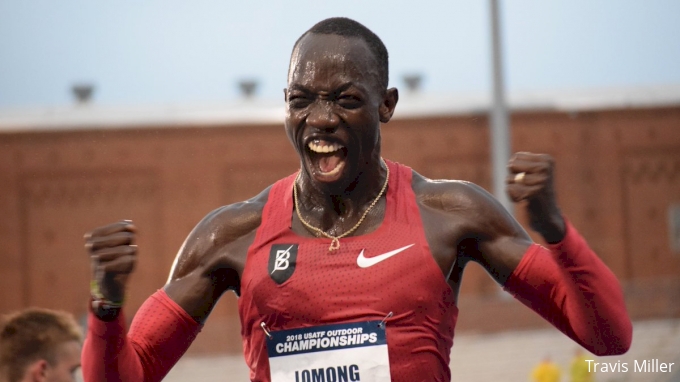 Results:
1) 28:58 Lopez Lomong
2) 28:59 Shadrack Kipchirchir
3) 29:05 Elkanah Kibet
4) 29:06 Reed Fischer
5) 29:09 Garrett Heath
6) 29:11 Matthew McClintock
7) 29:18 Ryan Mahalsky
8) 29:23 Zach Zarda