2018 Boston Marathon & B.A.A. 5k/Mile
Des Linden Leaves Hansons-Brooks Distance Project
Des Linden Leaves Hansons-Brooks Distance Project
Boston Marathon champion Des Linden is moving on from the Hansons-Brooks Distance Project.
Jun 24, 2018
by Johanna Gretschel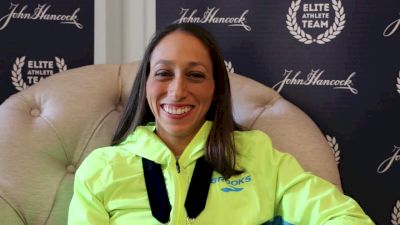 Boston Marathon champion Des Linden announced on Twitter yesterday that she is moving on from the Hansons-Brooks Distance Project after 13 years.
After doing some soul searching, I've made the decision to part ways with the Hansons team. I'm appreciative of Keith and Kevin's guidance as well as the support of my former teammates. My journey forward is not yet charted, but every step is part of the process. #runhappy

— des_linden (@des_linden) June 23, 2018
Coach Kevin Hanson responded to the news by wishing Linden the best.
Hansons-Brooks Distance Project was established 19yrs ago to help DEVELOP distance runners. Still our goal. We are proud of our 13yr journey with Des. As a 2 time Olympian, Boston Champ and one of the best Americans ever, Des doesn't need development. She has more than arrived.

— hansonsrun (@hansonsrun) June 23, 2018
Linden (neé Davila) joined the Hansons-Brooks Distance Project in 2005 upon graduating from Arizona State, where she was a two-time NCAA All-American.
There wasn't much sign of Linden being a potential future Olympian at that point, as her top honors were a 44th place finish at the 2003 NCAA XC Championship, and a 10th place run in the 2003 NCAA Outdoor 5K final.
She graduated with PBs of 4:28.55 for 1500m, 16:17.45 for 5K and 36:52.48 for 10K.
The Chula Vista, California native moved to the roads and longer distances once she joined Hansons-Brooks, which is based in Michigan.
She made her debut marathon in 2007 with a 2:44, 18th-place finish at the Boston Marathon, and cut a significant amount of time every year—including a runner-up, 2:22:38 finish in 2011 (which still remains her PB) and, this year, breaking the American women's 33-year title drought at the historic race.
Desi Linden (@des_linden) at the Boston Marathon

2007: 18th, 2:44:56
2011: 2nd, 2:22:38
2014: 8th, 2:23:54
2015: 4th, 2:25:39
2017: 4th, 2:25:06
2018: 1st, 2:39:54#BostonMarathon pic.twitter.com/qUmFoWRl9L

— FloTrack (@FloTrack) April 16, 2018
Linden also made two Olympic teams in the marathon (2012, 2016) while training with the Hansons.
She did her build-up to Boston this year in Phoenix, Arizona, not Michigan.