2018 USATF Outdoor Championships
Six Moments That Made The Rain Delay Worth It On The Final Day Of USAs
Six Moments That Made The Rain Delay Worth It On The Final Day Of USAs
Recap of the final day at the 2018 USATF Outdoor Championships in Des Moines, Iowa.
Jun 25, 2018
by Johanna Gretschel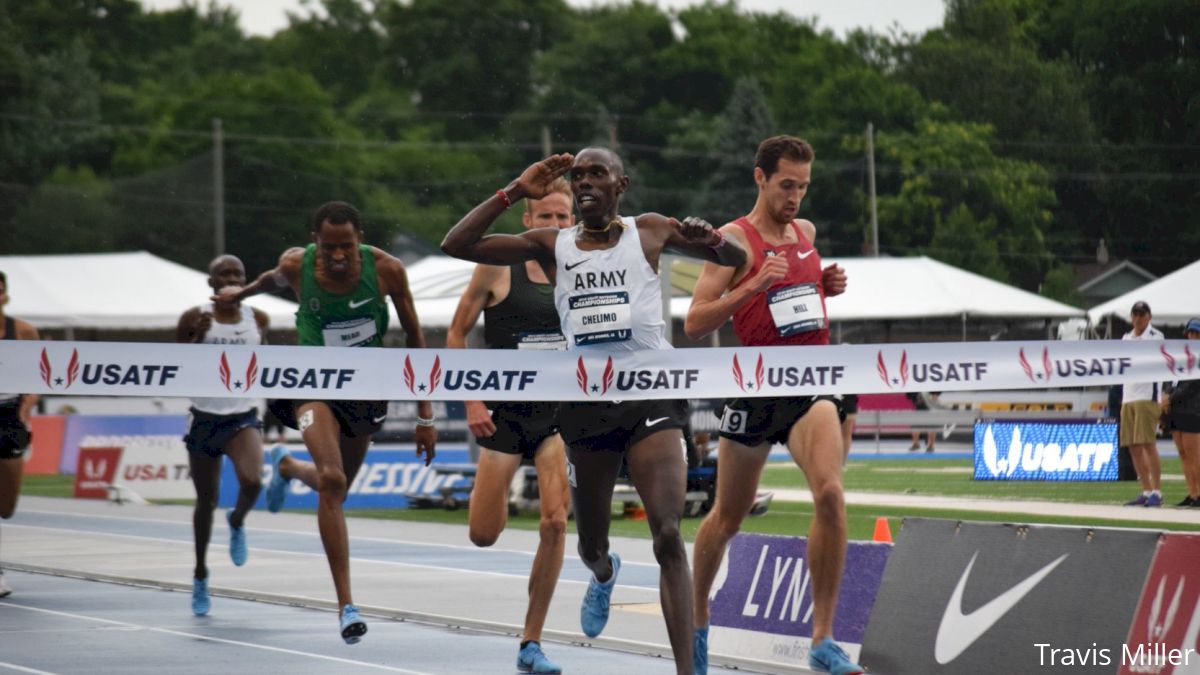 As if the anticipated match-ups for Day 4 of the USATF Outdoor Championships weren't exciting enough, the weather gods decided to throw a curve ball at Des Moines and schedule a lightning storm midway through the event. A weather delay suspended action for more than three hours with five track finals left in the schedule: the men's 3K steeplechase, men's and women's 200m, men's 5K and men's 110m hurdles.
Except for Michael Norman in the 200m, all the big names returned to action at the later start time. Our biggest takeaways from the final day of action are below.
Click here for a play-by-play of the action and click here for full results from the championship.
1. Shelby Houlihan = U.S. Distance Runner Of The Year?
SHELBY HOULIHAN!
Only the second women since 2000 to pull off the 1500/5K double at US Champs! pic.twitter.com/A9mz4B0xoB

— FloTrack (@FloTrack) June 24, 2018
The Bowerman Track Club's Shelby Houlihan laid down a 62-second final quarter to out-kick Rachel Schneider and Karissa Schweizer for her second U.S. title of the weekend, fourth this year and the seventh of her career. Her winning time was 15:31.03.
Houlihan is just the second woman in meet history to win the 1500m/5K double. Regina Jacobs accomplished the feat in 1999 and 2000, though her legacy in the sport is tainted as she tested positive for steroids in 2003 and retired upon receiving a four-year suspension.
There's a good chance that the 25-year-old Houlihan is also the first athlete to win U.S. indoor 1500m and 3K titles and outdoor 1500m and 5K titles in the same calendar year.
Shelby Houlihan talks in-depth about her race and her running family (both her mother and older sister were professional runners—sister, Shayla, is now the head coach at Cal):
It's probably still too early in the summer to crown any one distance runner as the most impressive of the year, but it might take a win in the Diamond League final for someone like Paul Chelimo or Ajee' Wilson to wrench the title away from Houlihan.
Shelby Houlihan just closed in 62 seconds to win the 5K, her second #USATFoutdoors title of the weekend! She now owns 7 U.S. titles pic.twitter.com/R0TIs7GRJH

— FloTrack (@FloTrack) June 24, 2018
While most of the attention this weekend has rightfully gone to Houlihan, Schneider had a nice double as well—4:08.33 for fourth in the 1500m final yesterday, and 15:32.71 for second in the 5K today. Check out this week's Workout Wednesday for more on Schneider, who went to Georgetown and now trains in Flagstaff.
If you're wondering about Schweizer's sponsorship status, the six-time NCAA champion was rocking her black-and-yellow University of Missouri kit during the race and she said afterward that she's still deciding on a pro group. Stanford's Vanessa Fraser, however, has committed to Houlihan's BTC and wore her new kit en route to a fifth-place finish.
2. Clayton Murphy Is BACK
? Clayton Murphy closes in 51 to win the 800m title in 1:46! #usatfoutdoors pic.twitter.com/hvNhf0m4vM

— FloTrack (@FloTrack) June 24, 2018
Clayton Murphy of the Nike Oregon Project hasn't exactly enjoyed an upward trajectory since claiming Olympic bronze in Rio two summers ago. Last year, he attempted a tough 800m/1500m double that left him beat-up and without a spot on the world team. Since undergoing surgery last fall, he's steadily improved throughout the season and today, proved he's back to his winning ways by claiming his second career U.S. title in the 800m over new pro Isaiah Harris, the NCAA champion, and veteran racer Erik Sowinski.
Clayton Murphy closes in 51.97 to hold off new pro Isaiah Harris and vet Erik Sowinski for 800m title! #USATFoutdoors pic.twitter.com/7ppXjGiePQ

— FloTrack (@FloTrack) June 24, 2018
1:46.5 is not much to brag about for a guy who has run 1:42, but for him to close under 52 seconds and hold off Harris was a big step in the right direction. He said he will run 800m races the rest of the season.
Clayton Murphy talks about getting back to where he was in 2016:
The run wraps up a nice weekend for the men of NOP as both Murphy and Centrowitz reclaimed U.S. titles after being slightly off their game in 2017, and 5K guy Eric Jenkins displayed impressive range by placing third in the 1500m.
3. Ajee' Wilson Wins Third U.S. Title, Raevyn Rogers Is A Revelation
Ajee Wilson wins the 800m title in 1:58.18! #USATFoutdoors pic.twitter.com/d3QxbeIcCm

— FloTrack (@FloTrack) June 24, 2018
That American record holder Ajee' Wilson won the third U.S. outdoor title of her career (following wins in 2017 and 2014) with a facility record of 1:58.18 was a shock to no one, but Raevyn Rogers' hard charge to finish runner-up was nothing short of a revelation.
The 2017 Bowerman Award winner had missed her past two races due to allergies and "personal issues" but looked strong in winning her prelim and semi-final rounds. In the final, she was fifth with 200m to go but flew by Charlene Lipsey, Kaela Edwards and Ce'Aira Brown to claim runner-up honors behind her teammate Wilson in 1:58.57, her first PB since setting the collegiate record last year and her first time under 1:59.
She closed in 59.35, one-hundredth of a second off Wilson's closer of 59.34. She literally couldn't even remember how far back she was with 100m to go. Watch for her to really take off next year when she moves to Philadelphia and trains alongside Wilson and Lipsey, as she has been working out entirely solo while finishing her degree in Eugene.
Brown's third-place finish capped what has been one of the most impressive seasons for any middle distance runner in the United States. Before this year, her PB was 2:00.84 and she had never made a U.S. final. Now, she's on the podium with a huge PB of 1:58.65.
Facility record 1:58.18 for Ajee Wilson as both Raevyn Rogers and Ce'Aira Brown break 1:59 for the first time! #USATFoutdoors pic.twitter.com/4dlXi33iti

— FloTrack (@FloTrack) June 24, 2018
A total of five women broke two minutes in the incredibly deep final.
Kaela Edwards' 1:59.68 for fourth was a huge improvement from her prior best of 2:01.06. Switching back to the 800m has proven fortuitous for the Oklahoma State alum, who has concentrated on the mile and 1500m since winning NCAAs in 2016. Last year, she didn't make the final at NCAAs or USAs in the 1500m.
Lipsey, who essentially worked as Wilson's shadow last season and was runner-up at USAs, placed just fifth overall in 1:59.95. After the race, she said she was ready to put it behind her and move on to the summer in Europe.
Ajee' Wilson says eventually everyone in her training group (Lipsey, Rogers) will move up to 1500m, but she hopes she's last: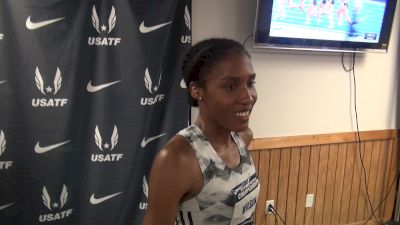 4. Evan Jager Wins Seventh Straight Steeple Title, Ties For Most Consecutive Crowns In USATF History
Evan Jager wins another US title in a stadium record 8:20.1 #usatfoutdoors pic.twitter.com/7mMaaXYsf8

— FloTrack (@FloTrack) June 25, 2018
The first race back after the rain delay was the men's 3K steeplechase, which went exactly according to form as Bowerman TC's Evan Jager won his seventh consecutive steeplechase title in 8:20.1, a new facility record at Drake Stadium.
The win is one for the history books as the 29-year-old Jager is now tied with for most consecutive men's USATF steeplechase titles with Henry Marsh, who won seven straight from 1981 to 1987.
Marsh also co-owns the USATF record for most career steeplechase crowns at nine with Joe McCluskey. McCluskey won in 1930, 1931, 1932, 1933, 1935, 1938, 1939, 1940 and 1943. Marsh missed the 1980 title but won his first two titles in 1978 and 1979.
Evan Jager closes in 59.68 to win his seventh straight #USATFoutdoors steeplechase crown, tying Henry Marsh for most consecutive steeple titles. Marsh and Pat McCluskey are tied for most career titles at nine each. pic.twitter.com/mzb3WRUGjI

— FloTrack (@FloTrack) June 25, 2018
Third place was a nice finish for Andy Bayer, as the Indiana product has placed a devastating fourth for the past three years in a row with world and Olympic teams on the line. Hopefully, he can carry this momentum into 2019.
5. Field Makes Paul Chelimo Work For It In 5K
Paul Chelimo! Closes in 55s to win the 5K! pic.twitter.com/RvieMn8KBU

— FloTrack (@FloTrack) June 25, 2018
Reigning USATF 5K champion Paul Chelimo entered these championships as an overwhelming favorite to defend his crown after earning back-to-back global medals in 2016 and 2017. The race, however, was much more exciting than anticipated as Chelimo didn't dust the field from the start as he did last year when he won by seven seconds.
Chelimo still led for much of the race, but he didn't put a huge surge in until the bell lap—at which point, he had Ryan Hill right on his shoulder and Hassan Mead, the 2017 USATF 10K champion, not far behind.
It all came down to the close, as Chelimo split 55.78 to cover the final quarter mile faster than anyone else in the field to win in 13:29.47, his fourth career USATF title, over Hill. Mead leaned at the line to edge out a fast-closing Masters for the third spot, 13:30.12 to 13:30.23.
Paul Chelimo successfully defends his 5K title over Ryan Hill as '17 10K champ Hassan Mead edges out Riley Masters for third. Grant Fisher top collegiate athlete in sixth. Wild final quarter out there ? #USATFoutdoors pic.twitter.com/L7rsRfRV0n

— FloTrack (@FloTrack) June 25, 2018
Chelimo said after the race that he wants to set up a local race to finally break 13 minutes.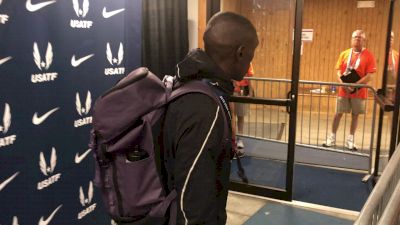 6. Hurdle Finals Make Up For Lackluster Sprint Finals
We criticized the sprint fields for being sub-par a week ago, and while there's been a few great moments this weekend like Noah Lyles' world-leading 9.88, the final day of competition also yielded a big fat DNS from big names like Deajah Stevens, the reigning women's champion for 200m, and Michael Norman, the collegiate record holder for 400m—who later told us via instagram that his coach made him withdraw after the lengthy rain delay.
The 200m was thus dominated by the top athlete entered. Jenna Prandini won the women's title in 22.62 over 400m world champion Phyllis Francis, who ran 22.83, while Ameer Webb defended his title in 20.47 ahead of Terrell Smith and Andrew Hudson, two guys who didn't even make the NCAA final.
The women's 400m hurdles—held before the rain delay—saw Shamier Little win her second U.S. title and first since 2015 when Georganne Moline, who looked strongest through the rounds, stumbled in the final meters.
Georganne Moline fought hard in the 400H final, but her ankle gave out over the final hurdle. Still held on to finish second ? @Georganne400h pic.twitter.com/NEZ49BhQAv

— FloTrack (@FloTrack) June 24, 2018
Little's time of 53.61 set a new stadium record—heads up to potential coaches, she recently left her home base in College Station and is looking for a new training group.
53.61 and a new stadium record for Shamier Little ‼️ pic.twitter.com/VU5LhKEORM

— FloTrack (@FloTrack) June 24, 2018
The meet closed out with the men's 110m hurdle final, which was lights-out as college record holder Grant Holloway got out with his signature fast start but the slew of studs in the field gained on him midway and, at the finish, were so close that it was impossible to tell who had won.
Devon Allen, the 2016 U.S. champion, actually tied with Holloway at 13.46 and was declared winner by the slimmest of margins.
WHAT A FINISH TO END THE MEET
13.452 - @DevonAllen13
13.454 - @Flaamingoo_ pic.twitter.com/lgfsKDZruQ

— FloTrack (@FloTrack) June 25, 2018
Jarret Eaton, who is still unsponsored despite earning a world indoor silver medal this March in the 60m hurdles, took third while flailing across the line in 13.51—just ahead of Aries Merritt, who ran 13.52.
Not a bad 29th birthday present.
Jarret Eaton falls across the line to win ? at USAs! @BigJ_E pic.twitter.com/3rczGeKWaG

— FloTrack (@FloTrack) June 25, 2018
Aleec Harris, the defending champion, took seventh in 13.76.