Sara Hall Successfully Bucking Marathon Convention In 2018
Sara Hall Successfully Bucking Marathon Convention In 2018
Circumstances have dictated an unconventional approach to 2018 for Sara Hall. But the 35-year-old is thriving in the face of it all.
Sep 14, 2018
by Joe Battaglia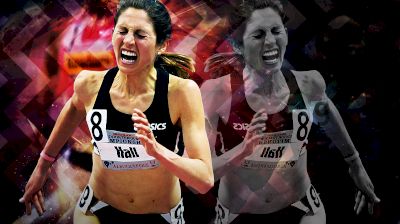 Unlock this video, live events, and more with a subscription!
Get Started
Already a subscriber? Log In
Distance runners by nature are creatures of habit.
The routine is everything. Ad-libbing is never part of the plan, and is often viewed being disastrous to short- and long-term goals.
But it is in this world of somewhat organized chaos that Sara Hall has thrived in 2018.
When a sacroiliac joint injury forced her to scratch from the Boston Marathon in April, it could have easily ruined her year. But circumstances dictated that Hall slide everything back a month.
So, when most of the elite racers were coming off spring Majors like Boston and London, she raced the U.S. Half Marathon Championships on May 6, finishing second in 70:07. Three weeks later, she ran her spring marathon in Ottawa and came away with a new personal-best of 2:26:20, the ninth-fastest time ever by an American woman.
She extended her racing season another month and produced another PR at the Gold Coast Half Marathon (69:27) on July 1 and a podium finish three days later at the Peachtree 10K (32:41). And then, rather than take a break, she continued right into her fall marathon training block.
As Hall tunes up for October's Frankfurt Marathon tomorrow at the Usti nad Labem Half Marathon, an IAAF Gold Label race in the Run Czech Racing Series, the non-traditional unconventional nature of her year is not lost on her.
"It's been a little bit of a different build-up for sure," Hall said via Skype. "I didn't really ease into it. There is a specific amount of marathon work that we wanted to do so I wanted to start that right away. Fortunately, I felt mentally and physically ready to do that and was excited to get after it. Strength wise I am right where I want to be."
That Hall is prospering by way of the avant-garde should come as little surprise to anyone familiar with the methods of her coach and husband Ryan Hall, whose training came to define the meaning of unconventional, particularly in the latter years of his Olympic career.
It would be hard to argue that Ryan Hall did not have success doing things his way, as he produced one of the fastest times ever by an American with his 2:04:58 at the 2011 Boston Marathon. But it would be just as hard to argue that his methods were perfect, as he also failed to run faster than 2:08:04 after that Boston breakout and DNF'd two of his last three marathons.
But it is at this intersection where the Halls are getting things right with Sara's marathoning. There is enough outside-the-box thinking to satisfy their assertive nature balanced by enough caution learned from past mistakes, a hard line she says is difficult to find.
"I wouldn't still be doing this and doing it remotely well at all if it weren't for Ryan's help," Hall said. "Ryan liked to experiment on himself, but he's not as much like that when he is coaching other people like me. We stick to the things that we know work best.
"As we were coming into this build-up he was like, 'I want to make sure that we are still putting weight on the bar. Do you feel like we are doing that in this build-up? Do you feel like we are taking it up a notch with each build-up?' I was like, 'Yeah. This one, I feel like we have done that for these reasons.' We are both very aggressive, so I think that may be the only downside. We're both risk takers. We're willing to push a lot harder or try things that other people maybe aren't. We're not conservative runners, but so far I don't think that has backfired too much."
The main way Hall feels like she has been able to avoid the same pitfalls that snared Ryan is by easing off the throttle when necessitated by her body.
"One of his greatest weaknesses, and Ryan will readily admit this, was not listening to his body, but he says that's one of my biggest strengths," Hall said. "That's where we are really different. I'm really aggressive, but I also can listen to my body really well and make adjustments whereas he was kind of married to the program or whatever he had in his mind to do.
"That's probably been the biggest lesson I have learned from his career that I try to incorporate, but there are a lot of little things, too. For example, he was really light at the end of his career. Being really thin isn't always better. You have to be strong."
Hall has also made a point of not foregoing shorter races, like the Faxon Law New Haven Road Race on Sept. 3 when she won the U.S. 20K title under sweltering heat and humidity in 69:04.
"That is something that Ryan regrets from his career, getting a little too far away from the speed work," Hall said. "I'm happy with how New Haven went all things considered. I was still in a really tough portion of this training block."
The ability to mix in speed work and consistently build strength is both a source of pride for Hall as she approaches her ninth career marathon and an area of continued focus as the 2020 Olympic Trials nears.
"I feel like my strength is improving with each build-up," Hall said. "I am able to build on the last build-up and keep tolerating more work. We have taken some risks in this buildup, probably the most I have ever done, but so far I feel like I am absorbing it pretty well.
"I think it's about moving the ball forward more. I feel like I still have a lot of room to improve on the strength side. It's a mistake I made, but the benefit from neglecting that in my track career is that my body still has a lot of room to grow."
Hall said she Usti Half falls perfectly during a planned down week and hopes that gives her legs enough pop to run another half marathon PR in just her second sea-level race in the last three and a half months. From there, she plans to return home to Flagstaff and put in another four weeks of hard training at altitude before heading back to Frankfurt.
At age 35 with four adopted daughters at home, Hall said she is surprisingly loving life as a full-time marathoner and looks forward to challenges like vying for the Olympic Team in 2020.
"It's going to be one of the hardest teams ever to make so I've got to keep plugging away and enjoying it," Hall said. "I am enjoying the sport more than I ever have, which is really unexpected, especially with kids. Once I made that transition to the roads, I thought it was going to be trying a marathon for fun in the off year and then going back to the track. But then my first buildup, I loved it. Even though my first marathon was a total disaster 2:48:02, I just knew that there was more there because I loved the training.
"I was always someone who loved cross-country and having courses rather than running in circles on the track. I have always loved having the character of a race or a road course. I think, too, when you are improving every season that is addictive. That is encouraging. When Ryan wasn't improving, it gets wearing after a while. For me, every marathon has gotten better with the exception of one. That's been really fun. There is nothing I would rather be doing."