Create a free account to unlock this article!
Get Started
Already a subscriber? Log In
What a difference two weeks makes! After a bumpy race at Pre-Nationals, the Oregon women looked like a new team at the Pac-12 Championships, moving from shaky podium contender to firmly in the discussion for the best women's team in the nation.
The Ducks packed four in the top eight on the Stanford golf course on Friday to defeat top-ranked Colorado, 32-48. Jessica Hull's runner-up finish to Dani Jones wasn't a surprise—Hull's win at Pre-Nationals marked her as one of the best in the nation—but that was the lone bright spot for Oregon in Madison. The rest of the top seven didn't deliver, and there were plenty of questions about whether they had enough to be a top-four team at the national meet. Saturday's performance rectified that while also formulating a blueprint for a national title.
This weekend, Weronika Pyzik ran her best race as a Duck by taking fourth and looking like the runner that took fifth at last year's NCAA Championships. Susan Ejore, who led the Ducks in the first two meets of the year before placing a distant 61st at Pre-Nationals, was sixth. Carmela Cardama Baez (eighth) beat out Colorado's third runner, Tabor Scholl, and Isabelle Brauer (12th) was the best fifth runner of the meet.
It's easy to overreact in one direction or another after October performances, but things are trending heavily in the right direction for the Ducks.
Colorado's Makena Morley was seventh overall, and the Buffaloes' next finisher behind Jones. Stanford had good races from Elise Cranny (third) and Fiona O'Keeffe (fifth) to place third.
Big kick from Dani Jones to win the Pac-12 title pic.twitter.com/6aUDtSOg4O

— FloTrack (@FloTrack) October 26, 2018
In the men's race, Grant Fisher led the way as three Stanford runners finished in the top four. The Cardinal scored 44 points to better Washington (62) and Colorado (82) despite the absence of All-American Steven Fahy.
Fisher looked sharp down the stretch just as he did in his fall debut at Pre-Nationals, running 23:09 to beat Washington's Talon Hull and Stanford's Alex Ostberg and Alek Parsons. The first four finished within one second of each other. Joe Klecker was the top man for Colorado in fifth.
Grant Fisher out kicks Talon Hull to defend his Pac-12 title pic.twitter.com/CugJyBPPLv

— FloTrack (@FloTrack) October 26, 2018
Boise State Almost Ends New Mexico's Mountain West Winning Streak
Despite the 10-year conference winning streak, and two of the last three national titles, there were reasons to believe the New Mexico women were a bit vulnerable at the Mountain West Conference Championships. The back half of their scoring runners hasn't been dominant and their main rival, Boise State, has front-runners and depth.
In fact, the Broncos beat New Mexico at last month's Nuttycombe Invitational—one of the earliest signs that New Mexico's 2018 season wouldn't just be a procession to a national title. On Friday, New Mexico's top three was as good as always with Weini Kelati, Ednah Kurgat, and Charlotte Prouse going 1-2-3.
From there, it got interesting.
Boise State's Allie Ostrander finished fourth and her teammates Emily Venters, Alexis Fuller, and Clare O'Brien took sixth, seventh and eighth. New Mexico's Adva Cohen came across the line next in ninth, giving New Mexico four scorers. Maxine Paholek of Boise State took 10th to put the Broncos at 35 points and foist all the pressure on New Mexico's fifth runner.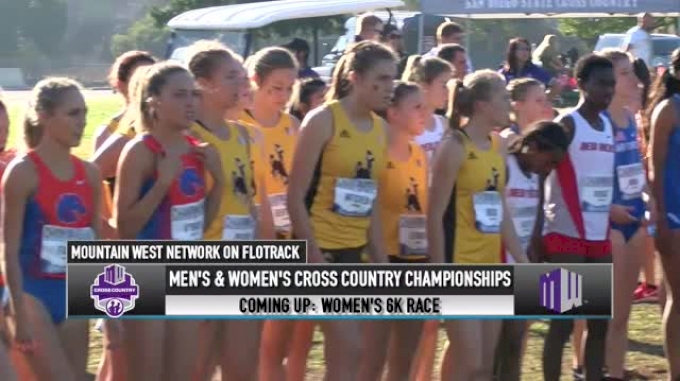 Unlock this video, live events, and more with a subscription!
Get Started
Already a subscriber? Log In
Seven more women completed the race before New Mexico sophomore Sophie Eckel finished the race in 18th. That put New Mexico at 33 points, two better than Boise State and enough to extend their conference winning streak to 11 in a row.
Individually, Kelati was brilliant again. She ran 19:49 to beat Kurgat by 18 seconds—the biggest margin Kelati's had over Kurgat in their three races this year.
Boise State took the men's title, scoring 50 points to hold off Air Force. Paul Roberts (the cross country star you've never heard of) is by now a cross country star you need to have heard of. The Wyoming junior turned in another strong race this fall, running 24:34 to get a three-second victory over Colorado State's Eric Hamer.
Kick of the week? Paul Roberts of @wyoathletics FLIES through the tape to win his first @MW_OlySports title!!! pic.twitter.com/cdbwHwg5Ir

— FloTrack (@FloTrack) October 26, 2018
Wisconsin Men Put On A Show, Monson Gets First Big Ten Title
Midway through the men's race at the Big Ten Championships, it looked like Oliver Hoare and Morgan McDonald might finish hand in hand. The Wisconsin teammates were at the front of the pack and—with the team race secured and the cautious approach to racing this time of year—there were many reasons to think they'd be content to cross the line together.
But that didn't happen. Catalyzed by the presence of Nebraska freshman George Kusche, McDonald and Hoare raced all 8,000 meters. Late in the race, Hoare shook off Kusche and McDonald and looked poised for an upset.
Only two weeks ago, McDonald beat a ridiculously deep field at the Nuttycombe Invitational, marking his return to the NCAA system. That performance made him a co-favorite for the NCAA Championship and a safe bet in this race.
But Hoare was the 2017 Big Ten champion and was running well on the hilly course in Lincoln, Nebraska. Just as the gap looked to be too big to cover, McDonald rallied to go full-out against his teammate. He accelerated past Hoare in the final uphill straight to take the win by three seconds. It was three points for the Badgers either way, but this back-and-forth was the most entertaining route to those three points. It also reaffirmed Hoare's cross country bona fides at just the right time for Wisconsin.
Kusche, who finished 10 seconds back from Hoare in third, continues to build his case as one of the top freshmen in the country (in the first cross country season of his life).
Wisconsin's Ben Eidenschink took fourth and the Badgers landed all five scorers in the top 20 to score 38 points. Purdue placed second with 88 points.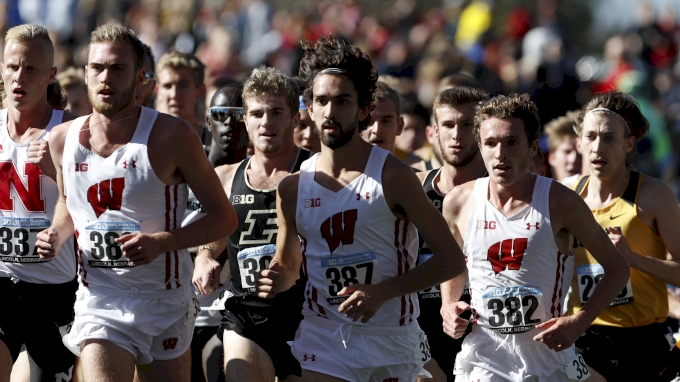 Unlock this video, live events, and more with a subscription!
Get Started
Already a subscriber? Log In
In the women's race, Alicia Monson made it seem like Nuttycombe all over again. Like McDonald, she won both races, though there was decidedly less drama with Monson. The junior went with the mid-race move from Northwestern's Aubrey Roberts and sat on her until the final stretch. Just as she did one month ago in Madison, Monson made a decisive move in the last half-mile. She didn't look bothered by the uphill finish, crossing the line in 19:49, and nine seconds ahead of Roberts.
In the team race, Michigan emerged as champions in the deepest conference in the nation. Avery Evenson placed third and was the top scorer for the team. But the revelation of the meet for Michigan might be Ann Forsyth. The freshman placed eighth in her first race in a Michigan jersey, giving coach Mike McGuire another solid runner to mix into an already deep team. Michigan's 1-5 spread on Sunday was just 30 seconds.
We hosted Evenson on our On The Run podcast in the week leading up to Big Tens: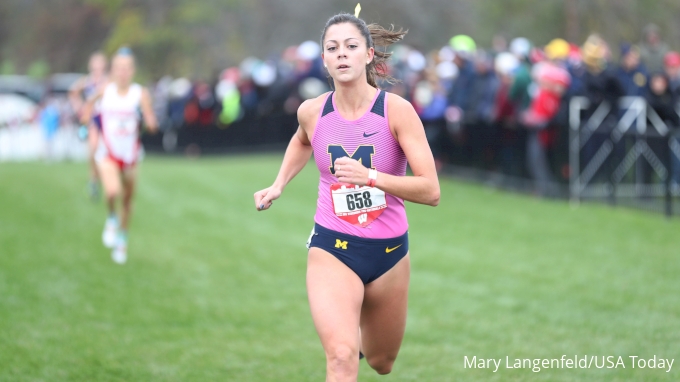 Create a free account to unlock this video!
Get Started
Already a subscriber? Log In
BYU/NAU Men Post Comfortable Wins
The top two men's teams in the nation showed no signs of weakness with big wins at their conference meets. BYU went 2-3-4-5-7 (and eighth and 11th for good measure) to score 21 points at the West Coast Conference meet. Connor McMillian, Conner Mantz, and Rory Linkletter were the top three for the Cougars. Portland didn't run a full 'A' team, but they did have the individual winner in Nick Hauger. The senior took the win by just over two seconds and the Pilots finished second with 52 points.
Portland's Nick Hauger takes the WCC title pic.twitter.com/luYCO4DhE7

— FloTrack (@FloTrack) October 27, 2018
Not to be outdone, NAU also scored 21 points at the Big Sky Conference Championships. Their path to 21 went 1-2-3-4-11 as the Lumberjacks held out Peter Lomong and Luis Grijalva. Matthew Baxter won the race, four seconds ahead of Tyler Day.
Iowa State Cleans Up At Big 12s
In Ames, Iowa State swept the men's and women's team and individual titles. Sophomore Cailie Logue won the women's race, overtaking Kansas' Sharon Lokedi in the final kilometer to win in 19:53. Sinclaire Johnson of Oklahoma State finished a strong second in 19:56, while Lokedi faded back to fifth. Iowa State's next four scorers finished 6-7-10-11 to give them 35 points. Oklahoma State took second with 52 points.
Forty minutes later, it was Iowa State vs. Oklahoma State all over again. Edwin Kurgat, running his first race since taking second at the Nuttycombe Invitational, outlasted Oklahoma State redshirt freshman Isai Rodriguez in the final mile to run 23:21. Oklahoma State had the next two finishers in Ashenafi Hatte and Luis Martinez, but Iowa State's four runners arrived before another Oklahoma State runner crossed the line, clinching the victory for the Cyclones.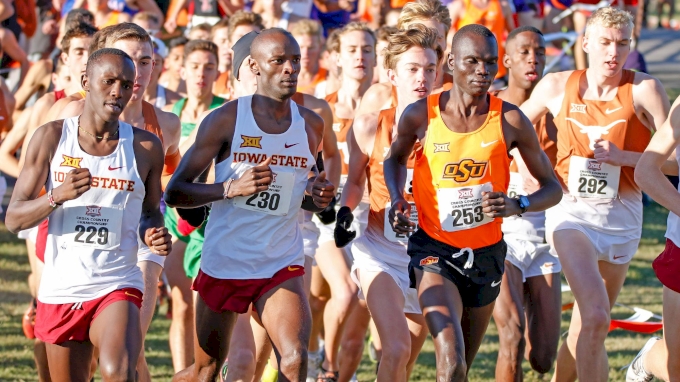 Unlock this video, live events, and more with a subscription!
Get Started
Already a subscriber? Log In
Upsets Abound In The ACC, SEC
The biggest team upset of the weekend came at Friday's ACC Championships in Boston. In the men's race, Notre Dame scored 57 points to edge ninth-ranked Syracuse. The Orangemen finished with 61 points. Notre Dame put two in the top six with Yared Nuguse (third) and Anthony Williams (sixth). Surprisingly, Syracuse's top man Aidan Tooker finished out of the top five, placing eighth. Syracuse had better fourth and fifth runners than Notre Dame, but it wasn't enough to make up the difference.
Waking up on Saturday like...

The Irish shipped up to Boston and came back with some hardware!

1️⃣ ACC Championship
1️⃣ ACC Freshman of the Year
8️⃣ All-Conference #GoIrish☘️ pic.twitter.com/S0zkIuQgnr

— Notre Dame XC/TF (@NDXCTF) October 27, 2018
Individually, Peter Seufer of Virginia Tech topped Wake Forest freshman Zach Facioni by 0.5 seconds to get the title. The two finished 17 seconds ahead of Nuguse.
The women's race was even closer. North Carolina State, headed up by Elly Henes in second place, beat Notre Dame by one point, 67 to 68. Notre Dame's Anna Rohrer turned in her best race of the season, running three seconds behind Henes in third. As expected, Dorcas Wasike of Louisville won the race, her third victory of the cross country season.
The Arkansas women, fresh off their win at Pre-Nationals, dominated the SEC Championships. Freshman Katrina Robinson was once again the top runner for the Razorbacks, finishing second to Florida's Jessica Pascoe. After that, it was (mostly) all Arkansas. Lauren Gregory (third), Carina Viljoen (fourth), Taylor Werner (sixth), and Sydney Brown (ninth) rounded out the scorers for the Razorbacks as they put up 24 points. Florida was second with 69 points.
Unofficial Scores
1. Arkansas - 24
2. Florida - 69
3. Ole Miss - 116#SECXC18 pic.twitter.com/xqXqYTGfba

— Razorback Track & Field/Cross Country (@RazorbackTF) October 26, 2018
Ole Miss put five men in the top 11 of the men's race, to get the surprise win over Arkansas, 36 to 44. Gilbert Boit and Cameron Griffith went 1-3 for Arkansas, but Ole Miss' depth won out. Waleed Suliman was fourth and Cade Bethmann, Mario Garcia Romo and Farah Abdulkarim went 6-7-8.
Villanova lived up their role as favorites, putting six women in the top eight to get the easy win at the Big East Championships. Caroline Alcorta and Rachel McArthur took the top two spots and the Wildcats took the victory by 52 points over Georgetown.