The Mondo Effect: Several U.S. Records Just Got A Lot Tougher
The Mondo Effect: Several U.S. Records Just Got A Lot Tougher
USATF has ratified some new U.S. records set by athletes who, like Mondo Duplantis, held dual citizenship.
Dec 28, 2018
by Lincoln Shryack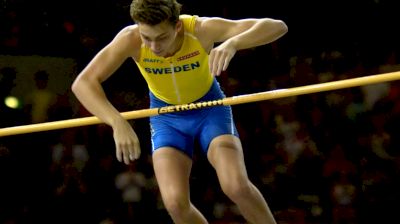 Unlock this video, live events, and more with a subscription!
Get Started
Already a subscriber? Log In
When prep pole vault phenom Mondo Duplantis leapt 6.05m to win the 2018 European Championships back in August, it soon became clear that the teen had set the American record by way of a technicality.
Despite competing internationally for Sweden, Duplantis was eligible for U.S. record purposes since he was a U.S. citizen, then the only requirement by the letter of the USATF rule book. Duplantis' American-record breaking performance in Berlin-- a meet in which Team USA athletes obviously could not compete-- shined a light on a half-baked writing of a rule that was desperately in need of an amendment.
And thankfully, a change to the rules will go into effect starting in 2019 as the USATF Rules Committee-- which met at the USATF Annual Meeting in Columbus, Ohio, in late November-- approved a change (h/t Becca Peter of Pole Vault Power) that will allow only Team USA eligible athletes to set U.S. records. So even though his 6.05m was ratified by the rules committee last month as the new American record, Duplantis' days setting national records for one country while competing for another are over.
The rule change, in part, appears to have been prompted by the very scenario that played out at the European Championships. Jeff Hartwig, a former American record holder in the pole vault, submitted the change to the rules committee in 2018 after initially highlighting the problem that could come up with Duplantis at the 2017 USATF Annual Meeting:
Jeff Hartwig (in rule committee meeting) noticed the rule was flawed. Verbatim:"Imagine Mondo jumping 6.05m in a Swiss jersey at European champs where Americans aren't allowed to compete - breaking the AR."

Their response: "What are the chances of that?"

I can't make this up https://t.co/NsFT92E2a0

— Sandi Morris, OLY?? (@sandicheekspv) August 13, 2018
Now, the pole vault superstar is not the only international athlete with U.S. citizenship to be recognized as an American record holder in 2018.
With all the attention Duplantis' situation placed on the previous rule, it was quickly evident that additional athletes with U.S. citizenship who had competed for other countries were deserving of American record recognition as well.
As such, two notable American record marks were retroactively ratified by the rules committee last month after years of going unrecognized:
Men's Outdoor 1,500m: 3:27.40, Bernard Lagat (2004)
The Kenyan-born Lagat began competing for the United States in 2005, and for years his 3:29.30 from Aug. 2005 was recognized as the U.S. record even though he was already an American citizen in Aug. 2004 when he ran 3:27.40 in Zurich. Lagat represented Kenya later that month at the 2004 Olympic Games in Athens.
Now over 14 years later, Lagat's 3:27.40 has been ratified as the new outdoor 1,500m American record.
Women's Indoor 60m Hurdles: 7.68, Susanna Kallur (2008)
The Swede Kallur has U.S. citizenship from being born in the United States, so her 7.68 60m hurdles world record from 2008 was ratified as the American record last month. 2018 60m hurdles world champion Keni Harrison and fellow U.S. team member Sharika Nelvis both appeared to set the mark during the past indoor season when each ran 7.70-- eclipsing Lolo Jones' 7.72 that had stood as the record since 2010-- but with Kallur's mark being ratified, Harrison and Nelvis are officially tied at second on the U.S. list.
Additionally, the 3:00.77 4x400m run by the USC men at the 2018 NCAA Indoor Championships-- which was unfortunately not ratified as the world record by the IAAF since Rai Benjamin had competed for another country besides the U.S-- has been ratified as the new U.S. record.
What remains unclear is why it took so long for Lagat and Kallur's marks to be ratified as American records when they were eligible at the time of their performances. USATF has saved itself from future embarrassment now that dual citizenship athletes like Mondo Duplantis cannot break records while representing other nations, but for athletes like Keni Harrison and Sharika Nelvis-- who thought they had run American record times in 2018-- the rule change didn't come soon enough.