2019 Boston Marathon
Mile-By-Mile Breakdown: 2019 Boston Marathon
Mile-By-Mile Breakdown: 2019 Boston Marathon
Follow along for live updates from the 2019 Boston Marathon.
Apr 15, 2019
by Kevin Sully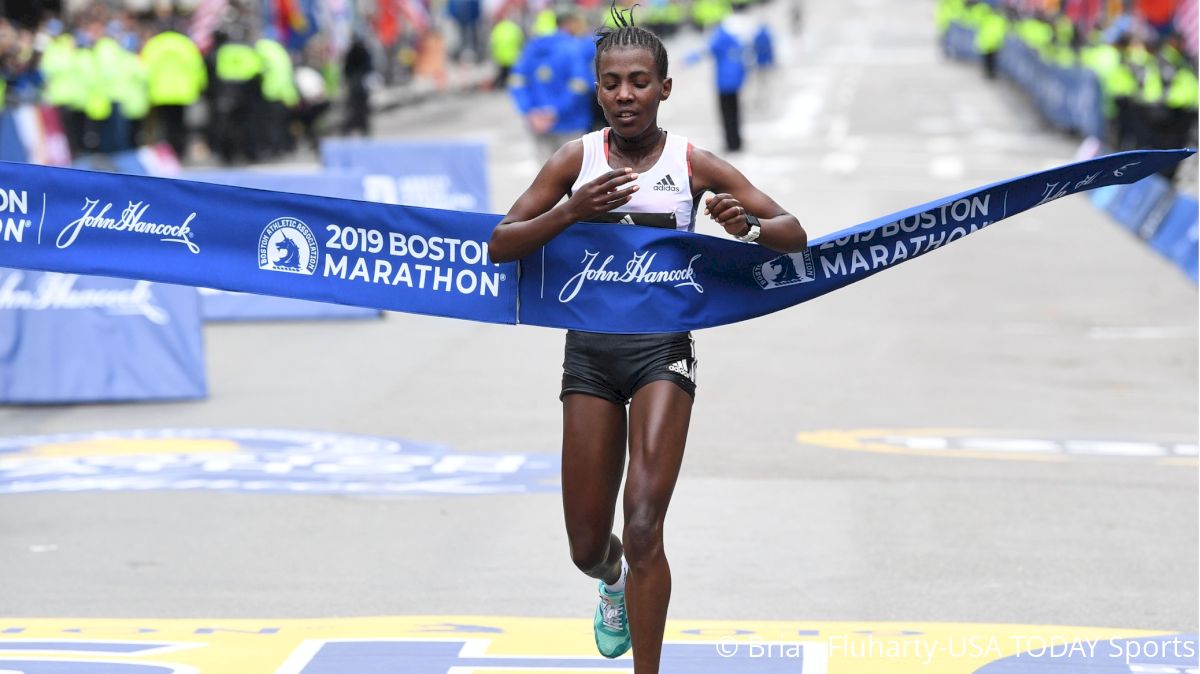 Unlock this article, live events, and more with a subscription!
Get Started
Already a subscriber? Log In
The apocalyptic weather that defined the 2018 Boston Marathon doesn't look like it will return for this year's race--at least not when the elites are racing. Rain is in the forecast, but it isn't expected to last long and the temperatures are much warmer than last year, 60 degrees as 9:00 AM. The big winds are expected to make their appearance in the afternoon and the runners might get the benefit of a tailwind this morning. Desiree Linden and Yuki Kawauchi, last year's surprise winners, are looking to again manage the conditions and defend their titles.
Follow along and refresh this page for mile-by-mile updates of the men's and women's races.
Women:
Mile 1: The women's race is underway on what the commentators have described as a "misty" day in Boston. There's water on the ground, but with a starting temperature of 57 degrees, the conditions are wildly different from 2018.
It's a big pack from the start with Des Linden near the front next to 2:17 marathoner Worknesh Degefa passing the first mile in 5:47.
Mile 2: No major changes. Sara Hall of the United States (who is celebrating a birthday today) is leading the group as they cross the second mile in 11:40.
Mile 3: Hall, Degefa, Biruktayit Eshetu and Linden are running 1-2-3-4 with a big group clustered in behind them. That big group includes all the other big names, Jordan Hasay, Mare Dibaba, Sally Kipyego, Edna Kiplagat and Betsy Saina. 5K split is 17:32 after a 5:34 third mile.
Mile 4: Degefa accelerates at the first water station and breaks up the pack. Hasay has to stutter step to grab her bottle, but doesn't lose any ground. Degefa, Sharon Cherop (the 2012 Boston Marathon champion) and Dibaba have a gap on the field, while Linden leads the chase pack. The leaders covered the fourth mile in 5:23.
Mile 5: 5:16 mile for Degefa and she's all by herself. Remember, this is the first time she's run a marathon outside of Dubai.
Mile 6: 5:13 for this mile for Degefa--her plan is crystal clear at this point, she has the best personal best in the field by far and she's going to try and make this quick. She hits the 10K split in 33:58, 14 seconds ahead of Cherop and Dibaba. Hasay and Linden are in the main pack 16 seconds behind Cherop and Dibaba.
Mile 7: Another strong mile for Degefa, 5:18 and she is 38:08 through mile seven and her lead is growing. This is bold move in her first Boston, but, after all, she is a 2:17 marathoner. Cherop and Dibaba are in second and third and there is a pack of 12 behind them that includes Hasay and Linden.
Mile 8: Degefa's lead is now 30 seconds after an eighth mile of 5:15. There's only two ways this can go now.
Mile 9: It's all Degefa, all the time, for the moment. She runs mile nine in 5:16, hitting 15K in 50:21. She's 1:24 ahead of the chase pack that is led by Edna Kiplagat. Hasay and Linden remain in that group.
Mile 10: Degefa's lead is 1:17 seconds after a 5:21 mile. Big group of women in the group behind so if she falters, there's at least 10 women with a chance to take advantage.
Mile 11: Another 5:21 for Degefa--59:21 at mile 11.
Mile 12: It's still a solo mission for Degefa after a 5:20 mile (1:04:39 total).
Mile 13: 20K split for Degefa is 1:06:59--2:21:20 pace. Her lead is 2:26 over Edna Kiplagat though she's joined by a big group.
Mile 14: Degefa hits halfway in 1:10:40. Chasers are 2:27 behind. Hasay and Linden are with that group, hitting the half in 73:08 and 73:09. 5:17 for Degefa's mile.
Mile 15: 5:34 mile for Degefa, she's dropped out of the 5:20 zone. 1:20:54 total.
Mile 16: 5:15 for Degefa on the downhill, Linden leads the chase pack that still has Hasay, Saina, Kiplagat, Assefa, Rotich and Eshetu. Degefa's lead is 2:44.
Mile 17: Eight women in the chase group, Linden is at the back after doing some leading. Still lots of running left, but Degefa looks solid after a 5:29 mile.
Mile 18: Degefa hasn't shown any vulnerabilities in the hills, 5:38 for the mile. Linden drops back making the chase pack seven at the moment.
Mile 19: Degefa through 30K 1:40:48, her last 5K was 17:05. Let's check that margin to see if we will have a race over these last few miles--it's 2:59 to Kiplagat, Hasay and the other five. Linden is six seconds behind in 9th. 5:29 mile for Degefa.
Mile 20: 5:45 mile for Degefa and she's struggling a bit with the hills. Chase pack is Kiplagat, Hasay, Rotich, Saina, Eshetu and Assefa. We have some drama.....
Mile 21: 5:48 for Degefa, the slowest split of the day, but it was a hilly mile. Edna Kiplagat is breaking away from the chase pack. Assefa is in third, Hasay sits in fourth. Despite the slow mile, Degefa still has a 2:45 lead.
Mile 22: Kiplagat's move decimated the chase pack, if anyone's going to catch Degefa now, it's Kiplagat. 35K split for Degefa is 1:58:17, 2:26 ahead of Kiplagat. Hasay is in fourth, 2:43 back. Linden in eighth, 3:27 from Deegefa.
Mile 23: The gap is down to 1:57 after Degefa runs a 5:39 mile. Kiplagat doing her part to make this interesting.
Mile 24: Degefa has slowed, but she hasn't cratered. Kiplagat is now in the same picture as the gap creeps lower and lower. 5:31 mile for Degefa, her lead is 91 seconds. It's getting tighter.
Mile 25: Lead is just 68 seconds at the 40K mark. Kiplagat looks like she's going to run out of course. Hasay is in third.
Finish: With a mile to go, Degefa leads by 58 seconds. What a close by Kiplagat, but it's not going to be enough.
Worknesh Degefa will win her first World Marathon Major in 2:23:30. Kiplagat is second in 2:24:14. Hasay gets her third, third-place finish at a major in 2:25:20. Meskerem Assefa is fourth in 2:25:40. Defending champion Desiree Linden takes fifth in 2:27:00.
Men:
Mile 1: With decent weather, it will be interesting how the men handle the early miles, particularly if Yuki Kawauchi goes out hard again. It turns out we don't have to wait long to learn the answer. Kawauchi and Hiroto Inoue storm to the front from the gun. Inoue has a personal best of 2:06:54.
The group pulls Kawauchi and Inoue back in (or the duo have slowed, it's hard to tell).
Mile 2: Everyone is still together as the field is saved from a Yuki surge at the moment. They run the second mile in 4:55 for a total time of 9:45.
Mile 3: The men hit 5K in 15:10 after a third mile of 4:54. No major moves yet. Maybe they are waiting for Yuki.
Mile 4: American Jeffrey Eggleston at the front with a split of 4:50. The men are running together on 2:08 pace.
Mile 5: Lawrence Cherono of Kenya and Elkanah Kibet of the United States run 5:00 for the fifth mile. Geoffrey Kirui comes up to close the gap and make it a three-person lead group.
Mile 6: Kibet, Cherono, Kirui still at the front with a 4:48 mile, but there's plenty of men just behind them. 10K split for Kibet is 30:21.
Mile 7: Kibet gains some separation from the rest of the field. His lead is about 40 meters before the field reels him back in. 4:42 split.
Mile 8: The group is back together after a 4:54 mile.
Mile 9: The Americans have moved to the front at 15K with Dathan Ritzenhein, Jared Ward and Scott Fauble going through that split in 45:45, 2:08:42 pace. Last mile was 5:10.
Mile 10: Jared Ward itching to go at the front, 5:02 10th mile. At least 15 men in the group behind.
Mile 11: Ward's lead is about ten meters. He ran the last mile in 5:02.
Mile 12: Ward leading through 20K, just a second or two up on Geoffrey Kirui and the rest of the elite field. 4:50 last mile for Ward.
Mile 13: 1:04:28 for Ethiopian Lemi Berhanu, Ward is at 1:04:31.
Mile 14: Daniel Mesfun runs a 4:46 (1:08:43). Everyone still in it.
Mile 15: 5:08 for the lead group that includes Jared Ward. Fauble, Ritzenhein and Biwott a few seconds back.
Mile 16: 4:55 for the 16th mile. No major movement yet.
Mile 17: Everyone still together--it's like the race just started. The last mile was 5:09. Fauble and Ward are out front. There are still 15 men in that group--remember top ten finish gets you an Olympic standard.
Mile 18: 5:01 last mile, American Scott Fauble leads with a healthy group behind him.
Mile 19: 4:50 mile, Kirui and Cherono at the front. Could we finally see some serious separation?
Mile 20: 4:57 last mile and it's Kirui joined by Desisa, Rono, Berhanu, Kandie, Kipkemoi, Cherono and Talum. Fauble a few meters back.
Mile 21: It's a 5:07 with Fauble joining the seven from Kenya and Ethiopia.
Mile 22: And now a 4:46 mile with Kirui, Cherono and Desisa asserting themselves.
Mile 23: 4:48 mile and the pace is starting to ratchet it up.
Mile 24: A 4:31 mile and the race is on. Cherono, Desisa and Kipkemoi are the three that are up to the task. Kirui has been dropped.
Mile 25: All three still in the mix, this is going to be like the finish of a 10,000m. Last mile in 4:39.
Finish: Desisa storms to the front on Hereford. Cherono and Kipkemoi are desperately trying to keep up.
Kipkemoi drops back and it's Desisa and Cherono. It goes down to the line and Cherono just has enough. Incredible finish.
Scott Fauble finishes seventh in 2:09:10 and Jared Ward takes eighth in 2:09:25, both men earn the Olympic standard.