2019 Boston Marathon
For Some Elite Athletes, Family Support Is Key For Boston Marathon Success
For Some Elite Athletes, Family Support Is Key For Boston Marathon Success
Running professionally can take a toll on a family, but their support has been key for several Boston Marathon elites.
Apr 12, 2019
by David Monti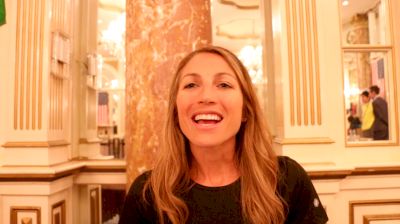 Unlock this video, live events, and more with a subscription!
Get Started
Already a subscriber? Log In
(c) 2019 Race Results Weekly, all rights reserved
BOSTON (12-Apr) -- Much has been made of the loneliness of the long distance runner, but for many of the 128 elite athletes who will run Monday's 123rd Boston Marathon their race preparations required a commitment from their entire family. Some athletes have spent weeks, even months, at far-away training camps while their spouses stayed at home working full or part-time jobs, taking care of homes, and minding children. Young children lost precious time with fathers and mothers, all in the name of marathon success.
The 2019 Boston Marathon will be live on FloTrack in over 40 European nations
"Every time I go away the frown comes out," admitted Dathan Ritzenhein who said he was away from his family for a total of about two months during his Boston build-up. He added: "My wife has been the marathon widow for the last couple of months, really."
Ritzenhein, 36, the fastest American man in the field with a personal best of 2:07:47, gets emotional when he speaks about the sacrifices made by his wife, Kalin, daughter Addison (11), and son Jude (8) for his athletics career.
"My wife, Kalin, has been like the rock for me over the years," Ritzenhein told Race Results Weekly, shaking his head. "It's so emotional. The emotions that go into training. It's not just race day, it's every day. It's a lifestyle. You live and die by the workout you did that day. You come home and your mood is dictated by how our workouts went, if it went wrong or if it went great."
A member of the Hansons Brooks Distance Project, Ritzenhein said he left his Belmont, Michigan, home for three separate training trips to Florida during the winter. He said that he missed every day with his family, but knowing that they are all counting on him and supporting him was a key driving force in his training.
"I try to have a balance in life, but it's a passion," he said of his running. "The family has adopted that." He continued: "If dad can give them something special on race day I think it gives them some perspective on the sacrifices that go in day-in and day-out."
Ritzenhein's Hansons Brooks teammate Shadrack Biwott is also a father and had to spend long periods of time away from his family in Folsom, Calif. But Biwott, 34, said his wife Katharine, son Xavier (11), and daughter Eve (6), are fully committed to his career.
"To be honest, without my family I wouldn't be doing this," he told Race Results Weekly. "Because I'm away from my family, and so if the family wasn't behind this one hundred percent it would be tough."
Like Ritzenhein, Biwott said that was away from home about two and a half months during his Boston build-up, including stints in Florida and Kenya. When he was home, he was often tired. But, he said, his family was always understanding, especially Katharine, even though she works full-time.
"She's my best friend, she's my biggest supporter," he said. "She understands. Without her I'd be nothing."
For Kenya's Edna Kiplagat, the 2017 Boston Marathon champion, her marathon build-up put an unusual strain on her family this year. In January her husband and coach, Gilbert Koech, and her children, Carlos (15) and Wendy (10), relocated from Kenya to Boulder, Colorado, where they enrolled in an American school for the first time. Kiplagat remained in Kenya to train alone trusting Koech to support the children during their transition.
"I was by myself for one and a half months because they moved in January," said Kiplagat, who didn't get to Boulder until mid-March. "My coach gave me the program. I was updating him every day on everything I have done. I was happy with what I did because it was everything he wanted to do."
Koech, who gave up his own running career to coach his wife, has a special understanding of what she needs to succeed. Everything in their family is organized to maximize Kiplagat's chances of success, especially since she is close to the end of her competitive career.
"He was an athlete so he understands what an athlete needs," she said. "He knows how to motivate me, he knows how to support me. We are always planning everything that we are doing as a family, and also as coach and athlete."
Sara Hall, 36, is in a similar position. She is coached by her husband, Ryan, who remains the fastest-ever American on the Boston Marathon course (2:04:58). Ryan juggles coaching Sara and other athletes while the couple raises four daughters in Flagstaff, Arizona. Sara emphasized that they try not to prioritize her running over other family goals.
"We try not to make the family be all about me," she said. "Everyone's important. My oldest daughter is in the middle of her track season. Our other kids have things they are into."
Hall takes particular pride in how her running shows her daughters the value of goal-setting, planning and hard work.
"It's great to be able to show my girls how you can make a career out of something you love the most," she said.
For Sally Kipyego --the 2012 Olympic 10,000m silver medalist for Kenya who became an American citizen in January, 2017-- her primary training partner is her husband, Kevin Chelimo. Chelimo, a 2:15 marathoner, matched nearly every step of Kipyego's marathon program while the couple stayed in Kenya for training with their daughter Emma (21 months-old) this winter. Chelimo has committed himself to helping his wife build back up to the world-class level she was at before having Emma.
"Kevin paces me through almost all of my workouts, all of them basically," Kipyego, 33, said. "Right now, he's not running a marathon, but he's done all my runs. We are trying to get Sally to be where she was, really fit and really fast. So, he's had to push his own goal a little bit aside." She added: "I need to get there first."
Boston's hills --both up and down-- make it a very difficult marathon, and Kipyego said that thinking about her family would help her run her best, especially in the second half of the race.
"When it starts hurting you really think about them," she said. "You kind of want to fight one more step for them."