2019 Boston Marathon
'It's About Dang Time': Fauble, Ward Break Through In Boston
'It's About Dang Time': Fauble, Ward Break Through In Boston
With two 2:09s in Boston, two Americans had the best day by a U.S. duo in a long time.
Apr 17, 2019
by Lincoln Shryack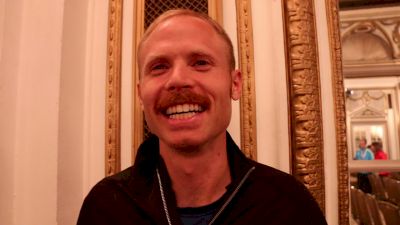 Unlock this video, live events, and more with a subscription!
Get Started
Already a subscriber? Log In
The last time that an American man not-named Galen Rupp broke 2:10 in the marathon before Monday, a 25-year-old Jared Ward owned a 2:16 PB and Scott Fauble was a junior in college.
No one would have predicted in 2014 that those two would be the next in line behind Rupp to break 2:10, but then again no one could have foreseen the dark days ahead for American men's marathoning. After all, if a 38-year-old Meb Keflezighi could run 2:08 and win the Boston Marathon, how hard could sub-2:10 be for the next generation of domestic talent?
Very hard, as it turns out.
Five years had passed since Keflezighi improbably won the 2014 Boston Marathon in 2:08:37, and in that span Keflezighi retired and no other U.S. male besides Rupp ran under 130 minutes for 26.2 miles. And it's not exactly like a ton of guys were knocking on the 2:10 door, either; Luke Puskedra's 2:10:24 from 2015 was the last non-Rupp sub-2:11, and he's since retired to sell real estate.
The main culprit for the dearth of quality times by American men over the last half decade is largely a mystery, but several factors seem to have contributed-- the short-lived primes of distance stars Ryan Hall and Dathan Ritzenhein, a longer focus on track relative to other countries, and limited opportunities to run fast times, especially for those on the Boston/NYC marathon cycle. But then again, the U.S. women have had no problem excelling in the same period, so Occam's razor suggested that this was just a lousy era for the men.
As fun as it was to watch Rupp's seamless transition to the elite levels of international marathoning, there wasn't a whole lot else to celebrate over the last few years.
That all changed on Monday, as the precocious 27-year-old Fauble battled up front late with top East Africans in just his third marathon, while the veteran Ward coupled grit and experience to finish just 16 seconds behind him. Fauble was seventh in Boston in 2:09:09, an enormous 3:19 PB, with Ward bettering his previous best by 2:05 to run 2:09:25 for eighth.
I don't have the words to explain yesterday yet. Until those words come, I want to say thank you to so many people, but mostly to Boston. You guys were perfect out there. Thank you!
2:09:10
7th place at the Boston Marathon
1st American
? @Justin_Britton pic.twitter.com/nUcmsyG5v5

— Scott Fauble (@scottfaubs) April 16, 2019
Each man pushed the pace up front at different points in the race, with Fauble particularly strong as he was lockstep with the leaders through 35k. More than just the finishing times themselves, the two Americans' presence at the front of a major marathon was a welcome sight that felt especially cathartic as Rupp recovers from an injury this spring.
Or, as Ward put it…
"It's about dang time," he exclaimed afterwards, referring to the end of the sub-2:10 drought.
2:09!!!!! @scottfaubs #BostonMarathon pic.twitter.com/hZ4IGocvrA

— Jared Ward (@jwardy21) April 15, 2019
"I've been waiting on this 2:09 race for a long time. I think I've had it in me a little bit, but conditions today were good enough for running fast," said Ward, now 30.
It's natural for athletes and fans to hone in on a round number like 2:10 and obsess on its significance, especially with the Americans struggling for years to eclipse a time that literally hundreds of men achieve annually, but the actual time is less important than simply being competitive at a major like Fauble and Ward were in Boston.
Guys break 2:10 all the time that will never sniff the Olympic Games, but these two, by each hitting the Olympic standard and scoring huge personal bests the hard way, have provided a jolt of excitement about the U.S. men's marathon depth heading into an Olympic year that was missing for a long time.
Now with the Trials in Atlanta a little more than 10 months away, the narrative seems to have shifted from one solely focused on the health and fitness of Rupp to the realization that a potential Olympic team of Rupp, Fauble and Ward would be a squad to get excited about for Tokyo.
Rupp and Ward were third and sixth in Rio in 2016, respectively, and Fauble just ran the second-fastest time by an American in Boston in the last seven years. If these are the three that wind up qualifying for the Olympics next February, you have to feel a lot better about them now than you did before Boston.
"We (American men) have done very well at competing at the top marathons, and sometimes that means, like today, competing at top marathons means running 2:09. And sometimes at New York, competing really well at top marathons mean running 2:12," said Fauble.
Unlock this video, live events, and more with a subscription!
Get Started
Already a subscriber? Log In
Fauble is referring to his and Ward's top ten finish at last November's New York City Marathon, where the pair were sixth (Ward) and seventh (Fauble). But I see a big difference between this week's performances and those from the fall, and not just because the times were three minutes faster and under an arbitrary barrier. Fauble and Ward finished just 1:12 and 1:28 behind winner Lawrence Cherono on Monday, whereas they were both nearly six and a half minutes behind NYC champion Lelisa Desisa in November.
Yes, the two races were run much differently, but there's no doubt that Ward and Fauble have made considerable progress in the six months since New York. For both, the floor at a major marathon now sits where the ceiling used to be.
More than finally breaking 2:10 or notching another top 10 major finish, Boston represented the first time in a long time for American distance fans to feel optimistic about the men's marathon beyond just the singular talent of Rupp.
With the U.S. marathon stars of a generation ago-- Meb, Hall, Abdi and Ritz-- either retired or fading into the twilight of their careers, it feels good to finally see signs of brighter days ahead.