2019 DI NCAA Outdoor Championships
RECAP: Arkansas Wins Title After USC Baton Drop, Ostrander Three-Peats
RECAP: Arkansas Wins Title After USC Baton Drop, Ostrander Three-Peats
The final day of the 2019 NCAA Outdoor Championships is here as the women's competition concludes, and FloTrack is on site to bring you all the latest news.
Jun 8, 2019
by Jennifer Zahn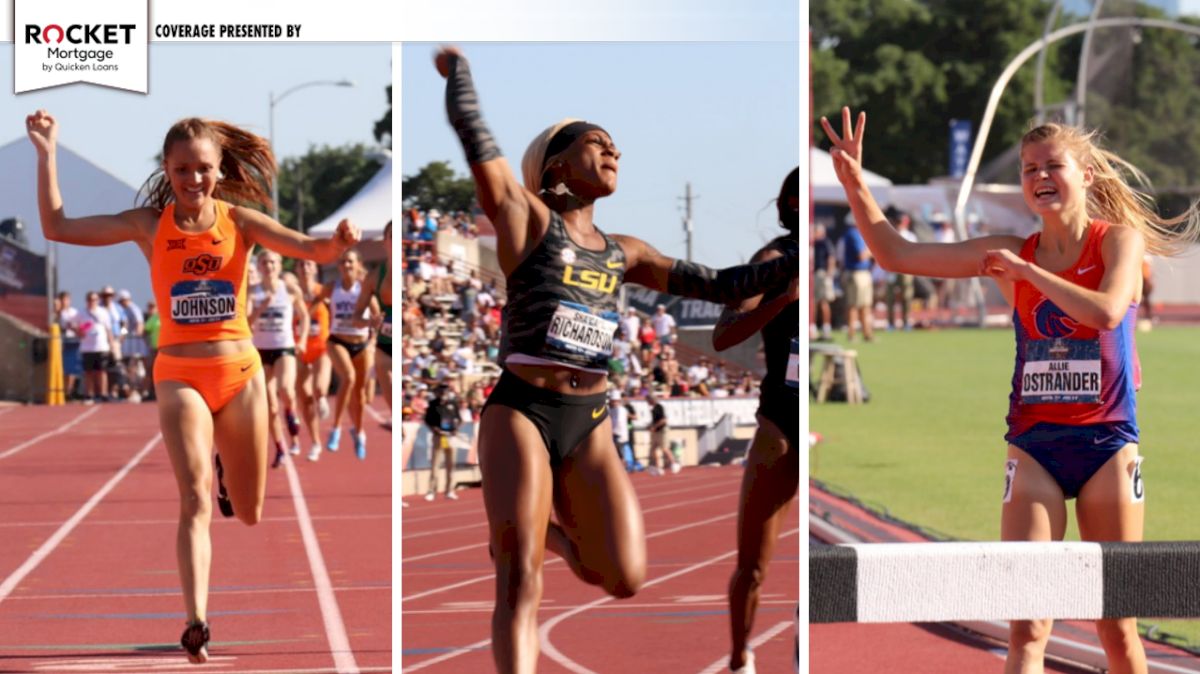 Unlock this article, live events, and more with a subscription!
Get Started
Already a subscriber? Log In
After the Razorback and the Lady Trojans entered the final event tied with 56 points each, Arkansas cruised to the 2019 Division I NCAA Outdoor team title as disaster struck USC on Anna Cockrell's third leg, causing her to stumble and drop the baton.
Check out the full recap below to see how it all went down.
Live Team Score Projections | Post-Race Interviews | Day 2 Recap | Day 1 Recap | Day 3 Recap
TRACK EVENTS
Women's 4x100m Relay Final | 5:32 p.m.
Fight on! The Lady Trojans got the edge with 10 valuable team points in this one by running the fastest time in the world this year, 42.21, with Twanisha Terry on the anchor, who managed to maintain the lead and outlast a furious charge from LSU's Sha'Carri Richardson on the final exchange. The Tigers' 42.29 ranks No. 2 globally.
Starting the day off right AGAIN???????
pic.twitter.com/RnK41bJG0G

— FloTrack (@FloTrack) June 8, 2019
| | | | | |
| --- | --- | --- | --- | --- |
| Place | Team | | Time | |
| 1 | USC | USC | 42.21 | SB FR |
| 2 | LSU | LSU | 42.29 | SB |
| 3 | ARKANSAS | Arkansas | 42.79 | |
| 4 | OREGON | Oregon | 42.99 | SB |
| 5 | ALABAMA | Alabama | 43 | SB |
| 6 | N. CAROLINA A&T | N. Carolina A&T | 43.09 | |
| 7 | FLORIDA STATE | Florida State | 43.13 | SB |
| 8 | TEXAS | Texas | 43.69 | |
Women's 1500m Final | 5:41 p.m.
After taking the lead in her semifinal heat against Oregon's Jessica Hull, the defending champion, on Friday, Notre Dame's Jessica Harris replicated her race strategy again in today's final, boldly striking out to crank up the pace after the first lap. She said she wanted it to be a fast final, and made good on that statement, but might have overdone it after splitting 66 and 65 in the middle laps and bearing the burden of leading. Hull overtook her with a lap to go, and Oklahoma State's Sinclaire Johnson went with her.
Down the homestretch, Hull had the lead, but Johnson was already winding up her kick, and blew by her with less than 40 meters to go! She stopped the clock at 4:05.98—a huge PR, facility record, meet record, and the SECOND-FASTEST TIME IN NCAA HISTORY!
Johnson closed that final 400m in 1:02.68 to Hull's 1:03.16!
She sounded incredibly confident when we spoke with her in the mixed zone on Thursday as she said she can handle any race situation, and today, she backed those words up and then some. Wow.
Hull's 4:06.27 is a new PR, and the third-fastest in-season performance in collegiate history.
Johnson was one of three Cowgirls to make the final. Her teammates, Jenny Celis and Molly Sughroe, ended up in seventh and eleventh. Ohio State's Julia Rizk, this years' indoor champion, finished last.
Harris's gutsy strategy ended up landing her on the podium in third.
We don't want to just compete, we want a TITLE today???

pic.twitter.com/zeqTnhvnnE

— FloTrack (@FloTrack) June 8, 2019
Women's Steeplechase Final | 5:54 p.m.
Today, Allie Ostrander of Boise State had the opportunity to become the only woman in NCAA history to win three back-to-back steeplechase titles, and she did just that after tearing away from the pack with two laps to go.
She wasn't challenged at all, leaving New Mexico's Adva Cohen, the European fifth-placer purported by many (but mostly Gordon Mack) to be her primary competition, and Charlotte Prouse looking for answers as she continued to extend the gap between her and the field by a healthy 20-meter margin heading into the finish line. The 11-time All-American won in 9:37.73, a PR, to become the sixth-fastest steeplechaser in NCAA history.
Behind her, the race was a little more dramatic for second as Hannah Steelman of Wofford stumbled over the final water barrier and opened up an opportunity for Prouse to get past her and repeat as runner-up in a 9:44.50 PR.
Steelman, despite her issues navigating the last obstacle, also turned in a PR in 9:46.08.
On her way to the mixed zone, Ostrander jubilantly waved to the crowd in a half-victory lap.
Legend.
3️⃣PEAT & Still undefeated!

??? pic.twitter.com/eB5td25XQJ

— NCAA Track & Field (@NCAATrackField) June 8, 2019
In her post-race interview, Ostrander basically said what we're all thinking about this Texas heat... though it has to be at least 100 times worse after running.
This Texas heat is something else????
pic.twitter.com/Lic8dZTYUy

— FloTrack (@FloTrack) June 8, 2019
Women's 100m Hurdles Final | 6:12 p.m.
I had a feeling we were on the verge of seeing another historic performance in the hurdles this weekend, and we did as Arkansas' Janeek Brown delivered the second-fastest collegiate race ever in 12.40, narrowly missing out on the best time, 12.39 ran by Brianna Rollins (McNeal) in 2013, by one-hundredth of a second!
In second, USC's Chanel Brissett picked up eight huge points for her team, as well as a new world age-19 best of 12.52.
No. 1️⃣ in the world....JANEEK BROWN!
pic.twitter.com/NjsA1SStSp

— FloTrack (@FloTrack) June 8, 2019
Women's 100m Final | 6:22 p.m.
HERE. WE. GO.
Heading into this one, we had a ton of questions: Will North Carolina A&T's Kayla White, the NCAA leader in 10.96, be able to replicate that performance? Can LSU freshman Sha'Carri Richardson continue her hot streak of running 10.99? Will Teahna Daniels be able to win a title on her home track?
IT'S ALL SHA'CARRI RICHARDSON!!!!!! 10.75!!!!!
Amid the backdrop of a collective gasp that certainly extended far beyond the stands of Mike A. Myers Stadium in Austin, Texas, LSU freshman Sha'Carri Richardson smashed the NCAA record in an absolutely mind-melting 10.75, finishing nearly five meters ahead of the rest of the field.
The former NCAA record, 10.78, was set 30 years ago in 1989 by another LSU Tiger, Dawn Sowell.
Richardson's closing speed was remarkable to behold as her momentum was unstoppable from 50 meters to the finish line. The next-closest finisher, North Carolina A&T's Kayla White, was a full two-tenths of a second behind when Richardson stopped the clock.
Her 10.75 also makes her the ninth-fastest performer in world history, the fastest junior ever, and the current world leader... and I have a feeling she's just getting started.
WORLD JUNIOR RECORD
WORLD LEADER
SCHOOL RECORD
COLLEGIATE RECORD

THE LIST WON'T STOP FOR SHA'CARRI RICHARDSON?????

pic.twitter.com/emLJT3FUZT

— FloTrack (@FloTrack) June 8, 2019
The race itself was also historic as it was the first time two competitors ever went sub-11 in a final with wind-legal readings, and the results contained the best marks ever for first through seventh place.
Women's 400m Final | 6:32 p.m.
South Carolina's Wadeline Jonathas just added an NCAA Division I title to her collection. The back-to-back NCAA Division III winner in 2017 and 2018 ran a PR of 50.60—the fastest time in the NCAA this season—to do it, closing out Kentucky's Chloe Abbott with a strong finish.
Jonathas said it is time to GO??

pic.twitter.com/tHDk8VGB4A

— FloTrack (@FloTrack) June 8, 2019
Women's 800m Final | 6:44 p.m.
Jazmine Fray is BACK. The Texas A&M junior held off an earnest kick from Penn's Nia Akins, who turned in a terrific 2:01.67 PR, to clinch victory in 2:01.31—the fastest Fray has run since last April.
With that performance, she earned Texas A&M its second consecutive 800m title since Sammy Watson won in 2018.
By any means necessary?
pic.twitter.com/96VJes5LcI

— FloTrack (@FloTrack) June 9, 2019
Women's 400m Hurdles Final | 6:57 p.m.
Anna Cockrell ran the only collegiate sub-56 en route to capturing the 400m hurdles title for USC, which now has a lead over the rest of the programs in the team title race, followed closely by the Razorbacks.
I also want to talk about Colorado's Gabby Scott—I picked her for the dark horse win in this event after flying under most people's radars this season, but her rate of improvement this year has been remarkable, and she punctuated her 2019 with the runner-up finish and a shiny new 56.04 PR.
Anna Cockrell makes 5️⃣5️⃣:2️⃣3️⃣look EASY! pic.twitter.com/B1stMmcoaB

— NCAA Track & Field (@NCAATrackField) June 9, 2019
Women's 200m Final | 7:07 p.m.
Another race, another broken world junior record for LSU's Sha'Carri Richardson—but this time, not another title.
USC's Anglerne Annelus successfully defended her title today with a .01 edge on the new 100m collegiate record-holder, 22.16 (a new PR and facility record) to 22.17 (WJR).
The world junior record was formerly held by Allyson Felix, who ran 22.18 in 2003.
Janeek Brown of Arkansas also continued her historic day after winning the hurdles with the second-fastest collegiate time ever by recording the best single-day double ever in the 100m hurdles and 200m.
Her 12.40 and 22.40 gave her a sum of 34.80, which landed her as the best 100m hurdles-200m performer ever, ahead of Jackie Joyner-Kersee, who previously held the mantle with 35.01.
200m #NCAATF title TWICE, back to back?

pic.twitter.com/mq6rD5ZiGt

— FloTrack (@FloTrack) June 9, 2019
Women's 5000m Final | 7:25 p.m.
Amid 94-degree temperatures and only a half-lap of shade, the women's 5000m played out with a number of top contenders in Colorado's Dani Jones, the reigning cross country champion, and Thursday night's 10K champion Weini Kelati of New Mexico sticking near the front as Air Force's Jaci Smith led the pack for several laps in the 77-78-second range. Around 2400 meters, a pack of eight peeled off as the rest of the group fell off the pace. More and more women began to take advantage of the water stop at this point as the heat continued to beat down on the track.
In that lead group of eight, Kelati assumed the lead as they cruised through 2600m in another 68-second lap, followed by Smith on her hip, Alabama's Esther Gitahi, and then Taylor Werner of Arkansas, who took fourth in the 10K, and Jones. At 3000m, Kelati took the field through in 9:37.13.
With two laps to go, the race began to heat up. Kelati still led, with Jones, Gitahi, Werner, Jessica Pascoe of Florida, Josette Norris of Georgetown, Makena Morley of Colorado, Smith, and O'Keeffe, who stumbled to the ground earlier in the race.
At the bell lap, Werner made a giant move to take the lead, but Jones was right there behind her with that trademark deadly kick. Kelati was in fourth, but was soon overcome by Gitahi, who surpassed Norris and aimed at Jones and Werner. Around the final turn, Jones unleashed her speed, and there was no beating her. Jones won in 15:50, followed by another great showing by Werner in second for 15:51.24 and big points for the Razorbacks, and then Gitahi in 15:51.85—a PR.
Also worth noting are the three badass women who completed the 3000m steeplechase/5000m double in less than two hours amid temperatures in the mid-90s: Allie Ostrander (1st/16th), Charlotte Prouse (2nd/15th), and Hannah Steelman (3rd/8th).
#NCAAXC ➡️ #NCAATF Champion, Dani Jones❕❕❕❕❕❕❕❕❕
pic.twitter.com/etSDyakkg0

— FloTrack (@FloTrack) June 9, 2019
Women's 4x400m Relay | 7:51 p.m.
This one was for ALL the marbles, as USC and Arkansas were TIED at the top with 56 points each entering this final race.
A hush fell over the stadium as the women got into their blocks, and then it erupted with the gun. From the homestretch, USC's fans chanted at each leg with every pass.
But they got quieter after Anna Cockrell, the third leg, got into a collision heading into the homestretch, stumbled, and dropped the baton.
And just like that, no matter how Arkansas finished the relay, they clinched the 2019 NCAA Division I Outdoor title.
Every team besides USC turned in a season's best time in the final.
| | | | |
| --- | --- | --- | --- |
| Place | | Time | |
| 1 | Texas A&M | 3:25.57 | SB |
| 2 | Arkansas | 3:25.89 | SB |
| 3 | South Carolina | 3:26.90 | SB |
| 4 | Florida | 3:27.02 | SB |
| 5 | Alabama | 3:27.12 | SB |
| 6 | Kentucky | 3:29.13 | SB |
| 7 | Baylor | 3:32.37 | SB |
| 8 | USC | 3:35.55 | |
World! Leading! Baby!pic.twitter.com/DayyJQi3Vx

— FloTrack (@FloTrack) June 9, 2019
FIELD EVENTS
Women's High Jump Final | 5:00 p.m.
In a jump-off with North Carolina's Nicole Greene, Texas Tech's Zarreia Willis won the title her senior year with a 1.88m (6'2") PR on her first attempt. She entered the meet a distant fifth with a 1.85m (6'0.75") former PR.
Congratulations Zarriea Willis!

NCAA Women's High Jump Champion! pic.twitter.com/OXTjydAoIQ

— NCAA Track & Field (@NCAATrackField) June 9, 2019
Women's Discus Final | 5:05 p.m.
Iowa's Laulauga Tausaga earned the discus title with a lifetime-best toss of 63.26m (207'6").
She upended NCAA leader Shadae Lawrence of Colorado State, whose season's best was 65.05m (213'5") and Shanice Love from Florida State with her second throw.
Discus Champion????

pic.twitter.com/IRF7rEHgB1

— FloTrack (@FloTrack) June 9, 2019
Women's Triple Jump Final | 5:40 p.m.
Major upset: Kansas State's Shadia Lawrence dethroned heavy favorite Yanis David of Florida, who won the long jump title this week, with a gigantic PR of 13.99m (45-10¾).
Before the final, Lawerence's best mark of the year was her winning 13.72m (45'0.25") jump from the Big 12 Championships, which also counted as her PR.
Shardia Lawrence, triple jump champion??
pic.twitter.com/70XtX8lmRD

— FloTrack (@FloTrack) June 9, 2019