2019 DI NCAA Outdoor Championships
A Running List Of College Athletes Going Pro In 2019
A Running List Of College Athletes Going Pro In 2019
It's that time of year! We're keeping this page updated to highlight which collegiate stars are turning pro and where they're going.
Jun 13, 2019
by Jennifer Zahn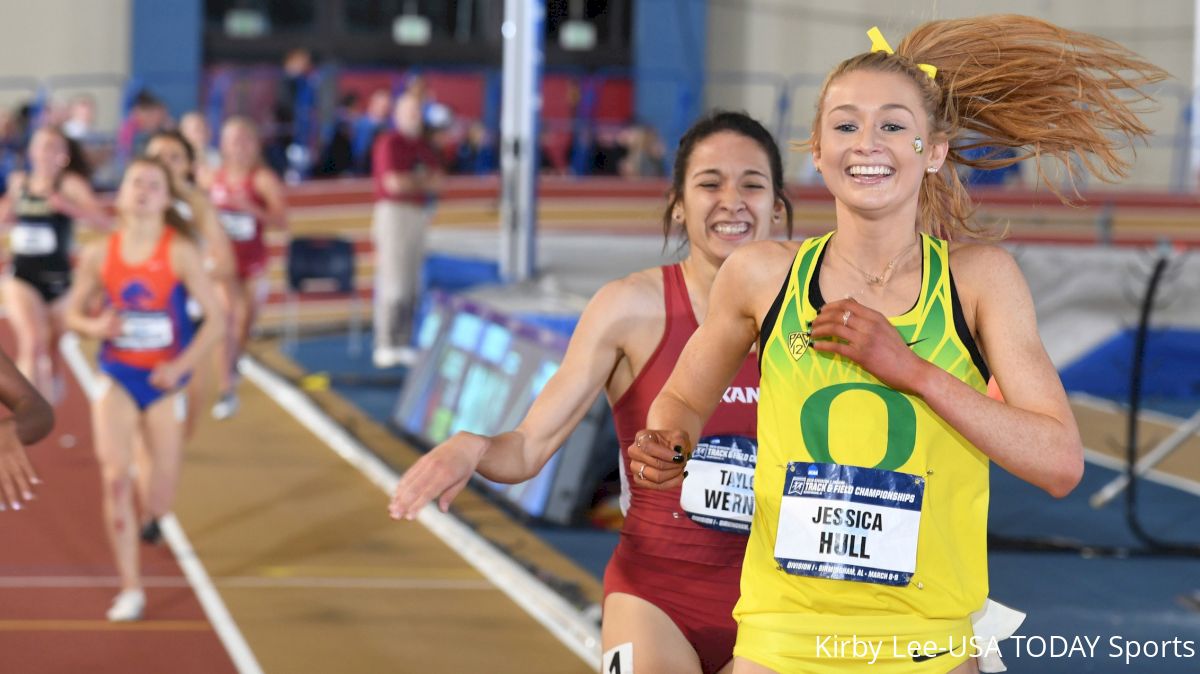 It's that time of year! We're keeping this page updated to highlight which collegiate stars are turning pro and where they're going.
New additions are being added below.
Contact reporter Kevin Sully with tips at kevin.sully@flosports.tv.
July 19: Morgan McDonald Signs With Under Armour
Four-time NCAA champion Morgan McDonald has signed with Under Armour, the former Wisconsin Badger announced on Instagram on Friday:
McDonald enjoyed a dream final season in Madison in 2018-2019, winning every NCAA Championship race he contested. The Aussie won the NCAA XC title in November on his home course before racking up three more crowns on the track: the indoor 5k and 3k in March and the 5k outdoor title in June.
The 23-year-old will make his professional debut on Saturday in the London Diamond League 5,000m.
July 16: Jessica Hull Joins Nike Oregon Project
2018 NCAA 1,500m champion and former Oregon Duck Jessica Hull has signed with the Nike Oregon Project, the group announced on Tuesday:
Welcome to the Oregon Project Jessica Hull!!! pic.twitter.com/0zM7aER0WG

— Oregon Project (@OregonPJT) July 16, 2019
Hull becomes the first 2019 signing for the Alberto Salazar-coached training group. Hull, who won four NCAA titles over her final two seasons at Oregon, ran a 4:02.62 personal best on June 30 at the Pre Classic. She will now join fellow Duck alums Galen Rupp and Eric Jenkins on NOP.
For a female 1,500m runner with medal ambitions, you'd be hard-pressed to find a stronger training group than Salazar's current squad: the 22-year-old Hull will get to train with two of the best milers on the planet, including new world record holder Sifan Hassan (4:12.33) and 3:58 1,500m star Konstanze Klosterhalfen.
The Australian finished second in the 2019 NCAA 1,500m final on June 8.
July 2: Kenny Bednarek Signs With Nike
Junior college phenom Kenny Bednarek of Indian Hills Community College will forgo his remaining collegiate eligibility and turn professional, his agent Sekou Clarke told FloTrack. The 20-year-old, who electrified the junior college championships in May with a 19.82/44.73 200m/400m one-day double, has signed with Nike:
Another athlete that said Just Do It! Kenny Bednarek ➡️ Nike

?: @IHCCrunning pic.twitter.com/ApcjDXz0cC

— FloTrack (@FloTrack) July 2, 2019
Bednarek became something of a small school legend throughout the 2019 season as he dropped fast times early and often during indoor and outdoor. The former Wisconsin prep star ran a 20.30 200m in February that was second-fastest collegiately indoors, the first real sign that Bednarek could be special on an international level this season. He validated that on May 18 with his historic double in New Mexico, which made him the second man in world history to go sub-20 and sub-45 in one day.
July 2: Allie Ostrander Goes Pro
Three-time NCAA steeplechase champion Allie Ostrander will forego her final year of eligibility at Boise State to turn professional. The Idaho Statesmen reports that Ostrander will be represented by Ray Flynn, but has not yet signed with a brand.
Ostrander lowered her steeplechase personal best to 9:31.44 at Sunday's Prefontaine Classic. During her career at Boise State, she placed in the top 10 at the NCAA Championships on 12 different occasions.
June 27: Kahmari Montgomery Signs With Nike
2019 NCAA 400m champion Kahmari Montgomery has signed with Nike:
The former Houston sprinter won his first NCAA title on June 7 in a 44.23 personal best, eighth-fastest in collegiate history. That victory was preceded by a 400m U.S. title in 2018.
June 26: Janeek Brown Turns Pro
The second-fastest 100m hurdler in NCAA history, Janeek Brown, has elected to forgo her final two years of eligibility to turn professional:
"Blessed is she who believes the Lord will fulfill His promise for her"?? Luke 1:45.. I AM PROFESSIONAL! #WPS #ForeverRazorback ?❤️ pic.twitter.com/yvWHwnYHDD

— Janeek Brown (@Jbne_) June 27, 2019
The Arkansas sophomore ran 12.40 on June 8 at NCAAs, just .01 behind Brianna McNeal's 12.39 collegiate record. The time remains the fastest in the world this season. She also finished fourth in the 200m in a 22.40 PB in Austin.
The Jamaican has yet to announce a brand signing.
June 24: Payton Chadwick Signs With Asics
Former Arkansas star sprinter/hurdler Payton Chadwick has signed with Asics:
Meet your new hurdler/sprinter for ASICS. Thanks to everyone that's helped me get to this point. There's a lot of work to be done. Excited to be apart of the ASICS family. #ASICS #asicsathlete #professional #professionalathlete #winthelongrun #dearshoes pic.twitter.com/gsPQ6ooizd

— Payton Stumbaugh Chadwick (@pay_hurdles) June 24, 2019
A former heptathlete, Chadwick switched to full-time sprinting and hurdling in 2018 and won the 60m hurdles indoor NCAA title that same season. The 23-year-old owns a 12.70 100m hurdles PB to go along with her 22.97 200m best.
June 20: Grant Fisher Joins The Bowerman Track Club
One of Stanford's finest will be wearing a different red jersey next time he competes.
22-year-old Grant Fisher, who most recently finished runner-up in the 5000m at the NCAA Division I Outdoor Championships, has signed with Kimbia Athletics and will train with the Nike Bowerman Track Club.
We're delighted to welcome Grant Fisher to the Kimbia team. A standout distance runner at Stanford University, he will now embark on his professional career with the Nike Bowerman Track Club.

More: https://t.co/2NpwmM26Oa

?https://t.co/0uuAK5aMSr pic.twitter.com/PpPTQxlWnI

— KIMbia Athletics (@kimbia) June 20, 2019
Fisher, a nine-time All American, won the 5000m title in 2017. He closed his collegiate career with PRs of 13:29.52 for 5000m, 7:42.62 for 3000m, and 3:39.60 for 1500m. In 2015, he famously became the sixth high schooler to break four minutes in the mile.
June 20: Jessica Hull Forgoes Remaining Eligibility To Turn Pro
Four-time NCAA champion and most recently women's 1,500m runner-up in Austin, Jessica Hull of Oregon, has elected to forgo her final collegiate track season to turn professional. Hull will be represented by Total Sports US:
Welcome @jessicahull143 to #TeamTotal ! The 7x All-American and 4x National Champion from @OregonTF will be supported by TotalSports moving towards @IAAFDoha2019 and @Tokyo2020 ! pic.twitter.com/RtK4XoIG3T

— Total Sports US (@totalsportsus) June 20, 2019
Hull, who ran 4:06.27 to finish second at NCAAs behind Sinclaire Johnson on June 8, collected NCAA titles in the indoor 3,000m and DMR in 2019. The Australian also won the 2018 NCAA 1,500m crown. The 22-year-old had outdoor track eligibility remaining.
June 19: Kayla White Signs With Nike
2019 NCAA indoor 200m champion and 100m runner-up Kayla White, formerly of North Carolina A&T, has signed with Nike:
White was second behind Sha'Carri Richardson in the NCAA 100m in a 10.95 personal best, fifth-fastest in the world this season and tied for fifth in collegiate history. White won the indoor 200m title in March in 22.66.
June 18: Cravon Gillespie Signs With Nike
NCAA runner-up in the 100m and 200m in Austin, former Oregon sprinter Cravon Gillespie has signed with Nike.
Just signed a deal I'm on..

June 14,2019 Turned my dreams into Reality ?? pic.twitter.com/mk24B6c31I

— Cravon Gillespie ⚡️ (@FlashCray) June 19, 2019
Gillespie set impressive PBs of 9.93 (100m) and 19.93 (200m) three weeks ago at the NCAA Championships.
June 17: Daniel Roberts Signs With Nike
Former Kentucky star Daniel Roberts, the 2019 NCAA 110m hurdles runner-up and the second-fastest man in the world this season, has signed with Nike:
Blessed is an understatement! This year has brought me everything I could ask for and more...but this is only the beginning!! I'm beyond proud to announce I will be representing Nike as I continue this amazing journey God has placed before me! pic.twitter.com/CAbO2kJep7

— Daniel Ellis Roberts (@riseofdrob) June 17, 2019
Roberts played an integral role in producing the best high hurdles rivalry in NCAA history between he and Florida's Grant Holloway, and the junior ended his collegiate career with a 13.00 second place finish in Austin. The time tied Renaldo Nehemiah for second-best in NCAA history behind only Holloway's 12.98.
Holloway announced his signing with adidas late last week.
June 13: Divine Oduduru Forgoes Senior Season To Go Pro
Texas Tech sprint phenom Divine Oduduru, who won the 2019 Division I 100m and 200m titles with PRs of 9.86, the second-fastest collegiate 100m mark in history, and 19.73, has announced he will forgo his senior year with the Red Raiders to go pro.
"Your beginnings will seem humble, so prosperous will your future be."

Job 8:7 NIV

Thank you @TexasTechTF, these last few years have been filled with opportunity & memories.

Now I've decided to pursue my career at the professional level. #MRINeverExperredIt ? x #WreckEm pic.twitter.com/O5L6665aSl

— Oduduru Divine Ejowvokoghene (@odudurudivine1) June 13, 2019
The ebullient Oduduru, known for dancing in celebration after his races, hails from Nigeria, where he racked up dozens of honors at the junior level and the continental level at the African Games. In addition to his two outdoor titles from this past season, Oduduru also won the 2018 outdoor 200m title.
June 12: Sha'Carri Richardson, One & Done
June 20 Update:
Sha'Carri Richardson has signed with Nike and will make her professional debut in the 100m at the 2019 Prefontaine Classic.
.God had a plan for my life & I just followed what was already had set for me. Momma it's about that time but we're never satisfied . I thank @nike for this opportunity & it's only the start of the rest of my life. * I don't own the rights to this music* pic.twitter.com/AmjYM6XUyV

— Sha'Carri Richardson (@itskerrii) June 20, 2019
Richardson will compete against an absolutely loaded field in her pro debut:
Shelly-Ann Fraser-Pryce (Jamaica) 10.70
English Gardner (USA) 10.74
Sha'Carri Richardson 10.75
Murielle Ahouré (Cote d'Ivoire) 10.78
Michelle-Lee Ahye (Trinidad & Tobago) 10.82
Aleia Hobbs (USA) 10.85
Marie-Joseé Ta Lou (Cote d'Ivoire) 10.85
Mujinga Kambundji (Switzerland) 10.95
Kayla White (USA) 10.95
Original June 12 Article:
After rewriting the NCAA and U20 record books as a freshman at LSU, Sha'Carri Richardson announced she will forgo the rest of her collegiate eligibility in favor of signing a professional contract.
At the 2019 NCAA Division I Outdoor Championships, Richardson did the unthinkable when she ran 10.75 in the 100m final, which reset the 30-year-old NCAA record, 10.78, formerly held by LSU's Dawn Sowell.
Her 10.75, a massive improvement on her former PR of 10.99, also made her the ninth-fastest performer in world history, the fastest junior ever (she felled the world junior record of 10.88 set in 1977 by Marlies Göhr of East Germany), and the current world leader.
? 1️⃣0️⃣.7️⃣5️⃣ ?

Talk your talk, Sha'Carri Richardson of @LSUTrackField!

Richardson just broke the COLLEGIATE RECORD & equaled the No. 9 performer in WORLD HISTORYpic.twitter.com/FIVLXJQbi7

— USTFCCCA (@USTFCCCA) June 8, 2019
Less than an hour later, Richardson competed in the 200m final against USC's Anglerne Annelus, the defending champion, going nearly stride for stride to the line, and finished runner-up in yet another world junior record, 22.17, which bested Allyson Felix's mark of 22.18 from 2003.
200m #NCAATF title TWICE, back to back?

pic.twitter.com/mq6rD5ZiGt

— FloTrack (@FloTrack) June 9, 2019
After the championships concluded, many speculated about whether or not she would go pro—today, she made her decision.
Richardson has yet to announce her agent and sponsor.
Richardson was one of the top girls sprinters in the country out of Dallas Carter High School, where she won four individual state titles in Texas, was a two-time Texas Relays champ at 100 meters and was fourth in the 100m at Brooks PR in 2018.
She was ranked by MileSplit as the top girls sprint recruit in the Class of 2019. Her high school resume included wind-legal best times of 11.28 seconds for 100 meters and 23.29 seconds for 200 meters. She also posted all conditions bests of 11.12 and 23.02.
Armand (Mondo) Duplantis
June 11 update: Duplantis has signed with Puma
Mondo has signed with Puma and he already has his own spikes! ?#borntofly pic.twitter.com/ePeC3WI1YF

— Pole Vault Power (@polevaultpower) June 11, 2019
Mondo Duplantis, the collegiate and world U20 record holder in pole vault, announced on Monday that he will forego his final three years of eligibility at LSU and turn professional.
Friendships and memories to last a lifetime. #foreverlsu #borntofly pic.twitter.com/LjNBx7Oalo

— Mondo Duplantis (@mondohoss600) June 10, 2019
Duplantis entered LSU last fall with a resume that looked more like someone at the tail end of their career than one just beginning his freshman season. He was a European champion, had several top three finishes in Diamond League pole vaults and a lifetime best of 6.05m. Only three men in history had vaulted higher than Duplantis.
At LSU, Duplantis broke the collegiate records indoors and won the NCAA Indoor Championships. This spring, he cleared 6.00m at the SEC Championships, surpassing Lawrence Johnson's collegiate outdoor record that stood since 1996.
The only loss of his collegiate career came in his final competition at last week's NCAA Outdoor Championships. South Dakota's Chris Nilsen had first attempt clearances at 5.90m and 5.95m to win the NCAA title. Duplantis, who struggled with pole adjustments throughout the competition, couldn't match him at either height.
Duplantis will vault for the first time as a professional at Thursday's Diamond League in Oslo.
Unlock this video, live events, and more with a subscription!
Get Started
Already a subscriber? Log In
Grant Holloway & Daniel Roberts
On June 14, Grant Holloway officially announced his signing with adidas.
The saga continues.. | @adidasrunning #HereToCreate #Living3StripesLife #WonderBoy? pic.twitter.com/GuGXG1rUmB

— S. Grant Holloway (@Flaamingoo_) June 14, 2019
After their historic showdown in today's final, the NCAA's fastest race 110m hurdle race ever, Florida's Grant Holloway, the new owner of a 12.98 PR, and Kentucky's Daniel Roberts, now a 13-flat man, announced they will forgo their senior years to sign professional contracts.
For Holloway, going pro after this season was essentially a given, as it was surprising to most that he even opted to return for his junior year after a stellar sophomore season in which he swept the NCAA Division I 60m hurdles and 110m hurdles titles for the second year in a row.
But he had unfinished business—a series of to-dos that he crossed off decisively today with his final item: the collegiate record in the 110m hurdles that stood since 1979, which he beat by .02.
When asked about his future, he deferred to his coach, Mike Holloway.
"It's time for him to move on. He's done enough for Florida track and field," Coach Holloway said. "Grant's gotta take care of Grant now. He will be one of the all-time Gator greats."
As for his year-long rival, Roberts, the question of whether or not he would go pro after this season was a little more uncertain, but he definitively let us know his intentions today after the final:
"No sir, I'll be going pro."
Regarding whether he has a contract or not, he explained:
"Not yet, still in the works… during the outdoor season... [with] the collegiate season over with now, I ain't got nothing to hide."
He did let us know that he would be staying in Lexington for now as he charts his path toward becoming a professional.
We will update this article with video interviews as soon as they're available.
Watch Holloway and Roberts' ridiculously fast race here:
An absolute BEAST??????

pic.twitter.com/O2dWXPtxdq

— FloTrack (@FloTrack) June 8, 2019
Rory Linkletter
The BYU product announced he will go pro with Hawi Sports Management guiding his sponsorship decision. Linkletter, a cornerstone of the Cougars' cross country program the past several seasons, ran for his native Canada at the 2019 World Cross Country Championships and then returned to NCAA competition in the outdoor season.
Super excited for what the future holds working with the great people of @hawisports! Blessed to be able to surround myself with the best.
Thank you for believing in me! pic.twitter.com/a33JnGsfiG

— Rory Linkletter (@ThePapaLinks) June 9, 2019