Leonard Korir, Sara Hall Dominate 2019 USATF 20K Championships
Leonard Korir, Sara Hall Dominate 2019 USATF 20K Championships
Korir's margin of victory was 26 seconds, and Hall's was nearly two minutes.
Sep 2, 2019
by David Monti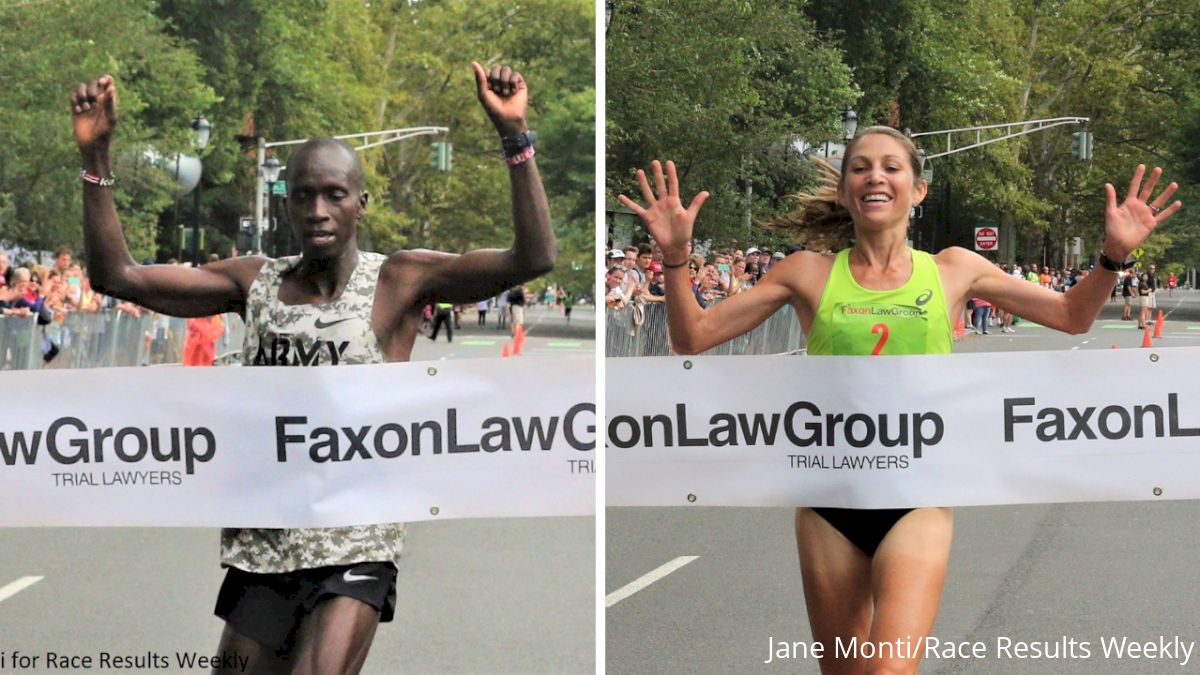 (c) 2019 Race Results Weekly, all rights reserved
NEW HAVEN (02-Sep) -- Leonard Korir, already twice a USA 20-K champion coming into today's Faxon Law New Haven Road Race 20-K here, may have earned a new nickname: "Lonely Leonard."
From just past the two-mile mark of today's USATF 20-K Championships, Korir, 30, from Colorado Springs, Colo., covered the winding urban course completely alone, bagging his third national 20-K title in 59:06. His margin of victory was 26 seconds over runner-up Nathan Martin, but his lead had been over a minute before the chase group gained some ground in the final miles. Korir, who represents the U.S. Army, earned $9000 in prize money.

Speaking to reporters just moments after the finish, Korir hardly seemed winded. "Today I wanted to test my fitness and see how I feel," said Korir matter of factly. "I didn't want it to go slow, like I was just sitting behind."

In fairness to his competitors, Korir did not take the race out from the gun. Diego Estrada, Luke Puskedra and Parker Stinson got the race off to an honest start, leading a big lead pack through the first mile in 4:38, just under event-record pace. The tempo slowed in the second mile to 4:48, which includes the steep climb on Ella T. Grasso Boulevard, and Korir decided to move to the front, and test the field. Scott Fauble looked like he would challenge Korir on the left side of the roadway, but the pace was too fast and he fell back (he would later drop out).

By the 5-K mark (14:38) Korir had a seven-second lead, but by 10-K it was 21 seconds, and by 15-K the chase pack was so far behind it was hard to identify the athletes from the lead vehicle.

"I tried to test myself and see how I feel," Korir continued. "I got a good feeling."

Through East Rock Park, Korir enjoyed the shade of the trees and passed through 10 miles in 47:29. The lead vehicle would soon pull away; the show was already over. Korir strode comfortably to the finish on Temple Street adjacent to the New Haven Green, breaking the tape with his arms raised. His time was just one second off of his personal best set here in 2017 when he finished second to Galen Rupp in a sprint finish; it was his fastest winning time, however.

"I was motivated," said Korir who won the New Balance Falmouth Road Race two weeks ago. "My fitness was coming along."

From here, Korir will shift his focus back to the track and prepare himself for the IAAF World Championships in Doha where he will run the 10,000m for Team USATF on October 6. He said that he would do his primary training for those championships at an altitude camp in Europe.

The second place showing for Nathan Martin in 59:32 was noteworthy. Martin, 30, from Jackson, Mich., finished second at the HAP Crim 10-Mile in Flint just nine days ago in 46:56. It was his first-ever podium finish at a national championships. Stinson (59:41), Jerrell Mock (59:43) and Reed Fischer (59:48) rounded out the top-5. Estrada, an early leader, finished tenth.

In the women's race, defending champion Sara Hall, 36, of Flagstaff, Ariz., beat back a credible challenge from Katy Jermann, 27, of Burnsville, Minn., in the first half of the race. But in the second half, Hall pulled away from the tiring Jermann to win unchallenged in 1:06:47, nearly two minutes up on her rival (1:08:39).

"Katy was really, really strong and I was really thankful she was there," Hall told reporters. "It would have been a lonely run, otherwise. It was just so fun to be out here again."

Hall said that she didn't reduce the mileage she has been running in preparation for her big fall marathon double where she plans to contest the BMW Berlin Marathon on September 29, and the TCS New York City Marathon on November 3. She liked the feedback she got from today's effort, especially when comparing it to last year's race where she ran more than two minutes slower, albeit in hotter and more humid conditions.

"Last year I couldn't even run marathon pace, so this is really encouraging to be able to run a good amount faster," said Hall. "I had my sister and her kids out here cheering. They live right on the course, so that gave me a big boost."

Karis Jochen (1:09:19), Jessica Tonn (1:09:20) and Caroline Alcorta (1:09:27) rounded out the top-5. Hall, like Korir, won $9000 in prize money.

Today's race was the seventh stop of the 9-race 2019 USATF Running Circuit. Both Korir and Hall were the points leaders coming into today's race, and extended those leads, further. Korir now has 73 points, and Hall has 79.5, with two races remaining.