2019 Chicago Marathon
Under Coach Ritzenhein, Stinson Ready For Breakthrough At Chicago Marathon
Under Coach Ritzenhein, Stinson Ready For Breakthrough At Chicago Marathon
The pair hope to compete against each other in next February's USA Olympic Trials Marathon in Atlanta.
Oct 11, 2019
by David Monti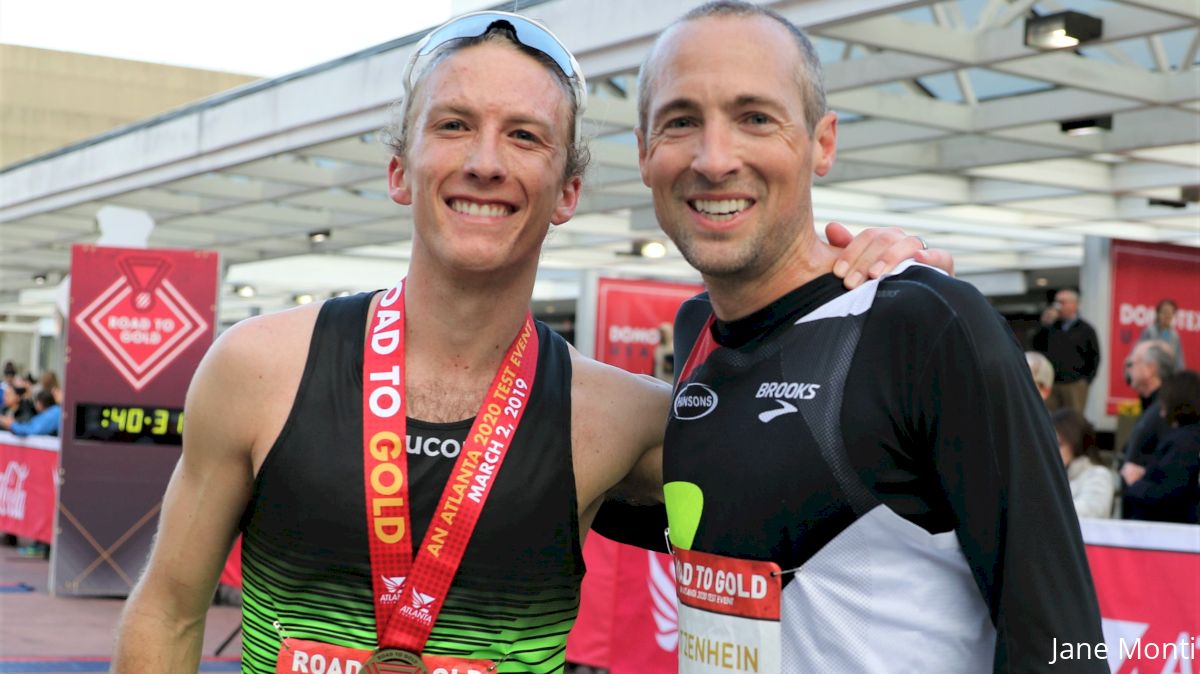 (c) 2019 Race Results Weekly, all rights reserved
CHICAGO (11-Oct) -- As a student-athlete at Cedar Park High School just north of Austin, Texas, Parker Stinson idolized Dathan Ritzenhein.
"We were all huge fan-boys of him," Stinson told Race Results Weekly in an interview here today. Looking a little embarrassed he added: "In our locker room we had pictures of Dathan."
So, nearly 11 years ago, Stinson and his high school teammates drove three and one-half hours to Houston to see Ritzenhein compete in the 2009 USATF Half-Marathon Championships. Maybe, they thought, they could even meet the man who finished second at the 2008 USA Olympic Trials Marathon and ninth at the Beijing Olympic Marathon.
"We drove down hoping to see Dathan and meet him," said Stinson, who will run Sunday's Bank of America Chicago Marathon here. He continued: "He was walking out of his hotel to get a coffee or something. We met him and he was super-nice and spent time with us. That was kind of it. We watched the race and really didn't think much of it."
Little did Stinson know at the time that he and Ritzenhein would cross paths again many times in the future. First, Ritzenhein worked as a volunteer assistant coach at the University of Oregon in 2014 when Stinson was a Duck. Supporting then-coach Andy Powell, Ritzenhein helped tune-up Stinson's training, resulting in a third place finish at the 2014 NCAA Division I Indoor Championships where Stinson took third in the 5000m behind only established stars Edward Cheserek and Lawi Lalang.
More than a year later, Ritzenhein was again helping Stinson who was recovering from an Achilles surgery similar to one Ritzenhein had endured. Stinson was frustrated with the slow pace of recovery.
"I couldn't get out the door for a run because I was, like, 'if I run and it's not better it's over for me,'" Stinson recounted. "I was like so in my head on that. Dathan had had the same surgery. We talked on the phone a lot, and I felt we really reconnected big-time then."
From there, Stinson moved to Boulder where he was coached by Brad Hudson, one of Ritzenhein's former coaches. But after Hudson decided to focus more time on coaching marathoner Allie Kieffer, Stinson realized that he needed more attention than Hudson could give. Right after last year's Chicago Marathon, where Stinson had finished 16th in 2:14:29, he felt lost. He called Ritzenhein for advice.
"'Hey, I don't really know what I'm supposed to do here,'" Stinson recalls telling Ritzenhein. He continued: "I was just asking for advice and Dathan said, 'If you want me to coach you that's something I'd be willing to do.'"
Stinson was stunned. "I didn't know what that meant at the time," said Stinson because he lived in Boulder and Ritzenhein in the Grand Rapids area. Ritzenhein hadn't thought it through, either, but he sensed that something could be worked out.
"I think when you called it was a series of a couple of weeks, talking through whether your situation would continue," Ritzenhein told Race Results Weekly. He continued: "I just think he just didn't know what he wanted to do."
But the two worked out a system where Ritzenhein could coach him remotely, combined with training camps in both Boulder and Grand Rapids where Stinson and Ritzenhein would work together, sometimes as training partners. It was a big change for Stinson, 27, who had to do a lot of training on his own. Their system started clicking, and when Stinson ran the Aramco Houston Half-Marathon last January in a personal best 1:02:11 they knew that the partnership was working.
"We went into Houston half definitely in good shape," Stinson recalled after only training for about two months under Ritzenhein.
As their training system evolved, Stinson kept getting stronger. Last April, he flew to Grand Rapids to spend nearly two weeks with Ritzenhein preparing for the USATF 25-K Championships on May 11. Stinson loved spending time with Ritzenhein's family and said he never felt so focused in advance of a competition.
"I felt so focused, light on my feet," said Stinson.
On the day of the race, Stinson was in the zone. Running alone from the gun and clicking-off even splits, he cruised through the half-marathon mark in a personal best 1:02:02 then went on to set a pending USA record of 1:13:48 for the full distance. He won the race by more than a minute, and earned his first national title.
"We knew something really good was going to happen," he said.
Here in Chicago, Stinson knows he can run far better than the 2:14:29 he ran here last year. His half-marathon and 10,000m personal bests are equivalent to a low-2:10 marathon, and his 25-K time is equivalent to a low 2:09. Ritzenhein said his athlete has averaged 100 to 115 miles per week for 10 weeks, and that he's ready.
"I want to break 2:11 for myself," Stinson said. He added: "I've done the work to do that."
Ritzenhein was supposed to compete here, too, but a foot injury during the summer took him out of the race. Although disappointed that he can't compete, he's relishing the opportunity to go all-in in a coaching role like he did in Grand Rapids. He drove Stinson here last night from Grand Rapids, about a three-hour drive.
"I'm here to support him in whatever way," Ritzenhein said. "It doesn't matter for me now. I think it's good for me, actually, to see how handles this one now with me just supporting him. He knows he's done all the work."
The pair hope to compete against each other in next February's USA Olympic Trials Marathon in Atlanta. That would really be something special for both of them, Ritzenhein said.
"We'll see how fast he runs on Sunday," Ritzenhein said looking at Stinson. "It's a win-win for me. If me and him are on the team, that's the best day for me."