2019 Chicago Marathon
Lawrence Cherono Wins Chicago Marathon; Former NOP Athletes Struggle
Lawrence Cherono Wins Chicago Marathon; Former NOP Athletes Struggle
Lawrence Cherono of Kenya won the Chicago Marathon by a single second in a sprint finish over Dejene Debela of Ethiopia, 2:05:45 to 2:05:46.
Oct 13, 2019
by Johanna Gretschel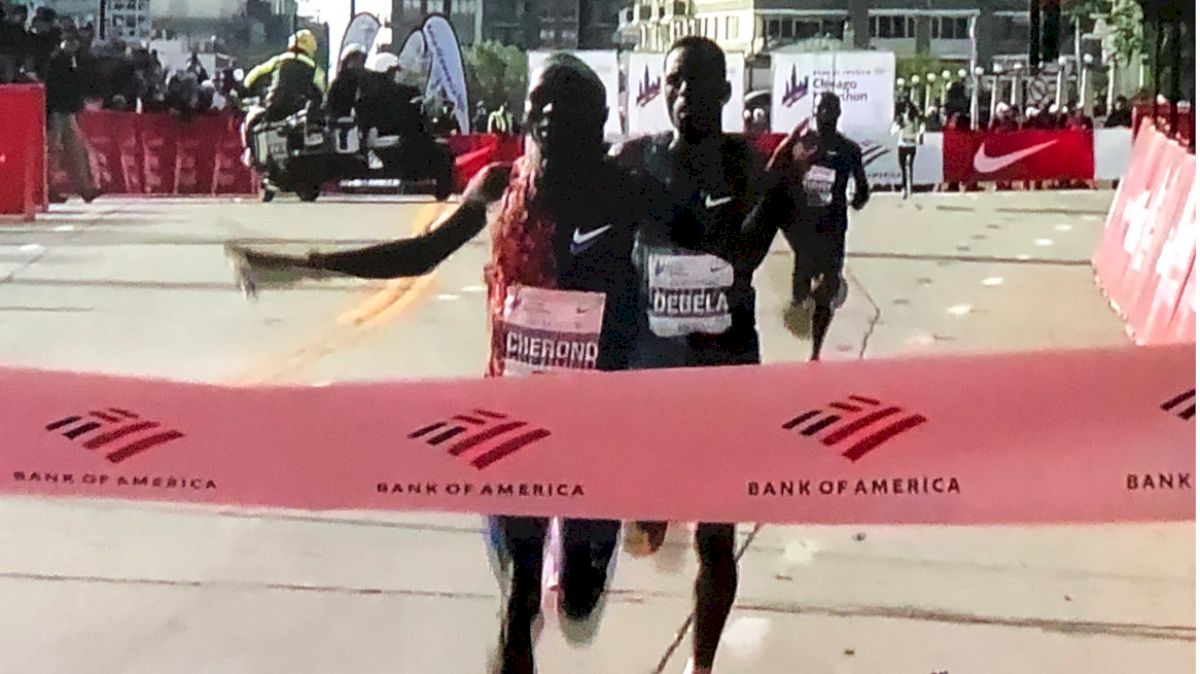 Lawrence Cherono of Kenya won the Chicago Marathon on Sunday morning in a sprint finish over Ethiopia's Dejene Debela, 2:05:45 to 2:05:46. The victory comes six months after Cherono's Boston Marathon title, for an impressive two World Marathon Major wins in one year.
The 31-year-old was part of a six-man pack that led the majority of the race and included Debela, early leader Dickson Chumba of Kenya, Bedan Karoki of Kenya, Asefa Mengstu of Ethiopia and Seifu Tura of Ethiopia.
Mengstu took third in 2:05:48 and Karoki finished fourth in 2:05:53, as Tura and Chumba fell off pace toward the end and finished sixth and seventh, respectively, in 2:08:35 and 2:09:11.
Defending Chicago Marathon champion Mo Farah, whose link to disgraced Nike Oregon Project coach Alberto Salazar was a hot topic this week, fell off pace near 15K and ran his worst marathon ever in 2:09:58 for eighth place overall. His training partner Bashir Abdi wound up fifth in 2:06:14.
Farah's former NOP training mate and 2017 Chicago Marathon champion Galen Rupp fared even worse, running alone in no man's land after 10K and dropping out shortly after 35K, which he ran in 1:46:45—nearly three minutes off the lead and 22 seconds back of Farah in ninth place. His agent, Ricky Simms, confirmed to FloTrack that Rupp dropped out at Mile 22 due to calf pain.
But besides Rupp, Americans did well as four men ran under 2:11: Jacob Riley (9th, 2:10:36), Jerrell Mock (10th, 2:10:37), Parker Stinson (11th, 2:10:53), Andrew Bumbalough (12th, 2:10:56); and another six ran under 2:12: Mathew McDonald (14th, 2:11:10), Scott Smith (15th, 2:11:14), Brendan Gregg (16th, 2:11:38), Noah Droddy (17th, 2:11:42), Wilkerson Given (18th, 2:11:44) and Diego Estrada (19th, 2:11:54).